It seemed only a matter of time before Andretti Autosport could bank a result worthy of their drivers' improved performances this year, and it came Sunday in the Honda Indy Toronto with a bit of luck and a bit of pace.
Alexander Rossi was unlucky to roll off eighth in his No. 98 Andretti-Herta Autosport Honda – he and Takuma Sato were both caught out when the qualifying session restarted and it knocked them out of the Firestone Fast Six. Meanwhile from 11th and 16th, Marco Andretti and Ryan Hunter-Reay needed some help to make it up the order on Sunday.
Luckily it came in the form of a Lap 23 caution Sunday in the race. Once Tony Kanaan nosed into the Turn 1 wall, it brought out the yellow after a handful of the Andretti contingent had been into the pits for their first scheduled stops.
Sato was among those caught out by the yellow in fifth as he hadn't pitted, but Rossi (10th), Andretti (13th) and Hunter-Reay (15th) had and suddenly found themselves poised to capitalize as a result of the jumbled sequence that would follow.
Rossi rebounded to a net second after the restart, behind leader and eventual race winner Josef Newgarden with Ed Jones and Charlie Kimball ahead but needing to stop, with Andretti and Hunter-Reay also into the top-10 following the shuffle.
They were able to stay there the rest of the race. Rossi wasn't able to close enough on Newgarden to make a proper passing attempt, but was pleased with his first podium finish in IndyCar that wasn't, well, that one at Indianapolis last May. Rossi hadn't finished better than fifth in an IndyCar race outside of last year's Indianapolis 500 so second was a needed result for him and the team.
"It's been a long time coming. Now we can go to chase more wins," Rossi told NBCSN's Katie Hargitt post-race. "I'm relieved we got the monkey off our back. To get this car where it needed to be was a huge effort. Very proud of Honda for their effort, and a huge shoutout to the fans."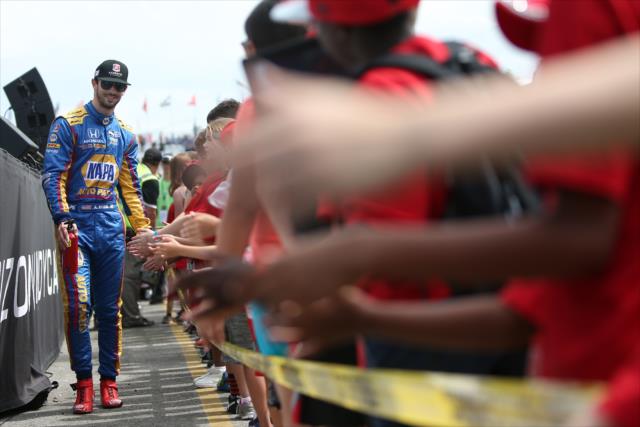 Rossi expanded on how many changes the team made from Friday to Saturday to even get the team in a good position.
"We were really at the bottom of the barrel, staring into the bottom of the barrel, I guess, Friday afternoon. We were really lost. We were the slowest, Andretti Autosport cars. Here is a tough place to be coming from to start off strong," he explained.
"We had a lot of soul searching Friday night. We stayed quite a bit later at the in a long time. We just really analyzed everything that we could, and made some pretty solid changes overnight that suited me really well Saturday.
"If you look at where we were last year, the last four cars in qualifying, to having three cars in the top 10, really having something to fight for today, it's a testament not only to this weekend and the strength the team has shown, but also this off-season and how much better 2017 has been for us, has been for Honda."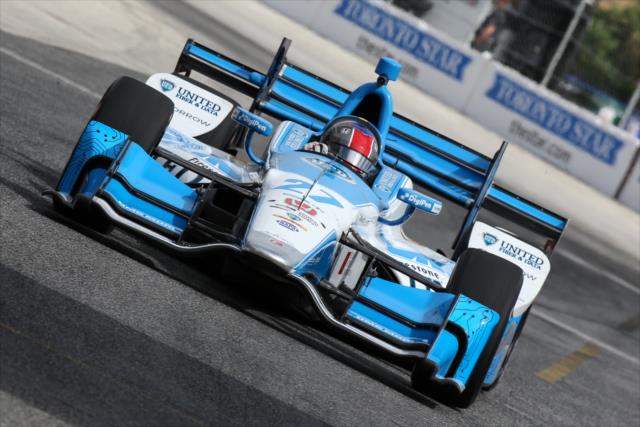 Andretti admitted a bit of luck in ending fourth, but couldn't express how much it was needed for both himself and the No. 27 United Fiber & Data Honda team, led by strategist Bryan Herta.
"It's refreshing for sure. A trophy would have been fun. But I had fun today," Andretti told NBCSN's Anders Krohn. "The UFD car was great. It's starting to put the fun back in this sport for me. Next goal for me is more hardware in the trophy case. He gave me the old go faster and save fuel, Bryan has put some fun back into it. It's time to make this a regular occurrence going forward."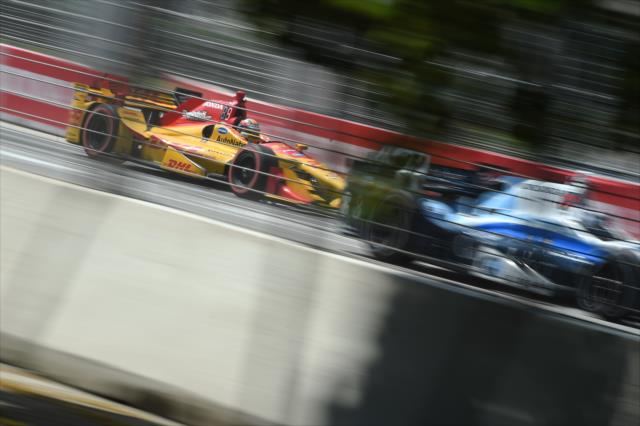 Hunter-Reay enjoyed a combative bout with polesitter Simon Pagenaud in the final stages, Pagenaud finally making the pass in the final few laps for fifth place. The driver of the No. 28 DHL Honda then held off a bunch of others in the final couple laps as his car and tires fell off.
Speaking to NBCSN's Robin Miller, Hunter-Reay said about the battle, "Yeah he gave me a nudge, I got back by him, I was loose in Turn 6, and I got in there pretty deep, he got by me. He was quite a bit quicker than me. But all in all, a good day. 2-4-6. Considering we started 16th, it was a good day.
"Some of the worst pickup I've ever experience with marbles It took four laps to get rubber off the car. It wounding turn! All in all I'm thankful to bring it home P6."
Takuma Sato, who fell to 16th on Sunday, still is the best of the Andretti quartet in the championship, but has all but lost any title hopes after a rough patch of four races where he's not finished better than 10th.
He sits seventh in points, 72 back of points leader Scott Dixon. Rossi is eighth, Hunter-Reay 13th and Andretti 14th.