Likable Colombian Sebastian Saavedra made what felt like an eighth different comeback to the Verizon IndyCar Series this weekend – he's had more comebacks than Cher and he's only 27 years old.
And for the second time in as many opportunities this year, with a second different team, manufacturer, aero kit and type of course, Saavedra did exactly what he needed to raise his stock for a more permanent return to the series.
Saavedra was announced under cloudy circumstances for the Schmidt Peterson Motorsports' No. 7 Lucas Oil SPM Honda entry this weekend, as the team wouldn't elaborate at first on Mikhail Aleshin's absence.
But reports emerged over the weekend that this appears likely to be just a one-race sit down for the Russian, not a permanent replacement. Aleshin was on site at the weekend and still posting photos to social media with the team, which one doesn't do if they're to be let go.
Alas, for Saavedra, he faced a challenging situation regardless of Aleshin's circumstances. He hadn't driven on a street course in two years and the Toronto he last drove, in 2015, was a different circuit compared to the one he did this weekend. With the pit lane side swap and additional circuit changes, including new paving and other elements, it was always going to be a tough mountain to climb despite Saavedra's parts of seven years and 60-plus starts in IndyCar.
Plus, compared to Indianapolis where there is a week of practice before qualifying – 30 hours – Saavedra would only have a pair of 45-minute practice sessions on Friday and then a further 45-minute one Saturday morning before qualifying.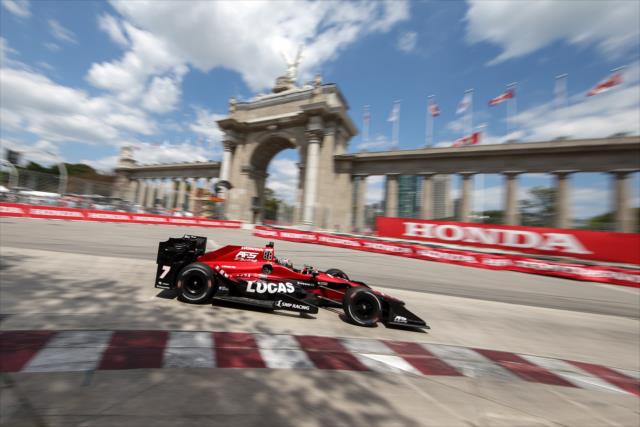 Understandably, Saavedra was a bit off pace to start the weekend but he did nothing but improve from there. He was 2.8 seconds off P1 in first practice, and 2.1 down on teammate James Hinchcliffe, but those gaps dropped from there to 1.8 and 0.6 (second practice), 0.8 and 0.4 (third practice) and 1.0 and 0.6 (qualifying) respectively. His fastest race lap was only two tenths off Hinchcliffe, good for 15th.
In the race, from 20th on the grid, Saavedra was always likely to go off sequence and was among those who caught a break by the timing of the Lap 23 yellow. He'd pitted before the yellow and then leapfrogged into the top-10 following that caution when those who hadn't pitted made their first visit to the pits.
Saavedra could have dropped back from there but didn't, instead scrapping and fighting to hang onto a top-10 spot, which was always going to be an excellent result given the circumstances this weekend. He ran as high as seventh, matching his car number for the weekend.
Although he fell behind Graham Rahal and Scott Dixon in the final stages, 11th was still a very solid result for him to cap off the weekend.
"I feel like that is a very successful weekend in the books," he reflected after the race. "I'm very appreciative of the whole Schmidt Peterson Motorsports organization for taking me in and just making me feel like I'm home.
"I felt the same throughout the race and had a pretty solid car. We kept clean for the first stint, just tried to stay away from trouble, and when I started pushing, the car was there for me. Great strategy from the SPM guys and getting me out of those reds [Firestone alternate tires] and getting me some free time for me to do my thing.
"It played off perfectly with those yellows, and we managed to get in with the guys up front which changed the speed of the race for us. We had the car to do it. We're proud of the pit stops, proud of the strategy and of course having a good car makes my life as a driver a lot easier."
Saavedra adds SPM to a list of teams he's driven for since 2010 that also includes Bryan Herta Autosport, Conquest Racing, Andretti Autosport, Dragon Racing, KV Racing Technology, Chip Ganassi Racing and Juncos Racing. Most have come in partnership with his longtime supporter Gary Peterson of Automatic Fire Sprinklers, Inc. (AFS), and the AFS signage was present on the red and black No. 7 car this weekend.
Peterson told the Advance Auto Parts IndyCar Radio Network's Dave Furst during the weekend that "sometimes I feel like a pimp" in trying to make opportunities happen for both himself and Saavedra.
But given how well Saavedra's done in tough jump-in circumstances this year – at Juncos in the team's IndyCar debut at the Indianapolis 500 when he drove well from 31st to 15th and now with SPM in this abnormal one-off drive, coming from 20th to 11th – he's provided two glimpses at his potential as he looks to return on a more regular basis.