The old saying that there are three kinds of lies: lies, damned lies and statistics is probably an apt one to describe the 2017 Verizon IndyCar Series season at A.J. Foyt Racing, for its pair of new drivers, Conor Daly and Carlos Munoz, and its engine manufacturer/aero kit in Chevrolet. The fusion of newness has not made it easy for anyone.
Based purely on the statistics, it's been a tough year, and that's not something either driver will dispute.
Munoz (16th) and Daly (19th) are in two of the four lowest ranked positions among those who've competed in all or all but one race. Neither driver has finished better than seventh, Daly has the team's only top-10 start (10th in Detroit race two), the team is the only full-time team that hasn't led a lap and the future here might be uncertain for the lineup of determined young guns, neither of whom is older than 25.
Dig a bit deeper though and the nature of how competitive the series is and the fact someone has to be at the back, for better or worse, has stacked the deck against the team anyway so it shouldn't be a surprise the year's been as challenging as it has. That makes it harder for performances to shine through when the stats say what they do, although both Daly and Munoz have had flashes this year.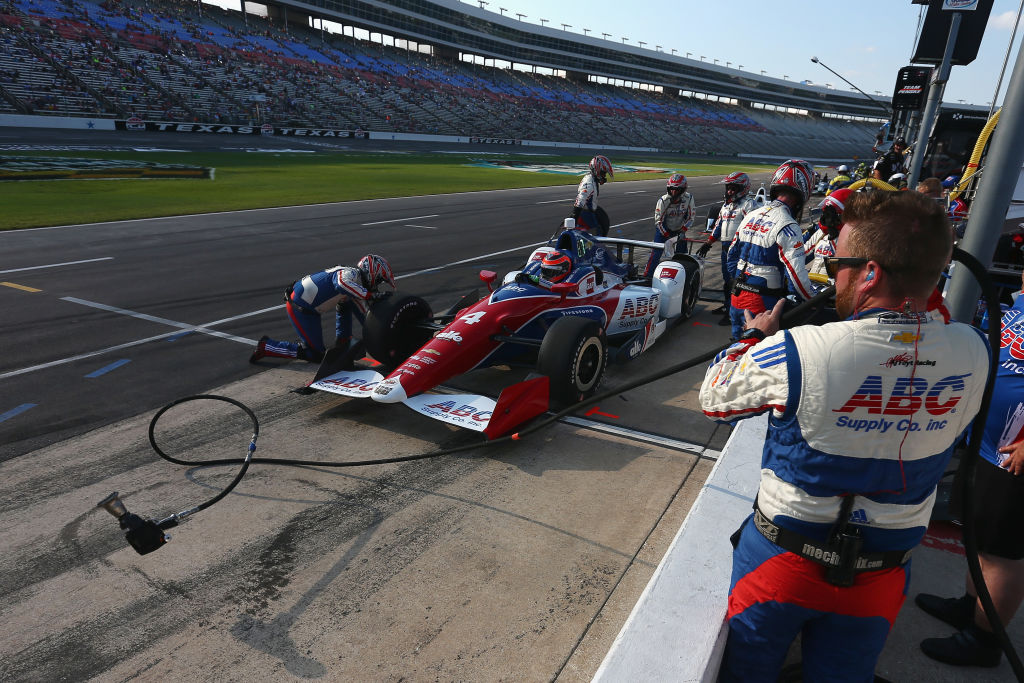 For his part, Daly needs a solid final five races of the year to quiet the criticism some will throw at him. He has the team's best result of the year – seventh at Texas – and had other races such as Detroit race two and Phoenix where early or late race promise faded by no fault of his own.
The 25-year-old out of Noblesville, Ind. makes an important point that getting better does take time, and given what he was still able to accomplish in races last year with respectable race craft, he is a better driver than what the year's indicated.
"It's been tough mentally to deal with it because I so dearly want to do well and have a long career in IndyCar," Daly told NBC Sports. "I know I can do it. I've been at the front before, where I've led races, and come close to winning races. I know there are engineers and there's people I work with that believe in me.
"After such a difficult year you have to stay focused. I know the guys around me know – Larry and AJ and our engineers work really hard as well to make this work and continue to improve. It's not an easy job. We are out there working to make it happen."
Daly was also thrown a preseason curveball on top of the team and manufacturer changes when his engineer changed two weeks before the season started. Mike Colliver took over as lead on the No. 4 ABC Supply Co. Chevrolet and has earned Daly's plaudits.
"I think Mike's a smart guy. He's very keen on our damper development," Daly said. "It's one of the areas of development within IndyCar. He's been good at keeping us on track and focuses on the good things we've done. He takes my frustration at times and deals with it. I really want to do well. Sometimes I get emotional about it."
Daly looks at his contemporary Josef Newgarden, a longtime friend and rival from karting, Skip Barber and into Indy Lights as proof positive of how long it takes to ascend the competitive pecking order as a young driver within IndyCar.
Newgarden, only a year older at 26, didn't even have a single top-10 finish his rookie season, didn't score a top-five until his 18th race start in Sao Paulo, Brazil, May 2013 and his first podium until Baltimore in September that year, his 30th race. In 2015, in his fourth season and after 50-plus starts, Newgarden won his first race and made his first top-10 in points.
Strategy certainly aided Daly last year at Dale Coyne Racing but he was a regular top-10 finisher with five of them in his first full season, including posting a second place in Detroit and fourth place in Watkins Glen.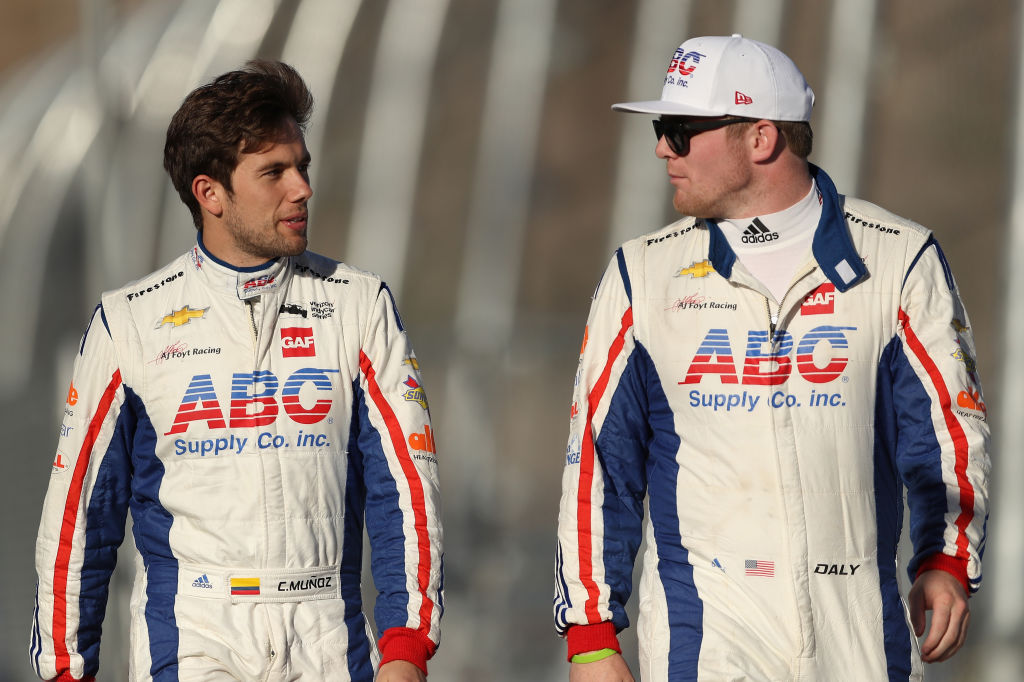 While Newgarden has ascended to Team Penske, Daly and Munoz have represented the hardships that affect other young drivers in the sport – trying to make that climb with a new team after switching.
"I give Carlos a lot of credit at getting through some of the difficult things," Daly said. "I'm always focused on the next race. I think Carlos is the next one. It's difficult for him coming from a seriously large organization. Foyt is just a smaller team and we know that. But there's a lot of great people here.
"From the outside, it's easy to judge and blame the driver. For me – this is only my second year, and I've done research on this – it takes time. I'm not gonna keep using that as an excuse, but it's sort of a fact. Josef Newgarden is a extremely successful IndyCar driver. I use Josef as a good point of reference as he does well right now and I grew up with him.
"We as a team work on what we can do. We don't focus on the chatter; it's not helpful for us as we develop our program. If people want to know what's up, they should come and ask us, and talk about it rather than say, 'I think this is what's going on.'"
Signs such as being the second fastest Chevrolet driver in the Toronto race this weekend (sixth fastest on the charts overall and with the sixth fastest race lap) are there of the improved potential but again, the depth of field makes it hard to stand out. And as Daly explained, trying to get up to grips with everything has been a challenge.
"We struggle to find the overall new tire pace whether it be certain tracks, or ovals, road circuits, street circuits," he said. "There's been a constant evolution of our setups. We're always discovering something new the Chevy kit and Chevy engine might like. Say we found a different gear strategy, that helps us instead of getting beaten in certain areas.
"It's really easy to lay blame on a lot of different things. This is not an easy job we're trying to do. It's top level motor racing. Carlos and I are fighting every weekend to get the right information we need. It's not easy.
"A lot of people have different opinions. We don't have the results yet, but there are things we're absolutely doing better as a team. And it might be next year where can we show those things to the world."
The quest to ensure Daly gets a proper next year – it's easy to forget he only has 33 career IndyCar starts under his belt, one of the smallest numbers in the field – begins with next weekend's Honda Indy 200 at the Mid-Ohio Sports Car Course.
Daly rebounded from an accident in practice there to lead on an off-sequence strategy and ultimately finish sixth. It was a nice recovery on a tough weekend there, when new teammate RC Enerson impressed from the off on debut and brought Daly forward to help raise his game.
Surprisingly, given the number of tracks he's raced on in his career, this was his first career start at Mid-Ohio.
"That finish was big, man. It was a tough weekend for me," he said. "I'd went off track a couple times. But only about halfway through the race – I found not just a better way to drive the car but use the brakes better enough.
"It was from then on we really fast. Strategy helped us. But once we were there, in the lead, it was a strong run for us. It was nice to have that finish, and come back up front.
"You're always learning more about the tracks. The key is hopefully we start from a better position and get into things quicker."