In every season, there are a handful of weekends that make you look back and think "Yeah, that's where things turned." This past weekend at Toronto may very well be one of these weekends for the Mazda Road to Indy Presented by Cooper Tires.
With a pair of weekend sweeps and several incidents that collected heavy hitters in both the Indy Lights Presented by Cooper Tires and the Cooper Tires USF2000 Championship Powered by Mazda, indications are that this could be the weekend that defines the championships for both series.
SATURDAY "DR. JEKYLL" VS. SUNDAY "MR. HYDE"
The Saturday and Sunday races could not have been more different for USF2000 and Indy Lights.
Saturday's outings were straightforward affairs. Parker Thompson scored a victory from pole in USF2000, leading all 25 laps, while Kyle Kaiser scored a victory from pole in Indy Lights, leading all 35 laps.
Sunday, however, was a different story. Thompson was elevated to the lead in USF2000 Race 2 after Alex Baron, David Malukas, and Oliver Askew all crashed together in turn 3 (more on this later).
In Indy Lights Race 2, Kaiser inherited the lead when Colton Herta suffered a broken rear suspension after contact with the wall. Further, Matheus Leist, Santi Urrutia, Nico Jamin, Shelby Blackstock, and Neil Alberico were all involved in incidents at some point, with Urrutia, Jamin, Blackstock, and Alberico all failing to finish.
Across both series, nine of the 31 drivers who started Sunday's races recorded DNFs.
The close confines of street courses tend to breed contact, and there was more than a fair share of it on Sunday in Toronto.
"DOMINANT KAISER" REPLACES "CONSISTENT KAISER"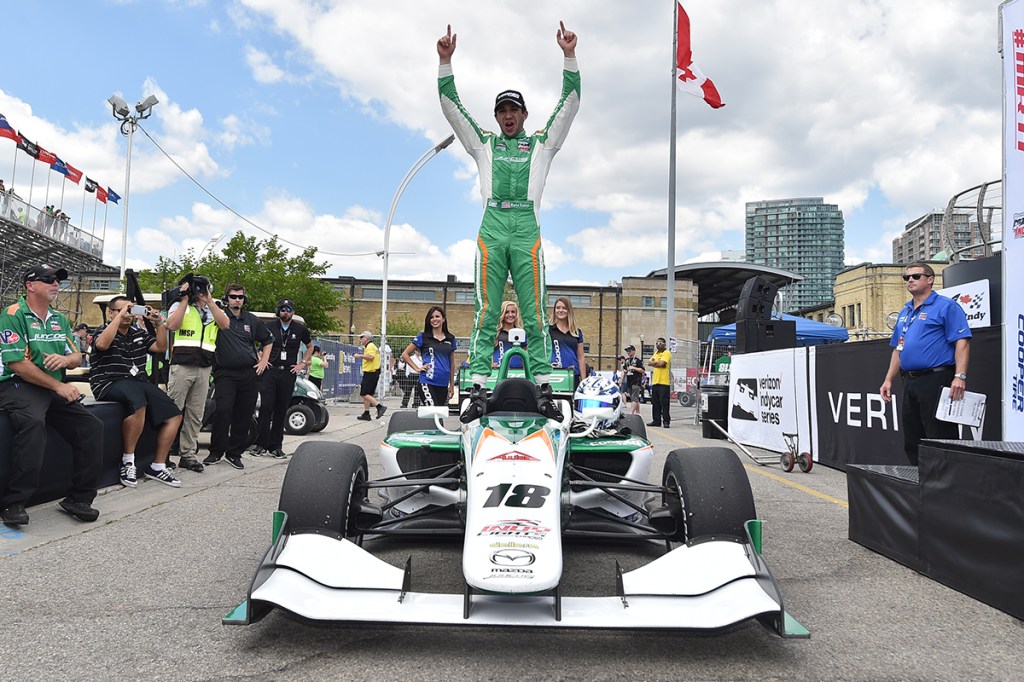 It was almost surprising, in some ways, that Juncos Racing's Kyle Kaiser led the Indy Lights championship entering Toronto. He didn't have the fanfare of being a former champion of another MRTI series (such as Aaron Telitz, last year's titlist in the Pro Mazda Championship Presented by Cooper Tires, or Nico Jamin, the 2015 USF2000 champion). He wasn't a proven race winner in the cut-throat world of European racing (such as Colton Herta or Matheus Leist, last year's BRDC British F3 champion). And Juncos Racing, though a force in other championships, was only entering its third Indy Lights season and does not have an Indy Lights crown to its name.
Yet, entering Toronto, there stood Kaiser atop the standings. While others had stolen the spotlight at various times, Kaiser remained a model of consistency, winning once and finishing ninth or better in every race this year.
However, he shed the "consistent" moniker last weekend and replaced it with "dominator." As described earlier, he romped to victory in Race 1 and was the last man standing in a chaotic Race 2, maintaining his composure to score victory as others around him faltered.
Simply put, it was a dream weekend for the 21-year-old. "I knew this would be a good weekend for us because the team has always had a good setup here – Spencer (Pigot) won both races two years ago. But it's really been a dream weekend – I've never had a double win weekend before. Actually, I can't believe it!" Kaiser revealed after Race 2.
On the back of both wins, his season total now at three, Kaiser now leads Matheus Leist by 51 points ahead of the next round at the Mid-Ohio Sports Car Course. And while he knows there's pressure in leading the championship, he is happy to have a cushion back to second place.
"I am definitely more confident and more relaxed heading into Mid-Ohio, having a little bit of a cushion in the championship. It's unrealistic to say that the pressure won't affect me, but it is a little bit less now," Kaiser added.
INDY LIGHTS CHAMPIONSHIP CONTENDERS FALTER
While Kaiser had the broom out and swept the weekend, his championship rivals stumbled.
Colton Herta finished fourth in Race 1 and appeared set to win Race 2 before his rear suspension failed after wall contact early in the race. Matheus Leist nosed into the turn 8 tire barriers while running third in Race 1, and then did the same in turn 3 in Race 2, though he was able to rejoin the fight and finish fifth.
Nico Jamin ran into the stationery Leist in Race 1 following the Brazilian's accident, damaging himself and Leist enough to knock both cars out of the race, and then Jamin got squeezed into the outside wall in turn 1, lap 1 of Race 2 after going three-wide with Kaiser and Santi Urrutia.
Later in Race 2, Urrutia then ground to halt on the front straightaway after suffering a mechanical failure.
The only title rivals of Kaiser's to have strong outings in Toronto were Zachary Claman de Melo, who finished second and third in both races to move up to fourth in the championship, and Aaron Telitz, who scored finishes of fifth and second. However, at deficits of 72 points (Claman de Melo) and 76 points (Telitz), it may be a case of "too little, too late" for both.
As a result of the chaos, a once tight championship suddenly tilted heavily in the favor of Kaiser. And any more errors from any of the aforementioned drivers could bring their title hopes to an end.
THOMPSON RIGHTS THE SHIP

The 2017 season has been rough on Parker Thompson. The 19-year-old was a winner of four races in 2016 and entered 2017 as a possible threat for a title.
However, with no wins and only two podiums to his name entering Toronto, 2017 was leaving a lot to be desired.
But, he and Exclusive Autosport, contesting its first USF2000 campaign this year, are starting to find their stride, with Toronto as evidence of that. A weekend sweep saw the combination take their first wins together, and on home soil at that.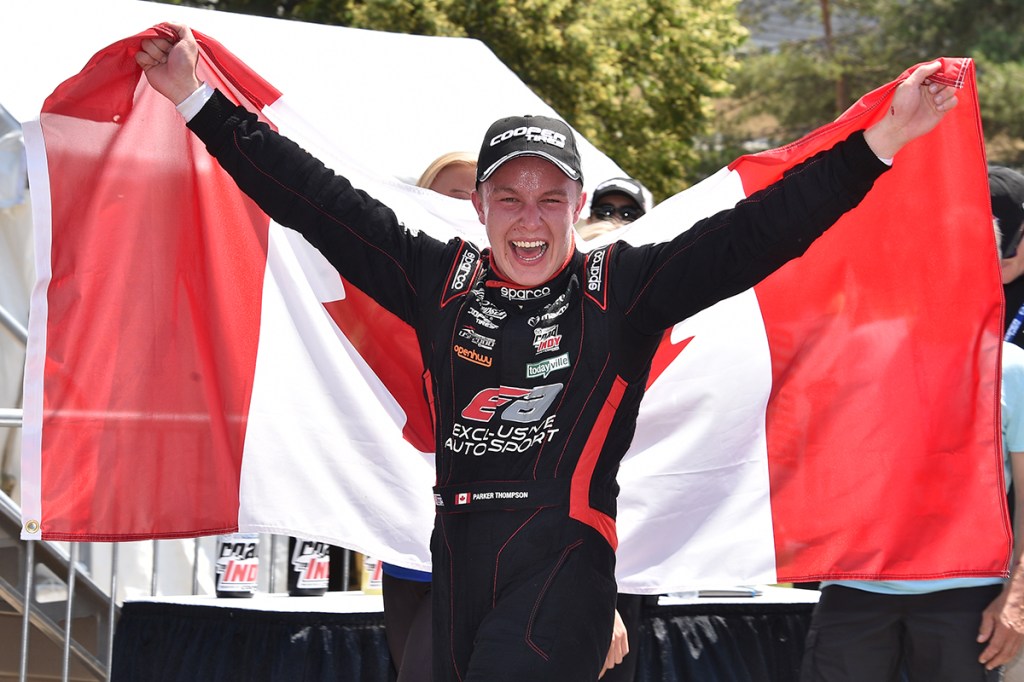 "The Exclusive Autosport crew has done such a great job – to take two wins, two poles and multiple podiums in their first season on the Mazda Road to Indy is outstanding. We're only getting stronger," Thompson asserted after Race 2."
While Thompson, at a deficit of 77 points to championship leader Oliver Askew, may not be in contention for a title this year, he is showing the mettle of a driver capable of making it all the way to the Verizon IndyCar Series.
USF2000 CHAMPIONSHIP COMES ALIVE
When USF2000 arrived at Road America at the end of June, it seemed a formality that the championship would go to Oliver Askew. A winner of five out of six races at the time, he led Rinus VeeKay by 60 points and looked all but unstoppable.
Since then, however, despite adding a sixth win (Iowa Speedway) to his resume, Askew's record has been blighted by finishes of 17th (Road America Race 1) and 12th (Toronto Race 2). Neither was his fault (camber shims came loose at Road America, and he was collected in a crash that started when Alex Baron and David Malukas were battling for the lead), but they remain blackmarks on his season.
Meanwhile, VeeKay has two wins, two seconds, and one third in that same timespan.
Now, as USF2000 heads to Mid-Ohio, a championship that was once a runaway for Askew sees the 20-year-old Floridian with a slim 18-point lead over the 16-year-old Dutchman.
It's likely a two-man race for the title, but that race is now up for grabs between those two.
OTHER NOTES
Aaron Telitz had a second at the Freedom 100 but his second place in race two for Indy Lights on Sunday took the Mazda scholarship driver and Belardi Auto Racing ace to his first street course podium since his win in the season opener at St. Petersburg. Telitz is the only driver in Indy Lights to have four top-five finishes in all four street races. While Telitz went 5-2, teammate Santiago Urrutia went 3-11 after stopping on course on Saturday and teammate Shelby Blackstock had a nightmare weekend.
Since his win at the Indy road course, race one, Nico Jamin has been mired in a funk. The talented Frenchman was fourth in race two but hasn't been better than sixth in the last six races, with three DNFs in the last four races.
Sixth and fourth was the best back-to-back run of finishes for Team Pelfrey's Juan Piedrahita, with fourth the best finish of his season.
With ninth then eight place finishes, Carlin rookie Garth Rickards posted his first set of back-to-back top-10s this season.
In USF2000, ArmsUp Motorsports rookie Devin Wojcik has a good roll going with five straight top-10s, and a best result of sixth in Toronto race two.
Series newcomer Jose Sierra (DE Force Racing) was fourth in race one while the rapidly improving Darren Keane banked a career-best fourth in race two for Newman Wachs Racing. Keane is coached by sports car veteran Ozz Negri.
Besides Thompson, Exclusive Autosport teammate Jayson Clunie returned after missing Iowa and was ninth in back-to-back races, his best finish of the season.
All three rungs of the Mazda Road to Indy ladder return at Mid-Ohio on July 28-30, with double-headers in Indy Lights and USF2000 and a triple-header in Pro Mazda.