The blend of new elements at Michael Shank Racing – new Acura NSX GT3 race cars, three new drivers to the team and a new class – have all melded together nicely as the IMSA WeatherTech SportsCar Championship is past its halfway point in 2017 and prepare for the stretch run to the finish of the year.
Up against considerably more experienced teams and cars within the GT Daytona category, the brand-new Acura has won twice in the hands of Andy Lally and Katherine Legge at such disparate races as Detroit (one hour, 40-minute street race) and Watkins Glen (six-hour road course race) and come second at Canadian Tire Motorsport Park in the last three races. This has slotted the No. 93 pairing into third in points, 24 back of defending champions and points leaders Christina Nielsen and Alessandro Balzan.
Acura is closer in the manufacturer's championship courtesy of this pair and the No. 86 entry of Ozz Negri and Jeff Segal, which hasn't had a podium yet by way of bad luck. Acura sits third on 204 points, just eight behind leaders Ferrari and seven behind second-placed Mercedes-AMG.
Quite how this has happened considering the respective GT3 pedigrees of the other two manufacturers – and considering the Acura is a new car out of the box – has come down almost entirely to preparation and the core bond among the Shank crew, in tandem with Honda Performance Development (HPD), Honda of America Race Team (HART) and RealTime Racing, its fellow NSX GT3 runners in the Pirelli World Challenge.
A tough first few races tested the resolve of the team, as rain at Daytona was all that allowed major results to shine through. But as Shank explained, a post-Circuit of The Americas pair of tests in the month break between Austin and the next race in Detroit appear to have made all the difference.
"We had a seven-post rig test post-COTA," Shank told NBC Sports. "It didn't get us all the way there, but it got us better. Then at VIR we did our flat-track, good surface test. So the seven-post and VIR led us to Watkins Glen and Mosport. Our car wasn't quite as good at Mosport as it was Watkins, but we need more time to get the changes done. So far I'm really pleased with what our guys have done with the car, and beyond that, we've had some great strategy calls that have also helped get us to the front."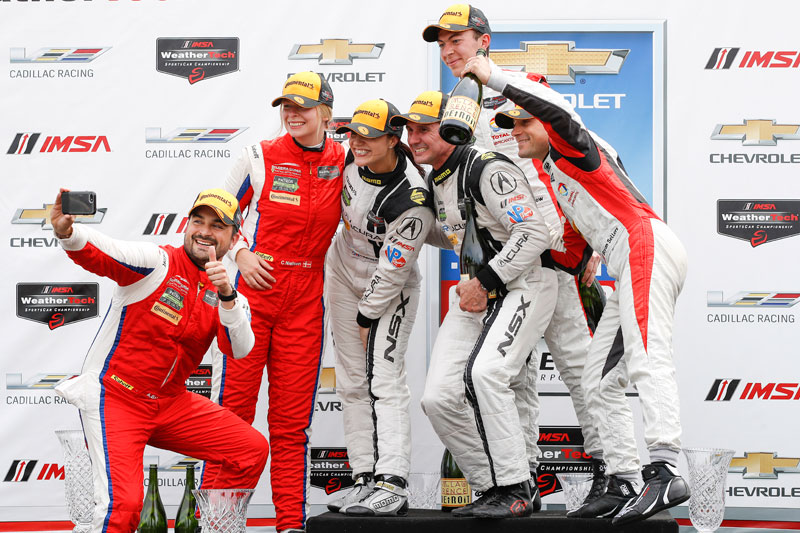 Detroit showcased the strategy and the pit work. Legge qualified second, the car's best qualifying effort at the time, but she was held up by a slower Prototype Challenge class car during the majority of her stint. Shank's team then opted to take only two left-side Continental tires on the pit stop, which leapfrogged the No. 93 car to the lead and where Lally kept it the rest of the race. This marked the car's first ever win and Legge's first both as a GT driver and overall since her Formula Atlantic wins in 2005.
"It's big when you can win with a team for the first time.. it's huge when you can win with a manufacturer for the first time," Lally told NBC Sports. "That was just amazing especially because we'd had such a run of bad luck leading up to it. For it to come together what seems suddenly, was just awesome."
Legge added, "It's been a big relief more than anything. Not only for me in the GT class, but the team for what they've deserved. Both the team and HPD have worked their tails off. That it's come as early as it has came from so much effort and execution. We probably thought, by the end of the year, we'd get it."
Legge's transformation to a top-flight GT driver in her own right has been one of the more impressive things to witness this year, and the pairing with Lally was a natural one. The longtime friends have had chemistry from the off sharing the No. 93 car and as Shank explained, Lally's natural closing tenacity paired with Legge's early race speed and qualifying prowess would come on strong quickly.
"I'd admit it's been a process; you're learning something every weekend," Legge said. "I'm lucky I have Andy and Jeff because they're so experienced. For both Ozz and I, the ABS is new, the weight is different and the lack of downforce is there compared to prototypes."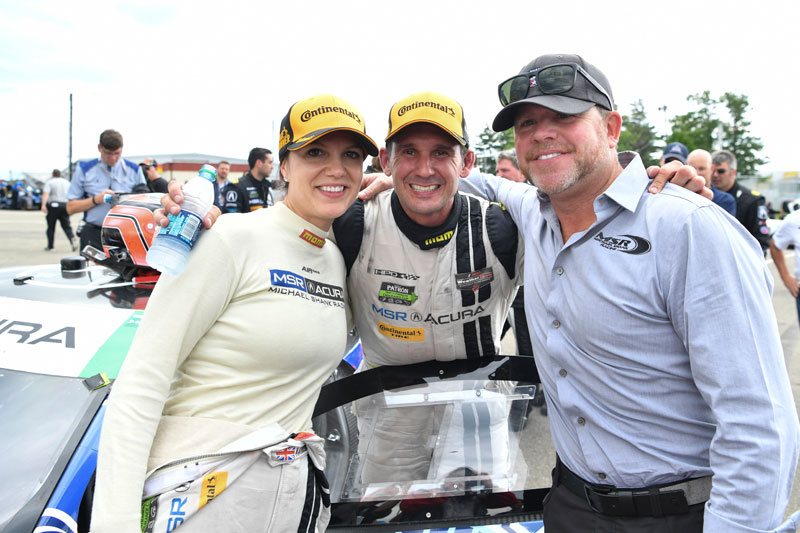 Said Shank: "That's exactly the reason I did it was that they're very close and good friends. I knew Andy would make sure she gets all the info she wants and needs to get up to speed quickly in GT cars. And it's working that way. We have so much experience in our engineering rooms – we have data from cars, we have driver information, this pool to draw from, and Andy is one of the biggest wells of knowledge we have, and doesn't have to worry about getting to know his co-driver. It's one of the reasons we did it."
Lally got to fend off Balzan at Watkins Glen in the final stages of that race, putting the period on a star-spangled weekend of brilliance where in a special patriotic livery and in Lally's home state, a magical second win was achieved to prove the first wasn't a one-time occasion.
"To follow up the Detroit win at my home track, the very next race, at an event that means so much to me personally was just icing the cake, the way we did it with the pole, leading most laps and winning the race," Lally said. "It was my fourth six hours of the Glen win, my first one in seven years, so it was really special. I'd gone 3-3-2-2 from '13, '14, '15 and '16. So we'd tasted it and been so close so many times, so it was extra epic.
"I have a ton of respect for (Balzan); I hope the respect is mutual. We've had great battles over the years. A lot of guys in this series; as rough as I'm willing to get it hasn't stepped over any bounds."
"One of the reasons I brought Andy in was to be a closer," Shank added. "He knows the tracks, cars and the competition. If we get him to the front, you'll have to move him to pass him. Some guys are more willing to face that challenge than others. He's so good under pressure and closing."
For Lally, the opportunity to work with Shank for the first time comes after 20-plus years of knowing each other but never syncing up on timing.
"Yeah I've known Mike Shank for 22 years now. We met back in '95 in SCCA national racing when I was driving Formula 500 and he was driving in Atlantic," he reflected. "We've known each other since then, and there were lots of years where if I hadn't had a drive, or hadn't secured anything yet we'd speak a bunch about putting something together. Now we can team up together and be successful so soon.
"There's a special feeling to work for Mike Shank. This is a program that I have immensely enjoyed the progression of our race car; when you get to help develop something from its first green flag race, you feel a real part of the deal, and it's special with the results."
"They're awesome. I can't say enough great things about the team," Legge added. "I tried to do an IndyCar deal with them in 2013 and it didn't work out. But I got to drive with them and Ozz in Detroit last year. There's no one better in the pits; there's Andy's in and out laps, and then lightning fast pit stops."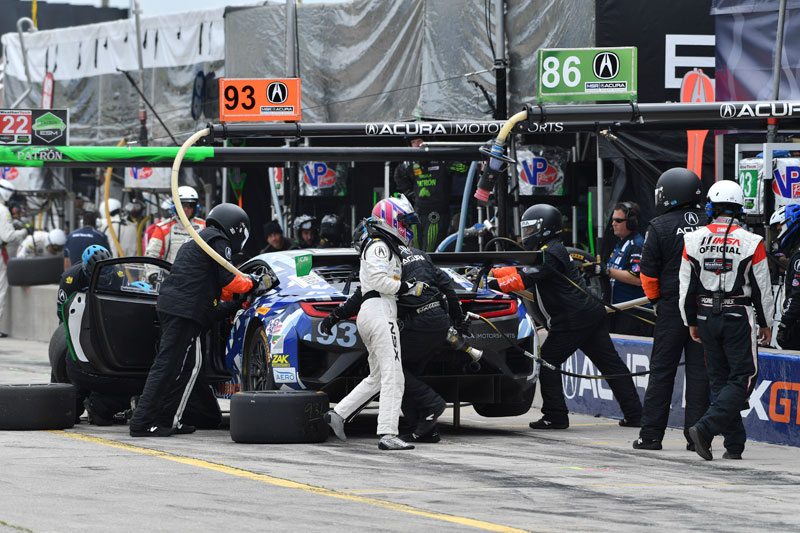 Shank's team has also thanked RealTime for its data gathering from the NSX GT3, which has already raced at three upcoming tracks on the IMSA calendar: Lime Rock, Road America and VIR.
"We have their Mosport, Lime Rock and Road America data. So we can see where they were good versus struggling," Shank said. "We have a premise and a baseline, so that helps us prepare."
The future, understandably, will be interesting for the rest of the way. Announcements are anticipated about the future of the NSX program later this month.
Continuing to showcase the competitiveness of the NSX platform as the team's 2018 plans get sorted – Shank's team was unceremoniously passed over as Team Penske won the factory Daytona Prototype international (DPi) bid – is key for all components here, including both pairs of lineups. The No. 86 lineup, not to be overlooked, is due its own set of results given how well Negri and Segal have driven but been woefully unlucky so far. Potential top-fives or podiums went begging at Daytona, Long Beach and Watkins Glen through no fault of their own.
"It's heartbreaking for them honestly," Legge said of the No. 86 team's bad luck. "They want to be up there with us. They've had rough luck. They're professional though, and they keep pushing and do what they need to do to keep their morale up. They know it's coming.
"Overall we want the best opportunities to showcase what we can do," she added. "I want to drive something I can go win races, and to get the opportunities to do so are few and far between."
Shank added, "I couldn't agree more. What we need to do as a team is try to do more races, I'm not getting spooled up about the championship. It'd take a lot to grab the top spot.
"But we're pushing so hard to fight. I'm working so hard as a unit, and we've made it a point to say we're racing for Acura; we have to be united as a team. We're at that point now."