As the international sports car season rolls on, occasionally we'll check in with drivers who have raced largely in North America but have since set up shop with European programs (Sean Rayhall and Will Owen, who race with United Autosports, are two good examples).
Today we'll check in with Andy Meyrick, who was with the DeltaWing outfit from 2013 through 2016.
The Englishman is balancing a dual role this year with a McLaren 570S GT4 with the new Bullitt Racing team, established in Spain, run by veteran team manager David Price and co-driving with Stephen Pattrick in the GT4 Series Northern Cup, and also with a Ligier JS P3 in the Michelin Le Mans Cup with Motorsport 98 and co-driver Eric De Doncker, a Belgian sports car veteran who is that team's owner.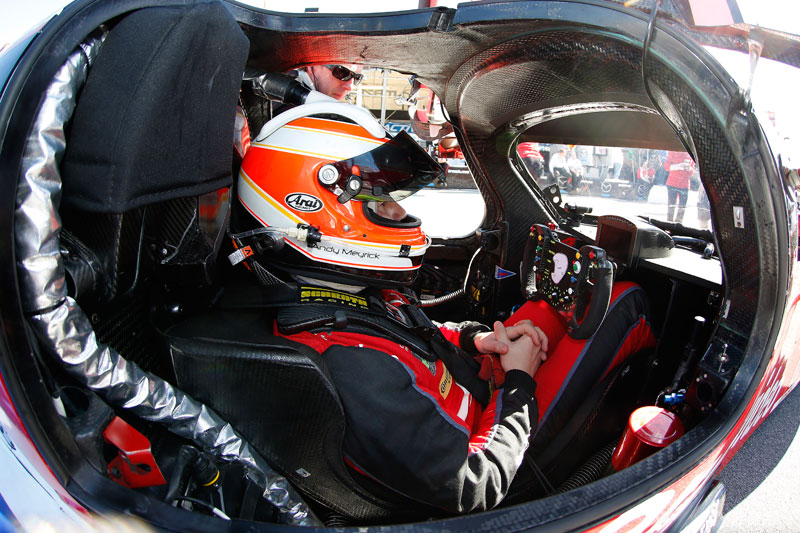 Thus far there's been four races in the McLaren with five to go – three more in the Northern Cup and two in the south – and more races to come in the Ligier after late start for races in Monza and Le Mans, the latter as part of the 24 Hours of Le Mans race week. Meyrick heads to the Red Bull Ring this weekend for the next round of the Michelin Le Mans Cup season.
For a driver who hasn't too regularly been in pro-am lineups, Meyrick is now balancing two pro-am roles simultaneously and loving going back and forth between prototypes and GT cars in two of the emerging categories on a worldwide stage.
—
MST: It's certainly been a change for you this year with a hectic schedule and two programs. How has it all come together?
Andy Meyrick: "To be honest, it's been fantastic. There's no restriction on testing in either series, so with multiple programs, we're out all the time, especially in the McLaren.
"For me, it's a completely new arena really. I've very done little pro-am racing to be honest. I'd been with Aston, Bentley and DeltaWing with pro-pro lineups. It was a new experience to do the pro-am stuff. I was a bit unsure of how to approach it in the first place. I'd done a bit with Gulf in a McLaren.
"But I love it as both programs are growing. When I sat down with the team that I'd do the GT4 program with them, they hinted GT4 is gonna explode, it'll be the next GT3… and I wasn't too sure it'd be the case. But I'm gobsmacked at the level GT4 is at, with how often you can go racing, how good the championship is and how well it's run. It's good to be in this market."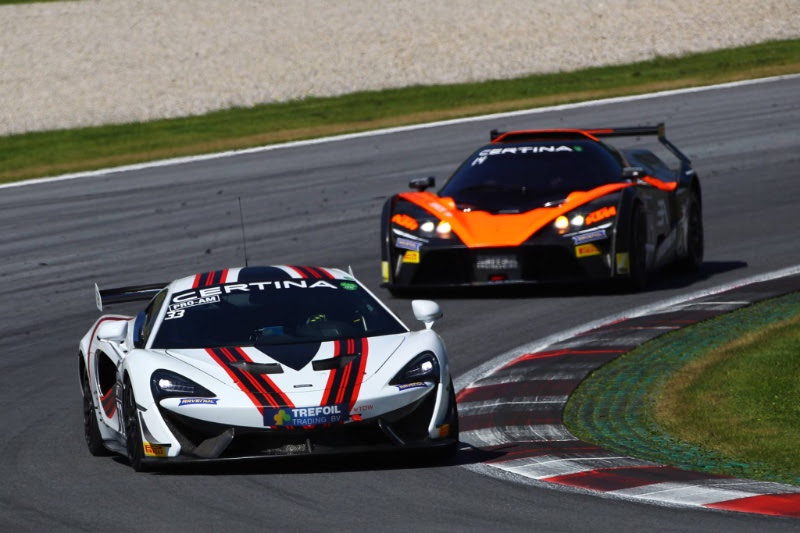 MST: With a guy like Stephen in the McLaren, how have you helped and aided his development?
AM: "It's been pretty amazing. Stephen, before the season, I'd known him since he was a guest in 2011 when I was with Aston Martin. He'd done track days but hadn't really never done anything else. At the Red Bull Ring, he led outright and a double podium for us, so he's shown flashes of really fantastic speed, not just for gentlemen but for anybody!
"Sometimes you have to stop and tell yourself, look this is only your third or fourth race weekend! We can go racing, but we also have to accept he has a lack of experience, the speed he's shown so far, the ability to absorb the information! He's been thrown deep into the program but he's shown he's enjoying and learning it all."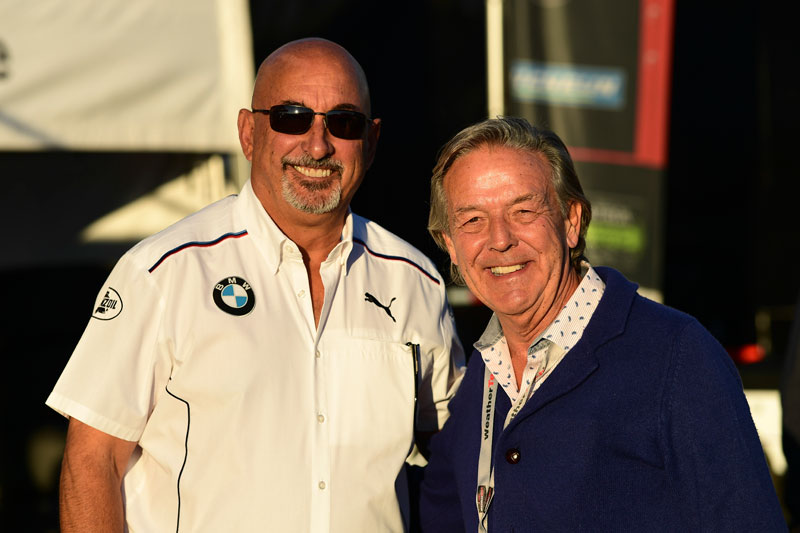 MST: You and 'Pricey' have a great relationship. Has it been a natural with him running the McLaren program?
AM: "This one here we entered with a turnkey car, but the team was brand new at the end of 2016. 'Pricey' was a huge motivation to want to be there, because I've been a big fan of him and with the two of us, it just clicks. He doesn't need to say what he's thinking – I just know what he wants. We have such a good relationship. He was a big thing for me to want to be involved with it. But it's great to build something from scratch.
"The team are based near Ascari in south of Spain, so at least once or twice a month we're there testing. It's an easy flight from Manchester. It's easy to forget we're only a handful of weekends into the team between Misano, Brands Hatch, Red Bull Ring and Slovakiaring. There's a fair way to go but we're accomplishing our goals for the team and the races thus far have been phenomenal."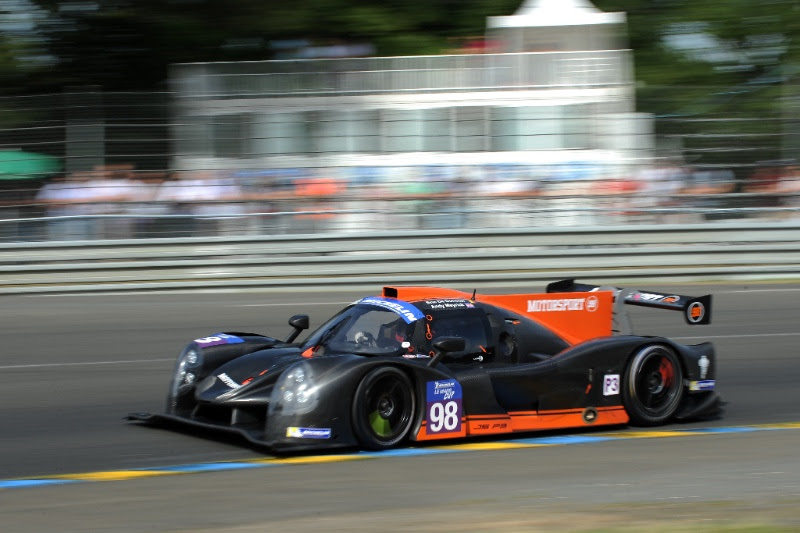 MST: Of course you also have the LMP3 program as well, also a new outfit…
AM: "Yeah and this one was a bit of a surprise to be honest! I'd known Eric from his driving a Group C car I'd driven a few years back. We talked about LMP3 and I said yeah let's do something for 2018 after testing this year… and Eric wanted to do it now! We tested April 18-19, he bought the car April 21 and our first race was 12-13 of May! So it put us at Monza and we rolled it straight out of the truck from Ligier and finished fifth! Save for a drive through we would have been on the podium the first race. Eric's very experienced and it's been a pleasure.
"We went to Le Mans and we'd started the second race from the back owing to a probelm, but went from 49th to 9th in the second race at Le Mans. We've shown tremendous pace given how little we've done with the car. We have the Red Bull Ring this weekend, and it's coming back to where I got two podiums in the GT4 a few weeks ago.
"The DeltaWing's a prototype but not in the traditional sense, so before that the last prototype I'd been in was the old Lola Aston and the AMR-ONE, both in 2011. I'll admit a few years ago when I read about LMP3, you're sort of rolling your eyes at another class, series, that can cloud the market. But to be honest it's brilliant and fantastic. It's cost-effective for what it is but cheap for prototype and endurance racing. You get such good service out of it."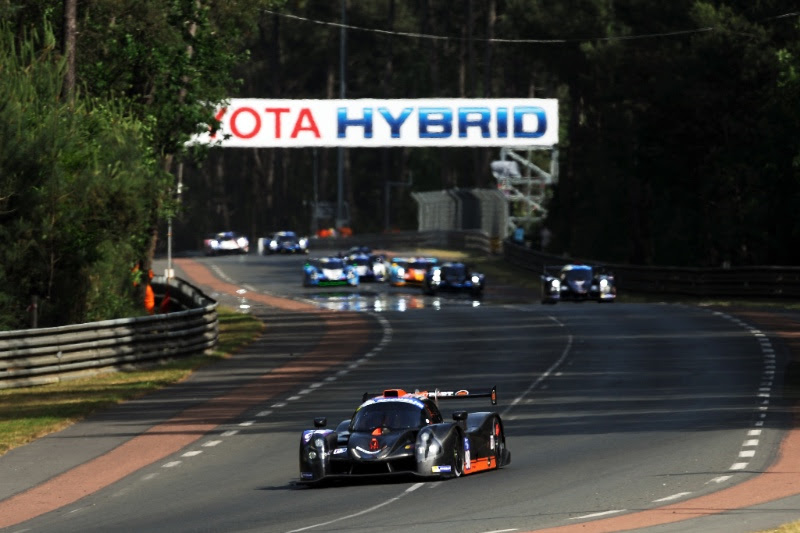 MST: When you do have such disparate cars as an LMP3 Ligier and a GT4 McLaren, how do you jostle between the two of them?

AM: "I think that's one of my biggest strengths, jumping from car to car, as you don't see too many doing it anymore. I think it's a big skill. The GT3 Bentley and DeltaWing couldn't get any further apart! You're going from a GT3 with ABS, TC and some weight compared to a very light prototype. But you make the adaptations quite quick, otherwise you spend the first laps of every weekend trying to get up to speed with the groove of each car.
"If you're a driver, part of marketing yourself is being in as many cars as possible to get the most track time. I've always looked up at a guy like Stephane Sarrazin for example, who goes from rally to LMP1 car, and you're constantly learning. If you're in different environments and packages, you're open to different engineers and approaches."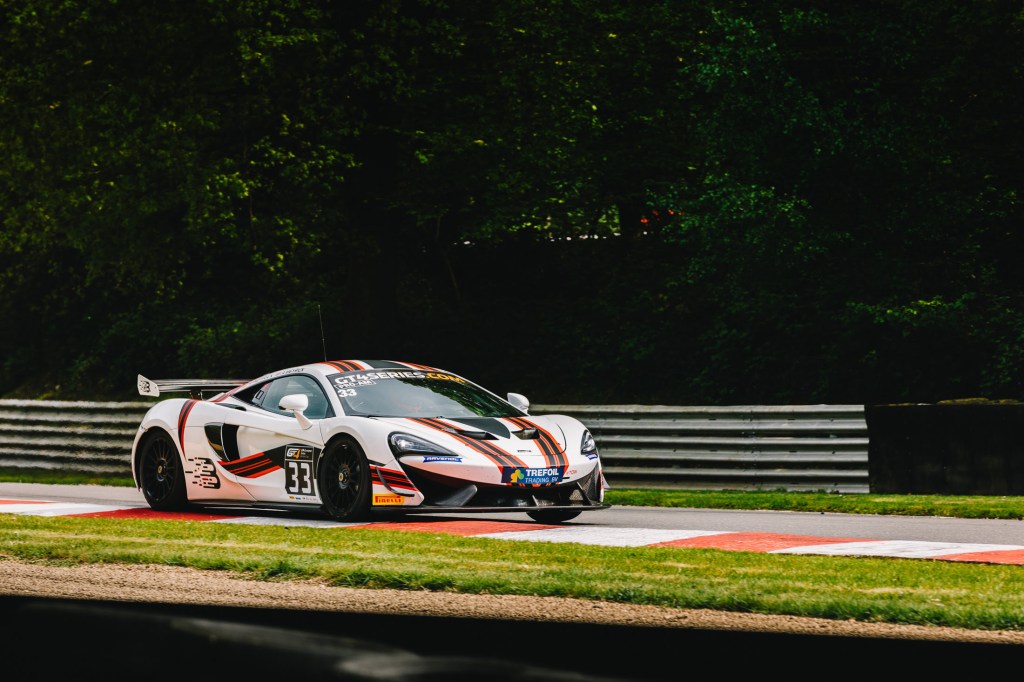 MST: How close were you to any U.S. programs this year and should we hope to see you back Stateside racing soon?
AM: "I was very close to two programs in the U.S., one in IMSA and one in PWC, but unfortunately neither came together. That said, I enjoy racing in the States so much more than Europe.
"I pinch myself every time I go to a race in America when you think, 'Mate, I get paid to do this, fly across the Atlantic and driver a race car.' I love the environment of the States, the circuits, as it's not just a circuit, but the variety. You go from the streets of Long Beach to the flowing Road America which is just stunning.
"I want to be back over there and perhaps attend one race tail end of this year. Those two championships are both looking amazing as usual.
"Otherwise it was cool to see my mate Jack Harvey racing in the Indy 500 this year. As he was teammates with Fernando Alonso that was so cool! It was ace to see, as he's had a rough couple years and he's a huge talent, and one of the nicest guys around the paddock. He's done a fantastic job and committed to his craft.
"Ideally we're both back racing in the U.S. sooner rather than later."