Honda Racing will channel a galactic theme for this year's camping festivities at the Mid-Ohio Sports Car Course, a popular camping venue on the Verizon IndyCar Series calendar.
This marks the third year of a contest for best campground site, with various Honda Indy 200 gifts on offer. The theme name this year is "May the G-Forces Be With You," and the hashtag is #CampingWithHonda.  Last year's was a "Christmas in July" theme, complete with Santa Claus. The full release from the track is linked here.
As this year's event alludes to a very popular galactic film series in all but name, it will see a number of participants in the weekend festivities by to judge the campsites at the track – potentially in character!
Graham Rahal, driver of the No. 15 Steak 'n Shake Honda for Rahal Letterman Lanigan Racing in IndyCar, will visit the sites Saturday after qualifying to choose the winners. He did so last year as well.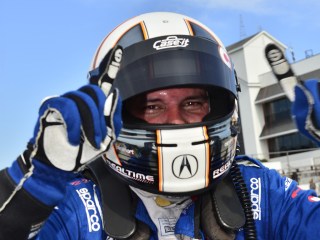 Others, such as last year's Mid-Ohio race winner Simon Pagenaud and RealTime Racing Acura NSX GT3 factory driver in Pirelli World Challenge, Ryan Eversley (right), are expected to attend as well – though whether as themselves or potentially in a special character remains to be seen.
"It's always a thrill and a special part of the Mid-Ohio weekend to take part in Honda Racing fun festivities like 'May the G-Forces Be With You,'" Eversley told NBC Sports; the Atlanta native finished second in the second PWC GT race here last year in the previous generation TLX-GT, in one of his best drives of the season. "These guys always know how to cook up some fun activities and so if there's an opportunity to dress up, have fun and play along with it, I'm down!"
Pagenaud, who was a longtime member of the Honda and Acura family before his move to Team Penske's Chevrolet-powered, IndyCar program (right), added, "For me, as a fan, this film series is just the best. I love the battle between the light and dark side of the force, because I feel like we can all identify with that. I try to channel the force when I'm in my race car, so this will be a really fun weekend in Mid-Ohio.
"I plan to bring something to show my pride at the track, but I won't ruin the surprise for you guys in advance!"
Expect similar characters to be present on site on Saturday evening. There's also going to be a bonfire, live band (Columbus group MidLife Crisis) and s'mores, plus branded lighted batons which should display well at the bonfire on Saturday.
And for James Hinchcliffe, another Honda driver who is no stranger to having fun, he's also part of the buildup to this event, as evidenced by the event teaser below.