Along with Felix Rosenqvist and Chip Ganassi Racing, two other teams visited the Mid-Ohio Sports Car Course for testing ahead of this weekend's Honda Indy 200 at Mid-Ohio (Sunday July 30, 3:00 p.m., CNBC). A.J. Foyt Enterprises and Dale Coyne Racing sent their drivers and teams to Mid-Ohio in hopes of getting a leg up on things and building optimism ahead of this weekend.
For Foyt's team in particular, the optimism is needed. Combined, drivers Carlos Munoz and Conor Daly have only three top tens (two for Munoz, one for Daly) across a total of 24 starts, making them desperate for strong results to come their way.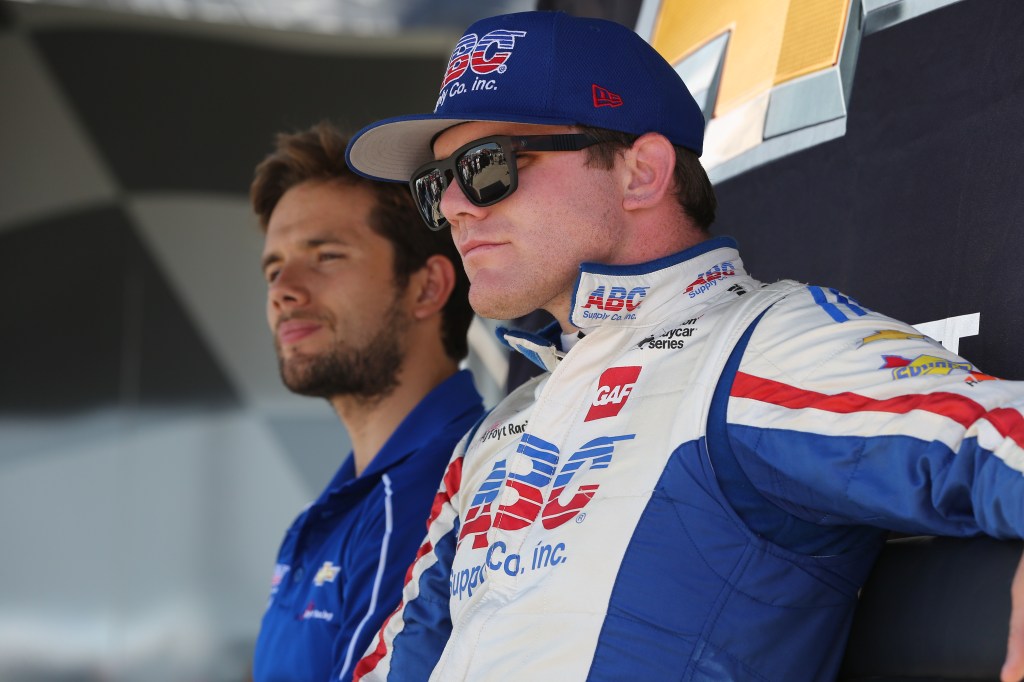 Mid-Ohio presents an opportunity for Foyt's duo to right the ship. Munoz has finishes of fourth, ninth, and third in three starts at the Lexington, Ohio road course, while Daly led late in last year's race and finished an impressive sixth.
And a productive test last week has both feeling hopeful. "We needed this test to try big steps and different options and I think we gained a lot from where we started to where we finished," said Munoz, whose best 2017 finish of seventh came at Barber Motorsports Park in April.
Munoz added that, while they are still playing catch up a little, the team gained valuable information that should help them this weekend. "The car was much more competitive from where we started so we closed the gap but we need a little bit more to compete with the top guys. But the information that we gathered will help us to show up stronger than we did at the test so I'm looking forward to going back," he asserted.
Daly echoed Munoz's sentiments and added that his near-win last year makes him upbeat ahead of the weekend. "It was a really productive (test) for us. Every day with this car and aero package we are learning more. I feel like I came quite close to winning the race last year so I'm hoping to have another strong result this year," Daly expressed.
Technical Director Will Phillips added that the knowledge they gained should help them at Watkins Glen International and Sonoma Raceway at the end of the season, particularly in terms of maximizing the grip from the tires.
"We certainly believe that the area we made an improvement in will help us at all the road courses to come – we have been slow to extract performance from the tires at times and it was in this area that some changes we made had a very positive response," Phillips described. "We will keep our feet on the ground but are optimistic that we can carry the gains through for the remainder of the year, not just for Mid-Ohio."
On the other side, Dale Coyne Racing has been a giant-killer in 2017, winning at St. Petersburg with Sebastien Bourdais and finishing third at the Indianapolis 500 with Ed Jones. James Davison, Tristan Vautier, and Esteban Gutierrez have also impressed in fill-in roles for the injured Bourdais.
And while the team has also incurred more than it's fair share of crash damage, they have consistently showcased speed at nearly every event, and the team's drivers are confident Mid-Ohio will yield more of the same.
"We had a really good test last week at Mid-Ohio. It was very positive and we worked on a lot of things," said Ed Jones, who has four starts at Mid-Ohio from his days in Indy Lights Presented by Cooper Tires, with a best finish of sixth. "The car seemed pretty fast compared to others that were there. As we saw at Road America, it's beneficial to be able to test somewhere before we race there. It can give you an advantage early on and hopefully we can produce another good result because of it."
Teammate Esteban Gutierrez, making his sixth start for the team this weekend, is more modest of his expectations, but did reveal that a top ten finish could be realistic.
"In terms of objectives for the weekend, I want to keep on learning and it would be nice to reach the top ten. We know that it's been a pretty steep learning curve for me in IndyCar but we've made some progress and hopefully we can make our way into the top ten pretty soon," Gutierrez detailed.
Of the drivers mentioned here, Jones ranks the highest in the championship standings, currently sitting 12th. Munoz sits 15th, Daly 19th, and Gutierrez 25th in his fill-in role.