The Mazda Road to Indy Presented by Cooper Tires faces possibly its busiest weekend of the year this weekend at the Mid-Ohio Sports Car Course. Yet another double header awaits the Indy Lights Presented by Cooper Tires and the Cooper Tires USF2000 Championship Powered by Mazda, while the Pro Mazda Championship Presented by Cooper Tires tackles it's lone triple header of the year.
What's more, the season is rapidly winding down for all three series. Indy Lights and Pro Mazda only have three race weekends remaining (Mid-Ohio, Gateway Motorsports Park, and Watkins Glen International), while USF2000 has only two (Mid-Ohio and Watkins Glen), meaning time is running out for anyone who wants to challenge the championship leaders.
In Indy Lights, the title picture centers around one driver, while Pro Mazda and USF2000 are up for grabs between two pairs of young hard chargers. All told, the final weekends of the year have the makings for intense battles to claim not only the championships in each respective series, but also the Mazda scholarships that enable the drivers to move up.
Below are quick previews for all three series.
INDY LIGHTS

Top 5 in points: 1. Kyle Kaiser, 279, 2. Matheus Leist, 228, 3. Colton Herta, 214, 4. Zachary Claman De Melo, 207, 5. Aaron Telitz, 203

Kyle Kaiser dominated the most recent Indy Lights outing in Toronto. Photo: Indianapolis Motor Speedway, LLC Photography

Kyle Kaiser swept the weekend at Toronto, dominating Race 1 on Saturday and surviving a crash-filled Race 2 on Sunday. His weekend sweep gives him three victories for the year, and combined with struggles from the likes of Matheus Leist and Colton Herta to give him a sizeable championship lead of 51 points.
Zachary Claman de Melo and Aaron Telitz are quietly riding waves of momentum. Claman de Melo's last four finishes are 1-6-2-3, while Telitz has gone 5-9-5-2 in the same stretch.
Though Kaiser has a sizeable championship lead, 39 points separate second from seventh (Leist, Herta, Claman de Melo, Telitz, Santi Urrutia, and Nico Jamin).
Santi Urrutia swept both Indy Lights races at Mid-Ohio last year.
Ryan Norman's No. 48 entry for Andretti Autosport gets a different look this weekend, with rock band Journey featured on the car.
PRO MAZDA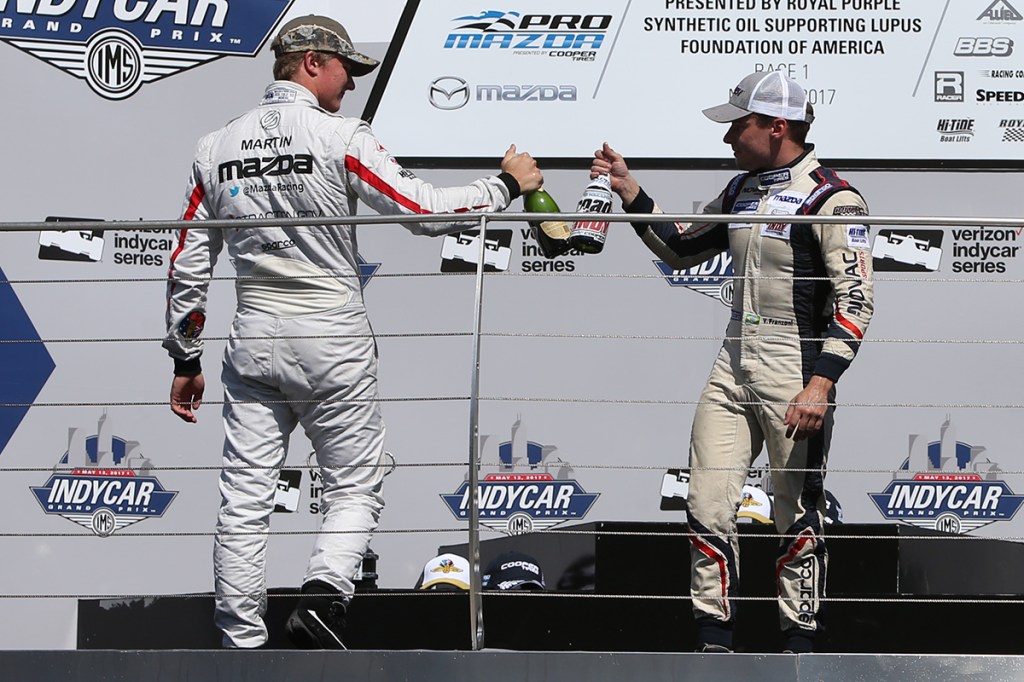 Top 5 in points: 1. Victor Franzoni, 174, 2. Anthony Martin, 167, 3. TJ Fischer, 115, 4. Nikita Lastochkin, 110, 5. Carlos Cunha, 103
Through six races, only Franzoni and Martin have won races (three apiece); with Fischer 59 points out of the lead in third, it appears Franzoni and Martin will decide the 2017 Pro Mazda championship.
Mid-Ohio represents the lone triple-header of the year for Pro Mazda, with races on Friday, Saturday, and Sunday.
Last year, in a triple-header for USF2000, Anthony Martin swept the weekend, winning all three races.
Nico Jamin swept the Pro Mazda weekend at Mid-Ohio last year, winning both races in what was then a double-header.
USF2000
Top 5 in points: 1. Oliver Askew, 283, 2. Rinus Veekay, 265, 3. Parker Thompson, 206, 4. Kaylen Frederick, 185, 5. Calvin Ming, 151

Oliver Askew has struggled lately, allowing Rinus Veekay to close the championship gap. Parker Thompson now sits third. Photo: Indianapolis Motor Speedway, LLC Photography

Askew's points lead has been trimmed to 18, with finishes of 17th (Road America Race 1, due to suspension problems) and 12th (Toronto Race 2, due to a crash) blighting an otherwise impressive season.
To contrast some of Askew's recent struggles, Veekay has finishes of 1-1-2-3-2 in his last five races, allowing him to dramatically close the gap to Askew.
Parker Thompson's weekend sweep at Toronto vaulted him to third in the championship. At 77 points back of the lead, it will be difficult to mount a title push, but his presence can be a spoiler for Askew and Veekay.
Of note: each of USF2000's Mid-Ohio visits the last two years have seen weekend sweeps. As previously mentioned, Anthony Martin accomplished the feat in 2016, with Nico Jamin doing so in 2015. Conversely, the 2014 outing saw different winners in each race. RC Enerson, Jake Eidson, and Florian Latorre all won in a triple-header weekend that year.
Racing begins on Friday with USF2000 and Pro Mazda running their first races of the weekend. Indy Lights holds its first race of the weekend on Saturday.