Graham Rahal's potential last best chance to close a boatload of points in the 2017 Verizon IndyCar Series championship chase comes this weekend at the Mid-Ohio Sports Car Course, and it couldn't come at a better time on the calendar.
He sits tied with Will Power for fifth in the points, 64 behind championship leader Scott Dixon (423-359) with five races remaining. Closing that gap to within 40 or less this weekend will provide him a realistic shot at securing his first title.
A nightmare start to the year saw Rahal finish no better than 10th in the first four races, and left him 17th in points with 59 total, 100 back of then-leader Simon Pagenaud.
In the last eight however, he's finished between first and ninth in all but one of them. His lone finish outside the top 10 came at the double points Indianapolis 500, with a late-race flat tire resigning him to 12th place there.
That score of 300 points over the last eight races is second in the series, only two behind Helio Castroneves with 302, and with both drivers ruing an ill-timed caution flag last race at Toronto that cost both likely chances at another victory this season.
On the whole though, the single-car No. 15 Steak 'n Shake Honda for Rahal Letterman Lanigan Racing has been a regular consistent threat at the front of the field, same as it has in 2015 and 2016 even despite being up against a trio of four-car entries from Team Penske, Chip Ganassi Racing and Andretti Autosport.
Rahal's qualifying lap on used Firestone red alternate tires at Toronto netted second on the grid and he hailed it as one of the best laps he's ever completed in his career.
Graham's performance and the recent run of form has Bobby Rahal pleased as the team heads into its spiritual home race in Lexington, Ohio this weekend, where driver and team scored a popular victory in 2015.
"If you look at the start of the year at Long Beach we qualified sixth, but we were running in the train – fourth or fifth right to the end of the race and had the flat tire," Bobby Rahal told NBC Sports. "We just couldn't seem to get a good break.
"Clearly when we got to the Indy Grand Prix we had problems in qualifying, but the race pace was there. Then a flat tire hit in the 500. We led the race from where we gridded (14th) and we could have threatened at the end. It's been a little bit snake bit prior to this.
"But clearly the pace was there. Texas finishing fourth there was a good finish. Fifth at Iowa was good. Unfortunately in Toronto, and we had the great qualifying performance I thought, I don't think anyone was happy post-race! I think even Roger Penske told Graham we got screwed, and even though he won, his own car (Castroneves) lost!
"Still the fact we did it on used reds versus new reds, I thought was pretty impressive. In Toronto we were pretty good – maybe not as good as we were in Detroit – but still pretty good and kept getting better and better.
"I think he's driving very well. I'm pleased about that. What's so hard about that qualifying there, is you only have one lap to do on tires on Toronto for example. It's easy to overdrive a car in that situation, but he hasn't. I think he's done a good job in that respect."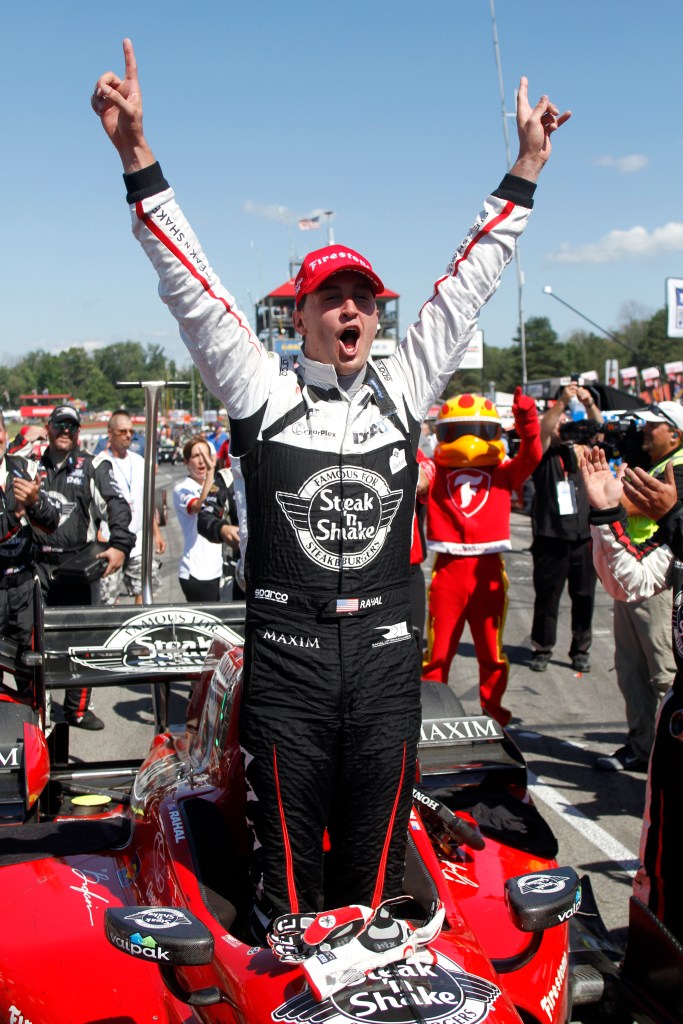 For Graham Rahal, who loves coming home to Mid-Ohio, this is an important weekend but one that he always takes the opportunity to savor.
"It's always great to go back to Mid-Ohio," he said. "I have a lot of fond memories, and have had a lot of great days there. Obviously winning there in 2015 really highlighted my career thus far. I'm excited to get back and hopefully see a great crowd once again. I know we will have a lot of support and I'm very appreciative of that.  Hopefully we can have a great run in the Steak 'n Shake Honda because we definitely need it at this point in the championship."
Rahal's road course performance hasn't been stellar this year in qualifying with 21st and last at Barber, 20th on the grid at the INDYCAR Grand Prix in Indianapolis, but then a big jump to sixth at Road America, making the Firestone Fast Six. Finishes of 13th, sixth and eighth have represented good comeback drives in the race.
"My hopes and expectations are high," said Rahal. "We have struggled with our road course setup this year but at the same time I think we are capable of overcoming that. Our guys have put a lot of effort, a lot of time and mental energy into figuring out what we need going forward."
One of the areas that will help him is his pit position this week. Having qualified second at Toronto last race, Rahal has nearly the perfect pit spot this weekend, as pit lane and track position at Mid-Ohio are crucial.
"Our pit position in Mid-Ohio, based on qualifying second in Toronto, is going to be great. It's flat so that is going to help us a lot.  Obviously you want to be pitted with the good guys.  You want to be right down there where the fast guys and championship contenders are and we're right there with them," he said.
Rahal is in championship contention despite that rocky start to the year and will be looking for some home cooking to fire up the final five races of the season.