LEXINGTON, Ohio – The first two of seven races for the Mazda Road to Indy presented by Cooper Tires are in the books on Friday afternoon, one race apiece for the Cooper Tires USF2000 Championship Powered by Mazda and Pro Mazda Championship Presented by Cooper Tires
There were several other sessions: USF2000 first qualifying, Indy Lights practice, Pro Mazda first qualifying, and Indy Lights first qualifying. All told, a busy day of action for the MRTI.
USF2000: ASKEW WINS, BUT PENALIZED POST-RACE
After a tough Toronto weekend where he didn't win either race on the streets, and got collected in the Alex Baron/David Malukas Turn 3 crash as they battled for the lead, Oliver Askew rebounded with his seventh win of the season, after winning pole in the morning, and closed in on the Cooper Tires USF2000 Championship Powered by Mazda season championship.
The win also extended Cape Motorsports' Mid-Ohio win streak to nine in a row, after Anthony Martin (all three 2016), Nico Jamin (all three 2015), Florian Latorre (Race 3, 2014) and Jake Eidson (Race 2, 2014). RC Enerson for Team E Racing was the last non-Cape winner in USF2000 here at Mid-Ohio.
However, Askew's would-have-been 29-point lead after winning was reduced to 19 over Rinus VeeKay after confirmation of the official results. Askew was assessed a 10-point penalty for jumping the start.
The 10-point penalty for jumping the start on Lap 1 was different from one assessed to three other drivers post-race – Jacob Abel, Robert Megennis and Phillippe Denes – a 17-second time penalty on Lap 21 following the restart. Had a similar time penalty been assessed, no doubt Askew would have finished lower and had the win taken away.
Further information about the penalty assessment process will no doubt come later.
Askew got off to a sizable lead over Lucas Kohl and Parker Thompson earlier in the race, VeeKay having been hamstrung by a two-spot grid penalty for blowing the checkered flag earlier in the morning.
Askew built his lead several seconds for the rest of the 30-minute race, looking like he'd never be headed, while by Lap 3 Thompson got Kohl for second, and a few laps later VeeKay was by for third.
The only thing that looked set to knock Askew off his perch was a caution with just over seven minutes remaining when Moises de la Vara ran off course in his DE Force Racing entry.
That set up a final restart with just under four minutes remaining but as he has most of the year, Askew excelled and pulled away to a final margin of victory of 1.3282 seconds.
Thompson was second with VeeKay third.
Askew entered with only an 18-point lead, 283-265, but provisionally built that gap to 29 points following the race.
The potential exists he could clinch the championship tomorrow if he builds the gap to 34 points or more, as there are only two races remaining and the maximum one can score in a race is 33 points.
For Askew, the mindset is surreal as this weekend is the site of the annual Team USA Scholarship competition, where the 10 candidates are named. Last year he said he didn't know anyone and thought racing here was a long shot; now, he stands on the precipice of winning a championship nearly one year to the day.
"There was a ton of pressure going into this weekend and that pressure is still there," Askew said afterward. "Cape Motorsports has dominated here the past few years, winning every race, so I know I'll have a fast car again tomorrow and can go for the pole and the win again."
Thompson, now eliminated from title contention in his third year in the series, ran old tires today so it leaves him a fresh set of sticker Cooper Tires tomorrow. That may aid him in qualifying.
PRO MAZDA: MARTIN EDGES FRANZONI IN FIRST RACE OF TRIPLEHEADER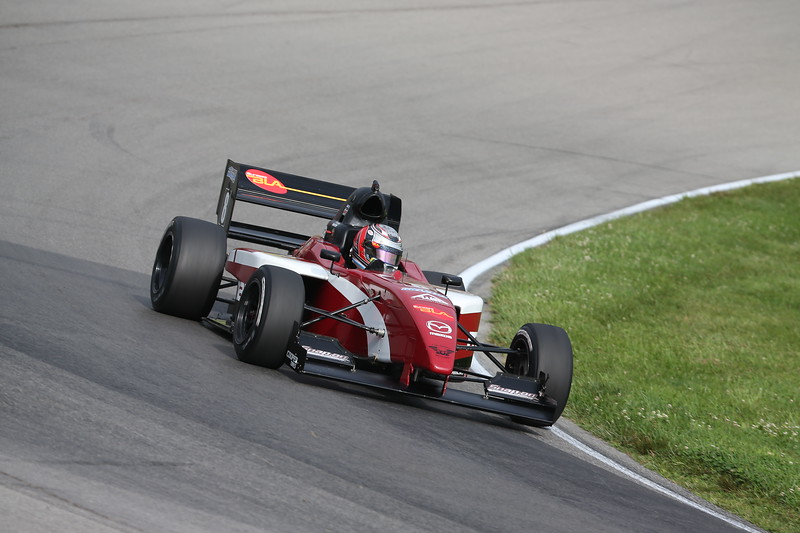 It seems weird that while USF2000 only has two races left in its season after Friday's racing, Pro Mazda Championship Presented by Cooper Tires opened Friday with still half its season – six of 12 races – remaining. But with three of them taking place at Mid-Ohio this weekend, this was and is a most critical weekend for the title tilt.
Anthony Martin took the first step towards the title with a launch into the lead off the start in his Cape Motorsports entry, after getting usurped in qualifying by Carlos Cunha, who'd scored the pole for Team Pelfrey.
Martin then held off a sustained challenge from his title combatant Victor Franzoni of Juncos Racing to win the race, continuing both Martin's and Cape's respective win streaks at Mid-Ohio. This also sees Martin close several points on Franzoni in the championship battle.
"It was a perfect day – we just have to do that two more times this weekend!" quipped an elated Martin. "It's a "one down" type feeling today, since we're only halfway through our season. I have to focus forward and get as many points as I can."
The win is Martin's fourth straight at the track after winning all three for Cape last year in USF2000. Cape, meanwhile, won the last two with Nico Jamin last year in Pro Mazda, and the second race in 2015 with Neil Alberico. It's been since Santiago Urrutia, who won race one in 2015 with Team Pelfrey, that someone outside of Cape has won in Pro Mazda at Mid-Ohio.
TJ Fischer rebounded to third and his first podium since the Indianapolis Motor Speedway road course for Team Pelfrey after Cunha was assessed a drive-through penalty for avoidable contact. Cunha dropped to fourth, and the third member of Pelfrey's triumvirate, Nikita Lastochkin, was fifth.
Pro Mazda has two more races this weekend ,with race two on Saturday and race three on Sunday.
INDY LIGHTS: URRUTIA ON ANOTHER PLANET FOR POLE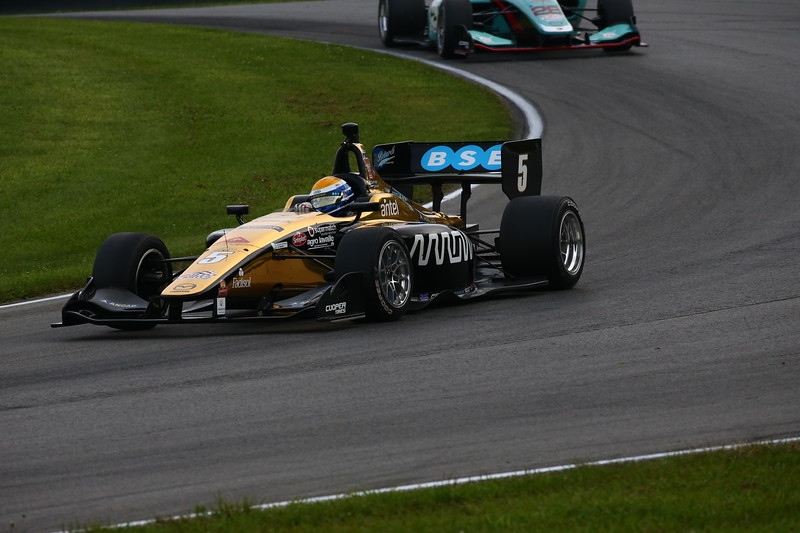 Santiago Urrutia isn't in the championship fight, realistically, for this year's Indy Lights Presented by Cooper Tires championship. But that doesn't mean the Uruguayan can't play spoiler.
The driver of the No. 5 Dallara IL-15 Mazda for Belardi Auto Racing with SPM scored his first pole of the season and by a significant margin – a best time of 1:11.3694 was 0.6589 clear of second place.
Urrutia swept last year's pair of races and enters with what should be a significant advantage in terms of pace this weekend.
SPM won six of the last seven races for Indy Lights at Mid-Ohio dating to 2013, with Gabby Chaves (2013), Jack Harvey (twice in 2014), RC Enerson (2015, Race 1) and Urrutia (twice in 2016). The only exception was Sean Rayhall (2015, Race 2) for 8Star Motorsports.
That presents an interesting scenario heading into Saturday's first race whereby none of the existing five teams has won at Mid-Ohio with the current Dallara IL-15 Mazda, introduced in 2015. It's been since Martin Plowman in 2010, with Andretti Autosport, that someone other than SPM or 8Star has won at Mid-Ohio.
Beyond Urrutia, Colton Herta was second in the No. 98 Andretti/Steinbrenner Racing entry and as previously noted, nearly seven tenths behind.
Nico Jamin, who has his own winning streak on the line with five straight wins between three in USF2000 and two in Pro Mazda the last two years, rolls off third ahead of Shelby Blackstock and Zachary Claman De Melo.
Points leader Kyle Kaiser will start only sixth ahead of fellow American Aaron Telitz, while Kaiser's closest championship contender Matheus Leist will only start 12th in the 14-car field.
Urrutia also led practice at 1:11.9455, with Jamin at 1:12.4462 and Claman De Melo at 1:12.5052.