The Mazda Road to Indy Presented by Cooper Tires saw all three series hold races on Saturday at Mid-Ohio Sports Car Course. The Cooper Tires USF2000 Championship Powered by Mazda and the Pro Mazda Championship Presented by Cooper Tires conducted their second races of the weekend (Pro Mazda has its third race on Sunday), with Indy Lights Presented by Cooper Tires running its first race of the weekend on Saturday.
And all three races saw championship shakeups, with one even experiencing its fair share of controversy. Reports on all three races are below.
INDY LIGHTS: URRUTIA BREAKS THROUGH AS HERTA GAINS ON KAISER, LEIST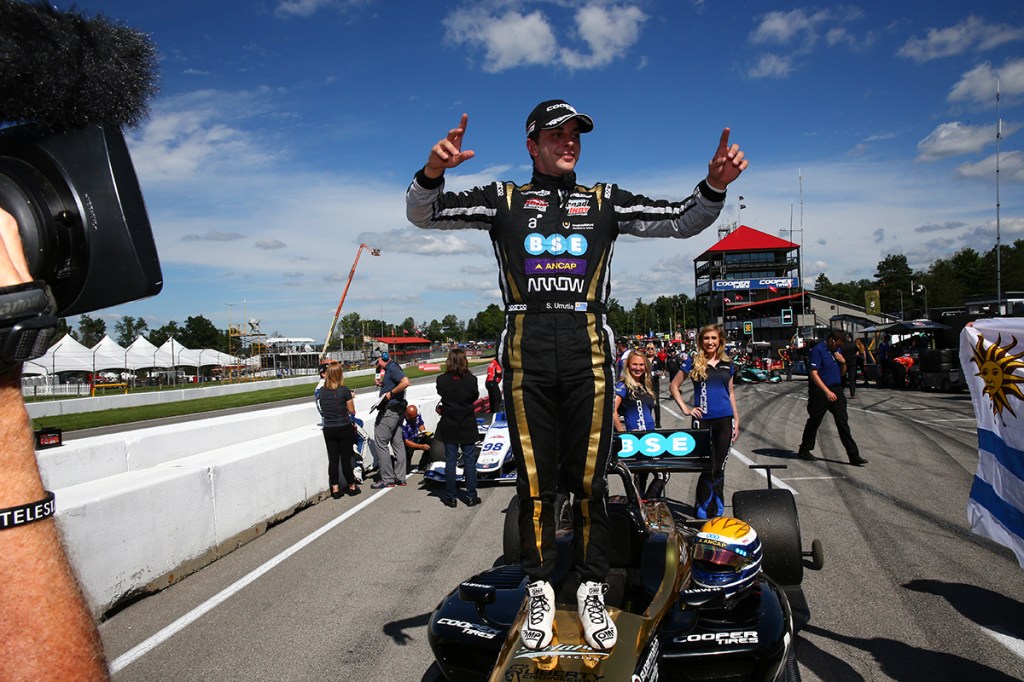 Santi Urrutia started from pole, led every lap, and scored the victory in Indy Lights Race 1. However, that barely scratches the surface on what was a dramatic 30-lap outing.
Two starts were waved off as front row starters Urrutia and Colton Herta approached the start/finish line too slowly on the first two attempts. The third time was the charm, however, as the green flag finally waved on what was officially the third lap of the race.
Urrutia shot off into the lead while Herta battled with teammate Nico Jamin for second, with Jamin initially getting the better of Herta. However, Herta quickly regrouped and passed Jamin back on lap 4, using an aggressive move on the outside ahead of turn 4.
Herta then turned his attention toward Urrutia, and quickly closed in and began to mount an attack. But, Herta's charge came at the expense of his push-to-pass, which he had completely used up early in the second half of the race.
The lack of push-to-pass hampered Herta'a efforts drastically, allowing Urrutia to withstand Herta's advances more easily.
Although their battle saw Jamin, Shelby Blackstock, and Zachary Claman de Melo close in, with the top five separated by three seconds at one point, Urrutia kept everyone at bay to secure his first win of 2017.
Further, it is also the fourth Mid-Ohio win in a in five races for the driver of the No. 5 Dallara IL-15 Mazda for Belardi Auto Racing with SPM. Urrutia won in 2015 for Team Pelfrey in Pro Mazda, finished third in race 2 that year, and swept the Indy Lights weekend last year with Schmidt Peterson Motorsports.
"For sure, it's a track that I like. I won in Pro Mazda, I won last year in Indy Lights and I won here again (today), and tomorrow I have a chance to win again because I'm going to start on the front row again," Urrutia said of his Mid-Ohio success.
He added that Tim Neff, his engineer from Schmidt Peterson, followed him to Belardi, so his setup for this year was very similar to one he used last year, though he admitted tire wear was an issue near the end. "I have the same engineer from last year, so basically the car was pretty much the same. I think with the tire change, it was slightly different, but to be honest it was pretty much the same. The only problem was that we didn't save the tires to the end. So, I think if we do a mechanical change, that's going to help for Race 2 and then we'll go for the win again," Urrutia finished.
Behind the lead group, Race 1 was somewhat of a disaster for championship leaders Kyle Kaiser and Matheus Leist. Both struggled from the outset, with Kaiser falling to ninth on the opening lap after starting sixth. Kaiser continued to plummet as the race went on, eventually falling as low as 13th.
Kaiser moved back up to 12th after his Juncos Racing teammate Nicolas Dapero slowed with mechanical trouble, but Kaiser could do no better than 12th at race's end, his first finish outside the top ten this year.
Still, Kaiser didn't lose much ground to title rival Leist, who endured an equally troublesome day. Leist started outside the top ten in 12th and never ran in the top ten at any point during the 30-lap race. He managed to finish ahead of Kaiser, but only by one position as he came home 11th.
As a result of their struggles, Herta moves to second in the championship, 49 points behind Kaiser. Leist is now third, 50 points out of the lead. Urrutia's win puts him in fourth, 59 markers behind, while Claman de Melo completes the top five in fifth, 64 points back.
Race 1 results are below. Race 2 rolls off at 1:20 p.m. ET on Sunday, with Colton Herta on pole and Santi Urrutia joining him on the front row.
PRO MAZDA: CONTROVERSIAL FINISH GIVES FRANZONI VICTORY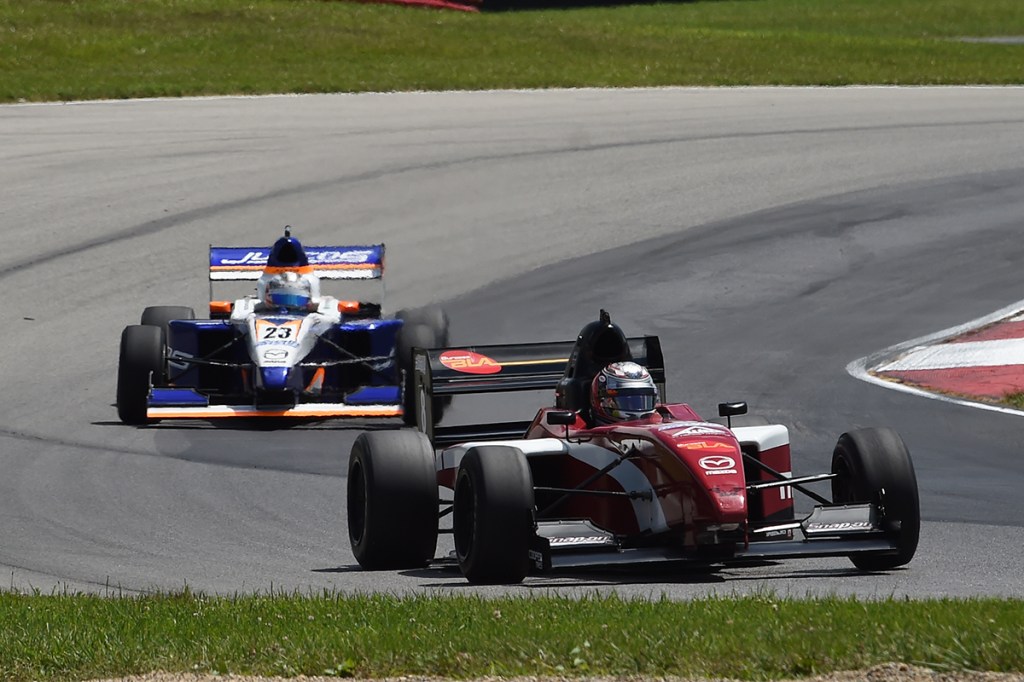 Anthony Martin dominated Race 2 in Pro Mazda, but it was Victor Franzoni who emerged victorious after a controversial finish.
Franzoni was all over Martin's gearbox the entire race, rarely being farther back than half a second, and often he often tried to mount a challenge as the two worked through lapped traffic. Martin, however, held him off every time, until they encountered Franzoni's teammate Jeff Green with four minutes remaining.
Martin tried to pass Green around the outside through the Carousel, but Green pushed out wide, forcing Martin to take an even wider line through the corner. That allowed Franzoni to go through on the inside to take the lead, with Green actually spinning on corner exit.
Green's spin brought out a full-course caution, and racing resumed for one green-flag lap before the finish. Though Martin tried to mount a challenge, he was never close enough to Franzoni to try a pass. That left Franzoni to take his fourth win of the 2017 season, matching Martin after his win on Friday, with Martin finishing second.
"I had a better car and I was faster in the middle of the race but it was another day that I was just stuck and I couldn't do anything. I had some good luck, which is what we need to win the championship. But to have the luck, you have to be in position so I'm really happy we did what we had to do," Franzoni said of his victory.
Martin, who set the fastest lap of the race, was gracious in defeat, but was also vocal about his frustrations with losing the lead the way he did. "The race went well – I can't thank Mazda and Cooper Tires enough, they give us everything we need to go out there and race, and the Cape guys gave me a great car as always. To set the fast time is always a good achievement. As far as what happened at the end of the race, getting put out by Victor's teammate was not the way I wanted it to happen. It's bad when lapped cars affect a championship," he lamented.
Behind them, the Team Pelfrey trio of Nikita Lastochkin, TJ Fischer, and Carlos Cunha engaged in a very intense battle for third, with the three drivers in a pack together the entire race. The final-lap restart saw Cunha and Lastochkin make contact, forcing Lastochkin off the track. That allowed Cunha to come home third ahead of Fischer in fourth. Lastochkin was able to regroup, however, and finished fifth.
The Pro Mazda title remains an extremely close affair, with Franzoni only leading Martin by four points heading into Race 3 at Mid-Ohio.
Results are below. Race 3 rolls off Sunday at 10:20 a.m. ET, with Martin on pole and Franzoni starting from third.
USF2000: THOMPSON DOMINATES RACE 2, VEEKAY KEEPS TITLE HOPES ALIVE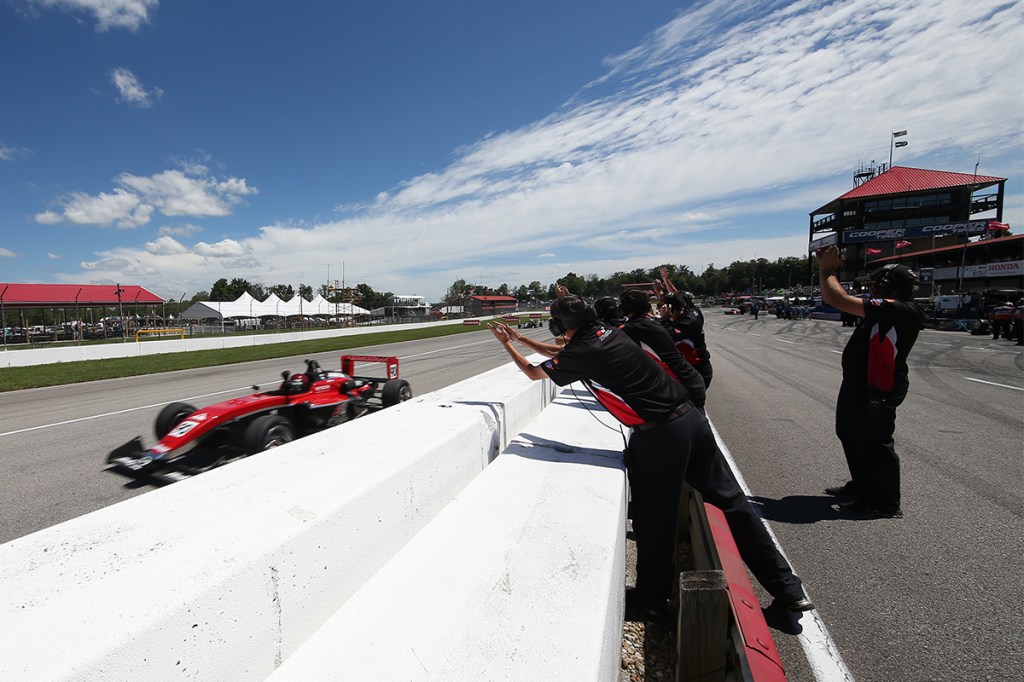 Parker Thompson continued his hot streak in USF2000 with a win in Race 2 on Saturday, his third win in the last four races. Thompson led straight off the start and withstood a restart with four minutes remaining to secure the victory.
"That was amazing. In maybe two percent of my career can I say I had a perfect car but today, I had a perfect race car. We've worked so hard to get to this point that it almost looked easy – and it almost was easy. It was almost unreal when I got to the podium," a euphoric Thompson said about his victory.
Behind him, Rinus VeeKay managed to keep his championship hopes alive by finishing ahead of title rival Oliver Askew. VeeKay slotted into second when the race began, while Askew dropped from third to fourth, with Lucas Kohl getting by.
Askew lost another spot on lap four, as a charging Kaylen Frederick, who started seventh, passed him for fourth. Askew then settled in behind Frederick and followed the 15-year-old back around Kohl for fourth, with Frederick moving up to third.
The race settled into a rhythm from there, but a lap 16 caution for Darren Keane and Corey Enders, who came together in the esses and locked wheels briefly, neutralized the field and erased all gaps between the drivers. Both Keane and Enders rejoined the race, but Enders lost two laps after his car stalled on top of the curbing and needed to be moved.
The restart with four minutes remaining saw Thompson rocket away from the field, with VeeKay holding a challenge from Frederick to keep second. Frederick was able to finish third, though, with Askew fourth and Calvin Ming coming through a fierce battle from fifth on back to finish fifth.
VeeKay described afterward that he was thinking "big picture" the entire time in order to gain points on Askew to extend the championship to the season finale at Watkins Glen International.
"My plan going in was just to drive smart and gain as many points on Oliver as I could," VeeKay described. "I saw Lucas and Kaylen pass him but I had to keep going. Parker had a good start and I was not so good so I had to defend from Oliver. I kept him behind so that was good. I was pushing pretty hard in the middle of the race so I didn't have as much grip at the end. I had a good gap so I was not happy to see the yellow flag. I had a good restart and was able to keep Kaylen behind me, so this is a good result."
Askew's lead over VeeKay now sits at 13 points (325-312), while Thompson clinched third-place in the championship, as he sits 43 points ahead of Kaylen Frederick (264-221)
Results for USF2000 Race 2 are below. USF2000 hosts its final race of the 2017 season at Watkins Glen on September 2.