Sunday concluded action for the Mazda Road to Indy Presented by Cooper Tires, with Race 3 for the Pro Mazda Championship Presented by Cooper Tires and Race 2 for Indy Lights Presented by Cooper Tires wrapping up the weekend.
Pro Mazda saw utter dominance from one of its title contenders, while Indy Lights saw a duel to the checkered flag after several heavy hitters stumbled.
Reports on both races are below.
INDY LIGHTS: JAMIN OUTDUELS URRUTIA AS HERTA, KAISER FALTER
Nico Jamin swapped the lead with polesitter Colton Herta a couple times in the early laps of Indy Lights Race 2 and assumed the lead on lap 3 after Herta spun out of the lead exiting turn 9. Jamin then had to withstand a late charge from Race 1 winner Santi Urrutia, who closed onto the Frenchman's gearbox in the final laps.
Urrutia made a serious run at Jamin entering turn 4 on lap 34 and got to the outside of Jamin on corner entry. However, he locked up the brakes briefly and Jamin was able to hold him off. Jamin kept him at bay from there to secure the victory. It is Jamin's sixth victory in his last eight Mid-Ohio races – he swept a USF2000 triple-header in 2015 and won twice during last year's Pro Mazda triple-header (he finished third in the other race). Including Saturday's Race 1 finish of third, Jamin has eight consecutive podiums at Mid-Ohio.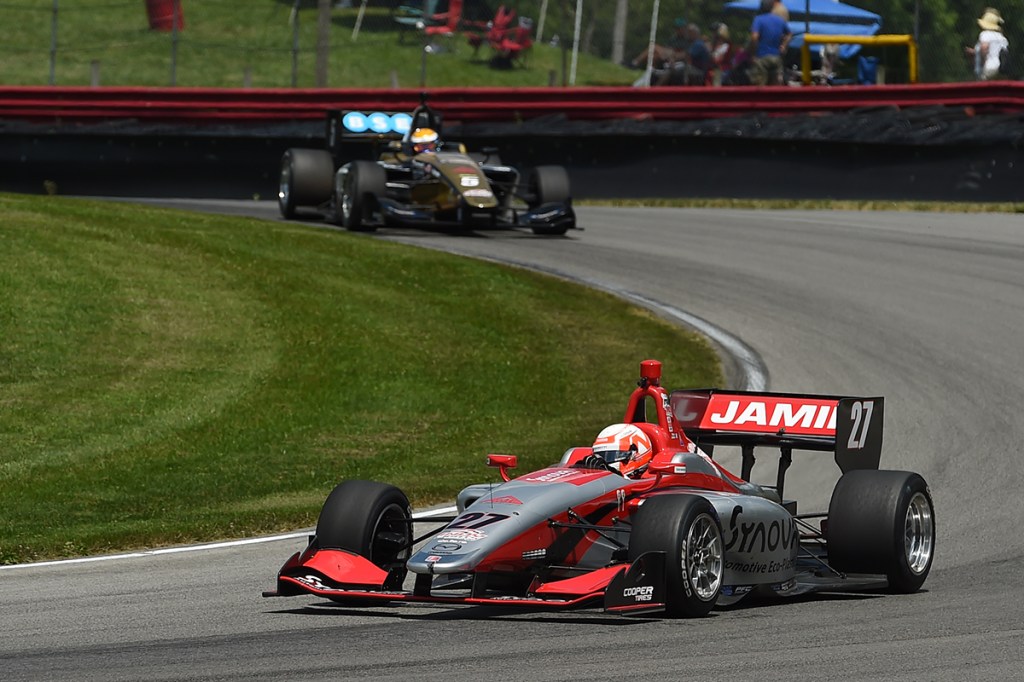 "I screamed on the radio (because) I was so happy!" said an elated Jamin. "The whole 27 team has been struggling so to be first and third this weekend and coming back a bit in the championship feels really good."
Shelby Blackstock drove a quiet, but solid race to finish third, with Zachary Claman de Melo and Aaron Telitz doing the same to finish fourth and fifth.
Herta was able to regroup after his spin to finish sixth, taking the position from Nicolas Dapero on lap 33. Championship leader Kyle Kaiser, however, endured a much more difficult Race 2, this after struggling massively in Race 1.
Kaiser was running seventh in the early laps, and actually looked poised to grow his points lead over Herta and Matheus Leist, with both drivers running behind him due to Herta's spin and a poor qualifying from Leist, who started 13th. However, Kaiser made a poorly timed dive inside Juan Piedrahita entering turn 5 as they battled for sixth. Contact was made, Kaiser's right-front with Piedrahita's left-rear, and both drivers spun. While they were able to rejoin, neither was in contention from then on. Piedrahita ended up 11th, with Kaiser 12th at the checkered flag.
Matheus Leist, meanwhile, endured another race in which he seemed to lack the necessary pace to run up front, finishing tenth. Combined with his Race 1 finish of 11th, Leist was rarely a factor during the weekend.
Despite the mistake, Kaiser retains the top spot in the championship, and with a still healthy margin at that. Kaiser now leads Urrutia and Herta, who are tied for second, by 42 points (297 for Kaiser, 255 for Urrutia and Herta). Leist sits fourth on 249 points, with Claman de Melo fifth on 243. Nico Jamin sits sixth with 242 points.
Results are below. Race 2 for Indy Lights airs tonight (7/30) at 11:30 p.m. ET on NBCSN.
PRO MAZDA: MARTIN REBOUNDS TO DOMINATE RACE 3
Anthony Martin rebounded from a disappointing and controversial second-place in Race 2 to run away with Race 3. Martin shot off into the lead after starting on pole and never looked back, steadily increasing his lead all the way through, eventually winning by nearly 14 seconds.
In fact, Martin never appeared to ease up at any point, actually setting his fastest lap on lap 22, the second-to-last lap of the race.
"I knew I had one job to do and that was to win the race. I was a little ticked off from yesterday so I might have had a little more aggression today, but I had to put what happened yesterday out of my mind – racing is racing and those things happen," Martin quipped afterward.
Martin added that the knowledge of Victor Franzoni's running position (Franzoni quickly moved into second after starting the race in third) was plenty of motivation to keep pushing. "I didn't look behind me until the back straight, when the team told me that Victor was in second and that I needed to go. From there, it was head down. The Cape boys gave me a great car all weekend and it was almost a 100 percent successful weekend. It was great to see we could do it and that helps with three races to go," he finished.
Title rival Franzoni battled with Carlos Cunha for second the entire race. Franzoni got the better of Cunha off the start and moved to second with an inside pass entering the keyhole, but Cunha stalked him from there, closing to within a couple car lengths on multiple occasions as they worked through lapped traffic.
However, Franzoni held off every challenge to secure second place, with Cunha rounding out the podium in third.
Unofficially, Martin's victory puts him back ahead of Franzoni by four points (259-255) in the championship. But the results are not official yet, per this statement from series operators Andersen Promotions:
"Under the direction of series officials, the cars of Martin, Franzoni and Fischer have been impounded for further evaluation to be performed in Indianapolis this week. This is an extension of the current inspection process. When completed, the procedure and outcome will be published. The results from today's race will remain unofficial until that point."
(Editor's note: NBC Sports has confirmed that impound independently as well, with a series spokesperson estimating impound results to be released mid-week).
Race 3 results are below.
Both Indy Lights and Pro Mazda pick their seasons back up at Gateway Motorsports Park on August 26.