LEXINGTON, Ohio – Alvaro Parente (GT) and Ian James (GTS) captured Sunday's wins for the Pirelli World Challenge at Mid-Ohio Sports Car Course.
GT
Parente completes his first weekend sweep of the year after a second successive authoritative drive from pole to victory in the No. 9 K-PAX Racing McLaren 650S GT3.
The wins were his third and fourth of the year in the Sprint season and saw him close even further on Sprint championship leader Patrick Long, who finished second in the No. 58 Wright Motorsports Porsche 911 GT3 R this afternoon (unofficially within five points).
Impressing in third with his first overall podium in GT only competition is series veteran Alec Udell of GMG Racing, driving the No. 17 Porsche. The native of The Woodlands, Texas is still only in his early 20s but has starred in the series' GTS, GT Cup and GTA classes and classifications. Today, he drove a heady race beyond his years matched up against many of the series' veterans, and held off a hard charging Kyle Marcelli in the No. 61 R. Ferri Motorsport Ferrari 488 GT3.
Udell's overall podium capped off a banner weekend for GMG; James Sofronas won his second straight GTA race in his No. 14 Porsche while George Kurtz did the same with his No. 04 McLaren 570S GT4 in the GTS Am division.
GTS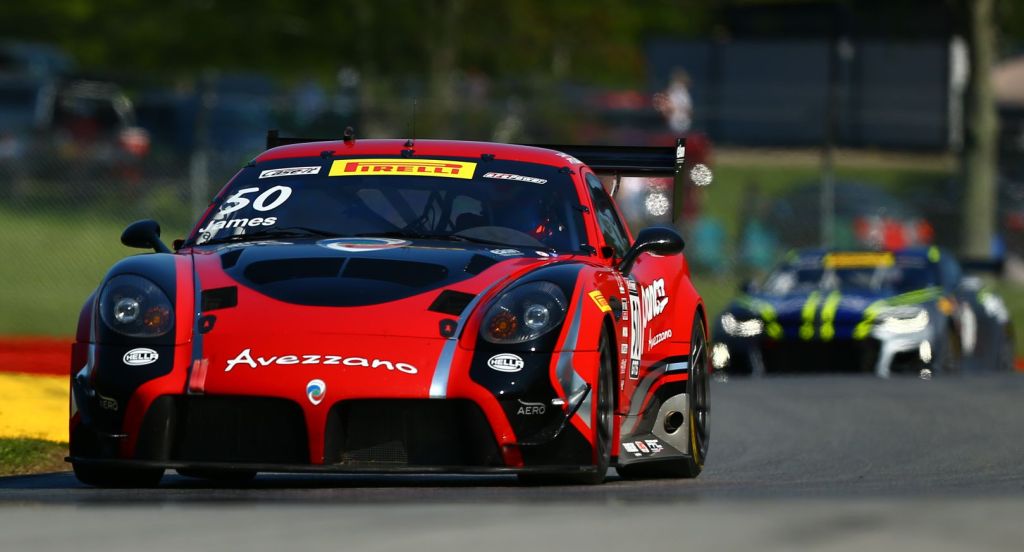 The string of one manufacturer sweeping the weekend in GTS finally ended in Mid-Ohio. After Lawson Aschenbach took the spoils on Saturday in his No. 10 Blackdog Speed Shop Chevrolet Camaro GT4.R, his season long sparring partner Ian James took Sunday's win in his No. 50 Team Panoz Racing Panoz Avezzano GT.
James got past Aschenbach after hounding him the first 18 laps of the 35-lap contest before taking the lead on the 19th lap Sunday, and extended his margin to 1.917 seconds at the checkered flag.
This is James' third win of the year, the first driver to reach that mark, and he now sits second in points behind Aschenbach. With races in Utah, Circuit of The Americas and Sonoma Raceway to come over the next couple months, it'll be interesting to see of Aschenbach's consistent run of podiums keeps him at a margin similar to the 267-181 score, as it is now.