LEXINGTON, Ohio – One of the things that is outside a strategist's control is when the yellows fall in a Verizon IndyCar Series road or street course race, such as today's Honda Indy 200 (3 p.m. ET, CNBC).
Depending on when they do, particularly around a pit stop cycle, it can either make or break your race – and potentially your season.
The question is, do you pit right when a pit window opens, which avoids the potential of getting caught out? Or do you opt to stretch your luck, pit later, and potentially catch a caution at the wrong time?
Toronto's race two weeks ago, the Honda Indy Toronto, was the latest example over recent years where closing the pits for a yellow flag drastically shook up the order.
The previously dominant trio of polesitter Simon Pagenaud, front-row starter Graham Rahal and Helio Castroneves, who'd vaulted to the lead after a perfect start, were caught out when Tony Kanaan nosed into the tire barriers in Turn 1 and they hadn't visited the pit lane yet.
It was Josef Newgarden who was the beneficiary of that, the Team Penske driver having followed his strategist Tim Cindric's call to pit just prior to the yellow flag, as Cindric had done for Will Power last year in the same race. Newgarden promptly won his second race this year from there.
Off-sequence strategies and cautions have adjusted how Mid-Ohio has fallen the last couple years. What looked like a fight between Newgarden and his predecessor in the No. 2 Team Penske car, Juan Pablo Montoya, in 2015 went away as Sage Karam spun and Rahal promptly leapfrogged to the win. Karam's spin was not without its controversy, though.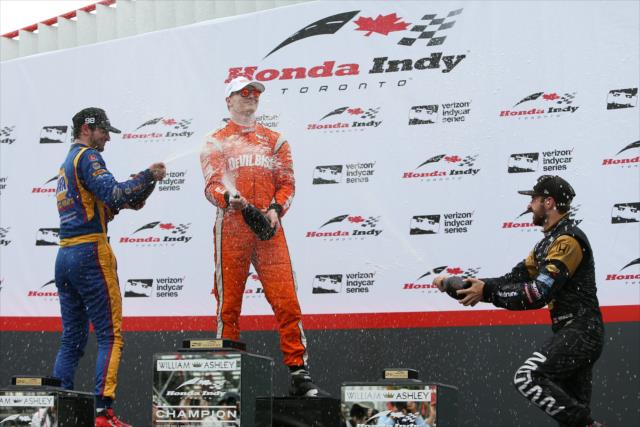 As the Verizon IndyCar Series heads into the final five races of the season with the top four within 23 points and the top seven within 72 – these the seven likely realistic title contenders of Scott Dixon, Castroneves, Pagenaud, Newgarden, Will Power, Rahal and Takuma Sato – how the yellows fall in the three remaining road course races will be fascinating to watch.
Newgarden explained the conundrum drivers find themselves in depending on cautions, but they're not in nearly as tight a spot as strategists.
"I mean, it depends on where you qualify, right? I think that changes your strategy. Maybe that helps you or hurts you," Newgarden explained. "I think in Toronto, it was probably a blessing qualifying seventh because, you know, our strategy was to come in early. We just happened to catch a yellow at the right point. I still think we had good potential without it. But that always just makes your day a lot easier.
"So I don't know. I don't think there's really a good recipe for it. You either get lucky on the right days or you don't. You qualify first up here, it is always good to qualify on the pole. Maybe you just catch a bad yellow. Qualifying 10th was right thing that day. But I have no idea how you guard against it."
Rahal was particularly frustrated by the caution timing in Toronto. Team owner and father Bobby spoke out against IndyCar's current rules about how the pits close when a full course caution flies.
"You're right, we've been on both ends of it," Bobby Rahal told NBC Sports. "We benefited at Mid-Ohio (in 2015) by ducking in and then gratuitously a yellow showed up. We were fourth or fifth, sixth, and then ended up first.
"But Toronto was frustrating for sure. Really the top three cars in the field frankly, were handsomely ahead of the fourth place car. It was the wrong place, the wrong time and very frustrating. Fate plays such a role, or bad luck, or however you want to describe it."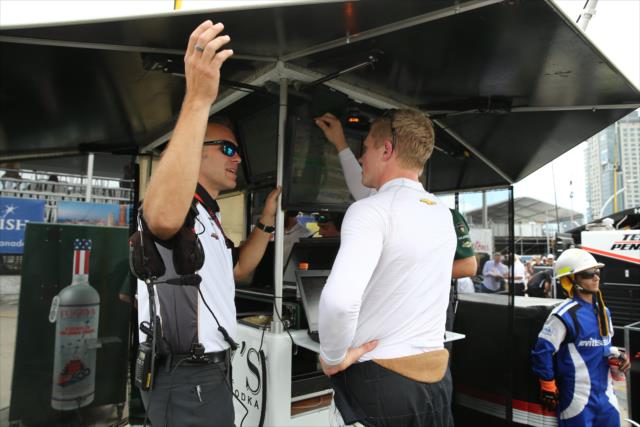 Ed Carpenter can speak to both the driver and owner perspectives. The man atop Ed Carpenter Racing is a driver on the ovals, but on the box for the road and street course races.
"I think it's the best possible situation for what we have now," Carpenter told NBC Sports. "A lot of times the variety gets taken out of play for the other teams if the pits were closed. Sometimes guys benefit in spite of their own personal preferences!"
Mike Hull, Scott Dixon's longtime race strategist, has been on both sides of the divide as well.
"I think we worry about it at every road track," Hull said. "We keep knocking on the door for INDYCAR to maybe adapt a system where they don't trap the leader on the race track; they did that for a while with the previous Race Director and he did a good job of that. INDYCAR has proven it can be done; it's something they need to look at. It's a conversation we've had; I think it needs to go past the conversation stage."
So will this be something INDYCAR examines, or is it just a case of teams just missing the window to pit when they can? Rahal and Newgarden outlined what they would like to see for the way forward.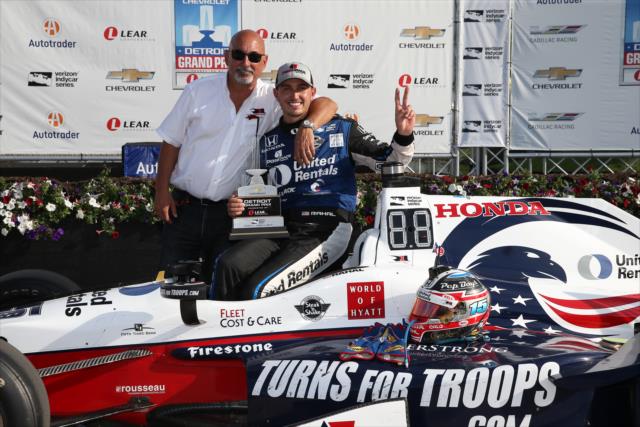 "I'm in the process of trying to come up with some ideas, and Jay (Frye) and Brian (Barnhart) are all ears on that," Rahal said. "One thing is, I've never been a fan of is the closed pits. Certainly when I drove, we never had closed pits.
"Number one, it makes for a more dangerous situation when people run in when everyone comes in. I wonder in this case if the Kanaan situation had been a local yellow, and it should have been to my mind, the leaders could get in and get out. I get it when stuff is scattered all over the place and maybe you need it then. I didn't think the TK incident merited a full-course yellow. But, it doesn't matter what I thought!
"By not closing the pits, that solves that situation. In the end, that's the guys who weren't competitive initially, who are struggling on tires, they're the ones who benefit. That moved them to the front.
"I want to propose the idea – that in all cases, they don't close the pits anymore (when a full course caution comes out). It creates a lot of issues and risks you don't need. We'll see. It's a real matter of more using the local yellow. And if someone violates that by speeding through a yellow area, say they're black flagged or something like that. We saw that at Detroit lost the pole, with Castroneves, and that was in qualifying. I think the local yellows should be used much more often than they are. The pits shouldn't be closed in any situation."
And from the driver's standpoint?
"It's definitely been an interesting topic," Newgarden said. "I think definitely in the past, I've always preferred having the yellows because it gives you an opportunity if you're not strong one weekend. I think definitely when I suffered more inconsistently from track to track with performance, it was nice to be able to rely on potential yellows to help you.
"Now it feels like this year we're more consistently just fast everywhere, so you don't really want them. I think there's a different opinion whether you're at the front or back of the grid.
"It would be cool if we could go back to open pit scenario somehow. The rules are what they are right now.
"How you safeguard against them, I don't think you can. You're either lucky or you're not."