There's been a lot of news in the IMSA WeatherTech SportsCar Championship over the last month or so beyond its on-track activity at Watkins Glen International, Canadian Tire Motorsport Park and Lime Rock Park before this weekend at Road America, and the Continental Tire Road Race Showcase.
There's been the three pieces of really big news – formal confirmation of the Penske Acura and Joest Mazda programs, and the series announcing this past weekend its return to the Mid-Ohio Sports Car Course in 2018. But those aren't alone.
A recap of the rest is below.
—
VISIT FLORIDA Racing swaps Riley Multimatic for Ligier
Troy Flis' team overachieved with a podium on reliability, rather than outright pace, in the Rolex 24 at Daytona with drivers Renger van der Zande, Marc Goossens and Rene Rast. But that was late January and seems an eternity ago, and the No. 90 VISIT FLORIDA Racing team has found the going tougher since.
The Riley is out and a Ligier JS P217 is in, starting this weekend at Road America.
"We have seen what the Ligier JS P217 is capable of, not only here in IMSA, but also in Europe as well, so we are eager to get to the track and learn about the JS P217 at Road America," Flis said, via IMSA.com. "I'm impressed with the customer support that Onroak Automotive has in place, and I have known Max Crawford for a long time so that relationship is another key element for us and VISIT FLORIDA to make this commitment."
The team completed a shakedown this week at the Autobahn Country Club in Joliet, Ill. See photos from Radio Show Limited's Eve Hewitt posted on Twitter, below.
—
WeatherTech goes back to Porsche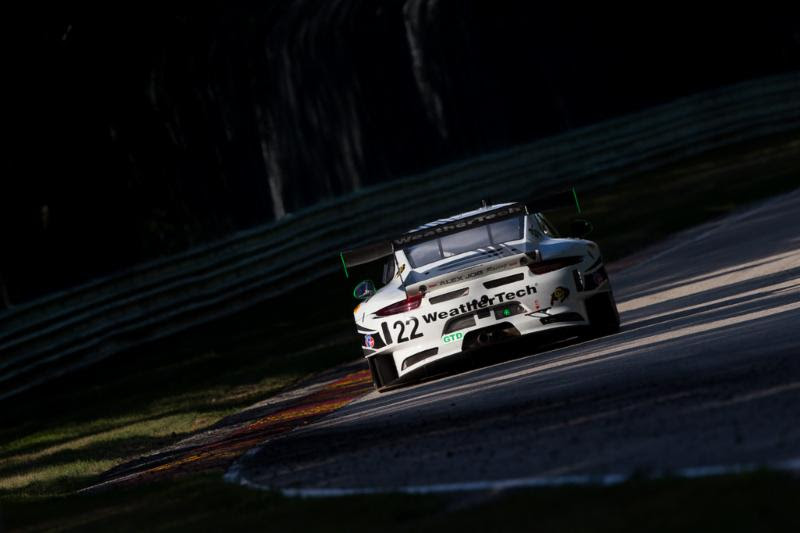 Ahead of or at the Road America weekend, it seems WeatherTech is always in the news.
Two years ago, WeatherTech was revealed as IMSA's new entitlement partner, replacing TUDOR. Last year, the team ran two Porsche 911 GT3 Rs, one for Cooper MacNeil and Sven Mueller following the mysterious departure of Leh Keen, and a second for MacNeil's father David with Gunnar Jeannette. The WeatherTech team then promptly withdrew after Road America from the WeatherTech series season to run a couple Pirelli World Challenge races with the Porsches instead.
Now, with the Balance of Performance not in the favor of the WeatherTech Mercedes-AMG GT3, the Cooper MacNeil and Jeannette entry for this weekend at least… is a Porsche.
"The Mercedes-AMG GT3 is a great car," MacNeil said. "We were fortunate to win at Long Beach on strategy, but the ebb-and-flow of BoP has the Mercedes at a big disadvantage right now. It is 231.5 lbs. heavier and has a 5.5mm smaller restrictor than the Porsche. So we are blowing the dust off of our 911 GT3 R and running it at Road America. We will see what the rest of the season brings."
Jeannette added, "Since we still have a Porsche 911 GT3 R ready to go we thought what the heck, let's run it at Road America and see where we stand. Porsche has been very supportive in helping us get everything back up and running for next weekend and it will be a nice homecoming for Cooper and myself to drive a Porsche in IMSA again. We already have one podium this year in a Porsche over at the Tour Auto in France and hope to get a second at WeatherTech's home race!"
—
Shank's new liveries
The pair of Michael Shank Racing Acura NSX GT3s have their third different liveries of the season. After the base but inverted black and white liveries on the team's Nos. 86 and 93 cars through Round 5 Detroit, the team then switched to a patriotic livery which has been on the cars the last three races.
Now for Round 9 at Road America, it gets switched up again. Each car features a sleek chrome look to it – with the No. 93 blue, and the No. 86 red. Both colors are similar to that of the OEM color of the Acura NSX GT3 road car – Nouvelle Blue Pearl and Valencia Red Pearl.
Several of Michael Shank Racing's previous liveries through the years have displayed a chrome look and is highly popular with fans of the Ohio-based team. Once again, AERO™ Advanced Paint Technology has created a chrome livery for the Michael Shank Racing cars.
"We're really excited about this livery," Shank said. "From the racing world to the street car world, these are very popular OEM colors. The chrome look to them is eye-catching and they look great. AERO once again hit it out of the park for us.  It's very clean and simple this time. We will have one more scheme before we are done this year!"
—
Risi's return?
The No. 62 Risi Competizione Ferrari 488 GTE is listed for a comeback this weekend, after missing the last three GT Le Mans class races at Watkins Glen, CTMP and Lime Rock.
Team owner Giuseppe Risi temporarily pulled the plug after another crash at the 24 Hours of Le Mans with its second Ferrari chassis. It would see Toni Vilander and Giancarlo Fisichella back in action and bring the GTLM class back to nine cars.
—
JDC's second car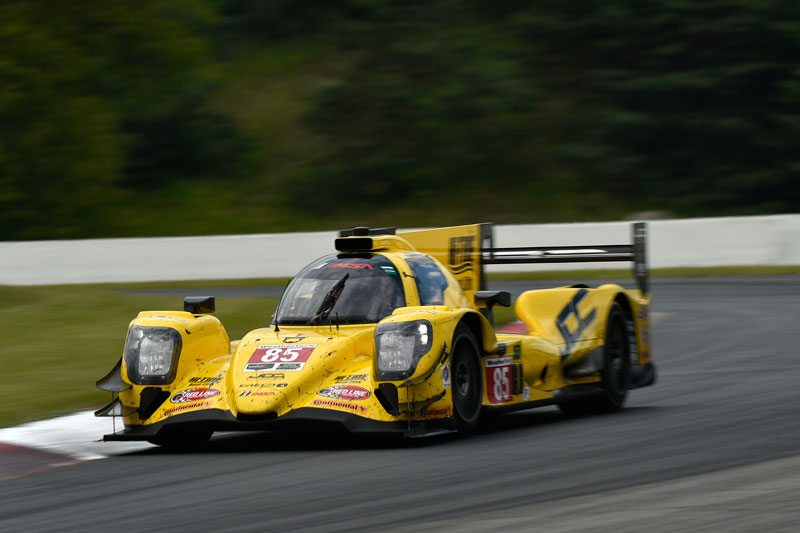 The JDC-Miller Motorsports team has placed an order for a second Oreca 07 Gibson ahead of the 2018 season. The "JDC banana boat" has been one of the more popular cars on the grid and one of the most pleasant surprises of the season to date. The team's full release is linked here.
"This year has been a big step up for everyone but we have been proud of how the team has been able to handle the transition," said team co-owner and managing partner John Church. "Moving to the premier prototype class with a new car and new equipment has been a significant undertaking but we have a great group of people and we were confident we could be competitive. Sitting third in the standings after seven races with two podium finishes is validation of our efforts and gives us confidence to continue on the path we have been on. Campaigning a second car next season is the logical next step in our goal of becoming one of the strongest professional sports car teams in North America."
—
Other notes
As Performance Tech Motorsports looks to continue its perfect season in Prototype Challenge, the team is switching up its strategy. Pato O'Ward will qualify the No. 38 Oreca FLM09 before James French, a native of nearby Sheboygan, will finish the race. All year, it's been French qualifying with O'Ward finishing. The PC class has just two races left – here and Road Atlanta.
The No. 52 PR1/Mathiasen Motorsports Ligier JS P217 Gibson will be back to the lineup of Olivier Pla alongside Jose Gutierrez, the same pairing that achieved the car's best result in Watkins Glen of fourth. Nick Boulle and David Ostella ran the car at CTMP; Ostella having gotten out OK despite a rollover just before the checkered flag.
Park Place Motorsports is partnering with Dyson… the vacuums, not the race team and its litany of famous sports car drivers, this weekend. Per a release: "Park Place Motorsports is proud to welcome Dyson to the team for two races of support. Dyson will join Park Place at Road America and Road Atlanta, bringing with it an impressive and interactive display for spectators in the Vendor Village. (Patrick) Lindsey and (Joerg) Bergmeister will be on hand at the Dyson Cord-Free Experience to meet with fans and sign autographs." The pair won the most recent GTD race in the No. 73 Porsche 911 GT3 R.
The No. 80 Lone Star Racing Mercedes-AMG GT3 of Mike Skeen and Dan Knox is also set to return to action for the first time since Circuit of The Americas in May. The team has done some private testing in the interim.
There will be more to follow from the IMSA world at Road America this weekend.