ELKHART LAKE, Wis. – Two friends and drivers who've worked tirelessly to make their driving dreams happen will now finally get the chance to work together.
In a last-minute program, Pippa Mann and Shea Holbrook will share the No. 11 Prestige Performance Lamborghini Huracán LP 620-2, representing Lamborghini Paramus, at this weekend's Lamborghini Super Trofeo North America races at Road America.
Both Mann and Holbrook have known each other in the racing world for several years, but the opportunity to work together has only come together in the last few days. The natural dynamic they have from each of their own business savvy should make it a seamless transition. Mann has two race weekends under her belt and Holbrook has tested a Lamborghini recently at Road America.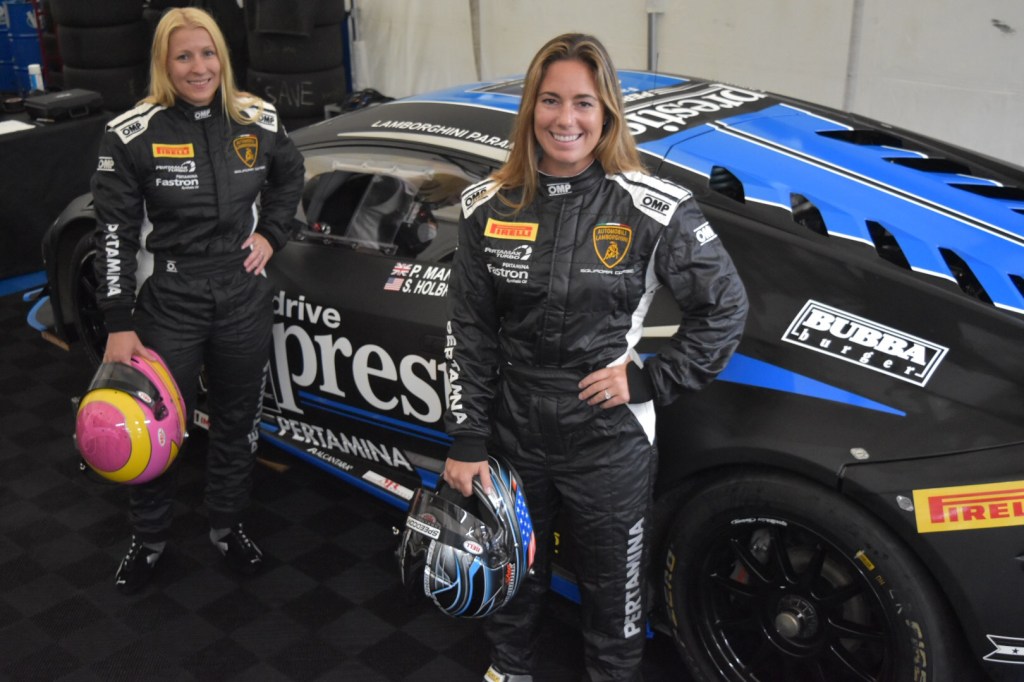 For Mann, she'll be looking to build on a class podium finish achieved last time out with Dion von Moltke at Watkins Glen with Prestige, where she consistently improved her times throughout the whole weekend. She wasn't expecting to be racing this weekend owing to a lack of funding, but has been working diligently to resolve that, and has hopes of returning for at least one further race weekend this season in Super Trofeo.
"I'm so thrilled and grateful to have this opportunity to be back in Super Trofeo with Prestige Performance and Wayne Taylor Racing this weekend, and I'm so excited to partner up with Shea and BUBBA burger for the first time," Mann said. "I am so grateful to everyone who made it possible for me to be here this weekend, and I can't wait to be back on track in Lamborghini Paramus car to turn my first Road America laps."
Holbrook, meanwhile, will make her Lamborghini series debut. The opportunity arose after a busy couple week working to get back in a car; her Shea Racing team is in the midst of Pirelli World Challenge's long break in the Touring Car class schedule since late May at Lime Rock Park, with their next race set for Utah Motorsports Campus next week.
It also presents a great opportunity for Holbrook, who has been supported by BUBBA burger in recent years, to race in the IMSA paddock as BUBBA burger has enhanced its presence there. A couple weeks ago, IMSA and BUBBA burger confirmed a three-year extension that sees BUBBA burger the Official Burger of the IMSA WeatherTech SportsCar Championship through at least 2020.
"What an incredible opportunity to join Prestige Performance and Wayne Taylor Racing in the Super Trofeo series this weekend at Road America," Holbrook said. "To team up with my dear friend, Pippa Mann in the Lamborghini Paramus with added BUBBA burger livery is a dream come true. I'm grateful to all parties involved to get us to this point and look to build on the momentum throughout the weekend."
The two races are Saturday at 2:30 p.m. CT and Sunday at 10:55 a.m. CT and local time.