ELKHART LAKE, Wis. – After three races in July, two for the Prototype classes and three for both GT classes, the full IMSA WeatherTech SportsCar Championship reconvenes this weekend at Road America for the Continental Tire Road Race Showcase, a critical two-hour, 40-minute tilt that kicks off the final three months of the season.
There's been a lot of news about IMSA's future in the last month or so, primarily related to a number of exciting announcements.
But as it sits now with races at Road America, VIRginia International Raceway, Mazda Raceway Laguna Seca and Road Atlanta to go, the championship chases come into view in at least three of the four classes.
With rain also in the forecast on and off this weekend, that may add another degree of difficulty to the weekend as teams master either the Continental or Michelin rain tires.
PROTOTYPE: TAYLORS SEEK REBOUND; CAMERON GOES FOR THE QUARTET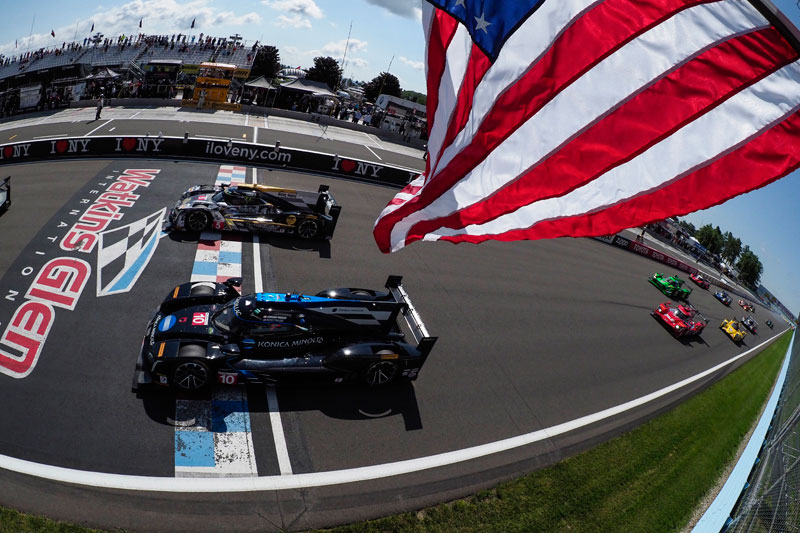 The No. 10 Konica Minolta Cadillac DPi-V.R opened the year with five wins in as many races, as Jordan and Ricky Taylor ran the gamut of wins between the "36 Hours of Florida," a pair of 100-minute street races, and a standard length race at Circuit of The Americas in-between.
Then reality hit that going a perfect 10-f0r-10 in the No. 10 car wasn't the case. Action Express Racing, via its No. 5 Mustang Sampling Racing and No. 31 Whelen Engineering Racing Cadillacs, has now won the last two races, and moved into title contention with both its pairs of drivers. The Taylors are on 226 points and lead Christian Fittipaldi and Joao Barbosa by 19 points, with 207, while defending Prototype class champions Dane Cameron and Eric Curran sit fourth on 199.
Cameron and Curran have streaks to uphold this weekend. As a pairing, they've won here the last two years and for Cameron, he's won here the last three, having won the GT Daytona class with Turner Motorsport's BMW Z4 GT3 in 2014. A "Cameron quartet" would be something to behold.
Elsewhere, it's the No. 85 JDC-Miller Motorsports Oreca 07 Gibson "Banana Boat" that has been the top interloper in the Cadillac-dominated campaign. Now a podium regular, it's only been due to a bit of bad luck that the pairing of Stephen Simpson and Misha Goikhberg hasn't yet won this season. They'd make for a popular winner this weekend, in what would be the first LMP2 car victory this season in IMSA. The pairing sits third in points with 200.
The other four cars in class are Ligier-based, in the pair of Tequila Patron ESM Nissan Onroak DPis and then the pair of Ligier JS P217 Gibsons from PR1/Mathiasen Motorsports and VISIT FLORIDA Racing, respectively. The latter team debuts its Ligier this weekend after switching from the Riley Multimatic, hoping for a bit of form after what's been a tough season.
With the Mazda RT24-Ps now out of competition the remainder of the field, it drops the Prototype field to just eight cars.
GT LE MANS: A YEAR ON FROM SHOOTOUT, FIVE-WAY TITLE FIGHT BECKONS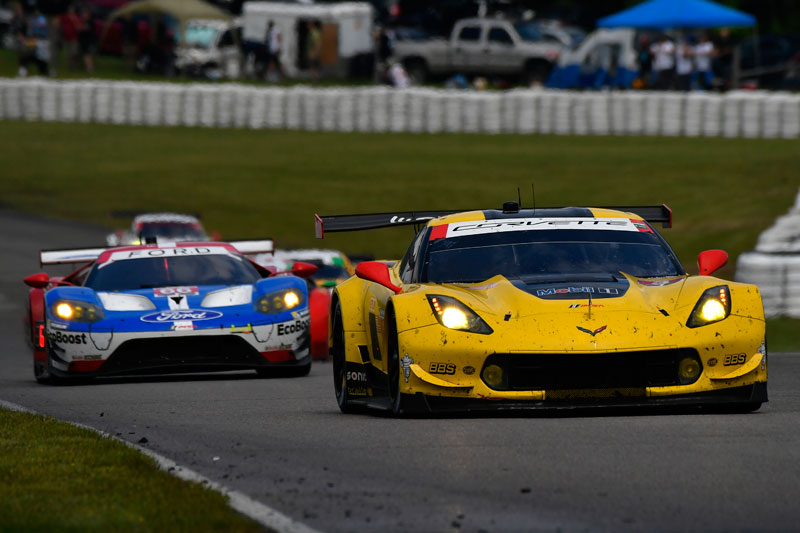 Last year's GT Le Mans finish was one of the craziest in recent memory, as Tommy Milner completed a miraculous comeback inside the final five minutes to go from fifth to the win for he and Oliver Gavin; another highlight en route to the pair's title-winning season in their No. 4 Corvette C7.R.
It's the sister Corvette Racing car, the No. 3 car of Antonio Garcia and Jan Magnussen, that will look to carry the title torch for the "Bow ties" this weekend into the final four races. Although the pair has not won since Circuit of The Americas a full two months ago, Garcia and Magnussen still lead the GTLM points by seven – 211 to 2014 – over the surging BMW Team RLL pair of Bill Auberlen and Alexander Sims, the latter driver having done impressively well all season considering it's his first full-time U.S. campaign.
Three other pairings from two other teams and manufacturers are also in the hunt. Both Ford Chip Ganassi Racing Ford GTs pairings are next, Dirk Mueller and Joey Hand at 196 points with Richard Westbrook and Ryan Briscoe on 195. Ford, which received a Balance of Performance break this weekend, has not won since the season-opening Rolex 24 at Daytona; and it was Westbrook who lost a sure win in the final stages last year, in what was a tough blow for their own title hopes. Also hanging in is Porsche's lone full-season pairing, Dirk Werner and Patrick Pilet, who enter this weekend on the heels of the 911 RSR's first U.S. victory at Lime Rock Park two years ago. They're fifth on 194 points.
That leaves Gavin and Milner, the second BMW and the second Porsche to play spoilers in the title fight if they can win or take points away.
Beyond the driver fight, the manufacturer battle is tight as well. Chevrolet (223) leads Ford by four (219), BMW by seven (216) and Porsche by 14 (209).
GTLM always seems to deliver at Road America because there has been no rhyme or reason to victories. Corvette won last year, Porsche in 2015, Risi Ferrari in 2014, the SRT Viper in 2013 and BMW in 2012, making it five manufacturers in as many seasons. Ford could make it six-in-six if they pull off a win this weekend. Ferrari won in 2011 and BMW won back-to-back in 2009 and 2010.
GT DAYTONA: NIELSEN, BALZAN CONSISTENCY FUELING TITLE DEFENSE PUSH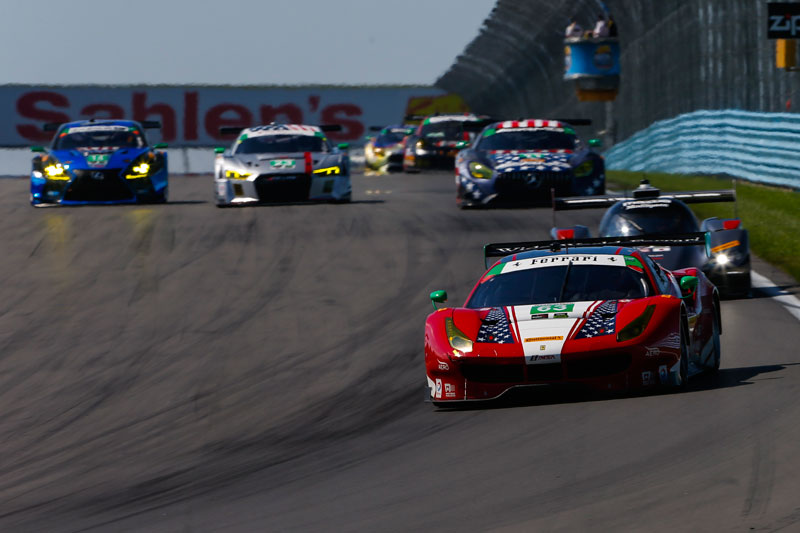 Neither Christina Nielsen nor Alessandro Balzan has won yet this year in their No. 63 Scuderia Corsa Ferrari 488 GT3, but after their impressive run of six straight podiums from Sebring through Canadian Tire Motorsport Park, they have moved into a solid – but not entirely secure – championship lead in GTD as they look for their second straight title.
They podiumed here last year as well, ending third while the Riley Motorsports Dodge Viper GT3-R won with Jeroen Bleekemolen and Ben Keating. That pair, now in the Mercedes-AMG GT3, sustained a broken left-rear suspension at Lime Rock Park which was a big hit to them in the title fight. They now sit 17 points behind (228-211); the No. 63 car has outscored the No. 33 car by 41 points in the last four races.
It's still likely to come down to those two cars for the title with third-placed car, the No. 93 Michael Shank Racing Acura NSX GT3 of Andy Lally and Katherine Legge, 23 points back at 2015. That'd take a few good results and tough issues for the two cars ahead to close the gap.
At 31 points back, the mountain is likely too tough to climb for Bryan Sellers and Madison Snow in their No. 48 Paul Miller Racing Lamborghini Huracán GT3, and the same is true at 33 points back for Lawson Aschenbach and Andrew Davis in the No. 57 Stevenson Motorsports Audi R8 LMS.
The GTD manufacturer battle though is quite tight. Ferrari (238) holds a three-point lead on Mercedes-AMG (235), with Acura (232) very close and Porsche (225), Audi (221) and Lamborghini (219) all close-ish.
Several others in the 16-car class look to play spoiler, including the No. 73 Park Place Motorsports Porsche 911 GT3 R which won last time out at Lime Rock Park and with Joerg Bergmeister
PROTOTYPE CHALLENGE: TITLE CLINCH POSSIBLE FOR PERFORMANCE TECH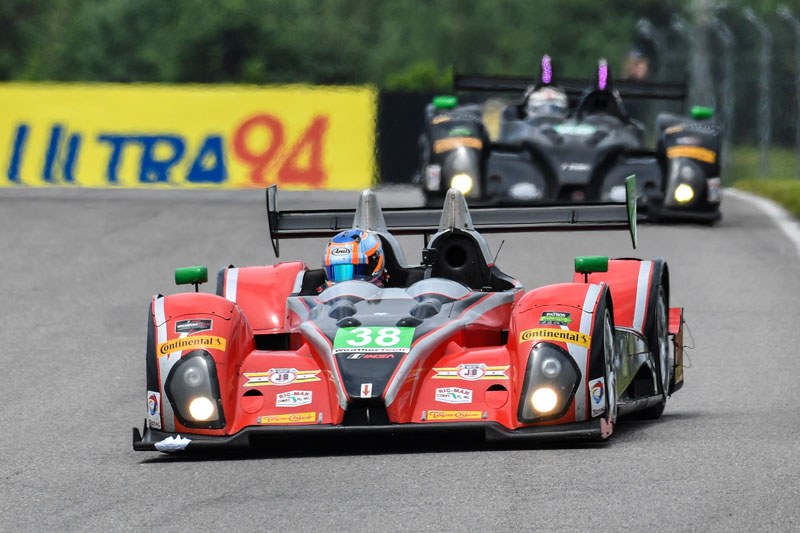 With the pairing of James French and Pato O'Ward, Performance Tech Motorsports has been perfect this year in PC – six-for-six in victories to open the year. A seventh straight win would lock up the championship with one race remaining.
The maximum points achievable is 36, and French and O'Ward enter with a 34-point lead over Don Yount, the only other driver with a mathematical shout.
Performance Tech switches up the qualifying order with O'Ward qualifying and French, the Sheboygan native, finishing his home race this weekend. BAR1 has Buddy Rice back alongside Yount, Rice having missed the CTMP race owing to a GRC Lites conflict, while the team hadn't yet confirmed its latest pairing for the second car as of Wednesday.
The race takes place this Sunday at 1:35 p.m. CT and local time.