The month of July was a hectic month for the Verizon IndyCar Series. Between three race weekends on tap (the Iowa Corn Indy 300, the Honda Indy Toronto, and the Honda Indy 200 at Mid-Ohio), the unveiling and initial testing of the 2018 aero kit, and the annual insanity that is "Silly Season," the month of July had no shortage of news.
With a three-week break between last Sunday's Honda Indy 200 at Mid-Ohio and the ABC Supply 500 at Pocono Raceway (August 20, NBCSN), IndyCar's teams and drivers have a chance to catch their breath before a stretch of four races over five weeks to end the 2017 season.
A recap of a busy news month is below.
NEWGARDEN PLANTS HIMSELF AT THE FORE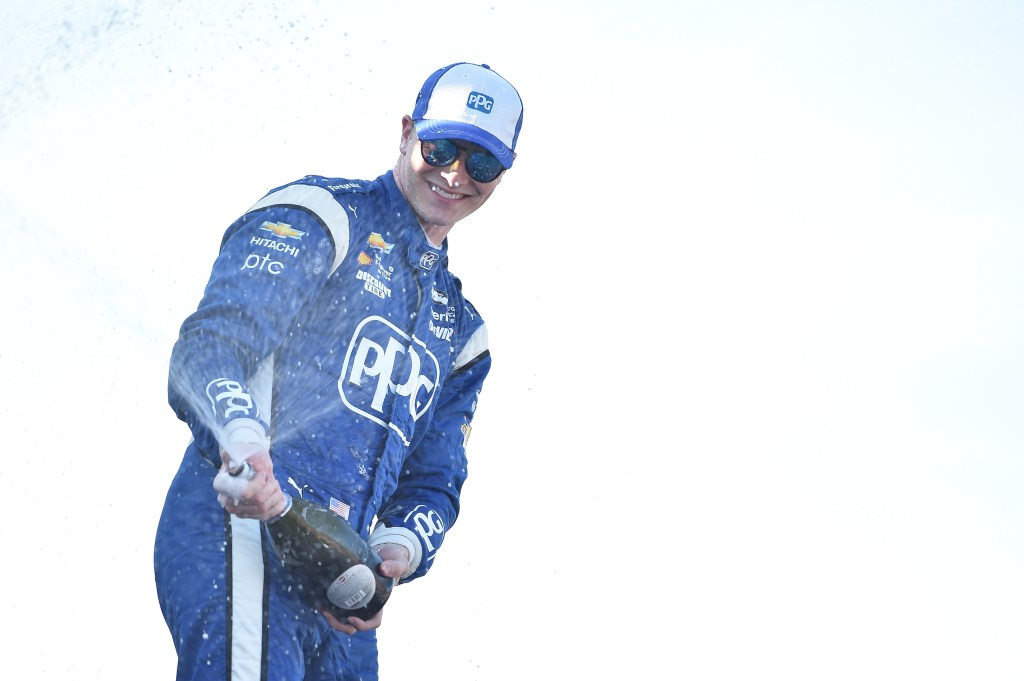 Expectations will always be high for a driver who signs with Team Penske, and Josef Newgarden was no different. A three-time race winner prior to joining the team, and the highest ranked non-Penske driver at the end of 2016 (he ended the season fourth in the championship for Ed Carpenter Racing), all things pointed to a strong first year with Penske.
However, it isn't always as easy as some make it look (see Simon Pagenaud's first season with the team in 2015), so there were some questions about how the 26-year-old Newgarden would adapt to the Penske outfit.
Simply put, he has answered every question emphatically.
With three wins to his name this season, a number that equals his career wins at the start of the year, Newgarden now leads the IndyCar championship and has quickly put his own stamp on the team. And Mid-Ohio serves evidence of his firm place as a big player within the Penske squad.
While his first two wins of the year saw luck on his side (Will Power cut a tire at Barber Motorsports Park and a caution fell perfectly for him at Toronto), nothing out of the ordinary intervened at Mid-Ohio. Newgarden made an authoritative pass on teammate Will Power in the early laps to seize control of the lead and he looked untouchable from there, only losing the lead briefly during exchanges of green-flag pit stops.
The importance of the victory was not lost on Newgarden at all. "I feel like no one can take anything away from this win," he said after Sunday's triumph. "With this team on the (No.) 2 car side, I feel like we really did a great job (at Mid-Ohio). There was no luck involved in that. We went out and won the race."
As for his championship hopes, Newgarden's confidence is sky high heading into the final four races. "We've just got to keep it up. No mistakes. If we don't have any mistakes, we've got plenty enough to win this championship, so we're going to keep giving what we got for the last four races," he asserted.
Newgarden currently leads teammate Helio Castroneves by seven points (453-446), though the championship remains incredibly close, with 17 points separating the top four and 58 separating the top six.
HELIO…GOODBYE?
Helio Castroneves is every bit as strong in 2017 as he's ever been. He's captured three poles this year, and it would've been four if not for a penalty during qualifying for Detroit Race 1. He nearly won the Indianapolis 500 in a car that was damaged after he narrowly avoided Scott Dixon's frightening airborne crash. And, he snapped a three-year winless streak at the Iowa Corn 300 on July 9.
With Newgarden the only driver so far to have scored more points than Castroneves, it seems that the affable Brazilian still has plenty of IndyCar life left in him, right? Maybe not…
Penske's July confirmation of it's Acura DPi program and rumored intentions to scale back to three cars leave Castroneves as possibly the odd man out in the IndyCar program. Rest assured, Castroneves will likely be driving something in 2018, but what it is and which team it will be with remains up in the air.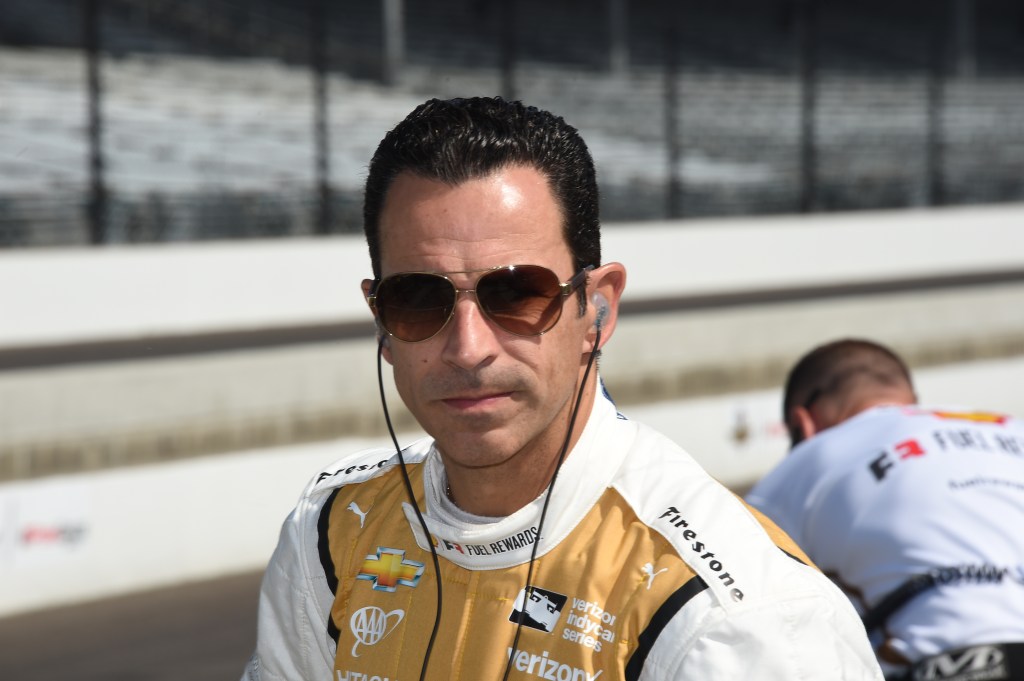 At 42 years old, his age indicates that Castroneves is in the twilight of his IndyCar career. Dario Franchitti was forced into a medically advised retirement at 40 years of age in 2013 after a vicious crash in Houston. Paul Tracy's last IndyCar race came in 2011, when was 42, the same age as Castroneves. Gil de Ferran was a comparatively young 36 when he retired after the 2003 season. And Rick Mears, who has served as a mentor to Castroneves in his time at Penske, retired at 41 after the 1992 season.
Yet, aside from de Ferran, the aforementioned drivers all retired due to injuries or fledgling racing careers. Castroneves remains a regular front-runner and has avoided injury his entire IndyCar career.
When asked at Toronto about his future, Castroneves remained noncommittal and asserted that his sole focus at the moment is securing his first IndyCar championship. "(Penske) is going to make a sports car team, and we all here would love to drive. I mean, no question about it," he explained. "But at the moment, there is no commitment, no official decision, and I'm just focused — in my case, I'm just focusing on doing my best (for the championship)."
His status for 2018 still uncertain, how he finishes the year off may be the most intriguing storyline to follow.
NOTHING BEATS THAT NEW CAR SMELL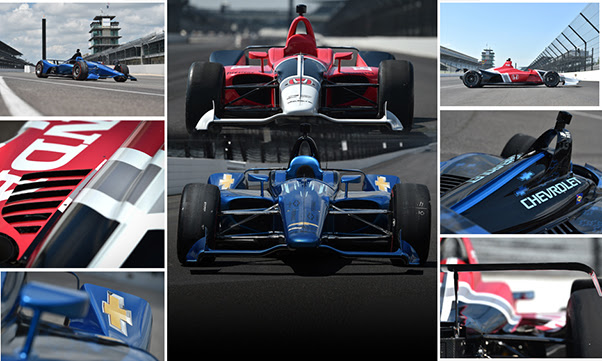 IndyCar unveiled its long awaited 2018 aero kit to much fanfare earlier this month. The car has been universally praised for a much sleeker, smoother appearance. Gone are the "Kardashians" (aka the rear bumper pods) and the abundance of winglets that currently adorn the Honda and Chevrolet aero kits on the Dallara DW12.
And praise did not stop at its appearance. Test drivers Oriol Servia (piloting a Honda car with Schmidt Peterson Motorsports) and Juan Pablo Montoya (piloting a Chevrolet car with Team Penske) have both spoken very highly of the new aero package and even admit it has surpassed expectations in its early tests.
"From Lap 1, it just felt at home," said Servia following a test at the Indianapolis Motor Speedway. "The car felt great. I was flat on it out of the pits, which just says how good the car felt right away. I think it's going to be a fast, good racer."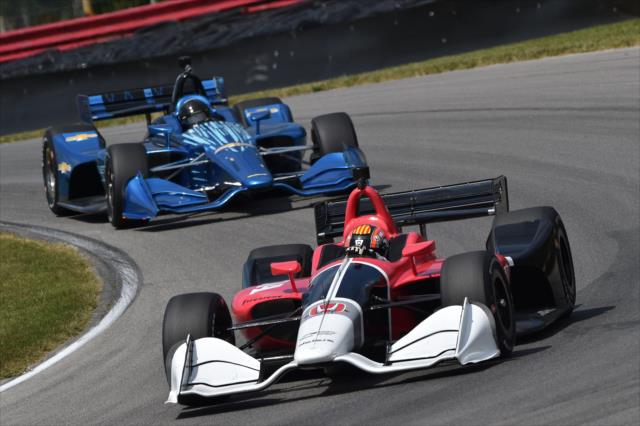 Montoya also revealed after this week's test at Mid-Ohio Sports Car Course that the downforce levels of the car make it more difficult to drive, and that's a good thing.
"I think you're going to be able to see the (driver's) hands moving a lot more on the steering wheel and I think you're going to see the cars get out of shape a lot easier," said Montoya. "The chances of mistakes are higher, so I think it's going to bring better racing."
Further tests at Iowa Speedway (Aug. 10) and Sebring International Raceway (Sept. 26) will complete initial development of the 2018 package, and soon there after Honda and Chevrolet will receive chassis for their teams to test, with the individual teams receiving their chassis later in the Fall. Individual team testing with the new aero package is scheduled to begin in January.
OH, NOW YOU'RE JUST BEING SILLY!
Does Helio Castroneves stay in IndyCar or will he move to Penske's IMSA program? Does Andretti Autosport stick with Honda or move to Chevrolet? If they do, where does that leave Takuma Sato and Alexander Rossi? What about Tony Kanaan, who like Castroneves, faces an uncertain IndyCar future at 42 years of age? What about other drivers like James Hinchcliffe, Charlie Kimball, Mikhail Aleshin, Carlos Munoz, Conor Daly, Ed Jones, Esteban Gutierrez, and Spencer Pigot?
And what new teams could be joining the fray? Juncos Racing? Carlin? Harding Racing? All of them?
Yes, the annual Silly Season madness that typically begins during the Mid-Ohio race weekend is upon us (although, Penske's DPi announcement kicked the rumors into high gear a little earlier than normal this year).
Currently, only nine drivers are locked in or nearly locked in to their current teams heading into next year. That leaves over half of the grid with question marks about their future for 2018 and beyond. My MotorsportsTalk colleague Tony DiZinno offered a roundup of Silly Season rumors this week.
As always, there is much speculation about who will go where and which team will run which manufacturer, but nothing is set in stone as of writing and a lot can change between now and the end of the season, let alone between now and the start of next season.
Still, this year's Silly Season offers plenty of intrigue, and if any, some, or all of the rumors come true, the off-track news will be just as fast-paced as the on-track news.