ELKHART LAKE, Wis. – Given the depth of drivers and teams within the IMSA WeatherTech SportsCar Championship GT Daytona class, you tend to think of veterans as those in their late-20s, early-30s, who consistently have won races and contended for championships.
You don't necessarily think of 21-year-olds in that vain; then again, Madison Snow is not your ordinary 21-year-old.
The Utah native has come into his own in his second full season in the No. 48 Paul Miller Racing Lamborghini Huracán GT3 he shares with Bryan Sellers, the two drivers benefiting from a year of continuity in a class known for annual upheaval.
And for Snow, who's bounced around a bit as he's tried to make his home in the series following his own Wright/Snow Racing family team drawing down its WeatherTech Championship efforts midway through 2015, it's provided him a proper home.
While he's the son of Martin and Melanie Snow, who achieved a wealth of sports car wins and titles in their own careers, Madison emerged on the national sports car radar when he won the 2011 Porsche GT3 Cup USA championship at the tender age of 15.
It presented an interesting situation. He was talented enough to move ahead, but not yet old enough to really star in either the GRAND-AM Rolex Series or American Le Mans Series.
Still, he took opportunities when they presented themselves. Winning with Flying Lizard Motorsports in the GT Cup class (GTC) in the 2013 ALMS series swan song at Petit Le Mans, co-driving with Spencer Pumpelly and Nelson Canache, was his first win in either of the top flight sports car championships.
Occasional podiums followed in the year and a half that followed in the Wright Motorsports-run Snow Racing Porsche 911 GT America in IMSA's GTD ranks, but the team pulled out midway through 2015 citing Balance of Performance concerns. It left Snow at a bit of a crossroads career-wise.
However he got back on the map with a second Petit win in 2015, albeit under unusual circumstances. Snow drove the No. 73 Park Place Motorsports Porsche with Pumpelly and Patrick Lindsey only in practice and qualifying, but didn't get a chance to drive in the rain-shortened race. It wasn't long afterwards, and after he'd made his introduction to the Lamborghini world with wins in the Lamborghini Super Trofeo North America series, that he'd get signed up alongside Sellers at PMR.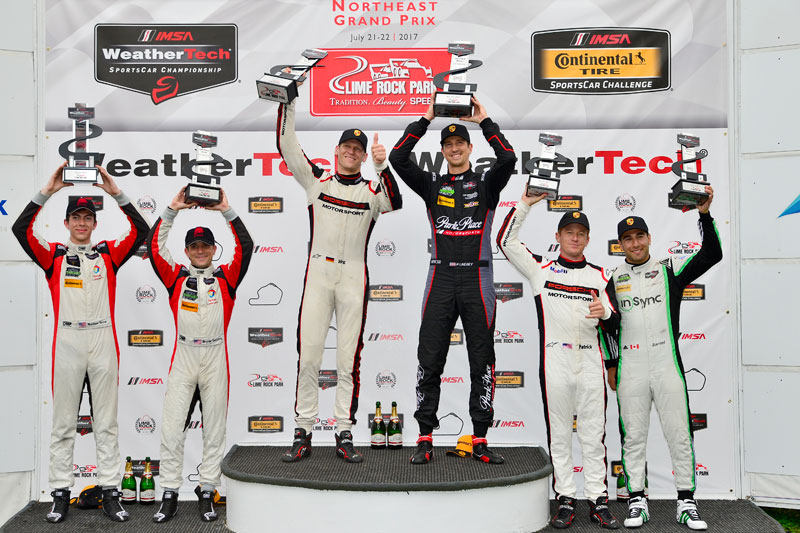 So while the intervening four years have been an odyssey for Snow, they helped prepare him and develop him as a person into a more well-rounded 20 to 21-year-old now.
"Really for the first time in IMSA, there's just been a comfort aspect to having the same of everything," Snow told NBC Sports.
"It means you don't have to learn everything, but they don't have to relearn you either. The better you know someone, the better you can set up the car. So the engineer knows how to interpret both of our feedback; Bryan and I like a very similar car."
Snow's benefited from Sellers' steady hand as co-driver. For Sellers, having a young driver to grow with has aided him in his own transition from GT Le Mans, when he needed a ride after the end of the Derrick Walker-run Team Falken Tire Porsche program.
"Bryan is just amazing to be with as a friend and a co-driver, and that helps you develop," Snow explained. "We see each other, we can have a beer, hang out… so we have a good relationship off track. That is so important because then at the track, you get on better. It doesn't matter who qualifies or finishes; we both want what is best. Whatever it takes, we're willing to do it."
That comfort level with Sellers has helped give Snow the confidence to dice within the GTD field, as he races so many drivers anywhere from a handful to a couple decades his senior. Snow's also raced long enough where he's known to the field, in a class that also has several other young 20-somethings but not as many with Snow's experience level.
"It's cool to race with everyone out there, but I've gotten used to it. I'm so much comfortable now because of how much running I've had," he said. "You have to continue to learn. For me, I try to keep up with them on a more consistent basis. Me being young, I don't have the experience compared to Bryan.
"And Bryan and I note it's a tough series with the competition we have. Bryan coming from GTLM tells me, this is just as tough right now in GTD as it was in GTLM.
"Still, I feel like there's a comfort level I've definitely gained driving, even though it feels I've only done this for three or four years. But I guess it's been a bit longer!"
Snow's also benefited from his younger brother McKay, 19, racing full-time in the Porsche GT3 Cup series and growing his own career. He can see a lot of parallels in McKay's upbringing, as he's now racing with Wright in that series. This gives Madison the chance to play both teacher and student, as he admitted he's learned some things from McKay as well.
"McKay and I have a different upbringing. He was big into go-karts; I was only decent at go-karts," Madison said. "It's just different to see how we have changed coming from the same family by the amount of time in the car, racing various things. And I can use some of that to analyze myself.
"We're at two separate teams, series, and we have different goals. But it's easy to swing by there when I can."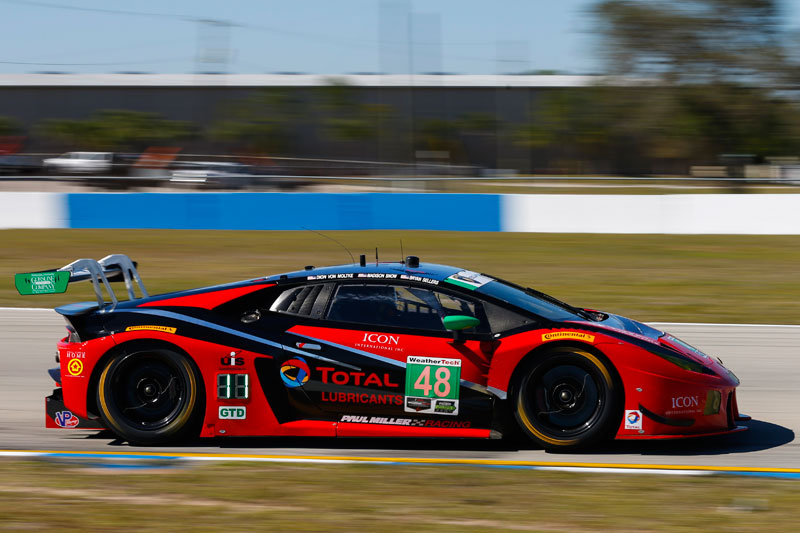 Snow and Sellers enter this weekend's Continental Tire Road Race Showcase at Road America fourth in GTD points, yet to win but on the heels of their second 2017 podium with second at Lime Rock, and after Snow won the team's second pole of the year in qualifying – his first this year.
Given their propensity for results in the GT-only races – Lime Rock last race and VIR the next one sandwich Road America this weekend – Snow is optimistic the team will end 2017 on a high, and that he can continue to establish himself in the paddock.
"You always want to look up to others as you learn," he said. "Getting a name for yourself is the goal so more people see you, and how you can help them. I have a small following; Bryan's is huge.
"But anyone who sees us on the podium might think, 'Hey you're good. We need to beat you!'"