ELKHART LAKE, Wis. – Notes from this weekend's IMSA WeatherTech SportsCar Championship event at Road America, the Continental Tire Road Race Showcase, are below.
These are in addition to the schedule notes and other elements of this weekend, which will get broken out in later days.
—
PAUL MILLER LAMBORGHINI HIT WITH HEAVY PENALTY
The No. 48 Paul Miller Racing Lamborghini Huracán GT3, which had originally qualified sixth in the GT Daytona class, has been hit with a heavy penalty that will send the car to the back of the grid and also has championship implications.
The car's ECU (electronics control unit) has been confiscated by IMSA, with the team fined $7,500 with the entrant and drivers (Bryan Sellers and Madison Snow) both docked 15 points.
Violations were Article 22.7.1 of IMSA's Sporting Regulations (Cars out of compliance with the Technical specifications and/or regulations may be penalized up to and including Removal from the results) and Article 4.7.1 of the GTD Technical Regulations (At all times during IMSA-sanctioned Events it is the Entrant's responsibility to ensure the configuration of the Car Model represents the Homologation components of the Specification; including: a. As-Homologated Configuration b. As-Delivered Configuration c. Parts Manual d. Homologation Extension Form Configuration).
A statement from Paul Miller regarding the No. 48 is below:
"We won't comment on severity of the penalty or the specifics of the situation, but I'd like to commend the IMSA officials on the professional manner in which they went through their process yesterday."
—
SHANK ACURA REPAIRED
Following Katherine Legge's incident in practice on Saturday, the No. 93 Michael Shank Racing Acura NSX GT3 has been fully repaired and got back together before Sunday's race.
With spares from Acura, Shank and RealTime Racing, the No. 93 car is nearly as good as new. The only new piece brought in was part of a front bar added to the nose assembly from RealTime.
The Shank crew was done in the early evening and out of the track by about 7:30 a.m., in an impressive repair job that went quicker than anticipated.
—
BINKS' ANNUAL ROAD AMERICA AUCTION
Dan Binks, crew chief on the No. 3 Corvette C7.R, held the annual benefit auction for Camp Anokijig on Saturday at the Road America Corvette Corral. It helps raise funds for the local camp – which is Native American for "We Serve" – where Binks is both a board member and former camper.
Nearly 40 items were up for auction, including one of the front wheels from the No. 63 Corvette C7.R at this year's 24 Hours of Le Mans – photographs and paintings. Last year's auction raised more than $26,000 for the camp, which opened in 1926.
But this year topped it, with the auction raising more than $43,500 for the camp located in nearby Plymouth. The funds will go toward a new ventilation system in the campground's kitchen and dining commons.
"I can't say enough about the generosity of everyone who participated at this year's auction," Binks said. "It's really encouraging to be able to improve the experience of our thousands of campers and the Anokijig staff. This means so much to me, my family and everyone at the camp."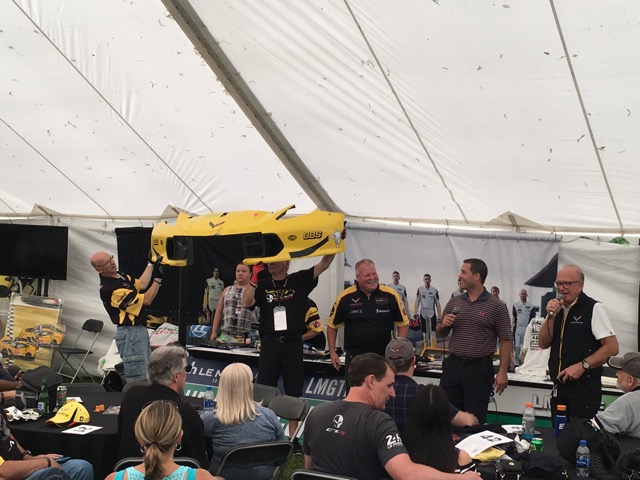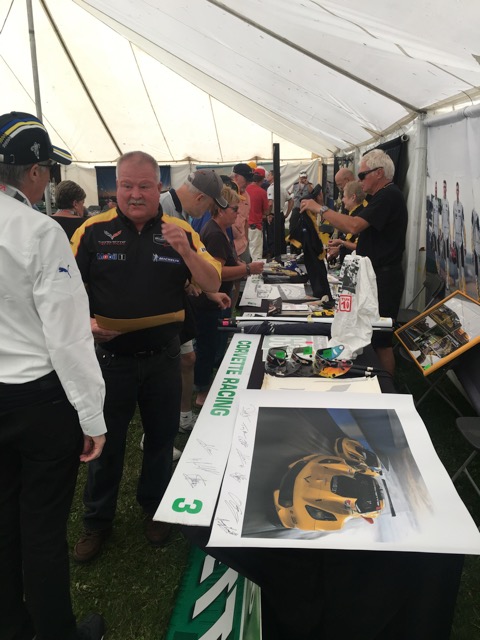 —
LIGIERS LINE UP SECOND, FOURTH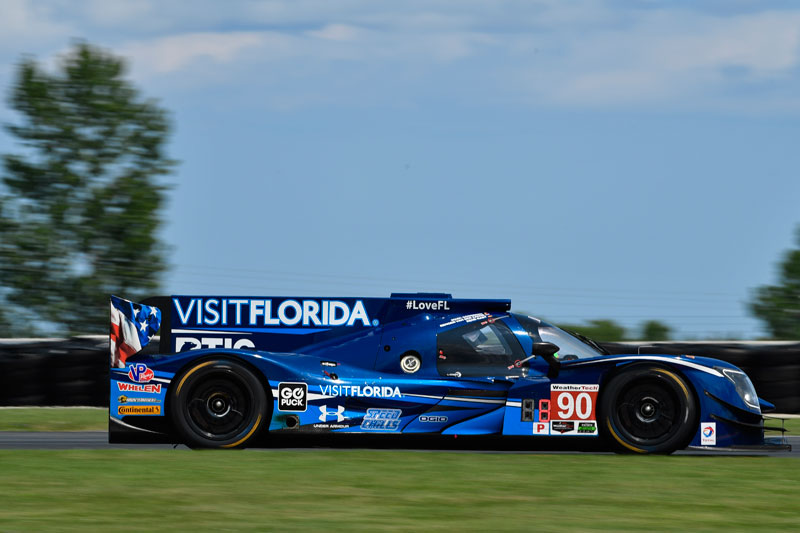 It was a good day for both Ligier JS P217 Gibsons on Saturday with Jose Gutierrez getting the No. 52 PR1/Mathiasen car into a season-equaling best start of the year in second, and Marc Goossens doing well to get VISIT FLORIDA Racing's new Ligier into fourth.
"Yesterday was a difficult day because of the weather conditions but this morning we threw some things at it and the Onroak guys together with the VISIT FLORIDA Racing engineering group have given us a great car," said Goossens.
"It is a matter of being able to touch it first to feel exactly what the car can do and by the time I managed to do that, the tires were no longer at their best. I think a 1:53.8-9 (second lap) would have been possible. We're on the second row – it's a big change for the team. I think we have a good race car – we still need to dial it in a little further. But we made quite a few changes – all the small ones together made for one big change. We need to keep tuning it but I think this baseline is pretty good for the race."
—
THE TAYLORS GO PODCASTING WITH CONTINENTAL TIRE
Ricky and Jordan Taylor have a new podcast, that's been announced this weekend. The new BadFast Podcast website is linked here and is sponsored by Continental Tire.
"This is an exciting announcement not just for the IMSA paddock, but for motorsports in general," said Travis Roffler, director of marketing for Continental Tire. "Partnering with BadFast podcast is one more layer in Continental Tires continued commitment to helping grow the sport of racing in the US. Rob's experience coupled with the liveliness of the Taylor brothers will offer the perfect foundation to talk about action on-track and happenings off-track. I think fans are really going to enjoy it!"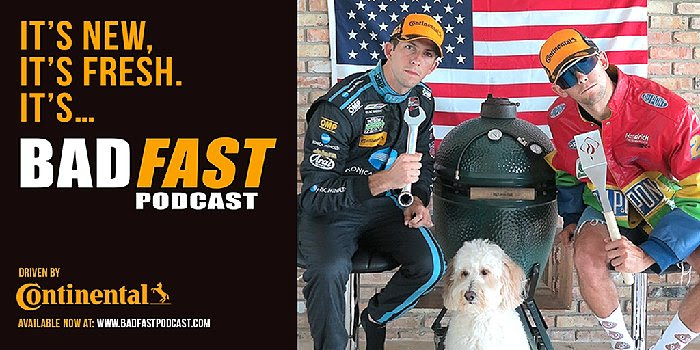 —
GOOD READ ON THE TAYLORS
From Radio Show Limited's John Hindhaugh on the Taylor brothers, here's a good read on their balancing act both as brothers and teammates. Here's the feature for Mobil 1 The Grid.
—
JOHNSON'S CAREER TURNS 300
Mike Johnson, strategist for the No. 57 Stevenson Motorsports Audi R8 LMS, will have his 300th career race start today in IMSA competition.
—
PROVISIONAL GRID AND WARMUP RESULTS 
Here's the provisional starting grid. A couple cars have changed tires and/or starting driver, and the No. 24 BMW Team RLL BMW M6 GTLM has had an engine change.
Meanwhile here's the results from warmup this morning.