While technically the IMSA WeatherTech SportsCar Championship is past the "midseason" point, Road America traditionally serves as the site of the sanctioning body's round of updates on the year passed and the year ahead.
IMSA President Scott Atherton generally plays off the weather to make a number of jokes at the presentation after the formal words. While last year's sun-drenched presentation prompted an Atherton "the future's so bright, we need to wear shades" line, this year witnessed quite the opposite weather-wise. Rare rainy, cloudy and overcast conditions meant a last-minute shift of the presentation from Road America's victory lane into the Tufte Center conference room, thanks to some quick work from the IMSA staff with the track.
It was against that backdrop though that Atherton's 2016 words about the future actually shone through the miserable weather conditions, because IMSA has one hell of an opportunity at the moment, and stands at the precipice of even greater things as it's preparing for 2018 – what will already be the fifth season of the combined series between the former GRAND-AM Rolex Series and American Le Mans Series.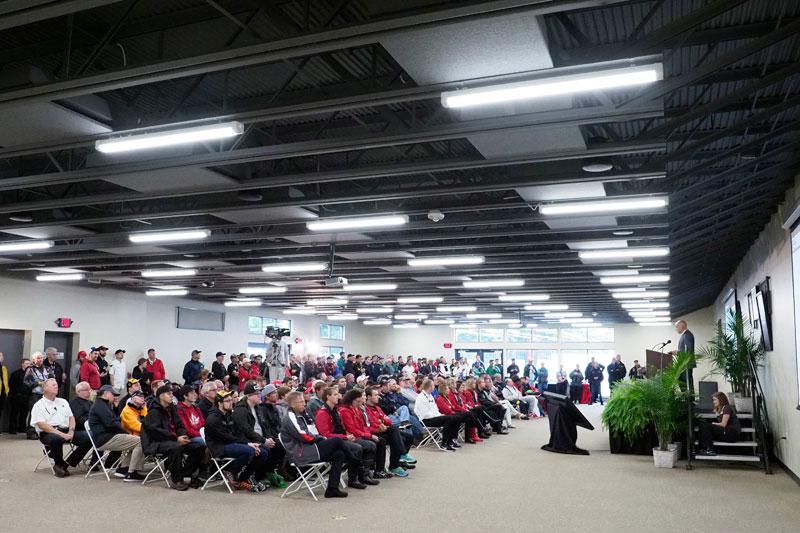 In the last month, Team Penske and Acura and Joest Racing and Mazda have formally confirmed their Daytona Prototype international (DPi) programs, the burgeoning JDC-Miller Motorsports team has announced a second car, other teams from other series are candidly expressing interest in the series, TCR is coming into the Continental Tire SportsCar Challenge ranks, there's been recent partnership extension announcements (BUBBA burger and VP Fuels), and IMSA announced what will be a popular return to the Mid-Ohio Sports Car Course.
Has Atherton and for that matter IMSA – in this current form – previously had as good a month in terms of overall, big picture announcements?
"To be really brief in a response, no," Atherton told NBC Sports at Road America. "As I alluded to, there is so much momentum now. We as a group believe what we're experiencing now is a result of efforts made by an army of people for the last four years. It looks like it's all come at once; but it's been a long process.
"I've had the pleasure of working with Ralf (Juttner) in the American Le Mans Series with Audi and its prototypes, so we want to welcome them back to our paddock.
"Of course now we can be candid; (the Penske Acura news) was one of the worst kept secrets. It's now out and open. Everyone is very enthusiastic. The early reports are that the car turned its first wheels. Calling this a 'game changer' is accurate, with the Penske organization coming back in."
Ironically, the fact most of the news trickled out before the annual schedule presentation meant there wasn't as much new news revealed to those key stakeholders on site at Road America.
Not that that's a bad thing, but in "Atherton speak", the fact of the matter is that the "soufflé hasn't risen all the way yet," with other potential changes to get revealed later this year.
"I'd say yes and no about this being one of our better presentations," Atherton admitted. "The reason for the yes part is that it's always great to stand up to confirm a wonderful schedule for the WeatherTech Championship and several other platforms.
"Alas, what is frustrating is that our real news here – Mid-Ohio – was announced a week ago. Some of the other examples that I've hinted about are not quite ready. From a news factor, I think we're probably there's been other years with bigger news. But factoring in Mazda Joest, Penske Acura, Mid-Ohio, and all those others in 30 days, it's never been that good."
Mid-Ohio's addition has been a hit, Atherton saying on that front, "As expected it is all positive. It's rare we can make an announcement that's received that way. There's always someone with an agenda for the other direction; but if it exists, we're not aware of it."
The decision to take Long Beach off the WeatherTech Championship calendar for the GT Daytona class is the one schedule bit of consternation in the paddock. From several discussions with GTD teams at the Road America weekend, it was suggested that this was a major market loss for the class, and the cost savings for doing 11 races versus 12 races aren't as pronounced as it may seem.
Atherton cited multiple factors as the reason for the drop, but it's worth noting the IMSA paddock was close to capacity at Long Beach this year with the GTD addition for the first time.
"It was a combination of reasons; I would say primarily, it was from feedback from our GTD stakeholders," Atherton said. "There's the budgetary implications of another event – this was one race added for this year. There's the potential for significant crash damage in a street circuit environment. So there are many factors taken into it.
"There are people on both sides of this equation, and yes, this does makes a lot of sense for brands and OEMs. But at the end of the day, it's GTD stakeholders who made the ultimate decision."
This removes, for 2018, seeing the Continental Tire-shod GTD cars racing on the same streets as the Pirelli World Challenge GT cars, which have not formally confirmed their 2018 schedule but are expected to return to Long Beach.
IMSA, as a unit, is managing relationships with several other racing organizations. In PWC's case, Atherton and WC Vision President/CEO Greg Gill are working with each other to ensure no domestic conflicts to allow drivers interested in driving in both series to do so without sacrificing one championship or another, as has been the case this year for the betterment of a number of drivers in both paddocks (PWC's midseason report is linked here). It also maintains a healthy relationship with INDYCAR; IMSA's races on the Long Beach and Detroit weekends continue with other IMSA-sanctioned championships competing at Barber and Sonoma.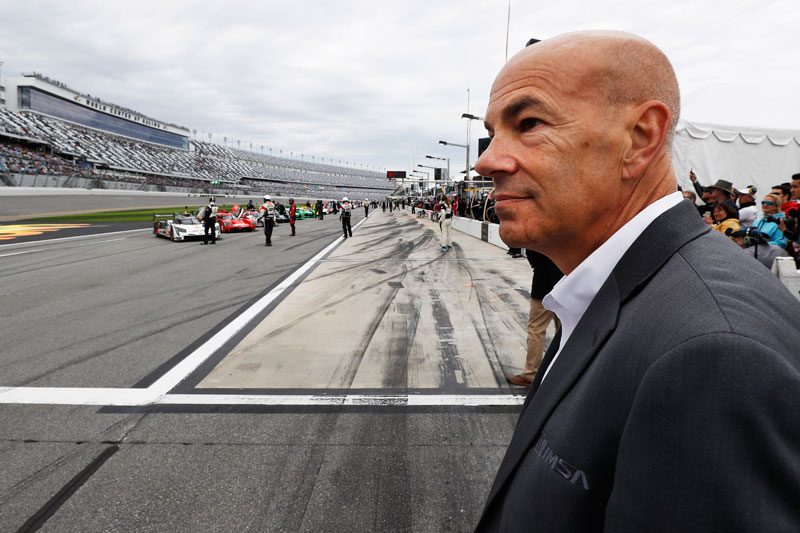 On an international front, IMSA won't admit it publicly, but they've indeed positioned themselves better for the future with the DPi formula allowing manufacturer identity at the fraction of the cost of LMP1 hybrid, which has lost Nissan, Audi and now Porsche within a three-year period – and leaves only Toyota within the top class of the FIA World Endurance Championship for 2018.
IMSA has also now entered into a relationship with TCR, with that class of cars set to be introduced speed-wise between the GS and ST classes in the 2018 Continental Tire SportsCar Challenge, and then set to be the second class only in 2019 with the ST class expected to be phased out.
Quite how IMSA positions itself within the overall global sports car landscape is a full-time job on its own but Atherton hailed the staff that's allowed these relationships to develop and grow.
"Well, it's a full-time job and then some; we have some really good people," Atherton said. "Simon Hodgson and his crew on the technical and competition side, they'll travel to several meetings in Europe with the FIA and TCR.
"Meanwhile we're in constant communication with the ACO; it goes back so far, we're very comfortable with each other. There's no issues.
"Bringing in a new platform – TCR – is always a challenging undertaking. With Simon at the helm, no one is concerned. It'll take some time and effort, so it'll be good."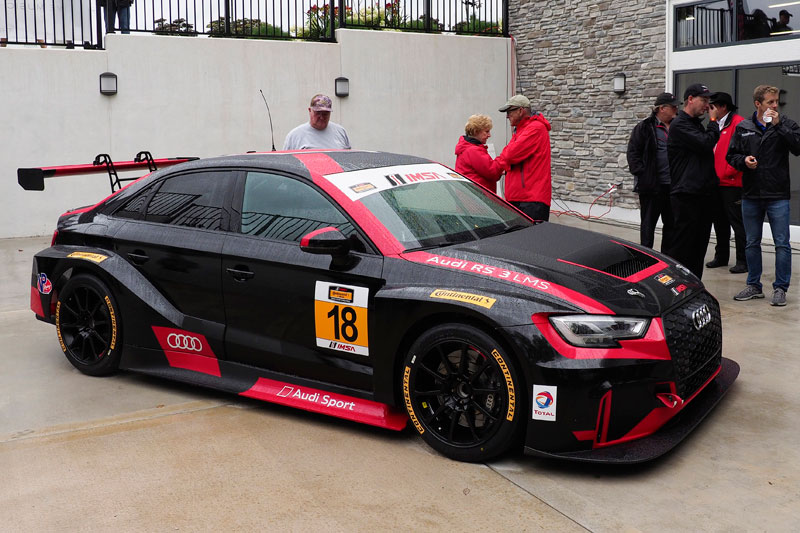 TCR interest appears to be on the rise with Karl Thomson's C360R team having announced at the weekend the purchase of two Audi RS 3s, with more teams set to announce their plans in the coming weeks.
For the WeatherTech Championship itself, one of the issues it may face in 2018 is related to another recently announced incentive – the "36 Hours of Florida" meant to attract international teams.
We don't yet know the state of the WeatherTech Championship grid next year but if the Acura and Lexus GTD programs evolve as they shift away from full factory programs, and we figure the full-season Prototype grid will increase with the aforementioned additions and the potential step-up of Prototype Challenge teams, you wonder how much room will exist if a bevy of international teams arrive.
This year, Rebellion Racing and DragonSpeed were in Prototype while the GTD field added a number of international entries, including the factory Aston Martin team and ADAC GT Masters-winning Montaplast by Land-Motorsport Audi team.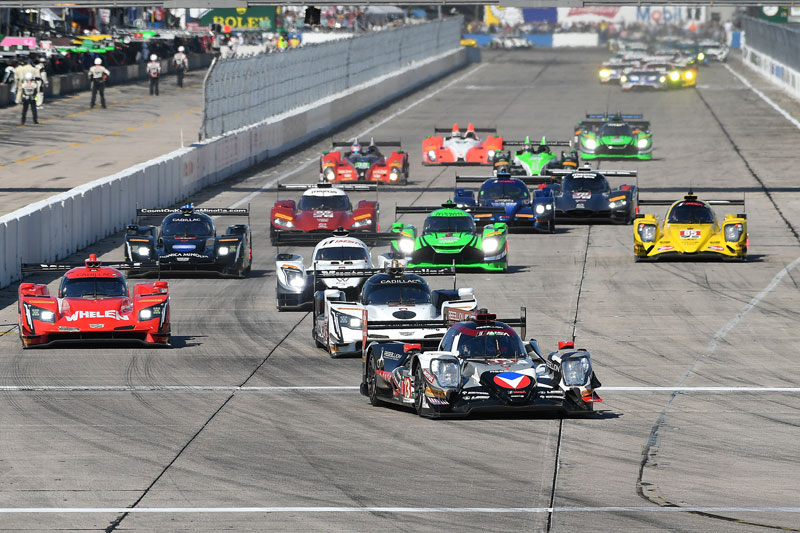 If such a situation arises where the car count exceeds the potential maximum grid, Atherton expects preference to be given to full-time IMSA entrants.
"We've faced that before. With the first year of the merger, running combined in '14 we were oversubscribed, so we have some experience in how to manage it.
"We don't have, I won't call it a 'pecking order,' but there is a criteria that full-season teams with a full-season commitment to us, and those running for a championship are given greater consideration than those that might be only doing one or two races.
"Right now, we're not concerned. Based on some of the reports we're seeing out of Europe and the level of interest especially for Daytona and Sebring seems at a very high level."
How does IMSA go forward from here? After a month of banner, positive news for the overall health of the championship, the key is getting that excitement to penetrate a greater market share beyond the hardcore sports car fans and stakeholders in the paddock. Atherton noted a number of increased metrics though across IMSA's social media and web platforms at the start of his formal presentation.
"We couldn't be more pleased. The best part is we're not done," he said.