The 2017 Verizon IndyCar Series has been a whirlwind thus far. Between nine different winners in 13 races, a championship battle that sees the top six covered by a mere 58 points and features a mix of cagey veterans and young hot shots, an always epic Indianapolis 500 that witnessed Fernando Alonso in the field, foregoing the Monaco Grand Prix to do, and the 2018 aero kit breaking cover are among a few of the noteworthy highlights so far.
The current two-week break ahead of the ABC Supply 500 (Sunday, 2 p.m. ET, NBCSN) not only gives IndyCar drivers and teams a chance to catch our breath, but it also gives my MotorsportsTalk colleagues and I a chance to reflect on a busy summer stretch.
—
Of all the story lines from 2017, which one has stood out the most? 
Tony DiZinno
For me it's the emergence of Josef Newgarden at Team Penske. His arrival will perhaps unfairly be compared to Simon Pagenaud's – Newgarden stepping into an established, championship-caliber team while Pagenaud's was a brand new fourth team out of the box. But consider that Newgarden's won three races and is leading the points heading into the final month of the season, and it's not something I would have predicted. We're seeing a changing of the guard in NASCAR as a younger crowd moves into more seats but Newgarden's success this year could provide the first swing to one in IndyCar too as he'd be the first champion under 30 in nearly a decade, if he can pull it off.
Luke Smith
This might be picking the obvious, but I have to go with Fernando Alonso's shock entry to the Indianapolis 500 back in May. Alonso had long-stated that he would like to have a shot in the famous race, yet few could have seen it happening so long as he was still racing in F1 – let alone with McLaren, let alone to miss Monaco!
Alonso's entry gave a real shot in the arm to the 101st running of the '500, given it was without any major storyline before then, and did much to take the race to a new, large audience. It really captured the imagination and attention of the entire racing world, which was really, really cool to see.
To make matters even better, Alonso delivered on-track too. Sure, he's a two-time Formula 1 champion – but to turn up, qualify fifth, lead for a good stint and be in the mix at the front? That's special. A story we will look back on for years to come, I am sure.
Kyle Lavigne
I can't help but be impressed by Dale Coyne Racing. Fast out of the box, Sebastien Bourdais won the season opener on the streets of St. Petersburg and was an early season championship contender before his brutal qualifying crash at the Indianapolis Motor Speedway sidelined him with hip and pelvis fractures.
Rookie teammate Ed Jones quietly impressed from the outset, scoring consecutive top tens at St. Petersburg and Long Beach (the first rookie to start his career with back-to-back top tens since Nigel Mansell in 1993). He then announced his presence to the world with an excellent run to finish third at the 101st Indianapolis 500 Presented by PennGrade Motor Oil, a run that might have even been better if his car hadn't sustained a hole in its nose late in the day.
Esteban Gutierrez has adapted nicely to the IndyCar ranks, while James Davison (Indianapolis) and Tristan Vautier (Texas Motor Speedway) have also been fast in one-off rides with Dale Coyne's operation.
Unfortunately, Dale Coyne Racing has incurred a lot of crash damage this year, its total far surpassing the seven figure mark. Nonetheless, the speed of Coyne's cars has not gone unnoticed, and IndyCar's lovable underdog has been a regular player near the front.
—
Which Silly Season story do you find the most intriguing?
Tony
I find it fascinating that this year might be the last year for the pair of 40-year-old Brazilians and longtime friends, Helio Castroneves and Tony Kanaan, both will be in IndyCar full-time. And it's weird how it's played out. With Kanaan advertising his "TK20" from the start of the year and embracing the fact he's been near the end, it seems as though it's shown on-track. Compared to last year, Kanaan's not been as consistently strong or on top of the Honda package as the Ganassi team has changed. Quite by contrast, Castroneves has been a title contender all year, may yet pull it off, finally, tried to downplay the 20-year number on his end and may be shifted out of IndyCar through no fault of his own.
Luke
As is often the case in racing, it seems the driver market will be largely led by the engine market for 2018, with much hinging on whether or not Andretti Autosport will make the switch to Chevrolet power and ditch Honda.
Ryan Hunter-Reay is locked in on a long-term deal and Marco is Marco, but Alexander Rossi and Takuma Sato – particularly in the latter's case – are big, big favorites of Honda. If Chevrolet did come in, Honda may push to get both out of Andretti for 2018, opening up two hot seats that many would clamor for.
Outside of Penske, it seems like things could be very fluid indeed with the driver market for 2018. Once the wheel sets in motion and Andretti makes an announcement, things should move from there.
Kyle 
Luke and I are in sync on this one. Because of the dominoes it could set in motion, whether or not Andretti Autosport moves back to Chevrolet may be the most compelling of all the Silly Season rumors. If they stay as a Honda team, it seems likely their lineup remains stable. If they switch, then it could set in motion a number of different moves.
With Alexander Rossi a favorite of Honda's and Takuma Sato tied to Honda at the hip, each would likely be looking for another IndyCar ride, and a number of options would be on the table for each. On the Andretti side, suddenly having one, or likely two vacant seats, would see their phone ringing off the hook from drivers looking for rides in 2018.
Other teams, such as Chip Ganassi Racing, face several unknowns as the off-season approaches. But the biggest domino might be which manufacturer Andretti Autosport signs with.
—
What are your thoughts on the 2018 aero package?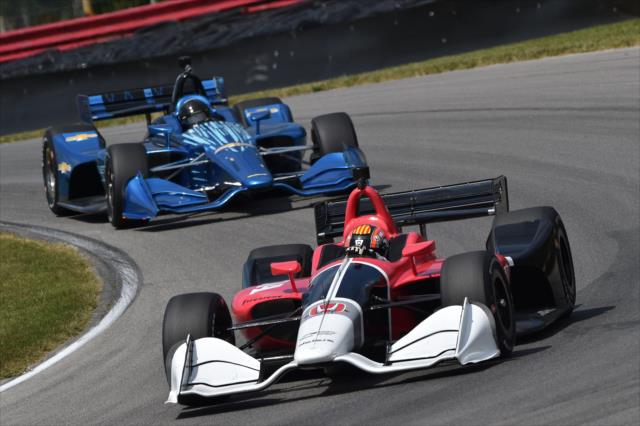 Tony
It looks great at first glance. The reports I've heard are almost 100 percent positive – which is rare in IndyCar circles – and the fact the top-end speed is up, the braking power is even better as IndyCar is now fully unified with PFC rather than the split PFC/Brembo package as was in play this year, and the cars have so much less downforce means we're going to see a return of wicked slideways action in 2018. The look and the feel of the new package looks proper; futuristic while also capturing enough from the past to recall the heralded "good 'ol days."
Luke
It's fantastic. It's simple, sleek, sexy – it's everything that aero should be. We don't want endless numbers of elements spurning off the car at every angle, regardless of the boost they may offer. The 2018 package proves that it is possible to deliver an effective, good look while still offering high levels of performance, with the noises coming out of the tests being very positive indeed.
Kyle
Quite simply, the 2018 aero package has been a home run so far. Good looking and sleek, it has also been a high performer. For example, the original test at the Indianapolis Motor Speedway was scheduled for two days. But, things progressed so well on the first that the second day was deemed unnecessary. A subsequent test at Mid-Ohio Sports Car Course also was deemed a success.
Remembering the teething problems that surfaced during initial testing of the DW12 during the 2011 offseason, the current car being so strong out of the box is quite a boon for the series.
And as much as test drivers Oriol Servia and Juan Pablo Montoya have been beaming about its performance so far, things bode well for a racy package next year.
—
Who wins the 2017 championship?
Tony
A tough one to say the least with four races to go, and with the lottery of double points at Sonoma still keeping a couple others outside the top four – who at the moment are only covered by 17 points – still within shouting range.
Preseason I picked Will Power to pull it off, but he's had too many lost points in crucial moments this year – and now has too many drivers to climb over – to recover from 52 points down in four races. The same problem applies for Graham Rahal, who's been statistically the best driver in the series since the INDYCAR Grand Prix, but had a nightmare opening four races that's left him playing catch-up all year.
That leaves the top four, in Josef Newgarden, Helio Castroneves, Scott Dixon and Simon Pagenaud, to vie for the crown. I'm torn on Newgarden because for the series' longer-term health, it behooves them to have a young American star win the title. But there's just something that doesn't feel right about him winning it in his first year when Castroneves never has, Pagenaud did in his second year and Power did in his sixth. And with Newgarden now fully ensconced in his first late-season title fight as opposed to on the fringes, it's hard to see him winning it in his first crack.
Pagenaud's title defense year has been a very weird one. He's lacked the pace from last year by leaps and bounds, but he's been the king of picking up under-the-radar top fives. I don't think he has enough speed to overcome the gap.
Which leaves Castroneves and Dixon. Is it worth picking the driver who'd be the sentimental choice of the two? Castroneves has had two rough races at the worst time the last two, while Dixon has made up points he otherwise could have lost in Toronto and Mid-Ohio.
Dixon won the title in 2013 and 2015, both times coming from behind. I think the "Ice Man" coolly denies the Penske quartet once again in his latest chapter written in a storybook career, even if a fifth title somehow would find a way to get overlooked in the national consciousness.
Luke
This is so, so hard to pick, given just 52 points separate the top five drivers in the championship. The bullets may be loaded in Team Penske's favor, given all four of its racers are in the mix, but I'm going to go for the fifth man: Chip Ganassi Racing's Scott Dixon.
Dixon has been his usual, consistent self through much of the campaign, even if things have dipped off a little since his victory at Road America. The Honda package has been strong on ovals this year, and if his demolition job of last year's race at Watkins Glen is anything to go by, Dixon could be in a very good position come Sonoma.
A fifth title would only add to the legend of Scott Dixon. For the sake of the narrative, let's hope it's a 'veteran versus youngster' showdown with Josef Newgarden also in with a shot of a maiden crown.
Kyle
With double points on the docket for the season-ending GoPro Grand Prix of Sonoma (September 17, NBCSN), it's conceivable that the six current title contenders (Josef Newgarden, Helio Castroneves, Scott Dixon, Simon Pagenaud, Will Power, and Graham Rahal) all enter Sonoma with at least a mathematical shot at a championship, making any prediction somewhat of a toss-up at the moment.
What's more, the variety of tracks left on the schedule only complicate matters. Gateway Motorsports Park is a short oval, Pocono Raceway a super speedway, and Watkins Glen International and Sonoma Raceway natural terrain road courses. That's three different types of circuits in the final four races.
While my colleagues have both selected Dixon as their champion, I'll go a different route. The last time a driver won a championship in his first year with Team Penske was in 2000, when Gil de Ferran captured that championship in the CART FedEx Championship Series. This year, Josef Newgarden repeats de Ferran's feat and wins the 2017 Verizon IndyCar Series Championship.