Following a small "summer break" in which they took two weeks off, the Verizon IndyCar Series begins its stretch run to the championship this weekend, with four races spanning a five week period, including three in a row, beginning at this weekend's ABC Supply 500 from Pocono Raceway (Sunday, 2 p.m. ET, NBCSN).
Since returning to the IndyCar schedule in 2013, Pocono has seen four different pole sitters and winners. In 2013, Marco Andretti sat on the pole while Scott Dixon took the win. In 2014, Juan Pablo Montoya scored both the pole and the victory. In 2015, it was Helio Castroneves leading the field to the green flag, with Ryan Hunter-Reay ending up in Victory Lane. And last year, Mikhail Aleshin took his first career IndyCar pole, while Will Power captured the race win.
In short, no one driver or team has emerged as the predominant force at the three-turn 2.5-mile oval, meaning its recent history since returning to the schedule has been equally as unpredictable as the 2017 season.
Previous speedway races have indicated that Honda should have an advantage, but Honda and Chevrolet have actually split the wins at the big ovals this year. Andretti Autosport's Takuma Sato won for Honda at the Indianapolis 500, while Team Penske's Will Power won for Chevrolet at the Rainguard Water Sealers 600 at Texas Motor Speedway. And the rubber match on the big ovals is expected to be somewhat of a wildcard as IndyCar begins its stretch run to the championship.
2017 ABC Supply 500 – Talking Points
500-mile endurance test
The two other big ovals were more about survival than outright pace. Three Honda engines failed during the 101st Indianapolis 500, capping a month of worry that saw no fewer than ten engine failures during the month of May.
And both the Indy 500 and Rainguard Water Sealers 600 were mired by crashes. The two races combined for ten cautions due to accidents, highlight by Scott Dixon's airborne incident at Indianapolis and a pileup at Texas that collected eight cars.
Outside of the 2015 race, which saw 12 cautions, Pocono has a tendency for long stretches of green-flag running with the other three races combining for only seven cautions between them (the 2016 race saw four cautions, the 2014 race saw one, and the 2013 race saw two). Still, while Sunday's race is unlikely to be a crashfest, it will be a big test of engine reliability.
Points leader Josef Newgarden discussed such a topic in a media teleconference, revealing that he believes Chevrolet has the upper hand in this area. "I think the advantage to being with team Chevy is you feel comfortable in the reliability that we've had throughout many years at IndyCar, specifically the last couple years. I think we feel very comfortable with what Chevrolet brings from a reliability standpoint. We never have issues," he asserted.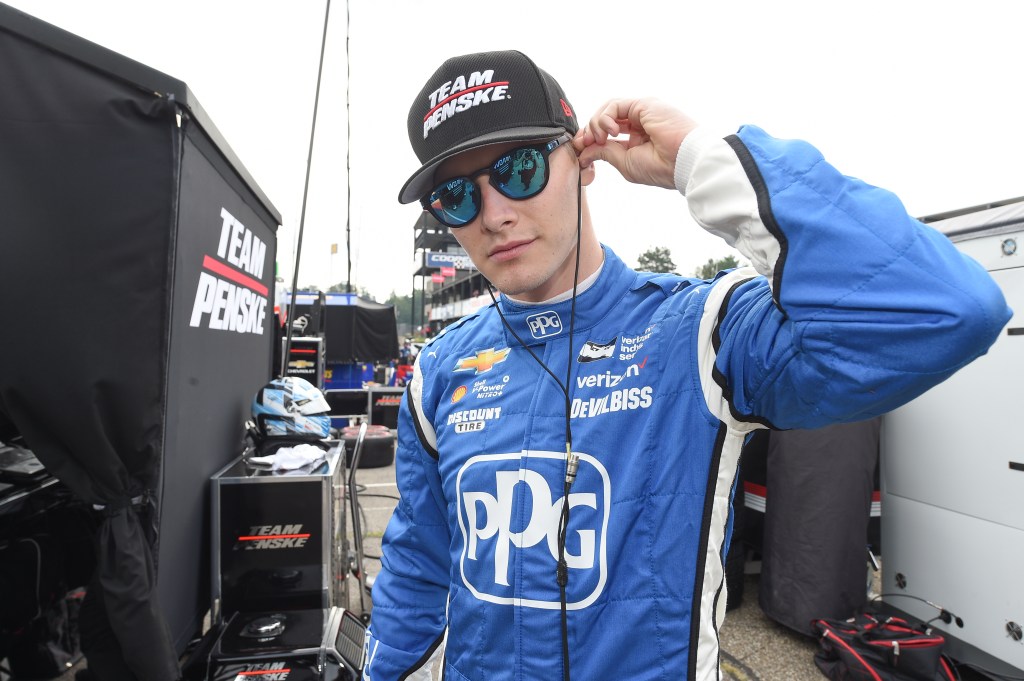 Still, this does not mean he is discounting the Honda, who reportedly found the issue that caused their slew of engine failures early in the year.
"There's a lot of things that give us confidence, but at the same time, we can't discount Honda," Newgarden added. "You can't turn an eye to them. You have to make sure you're watching them at all points and respecting what they can bring to the table because they're a very strong manufacturer and they've won races and they've won Indy 500s, and they're very capable of taking it from you if you don't watch that closely. They're a challenge for us with Pocono being their biggest strength, but I feel confident with Chevy that we have a chance to win the championship."
Honda's big oval dominance? 
Speaking of Honda, the assumption is that Honda has a pace advantage over Chevrolet at the big ovals. And while that was true at Indianapolis, Texas was quite different, especially in that race-winner Will Power led 180 laps on his way to victory.
While the aerodynamic package at Texas may have played a factor in that, it nonetheless serves notice that Honda's advantage on the big ovals is not as big as originally thought.
Last year at Pocono, Schmidt Peterson Motorsports' Mikhail Aleshin and Andretti Autosport's Ryan Hunter-Reay somewhat dominated the race, but it was Power who went to Victory Lane for Team Penske and Chevrolet.
Like Texas, outside circumstances certainly played a role (Hunter-Reay had an odd electronics failure that saw his car lose power late in the race, though he ultimately rebounded to finish third), and the speed of Aleshin and Hunter-Reay that day indicated that Honda had an outright speed advantage.
However, Pocono's unique layout means that pure speed is not enough; the three different turns require a perfect setup balance that features a lot of compromise. Chip Ganassi Racing's Scott Dixon, the 2013 Pocono victor, discussed this aspect, highlighting that Pocono is a track not to be taken lightly.
"You have to put a lot of hard work into getting everything right on this track. Nothing is a given here," Dixon said of the challenges of Pocono Raceway. "We've slipped to third in the championship with four to go here recently, but are only eight points out. This is the time to really start a string of strong finishes that will hopefully get you across the finish line in front of the other contenders."
In total, Chevrolet leads Honda 7-6 in the win column in 2017, with Josef Newgarden's victory at the Honda Indy 200 at Mid-Ohio giving the edge to the Chevrolet camp leading into Pocono.
David vs. Multiple Goliaths
The championship picture sees six drivers separated by 58 points with four races to go. Four of them (Josef Newgarden, Helio Castroneves, Simon Pagenaud, and Will Power) are from the mighty Team Penske, and one (Scott Dixon) is from the equally mighty Chip Ganassi Racing.
The sixth is the famous one-car effort from Rahal Letterman Lanigan Racing in the hands of driver Graham Rahal. Since 2015, this combination has been nipping at the heels of all the big teams, even making a championship run in 2015.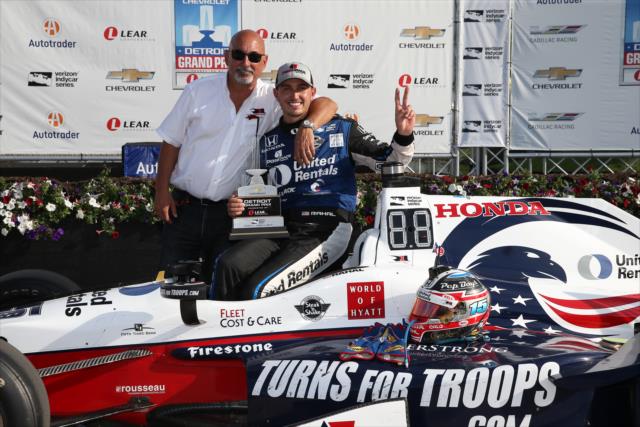 In 2017, they're poised to do it again. Though 58 points behind championship leader Newgarden, there remains time for Rahal to chip away, though he'll need to finish ahead of his title rivals in each of the final four races if he is to capture this year's championship.
But, with the experience of 2015 to build on, it's a task he and the team are ready for.
"The team absolutely has momentum. I think we are the hottest team other than (Team) Penske right now, if you look at it across the board," Rahal asserted ahead of this weekend's race.
The younger Rahal's confidence is very high leading into the weekend, especially because he feels the team's package is more than enough to contend for a win.
"We've got some big races coming up clearly and Pocono is going to be a big one that should suit the Honda really well. Coming out of Indianapolis setup wise, we should have some good knowledge that we didn't have going into the month that we found very late in the month. We had very fast race cars and ran up front there, so hopefully we can carry that forward and do the same at Pocono this weekend," Graham added.
Graham and RLL will look to improve upon their best Pocono finish of 11th, which came last year.
Lingering questions
Dale Coyne Racing has been a surprisingly mighty force at the big ovals this year. Can they continue that form?
Ryan Hunter-Reay is on a winless streak that dates back to this race in 2015. Can you bring that drought to an end?
Schmidt Peterson Motorsports and Mikhail Aleshin have parted ways, with Sebastian Saavedra piloting the No. 7 SPM Honda entry at the next two races. Saavedra finished an impressive 11th with the team at Toronto; can he repeat that performance on a big oval?
Drivers like JR Hildebrand, Ed Carpenter, Tony Kanaan, Marco Andretti, and Alexander Rossi are running out of chances to win in 2017. Will one of them break through at Pocono?
Can Gabby Chaves and Harding Racing spring a third consecutive top-10 in their third start of the year? The young Colombian American and the new team has been one of the year's pleasant surprises to date.
The final word
From last year's Pocono winner, Will Power: ""I definitely had a great time off with (son) Beau and my wife, but am ready to get back on track. The No. 12 Verizon Chevy team put together a really awesome car at Mid-Ohio which produced a strong result. Now we're going back to Pocono where we won last year. Another win there would be huge for us in the point standings, so we're really going to give it our all. The team worked on the car a lot and we all feel it's going to be another strong car."
Here's the IndyCar Weekend Schedule:
At-track schedule (all times local):
Saturday August 19
9:00 a.m. – 10:15 a.m. – Verizon IndyCar Series practice #1, Livestreamed on RaceControl.IndyCar.Com
1:00 p.m. – Qualifying for the Verizon P1 Award (single-car format, two laps each), airs LIVE on NBCSN
5:00 p.m. – 5:30 p.m. – Verizon IndyCar Series practice #2, Livestreamed on RaceControl.IndyCar.Com
Sunday August 20
1:10 p.m. – 1:25 p.m. – Verizon IndyCar Series pit stop practice
2:00 p.m.. – NBCSN on air
2:40 p.m. – ABC Supply 500 (200 laps/500 miles), NBCSN (Live)
Here's last year's top 10
1. Will Power
2. Mikhail Aleshin
3. Ryan Hunter-Reay
4. Josef Newgarden
5. Sebastien Bourdais
6. Scott Dixon
7. Carlos Munoz
8. Juan Pablo Montoya
9. Tony Kanaan
10. James Hinchcliffe