The importance of Alexander Rossi to both his Andretti Autosport team and the Verizon IndyCar Series as a whole was properly on display this weekend at the ABC Supply 500 at Pocono Raceway, as the sophomore driver from California made his mark in several key ways.
Ending third today in what may have been his best drive this season – in a year filled with candidates – stands as a disappointment because of how good he was otherwise.
The driver of the No. 98 MilitaryToMotorsports.com Honda for the Andretti-Herta Autosport outfit was unlucky to qualify only sixth. Rossi battled understeer on his opening lap, then turned in what would have been the fastest single lap of qualifying on his second before Takuma Sato eclipsed it as the last driver to run.
"A lot more understeer than this morning! It really took off," Rossi told NBCSN's Katie Hargitt Saturday after his run. "I was fortunate it wasn't a worse situation.
"We have the fastest single lap which is some sort of consolation prize, like the participation medal when you don't win anything," he deadpanned.
But Sato's pole was made possible in part by Rossi's sprint from pit in to pit out to give Sato an update on track conditions after his run (more here from Indianapolis Star reporter Jim Ayello). That the run occurred mere moments before Ryan Hunter-Reay tattooed the wall hard off Turn 3 and could have left Sato in a fragile mental state made it all the more impressive.
Sato couldn't have been more effusive in his praise of Rossi.
"We see Ryan's moment. Really made my nervous because he was just in front of me. We share a lot of parts and philosophy on the car. So it's directly expecting what he has is what I have," Sato said in the post-qualifying press conference.
"Alexander came me before the qualifying, he give me what he felt in Lap 1 to Lap 2, Turn 1 to Turn 3. Because here it's a lot of downshift. We had to deal with the weight jackers, had to really work on that. Everything was proactive.
"I was able to put down a great lap, and I really have to say thank you to all my team."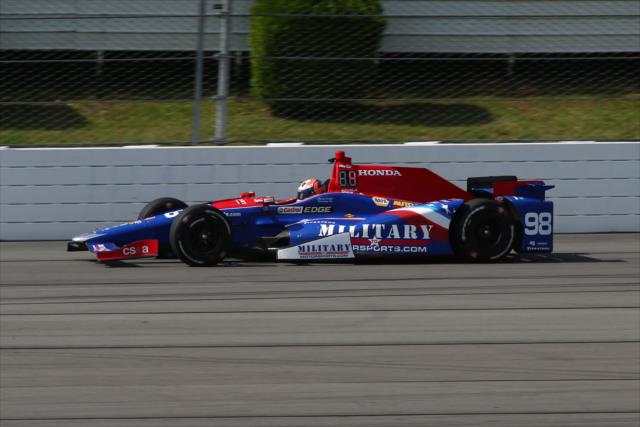 Sunday's race for Rossi was, like others he's had this year, excellent if not outright fulfilling from the overall standpoint.
Rossi led only 23 laps in 2016 including 14 in the Indianapolis 500, which he won, and then 23 laps this year, only at Indianapolis.
On Sunday, he led eight times for 44 laps, nearly doubling his career total of 46 in one race.
He was rarely outside the top five, battling any of Tony Kanaan, Graham Rahal, Scott Dixon and James Hinchcliffe for the lead more often than not throughout the race. But he wasn't able to maintain full pace in the final stint owing to a weird issue – his fuel mixture knob came off.
He described the struggle at the end after an otherwise banner day to Hargitt.
"Nothing changed; but the fuel mixture knob came off about two-thirds of the way through, so we didn't have full power at the end," Rossi told NBCSN. "We know these Honda engines have something for the competition.
"The car was stellar all day. It's a really good result. When you come so close to the win it's difficult to swallow. But looking back at Pocono where we were last year, we didn't finish. To be on podium is a testament to Andretti Autosport and the entire team and the work they've done all year."
With Sato, Ryan Hunter-Reay and Marco Andretti as teammates, Rossi said they've been instrumental to his growth in 500-mile races.
"I'm getting more comfortable. A lot of it that is because of the team. Amazing to work with. My teammates are fantastic. I can't go on enough about how much they've gotten me up to speed on these tracks, that are very daunting for first-comers. Very fortunate to drive for this team."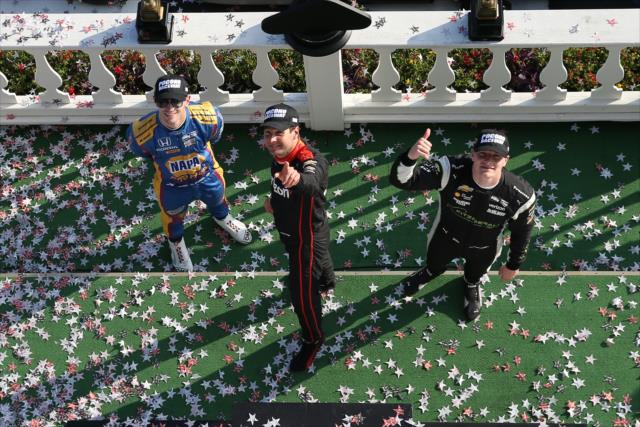 Rossi expanded on the final stint of the race in the post-race press conference, as he wasn't quite able to make enough of a run on Team Penske teammates Will Power and Josef Newgarden, who finished first and second.
"I don't want to take away from what Team Penske did and Will and Josef," he said. "They were very strong at the end, and I don't think we could have trimmed as much as they were. We just didn't have the balance to take that.
"I was trying, but like Josef didn't have the speed for Will, I didn't really have the speed for Josef. I thought we were pretty strong in Turn 3 at times, but I didn't have enough to really pull alongside, and I think that was truly down to the mixture. But it's racing. That's the way it goes.
"Like I said before, those two cars were pretty strong, and it was easy to make a mistake behind them, and I knew I had to push really hard to stay in their tire tracks. That's part of what makes IndyCar racing so great. To win here, you have to be perfect for an entire race, and Will did that today."
Even though Rossi admitted leading – and thus burning more fuel – wasn't an ideal scenario, it was hard to wipe the smile off his face after his second podium of the year (was second in Toronto) as he sits eighth in points.
"I had a smile on my face the whole race. It's rare that you don't driving IndyCars, especially at a track as awesome as this. I had fun for the entire race, and any time you're leading, there's some satisfaction that goes with it."