An unknown variable to two of the three Mazda Road to Indy presented by Cooper Tires series comes with this weekend's races at Gateway Motorsports Park, the first and only oval for the Pro Mazda Championship Presented by Cooper Tires and the third oval for the Indy Lights Presented by Cooper Tires this season (this race airs August 28 at noon ET on NBCSN).
—
NEW TRACK ON TAP
The only running for these two series here has been testing, first on the old surface earlier this year and then on the repaved surface a couple weeks ago.
Indy Lights has been to Gateway with both of its prior two iterations, under the Indy Pro Series nomenclature in 2002 and 2003 (won by Ryan Hampton in 2002 and Jeff Simmons in 2003) and four times before that under the old Indy Lights banner in 1997, 1998, 2000 and 2001.
Those winners included Lee Bentham (now Ed Carpenter's spotter and the Ed Carpenter Racing driver coach), Shigeaki Hattori, now NBCSN IndyCar analyst Townsend Bell and the late Dan Wheldon, respectively.
Bell holds both the qualifying and race lap records at Gateway, 157.205 mph and 28.625 seconds (qualifying) and 157.043 mph and 29.113 seconds (race), set in 2000, but those records should be smashed on the repaved track and with the new car this weekend.
Pro Mazda makes its debut at the track this weekend with a 55-lap race. Indy Lights will go 75 laps around Gateway. Both races are Saturday evening, at 4:55 p.m. and 6 p.m. CT and local time.
—
TITLE TILT BREAKDOWN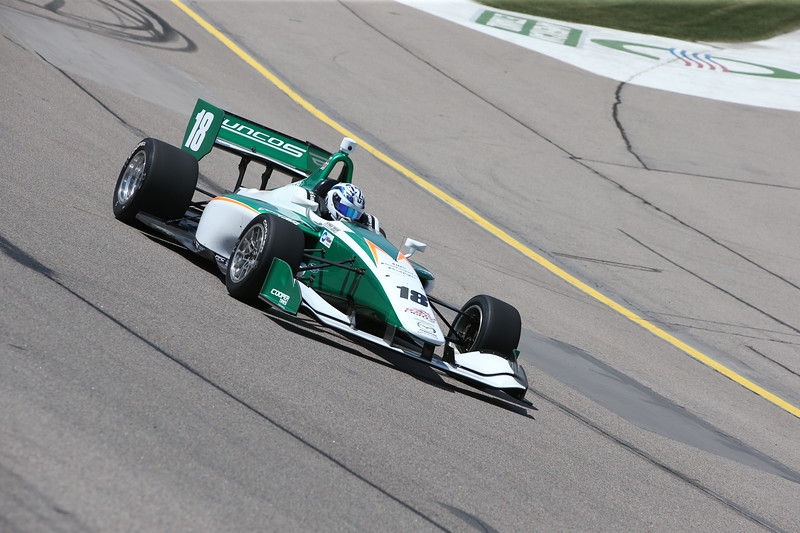 As the series heads into Gateway, the championship battle could end in one series while it's all poised to continue in another one.
In Indy Lights, Kyle Kaiser of Juncos Racing had a nightmare weekend at the Mid-Ohio Sports Car Course but even so, is well-positioned to lock up this year's title and the $1 million Mazda Motorsports Advancement Scholarship that goes with it. He has a 42-point lead over both Colton Herta and Santiago Urrutia, 297-255, and will clinch the championship with one race still to go at Watkins Glen provided he leaves Gateway with a 34-point lead.
The maximum swing in points in a 15-car grid is 27 points from first to last, if a driver secures the maximum 33 points (30 for winning with one bonus point apiece for pole, most laps led, and fastest race lap) and the 15th-place finisher scores six points.
A top-five finish for Kaiser will ensure he has at least a 26-point lead over the field, regardless of what others do – he'd have 314 points and the most anyone else could get with the maximum would be 288. So, the odds still remain in his favor barring some extraordinary events.
If Kaiser does clinch this weekend, he'll be the first to do so in Indy Lights prior to the season finale since Josef Newgarden in 2011, who did so by starting at Kentucky in that year's penultimate race – he finished second to Stefan Wilson that day. Tristan Vautier and Sage Karam (Fontana), Gabby Chaves (Sonoma), Spencer Pigot and Ed Jones (Mazda Raceway Laguna Seca) have all won the last five titles at the last race of the year, all in California.
Herta and Urrutia's tie for second (255 points) sees them in a tightly bunched six-way battle for the runner-up spot. With Matheus Leist (249), Zachary Claman De Melo (243), Nico Jamin (242) and Aaron Telitz (233) could all stake their claim for second.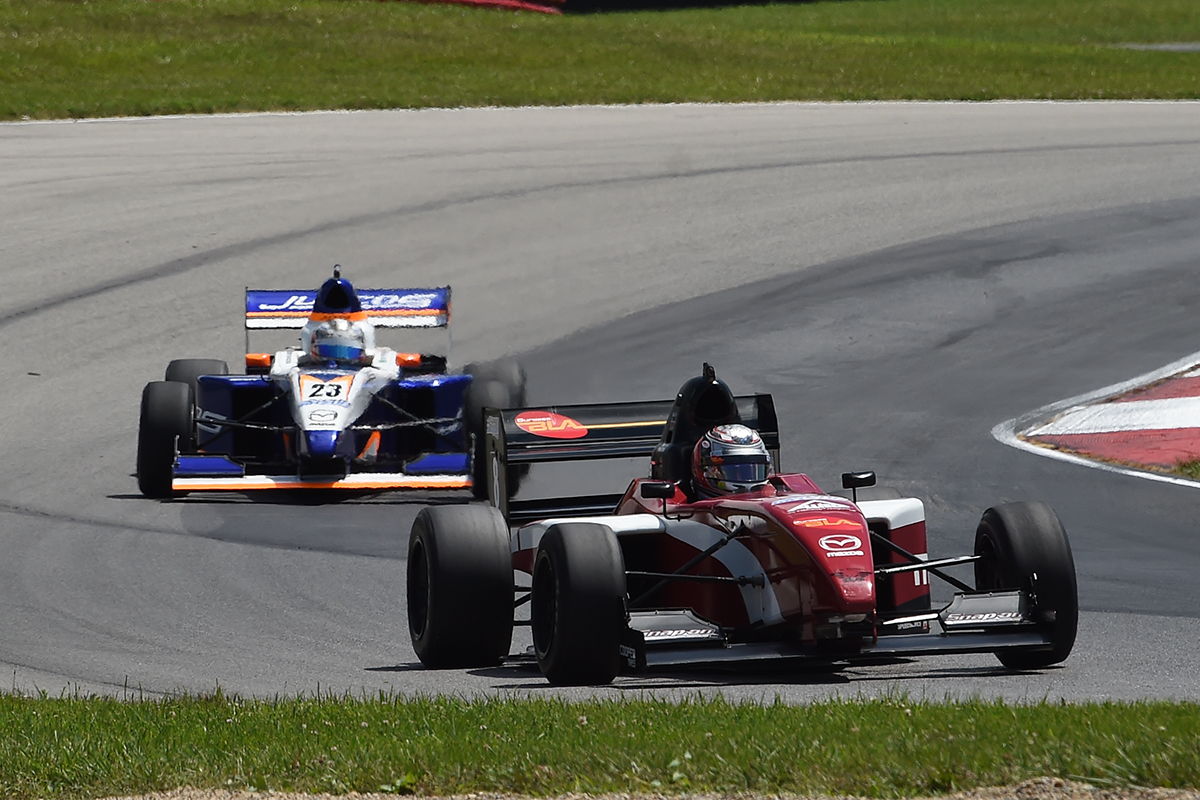 Quite by contrast, Anthony Martin leads Victor Franzoni by only four points in Pro Mazda (259-255) and the battle between the Cape Motorsports and Juncos Racing driver figures to rage over the final three races. Pro Mazda has the oval this week, then two races at Watkins Glen to sort out that battle.
John Doonan, director of motorsports for Mazda North American Operations, sized up how the MRTI season has gone to date as the series heads into its final two weekends.
"You have ebbs and flows in the season. All three championships are far from being decided," Doonan told NBC Sports. "The competition level is so intense. The new Tatuus USF-17 has woken some people up internationally as an option.
"Meanwhile I was saying to someone not long ago, the Pro Mazda car is 13 years old and the car has remained relevant that long. To see that car have a sweet swan song with two guys battling out for the title in this car has been great to witness.
"Indy Lights has been ridiculous too. Kaiser has a lengthy points lead, but it's not done yet. With an oval and Watkins, with multiple races, it'll be a battle down to the end."
—
LOOKING BACK AT RECENT OVALS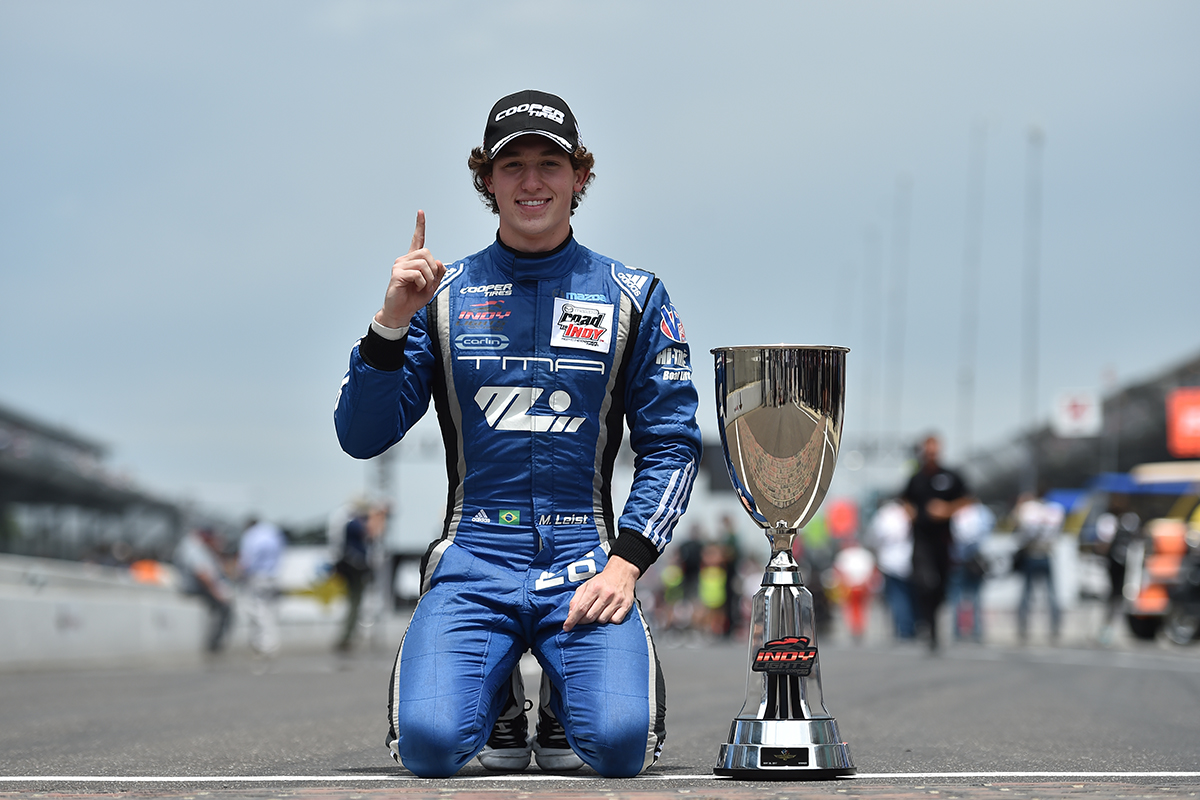 Indy Lights has its third oval this season and Leist, who hadn't driven on an oval until this season but has instantly clicked with Carlin's engineering team, somehow has the chance to sweep all three of them. The Brazilian teenager dominated at the Freedom 100 in Indianapolis and continued his midsummer run of form with a win from 10th on the grid at his first short oval in Iowa.
Looking back to last year, Kaiser won his first Indy Lights race on the Phoenix 1-mile oval, a track that's been recently repaved, and a track he thinks will provide a proper comparison to Gateway. Otherwise it was Dean Stoneman (Andretti Autosport, Indianapolis) and Felix Serralles (Carlin, Iowa) who won last year.
In 2015, the first year of the Dallara IL-15 Mazda, there were also three winners in three ovals: Jack Harvey (Schmidt Peterson Motorsports, Indianapolis), Serralles (Belardi Auto Racing, Milwaukee) and Max Chilton (Carlin, Iowa).
Pro Mazda has not raced on an oval since Lucas Oil Raceway in May 2016, Pato O'Ward delivering the win for Team Pelfrey in dominant fashion. Weiron Tan swept the two Pro Mazda races in 2015 for Andretti Autosport at Lucas Oil Raceway and Iowa.
It's been since 2014, when Spencer Pigot won for Juncos at Milwaukee, that Pro Mazda last raced on a track one mile or longer. Lucas Oil Raceway and Iowa are both under one mile. For the car that launched into then-Star Mazda in 2004, this race at the 1.25-mile Gateway track is the longest oval this car has ever raced on.
—
WHATEVER FLOATS YOUR BOAT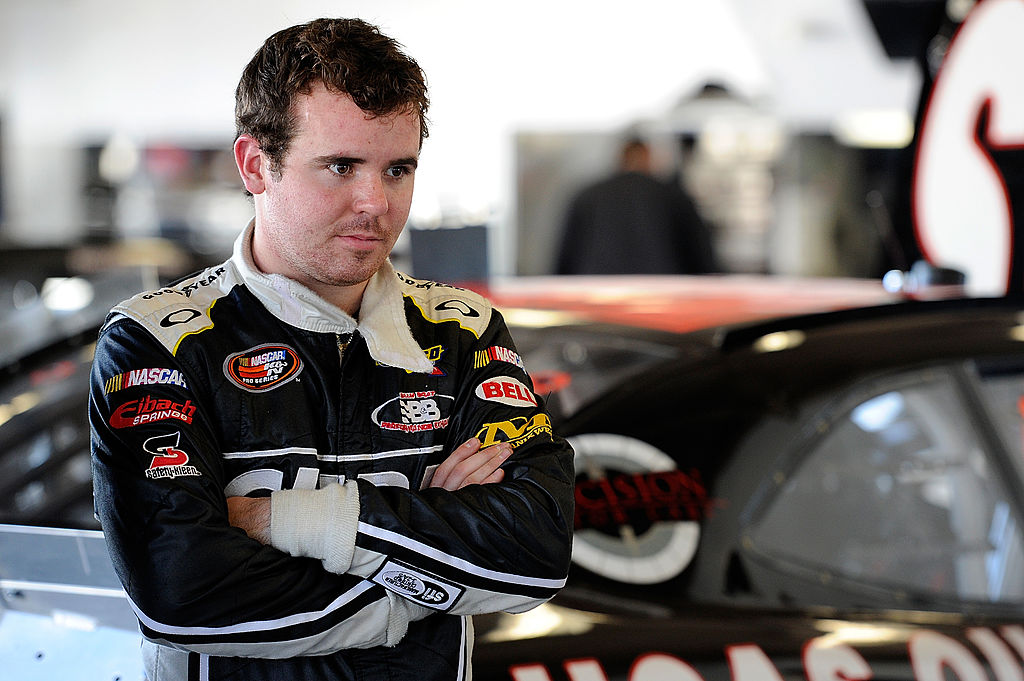 Chad Boat, in a fourth Belardi Auto Racing entry, will at long last make his Indy Lights Presented by Cooper Tires race debut. He was meant to at the series' last short oval race in Iowa but was ruled out, not medically cleared after an accident earlier that week.
Boat's presence in the field makes it a 15-car Indy Lights field, which in turn opens up the option – however slim – that if Kaiser was to finish last and Urrutia, one of Boat's three Belardi teammates, won and scored maximum points, could close the 42-point gap down to 15 points leaving Gateway.
For Boat, the 25-year-old son of past IndyCar veteran Billy Boat, the goal will be to gain experience as a short track, dirt track and part-time NASCAR veteran making a welcome entry into the series. He has tested at Gateway in advance of his debut.
While Boat increases the Indy Lights field by one, the Pro Mazda grid dips from 14 its last race at Mid-Ohio down to 10 cars.