The Verizon IndyCar Series comes to its sixth and final oval race of the year at Gateway Motorsports Park this weekend with five drivers covered by 42 points for the championship, a number of silly season dominoes yet to fall and a number of questions about how the repaved 1.25-mile oval will race.
Add it all up and you have the ingredients for an interesting two-day affair as IndyCar comes back to the greater St. Louis area in Madison, Ill., for Saturday night's Bommarito Automotive Group 500 presented by Valvoline (9 p.m. ET, NBCSN).
Here's what to look for ahead of this weekend's race:
2017 Bommarito Automotive Group 500 presented by Valvoline – Talking Points
Penske's fearsome foursome might dominate… again
It seems weird that Team Penske didn't win either short oval race in 2016 at Phoenix or Iowa based on the amount of trepidation the remaining 17 drivers in the 21-car field have about Penske and its fearsome foursome heading into this weekend.
Going back to Phoenix in April, race winner Simon Pagenaud (116 laps), polesitter Helio Castroneves (73), Will Power (59) and Josef Newgarden (2) combined to lead all 250 laps between them, and finished first (Pagenaud), second (Power), fourth (Castroneves) and ninth (Newgarden). Only JR Hildebrand stuck his Ed Carpenter Racing Chevrolet into the proverbial knife fight to break up a perfect 1-2-3-4 sweep, banking his first podium in six years a week after sitting out due to a wrist injury.
"St. Louis is where we've been at our best from a competitiveness standpoint at short ovals," Hildebrand told NBC Sports. "But again it's a bit of an unknown, in terms of what to expect from the new surface. The track grip coming up and with us as good as we were at Phoenix, that should bode well."
A Hildebrand maiden win would be a surprise, but welcome, interruption to a recent period of Penske dominance that has surged over recent races.
Through the first eight races, Team Penske had three wins (one apiece for Newgarden, Pagenaud and Power in succession), as the field had seven different winners from five different teams.
Since, Team Penske has won five of the last six races to boost their total to eight wins overall, including the last four in a row, the first time the team has done so in five years.
One quick oval points note: Power actually leads all competitors with 220 points in the five oval races thus far this year, with Castroneves second on 219, Pagenaud fifth with 190, and Newgarden lagging a bit in 14th with 145.
You'd be a brave individual to pick against a Penske driver winning on Gateway's return, but, as we've seen occasionally in IndyCar in the past, strange things can happen.
About that repaved surface…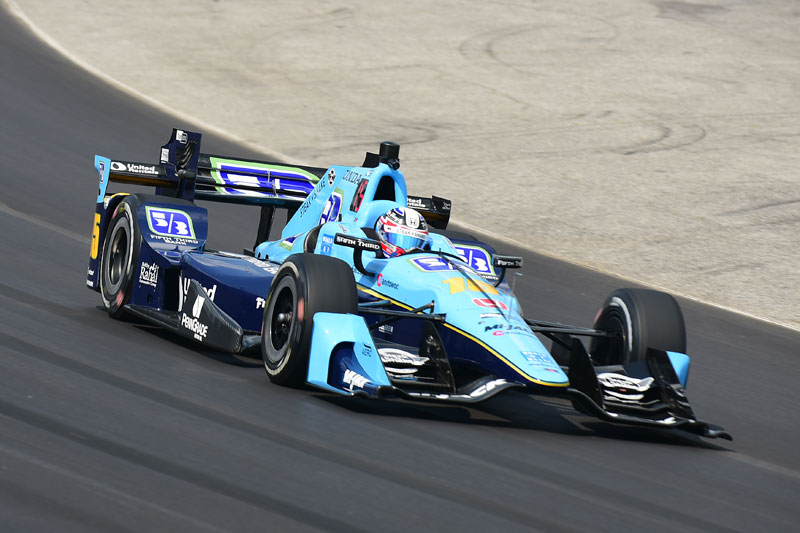 A test in May produced a number of warning signs for the series with a lot of cut tires and a lot of bumps. But since the Gateway Motorsports Park staff (led by Curtis Francois and Chris Blair) has shown nothing but willingness to promote the heck out of this race and do whatever it can to ensure the first IndyCar race here in nearly 15 years is a success, the decision was made to repave the track prior to August.
A second test occurred to rave reviews, as drivers hailed the billiard table smooth surface and sets the stage for a grippy, fast 248 laps under the lights on Saturday night. Graham Rahal, who drives a revised livery with Fifth Third Bank primary sponsorship this weekend, has said he expects this to be the best short oval IndyCar race of the year.
"We went and did the tire test; it's huge credit to everyone there," Schmidt Peterson Motorsports' James Hinchcliffe told NBC Sports. "The repave was really nice. They did a great job. It's nice and smooth, tons of grip. Longer straightaways give a greater opportunity to get a run. It's a big improvement for the facility and everyone involved in the organization."
Ryan Hunter-Reay added to NBC Sports, "I don't think it'll be more than one groove, but you'll have enough grip to follow closely, and make it potentially very racy. No one really ran in traffic because it was cut short due to rain. It's certainly very smooth. I thought about it when I left; is it gonna be one of those racy shows, or will be several car lengths apart? It depends on dirty air. I'm not really sure, but I believe it'll be racier than the Phoenix show."
Hunter-Reay, whose unlucky run of results for really two-plus years came to a head last week at Pocono when he crashed in qualifying and went to the hospital before rallying to race on Sunday, has along with Tony Kanaan been an incredible driver to watch on short ovals – particularly in the manufacturer aero kit period where the more draggy Honda kit has been at a disadvantage to the slipperier Chevrolet package. Few would begrudge him breaking his winless run this weekend, even if based on car performance, it's a long shot.
The new track should be lightning fast. Conor Daly led on the old surface with a best time of 25.4371 seconds, 176.907 mph. But unofficial reports from the new surface earlier this month saw the times in the mid-24 second range.
The last pole speed and time, Castroneves' 25.5732 seconds and 175.965 mph in 2003, will be shattered. The question is whether the outright one-lap record, Raul Boesel's 24.324 seconds and 187.963 mph set in May 1997 for the inaugural race, will fall. That race was won by NBCSN IndyCar analyst Paul Tracy.
Bourdais back in action
More on Sebastien Bourdais' surprise but welcome return to action here, and while expectations might not be the highest for him or the Dale Coyne Racing team this weekend, don't count them out. Bourdais has accumulated a number of oval wins throughout his career in Germany, Las Vegas and Milwaukee, and if his car's dialed in, he could surprise on track beyond already making the big news that he's racing at all.
Five for fighting in the title tilt
The top five drivers are separated by just 42 points in the championship battle. Newgarden leads Scott Dixon by 18 points, Castroneves by 22, Pagenaud by 26 and Power by 42.
Penske faces a weird scenario this weekend at Gateway depending on how the order falls for its quartet, as invariably, one or more of its four drivers will take points off the other depending on how high up he can finish.
Dixon, by contrast, will have the entire Chip Ganassi Racing team behind him supporting him – although at Pocono, Dixon may have lost two critical points by finishing sixth behind Kanaan in fifth. Expect this to be a weekend of damage limitation for Dixon, who doesn't expect the Honda package will be able to match the Chevrolets. However, if he makes inroads on the Penske quartet this weekend, it will be a huge boost in the pursuit of his fifth title.
INDYCAR provided these couple points nuggets heading into the weekend:
The driver who has led the championship with three races to go has failed to win the championship in five of the last seven seasons. Will Power in 2014 and Simon Pagenaud in 2016 are the exceptions.
The 18 points which separate Josef Newgarden and Scott Dixon is the third smallest margin with three races to go since 2010. Will Power led Helio Castroneves by four points in 2014 and Ryan Hunter-Reay by five points in 2012. The average deficit with three races to go since 2010 is 22.6 points.
Four possible spoilers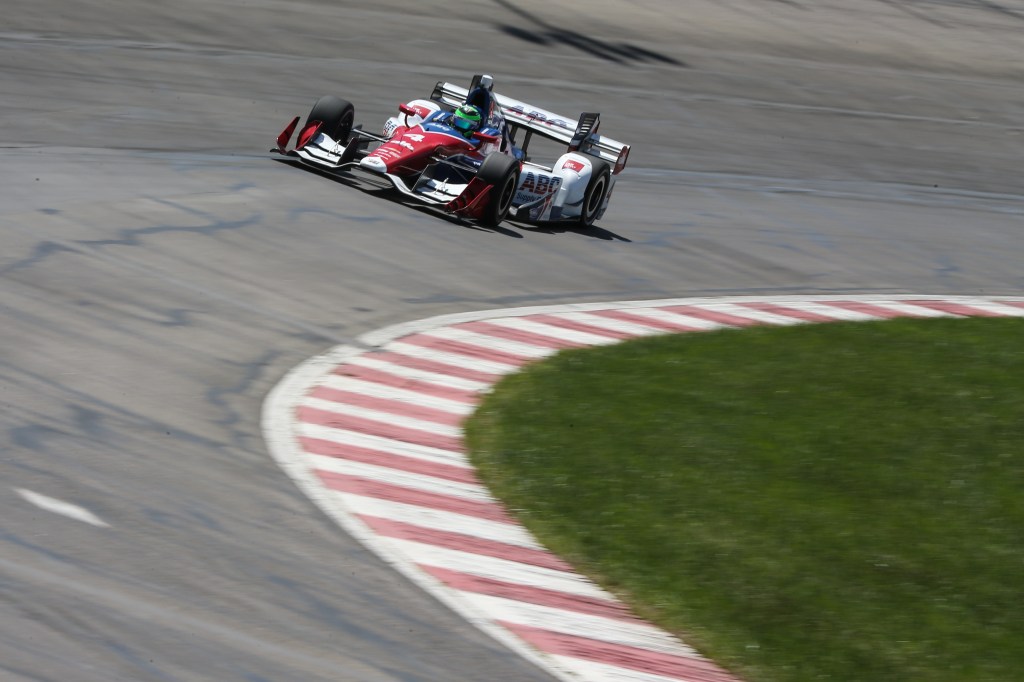 In the other four Chevrolet drivers in the field – the pair of Ed Carpenter Racing drivers, Carpenter and Hildebrand, and A.J. Foyt Enterprises' Carlos Munoz and Conor Daly – the hope is both teams could be strong enough to make inroads into the top-10 and surprise on a track where their package is better.
Daly, in particular, is one to watch. He led the test here on the old surface (first session wrap, second session wrap) and even after the repave, is still bullish on his chances. He's been better since team director Larry Foyt moved over to his box to call his race strategy, and it's not out of the realm of possibility Daly could sneak a low-to-mid top-10 finish this weekend.
"I've been looking forward to the Gateway race since our first test there in May," Daly said. "I've really enjoyed the testing we've done there this year, and we've been quick every time on track, so I have high expectations for the weekend. It'll be supremely close as INDYCAR weekends normally are, but I hope to be fighting at the front end of the field all weekend long."
Three veterans with Gateway IndyCar experience… plus one other
Although the repave is new to everyone, three drivers – Castroneves, Kanaan and Dixon – have raced at Gateway before. Castroneves is the track's most recent winner in 2003. Carpenter doesn't have an IndyCar start there, but did bank top-five finishes in Indy Lights races at Gateway in 2002 and 2003; prior to that, he raced on the 1.25-mile oval in USAC Silver Crown events.
Two more races after Gateway
This race in Gateway provides the final tight turnaround of the season, with teams arriving to setup on Thursday for the two-day show, with afternoon and evening running set for Friday and Saturday. Watkins Glen and Sonoma, the last two road course races, are back to the traditional three-day weekend schedule.
The final word
From Castroneves, the track's most recent winner and a driver who needs a result to keep his elusive title hopes alive: "I'm really excited to go back to Gateway. Last time I was there, it was a really fun crowd and I can't wait to see them all again. I'm one of the few in the Verizon IndyCar Series who have actually raced there since it's been awhile since the series has been there. I feel that we have an advantage since we won there when we used to race there. However, with a new track surface, it's anyone's game. The No. 3 Shell Fuel Rewards Chevy team and I know we have a lot of work to do to gain back some points, but we're ready to perform well and make it happen."
Here's the IndyCar weekend schedule: 
At-track schedule (all times local):
Friday, Aug. 25
4 – 5 p.m. – Verizon IndyCar Series practice #1, RaceControl.IndyCar.com (Live)
6:30 p.m. – Qualifying for the Verizon P1 Award (single car/cumulative time of two laps), RaceControl.IndyCar.com (Live)/NBCSN (Taped, 7:30 p.m. ET Aug. 26)
9 – 10 p.m. – Verizon IndyCar Series final practice, RaceControl.IndyCar.com (Live)
Saturday, Aug. 26
7:15 p.m. – Verizon IndyCar Series pit stop competition
8:01 p.m. – Driver introductions
8:40 p.m. – Command to start engines
8:45 p.m. – ABC Supply 500 (248 laps/310 miles), NBCSN (Live)
Here's Gateway's most recent top 10 (2003):
1. Helio Castroneves (pole)
2. Tony Kanaan
3. Gil de Ferran
4. Tomas Scheckter
5. Dan Wheldon
6. Sam Hornish Jr.
7. Tora Takagi
8. Greg Ray
9. Vitor Meira
10. Scott Sharp