MADISON, Ill. – Notes from the paddock at Gateway Motorsports Park are below, across the Verizon IndyCar Series and Mazda Road to Indy presented by Cooper Tires, heading into tonight's trio of races, with the Bommarito Automotive Group 500 presented by Valvoline occurring at 9 p.m. ET on NBCSN:
—
HOW DOMINANT MIGHT THE PENSKE PARTY BE? 
After Team Penske led all 250 laps at Phoenix International Raceway, the team's quartet never headed, the team looks even more incredible than normal at Gateway this weekend.
The team is in search of its fifth consecutive win, which would be the first time the team has done that since 1994 (won seven races in a row), and is the odds-on favorite to do so with Will Power, Josef Newgarden, Helio Castroneves and Simon Pagenaud all starting in the top four positions on the grid.
The Penske Chevrolets look and are visually faster; having watched most of the final practice from pit in, at Turn 4, it's scary how much faster this quartet catches and passes other cars.
—
TONIGHT'S PASSING POTENTIAL… HAS TO BE BETTER THAN PHOENIX
The big question heading into tonight is whether there will be a ton of passing, and who will be the ones doing so. From watching in final practice, Chevrolets appear to pass Hondas rather easily and some Hondas have showcased the ability to pass others.
After Phoenix, which was panned as the weakest race of the year owing to the stall-out effect in traffic, the series can ill-afford a repeat – especially at a track which hasn't hosted an IndyCar race since 2003.
Passing should happen, but the question is how much of it will occur.
—
HOW BIG MIGHT THE CROWD BE?
Usually when race officials talk about attendance, expectations are inflated and reality doesn't match the hype.
But from the week of buildup this week coming after months of promotion by the Gateway officials and title sponsor Bommarito Automotive Group, the hype about a big short oval might actually be justified.
Race officials are estimating north of 30,000 fans for tonight's race. In today's IndyCar economic climate, that's a sufficiently strong number – it's rare to see open-wheel oval races outside Indianapolis with more than 10,000 in the seats – and it would be awesome to see the primary grandstands full, or close.
Additionally, with corporate support strong in suite sales – pit row suites were added – that speaks volumes about the potential health of this race long-term.
"For me, this is the longest I've ever worked on preparing one event," Chris Blair, Gateway Motorsports Park executive vice president and general manager, told NBC Sports.
"We made the announcement 52 weeks ago. We had the repave come back at us which added a whole new element. It's very exciting, ticket sales are great, and we'll see a great crowd. To see the hard work pay off will be tremendous.
"(Bommarito Auto Group) attended six races with us throughout this year to make sure things are done right here. We want to make sure we work together to execute. If you have John Bommarito on your side for an event in St. Louis, you're already making progress in this market."
Advance Auto Parts IndyCar Radio Network broadcaster Nick Yeoman posted this quick video on Twitter of the autograph session, several hours before the green flag, which showcases a very long line.
The buildup comes after a number of fan events throughout the week, as the city and track have united to make this return to St. Louis for the first time since 2003 feel like a "festival" rather than just an oval event.
—
WAITING ON THE ANDRETTI ENGINE DOMINO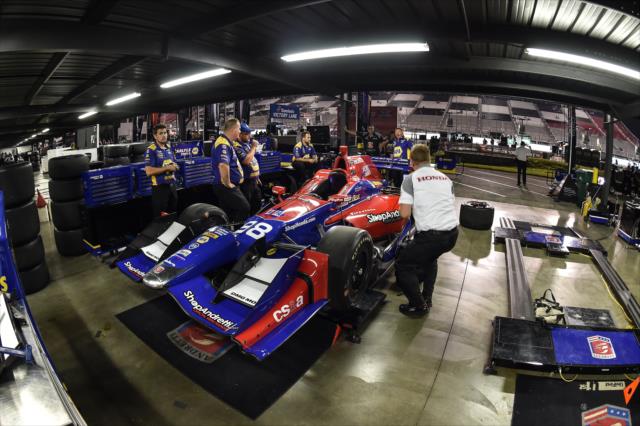 Silly season hasn't officially started with confirmations because most of the paddock is awaiting news of what Andretti Autosport decides to do for its engine situation.
While most have assumed a Chevrolet switch is imminent, the potential still exists the team could remain with Honda after all – and that potential has been whispered a bit this weekend.
Andretti Autosport COO Rob Edwards told the Indianapolis Star (Via USA Today Sports) this weekend a decision must come sooner rather than later, Edwards saying "it's holding things up now."
With several driver and team moves that would have to follow once the Andretti decision is announced, however it goes, it's the single break point that will dictate how the next several weeks and months play out as teams prepare for 2018.
—
PIT STOP COMPETITION ADDED
Rather than pit stop practice, a pit stop competition has been added in advance of tonight's race, coming after both Mazda Road to Indy races. Here's the details on that:
—
Verizon IndyCar Series teams will add a new element of competition to the race weekend at the Bommarito Automotive Group 500 presented by Valvoline on Saturday, with the introduction of a pit stop competition on race day at Gateway Motorsports Park.
To allow crews time to perform simulated pit stops under race-like conditions, INDYCAR added pit stop practice sessions into the weekend schedule this season. For the first time, though, a prize will be awarded to the crew that performs the fastest pit stop during the session set for 8:15 p.m. ET Saturday at Gateway – just ahead of the 248-lap race on the 1.25-mile oval. The pit stop competition will stream live on RaceControl.IndyCar.com.
"This will showcase the extraordinary work INDYCAR teams do on pit road," said Jay Frye, INDYCAR president of competition and operations. "It also should be an exciting competition for the fans at Gateway Motorsports Park to watch during the 90 minutes leading up to Bommarito Automotive Group 500."
As with previous pit stop practice sessions, the field will be split into two groups based on pit location. Each car is permitted to complete three "out and in" laps – leaving the pits, going around the track and then re-entering the pit lane without crossing the start/finish line on track. Crews can make a four-tire change each time the car reaches its pit box.
The winning crew, determined by the fastest car time clocked from pit in to pit out and including the four-tire change, will receive a trophy and be recognized in pre-race ceremonies.
—
BOURDAIS THANKS THE HOLMATRO TEAM
Class move from a class guy as Sebastien Bourdais, who returns to Verizon IndyCar Series competition this weekend, made sure to thank the Holmatro Safety Team before getting back in for Friday's first practice at Gateway. You can see a video of that here, via Honda Racing/HPD's Trackside, and NBCSN's Katie Hargitt posted a picture on Twitter below.
—
THE COYNE TEAM GETS ITS MINI-GOLF ON
Fun read here from Trackside Online's Steve Wittich on a fun, competitive outing for the Dale Coyne Racing crew Thursday night, prior to track activity, for the winner of the inaugural "Ed Jones Cup."
—
'WILD THING' AND 'FIGHT NIGHT'
NBCSN IndyCar analyst Townsend Bell coined the nickname of "Wild Thing" for Takuma Sato at Pocono, following Sato's pole lap set on the Saturday.
Then this weekend, the 2017 Indianapolis 500 champion then donned a pair of the Ricky Vaughn glasses, and corresponding Cleveland Indians hat and posed with Bell this weekend.
Meanwhile, the big sports topic of conversation in the general sports world this weekend is tonight's Floyd Mayweather bout vs. MMA fighter Conor McGregor, McGregor known as much for his promotional antics as his fighting ability.
Poking a bit of fun at that, Bell and fellow IndyCar on NBCSN analyst Paul Tracy have been set up for their own "fight."
—
BLUES PLAYERS IN ATTENDANCE WITH HONDA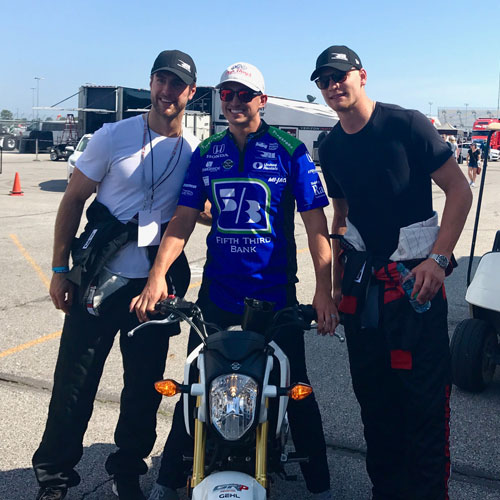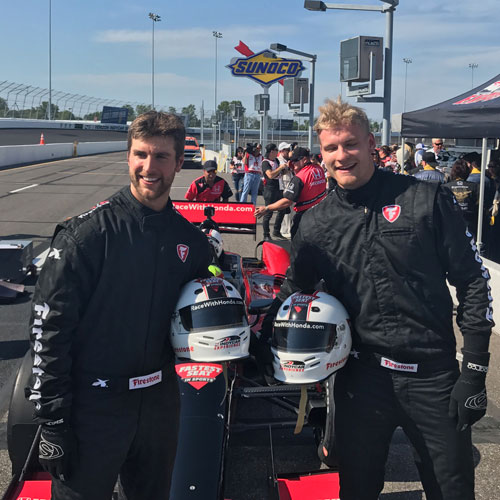 Alex Pietrangelo and Colton Parayko from the St. Louis Blues are here today, guests of Honda and are here with Graham Rahal, who drives the No. 15 Fifth Third Bank Honda for Rahal Letterman Lanigan Racing (pictured above; photos courtesy Honda Racing/HPD). The two also enjoyed a two-seater ride with Gabby Chaves driving.