MADISON, Ill. – The four-car lineup of Scott Dixon, Tony Kanaan, Charlie Kimball and Max Chilton for 2017 marked Chip Ganassi Racing Teams' first lineup retained for consecutive Verizon IndyCar Series seasons since 2011 and 2012, when Dixon, Kimball, Dario Franchitti and Graham Rahal were all on board for those two seasons.
Since that point, the team has either gone down to three cars (one year only in 2013) or had at least one driver change to its roster.
Driver change is expected to return to Ganassi for the 2018 season, because it remains to be seen where three of its four drivers will land next year. This year, the major upheaval centered on the team's return to Honda from Chevrolet.
Dixon is the team's lone lock, and will lead Ganassi's charge in whatever format the team takes on next year, if it continues as a four-car team or as has been rumored from multiple sources, downsizes to either two or three cars.
NBCSN contributor Robin Miller stated during Saturday night's telecast from Gateway Motorsports Park that Kanaan and Chilton won't return for sure.
It's in looking at those last two drivers just mentioned that a pair of somewhat surprising and controversial in-race decisions for them to retire in-race have occurred in recent weeks.
Kanaan lost the back end of his No. 10 NTT Data Honda on a pace lap in Saturday night's Bommarito Automotive Group 500 presented by Valvoline. That saw him come into the pits before the race even began for repairs to his rear wheel guard assembly.
Running several laps down, Kanaan later retired with 164 laps complete. Kanaan told NBCSN's Jon Beekhuis to "talk to Chip" about the reasoning for the retirement, with Ganassi then declining comment himself when asked by Beekhuis. Kanaan left the track, and posted a tweet thanking the fans for coming to Gateway Motorsports Park and apologizing for himself that he didn't deliver a better performance.
Chilton, who only had two DNFs the entirety of 2016 and just one thus far in 2017 – when he got caught up in the Turn 1, Lap 1 multi-car pileup at Phoenix – has now had two in consecutive weeks.
A wastegate issue cost him a potential top-five finish at Pocono as he was up to fifth in the opening stint. There, Chilton was looking to emulate the run he turned in at the 101st Indianapolis 500, where he led a race-high 50 laps and finished a career-best fourth.
But running several laps down there, Chilton's car was parked past the halfway point. It's understood several key members of the No. 8 team were displeased with that decision.
Chilton tweeted during the race "I am not a quitter," and in the race aftermath, a radio transmission between Chilton and his team was broadcast where he ended it saying, "Good riddance. Can't wait for next year."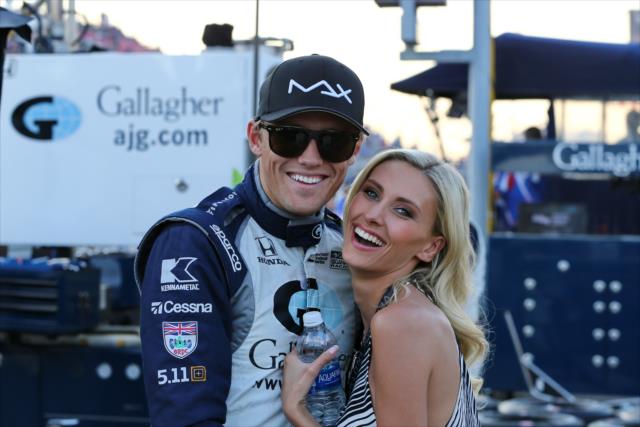 For Chilton, who just got married to his longtime girlfriend Chloe a little over a week ago, Saturday night's early end came after he lost the rear end of his No. 8 Gallagher Chip Ganassi Racing Honda in Turn 4.
"It's not been ideal," Chilton told NBC Sports of his last two weeks. "But Watkins (Glen) though is my favorite track. Hopefully we score some points there. Sonoma's a doubleheader really because of double points. Essentially there's three races to go, and lots can change."
Kimball, Ganassi's second longest-tenured IndyCar driver having been with the team for 115 races since 2011, also is a free agent at year's end with he and longtime partner Novo Nordisk working to secure a new contract to continue in IndyCar in 2018. Finishing seventh Saturday, his second-best result of the year, was key as he faces question marks about where he might go.
"I think the future holds a little uncertainty but at same time it's irrelevant; I have a great partner, they love being at the race track and I know there's a big group coming to both Watkins Glen and Sonoma," Kimball told NBC Sports.
"I'm just focused on getting good results to close the year. That only makes my offseason better, when I go into the offseason with good results under my belt.
"I don't talk about contracts or worry about it. My job is to be quick in practice, get pole and win races. The rest is business and that takes care of itself."
Kanaan still has the desire to be in IndyCar and told RTV-6 reporter Dave Furst, also a member of the Advance Auto Parts IndyCar Radio Network, at Pocono last week he is an official free agent.
Chilton and Kimball had been rumored earlier this season to jump ship and go with Carlin into IndyCar, in what would be a potential step up for the Trevor Carlin-led organization from the Indy Lights Presented by Cooper Tires season. Carlin has not commented publicly on the rumor, and has said in the past he'd only make the step up once all the necessary puzzle pieces were in place.
Even if the Carlin option doesn't materialize, both Chilton and Kimball would figure to have some degree of budget from their respective partners – Arthur J. Gallagher and Novo Nordisk – which they could take to other teams on the grid. Andretti Autosport and Schmidt Peterson Motorsports are among the potential suitors with expected vacancies.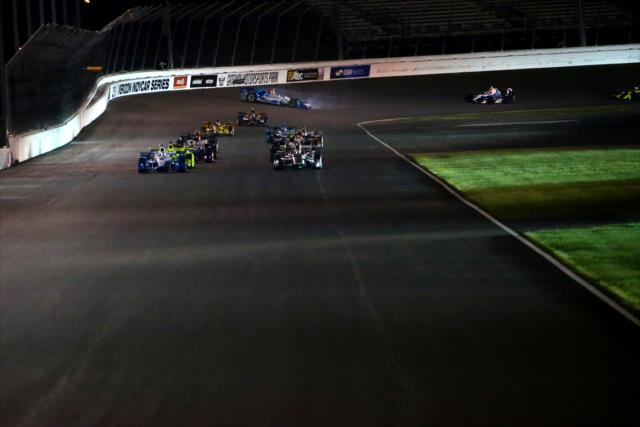 As for Kanaan, his year started with so much promise with a yearlong "TK20" celebration and a number of career lifetime achievement boxes ticked – Ganassi offered Kanaan a chance to race a Ford GT in a scheduled role at the Rolex 24 at Daytona and then as an injury replacement for Sebastien Bourdais at the 24 Hours of Le Mans.
But since Le Mans, Kanaan's IndyCar season has descended into a series of frustrating incidents and results.
Between a crash at Road America, giving up a spot to Dixon at Iowa, a lock-up going into the Turn 1 wall in Toronto (which jumbled the order there as it brought out a caution during the first pit stop sequence), a nondescript Mid-Ohio showing and now Saturday night's race, it's been rare to see Kanaan in the typical race-winning and podium-contending form he's shown the last three years with Ganassi. Pocono was the exception rather than the norm.
Thanks to some personal sponsorships, he has a degree of budget to bring to another IndyCar team as well, but more than that he has the veteran savvy and significant fan base he'd provide as well.
There have been some 20-something-year-old names in the IndyCar paddock floated as potential 2018 Ganassi drivers, some with more experience in the series than others.
In any case, Ganassi seems to need at least one funded driver to offset the potential loss of anywhere from one to three of his existing quartet next year.
Although nothing is settled yet, it seems apparent after the last two weeks that Ganassi's IndyCar team is set for a significant state of upheaval alongside Dixon, the team's standard bearing driver rock since mid-2002.