Whereas last week at Pocono Raceway the Verizon IndyCar Series delivered arguably its best race of the season, on Saturday night at Gateway Motorsports Park it delivered its most pleasant surprise.
With an actual crowd of fans on site at the 1.25-mile oval just outside downtown St. Louis in Madison, Ill., there was a proper pre-race buzz so palpable it was on par with IndyCar's marquee events on each of its three types of circuits: Indianapolis (ovals), Long Beach (street courses) and Elkhart Lake (permanent road courses).
And then when Josef Newgarden delivered his second statement, authoritative pass for the lead of one of his Team Penske teammates in three races – he snookered Will Power at Mid-Ohio and forced his way past Simon Pagenaud in Gateway – it showcased a will-not-be-denied moment of glory that could net him his first series championship.
Those combined elements provided IndyCar an excellent capper to its six oval races for the year, following IndyCar's return to a track that last hosted a race in 2003.
—
THE EVENT ITSELF
A two-year process to bring IndyCar back to Gateway reached its conclusion this weekend.
The initial series test in May brought about the subsequent repave prior to August, which were the latest signs of the commitment from Gateway officials. Title sponsor Bommarito Auto Group was hailed across multiple outlets for its local activation.
Week-long fan events were front and center in downtown St. Louis all week, culminating with a several-hour fan fest on Thursday afternoon prior to the St. Louis Cardinals and San Diego Padres baseball game, ensuring fans knew the race was on and close to the area.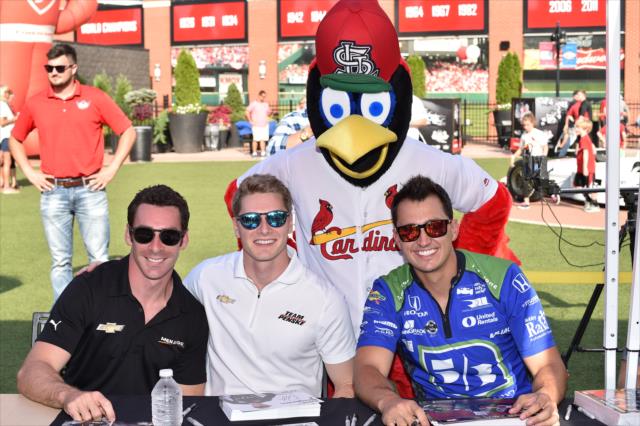 "It's amazing to see the community come together, between the city, civic leaders and race fans. It's been an amazing opportunity to bring this event back to St. Louis," Curtis Francois, Owner & CEO, Gateway Motorsports Park, said Thursday at a media lunch in the Ballpark Village outside Busch Stadium.
Fans started trickling in on race day even prior to Mazda Road to Indy presented by Cooper Tires qualifying sessions at 1 p.m., which was as impressive as it was surprising. Single-car qualifying for fields of 15 cars or less don't usually qualify as "scintillating," but this was proof positive fans heeded the advice to come early, beat the traffic, and get situated.
Then with the autograph sessions happening on race day, long lines were evident for all three series competing, between IndyCar, Indy Lights Presented by Cooper Tires and Pro Mazda Championship Presented by Cooper Tires. Some of the MRTI drivers said they were impressed and surprised with the turnout for their autograph sessions.
Both Pro Mazda and Indy Lights put on entertaining shows as buzz built in the infield with fans either coming through the paddock to watch the IndyCar race preparation or competing on the Gateway karting complex. That made it difficult to get places at times because of the swath of people, but again, not a bad thing.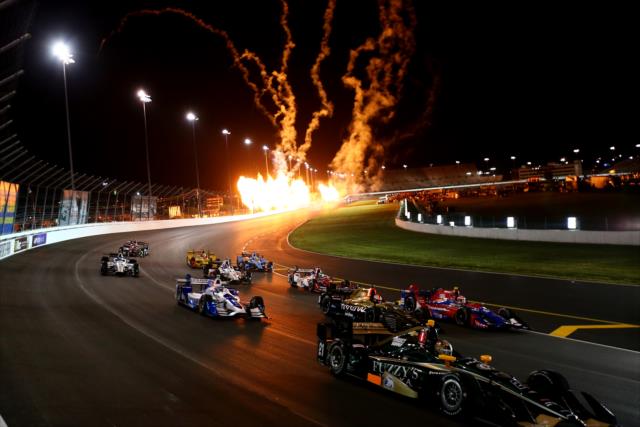 Inevitably for a first-year or returning event, there were a few kinks that needed to be ironed out. There were some complaints witnessed about signage, credentials and ticket pickup, and parking that arose on social media. Leaving the track post-race was made a bit more complicated by a train derailment that closed I-55.
Then the actual start of the race left a bit to be desired with a handful of people in the paddock suggesting dust and debris from the pre-race fireworks display, more than rubber from the previous series, actually dirtied the track. That may have contributed to Tony Kanaan's spin before the green flag and then the Turn 2 accident that involved Will Power, Ed Carpenter and Takuma Sato all making contact, so race action didn't get going until Lap 18.
But compared to some of the other first-year or returning events INDYCAR has had in recent years – street races in Baltimore and Houston and the one-year NOLA Motorsports Park experiment come to mind – there was nothing at Gateway that suggested these were elements that can't be fixed. Instead, the cohesion between the sanctioning body, the track officials and the city of St. Louis combined to create a first-year event without most of the first-year headaches.
"Curtis Francois, Chris Blair and the staff did a phenomenal job," Jay Frye, INDYCAR President of Competition and Operations, told NBC Sports. "Everything we did from day one exceeded our expectations, which were very high going into the event. We can't thank them enough for all the hard work and enthusiasm they did for the effort.
"Curtis had a great vision for the future of this track and this event, and we had great confidence in Curtis. They showed what had to be done, and they did it. Those are the type of people you enjoy working with."
Once the front straight grandstand was close to filling up, the crowd was eager to witness a good race. And thanks to the race winning pass, the estimated 40,000 in attendance weren't disappointed.
—
THE PASS, AND MENTAL CHESS MATCH BETWEEN NEWGARDEN, PAGENAUD
IndyCar is better with rivalries and thanks to Josef Newgarden's forceful move on Simon Pagenaud for the win Saturday night, one may have just been launched within Team Penske.
The move itself has ignited debate on whether it was a cheap move by Newgarden to contact Pagenaud, or whether Pagenaud could have defended better to where the inside line wasn't left open in the first place.
The attitudes by both drivers after the race reveal a lot about where they sit mentally at the moment.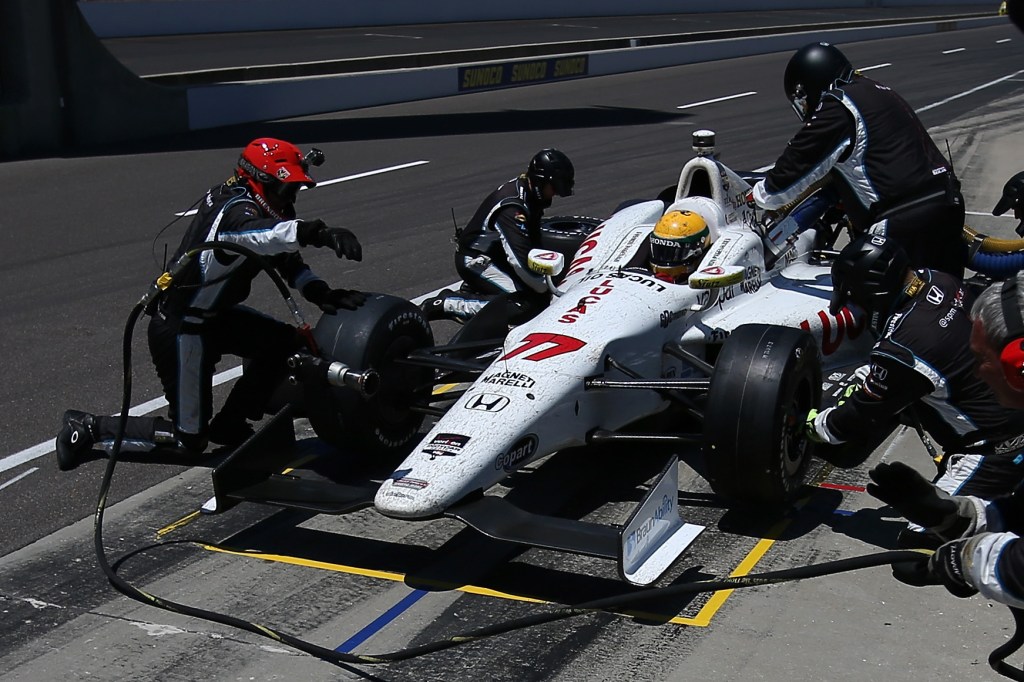 Pagenaud's attitude about the pass is an interesting case study in his psyche. Consider Pagenaud has said the late Ayrton Senna is his racing inspiration, and he was able in a very cool moment to pay tribute to him with a Senna-inspired helmet design at the 2014 Indianapolis 500, his last year driving a Honda-powered IndyCar (above).
Would Senna, known for his ruthlessness on track, have gone for that gap that Pagenaud left slightly ajar – but enough ajar – that Newgarden did? It's hard to say no, and very easy to imagine yes, even though we never got to see Senna, like Nigel Mansell, race on an oval.
"I think if it wasn't me, he would be in the fence with somebody else. That's what I've got to say," Pagenaud said Saturday night in perhaps his most tense, angry moment in IndyCar.
"There's no crash (so it wasn't reviewed); it's more, how do you call it, a driver rule. It's how much you respect each other," he added.
"When you think the gap is open enough to risk it on an oval. I'm not talking road course. I think on a road course, that was a beautiful pass. But we're not on a road course. There we are going 40, 50 miles an hour. Here we're doing 190 there. It's completely different story."
Pagenaud knows of what he speaks because last year at Mid-Ohio, he delivered arguably his best pass for the net lead yet in IndyCar when he barged his way past Power in the Carousel.
Yes, it was at a slower rate of speed – but the point still exists that he went for a gap, made contact with a teammate and got ahead in the process. Such a pass was key to him securing last year's championship, and created a 20-point swing in a single move.
Newgarden knows that just as well, because his move did just the same. What would have been only an 18-point lead had Pagenaud held off Newgarden has swung to a 43-point lead now with two races to go.
And Newgarden was far from angry in the post-race press conference. He wasn't oblivious to the controversy; he was more matter-of-fact about it.
"I mean, Simon gave me a lane to work with," he said. "I had a good tow on him, put my car inside in the opening, got about halfway alongside of him. One thing I didn't want to do was touch him too hard. I think if I would have stayed too far left, I would have jumped the curb and that would have taken both of us out.
"I tried to get Simon to move over a little when we were coming to the opening of the corner. We both had to slow up. Fortunately worked out well for us on the 2 car side. Pagenaud, didn't get up into the wall or anything like that, so I would say it worked out okay for him, too."
Where Pagenaud made a mistake in this case was by leaving the inside open to begin with, and if I had to guess, was probably more upset about that than he was the fact there was contact.
It was showcased in the two earlier MRTI races Saturday that moving from outside of the track to the inside, and forcing drivers to go around the outside, would be the way to defend the lead and break the draft. Had Pagenaud mirrored Power's late-race defense of Newgarden last week at Pocono, he may well have held him off.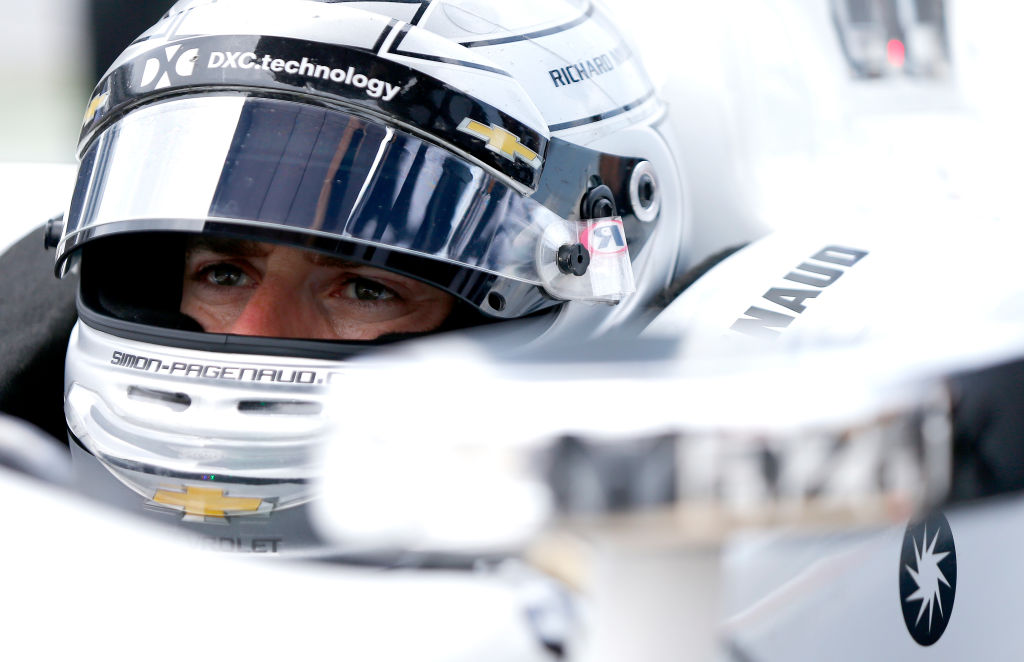 The big question I've had with Pagenaud all year is if he's been in the same excellent state of mind he was last year, when he immediately declared himself the team leader at Penske courtesy of his incredible five-race start of three wins and two runner-up finishes, which created a championship gap he worked to maintain the rest of the year.
Pagenaud executes at his best when he's the clear team leader and has the full focus of the team around him. This was often the case for him in sports car racing and when he was at Schmidt Hamilton Motorsports his first few years in IndyCar, and was also true for the better part of last year as he ascended up the unofficial Penske depth chart.
This year, it seems he's been playing catch-up both on pace and in the headlines.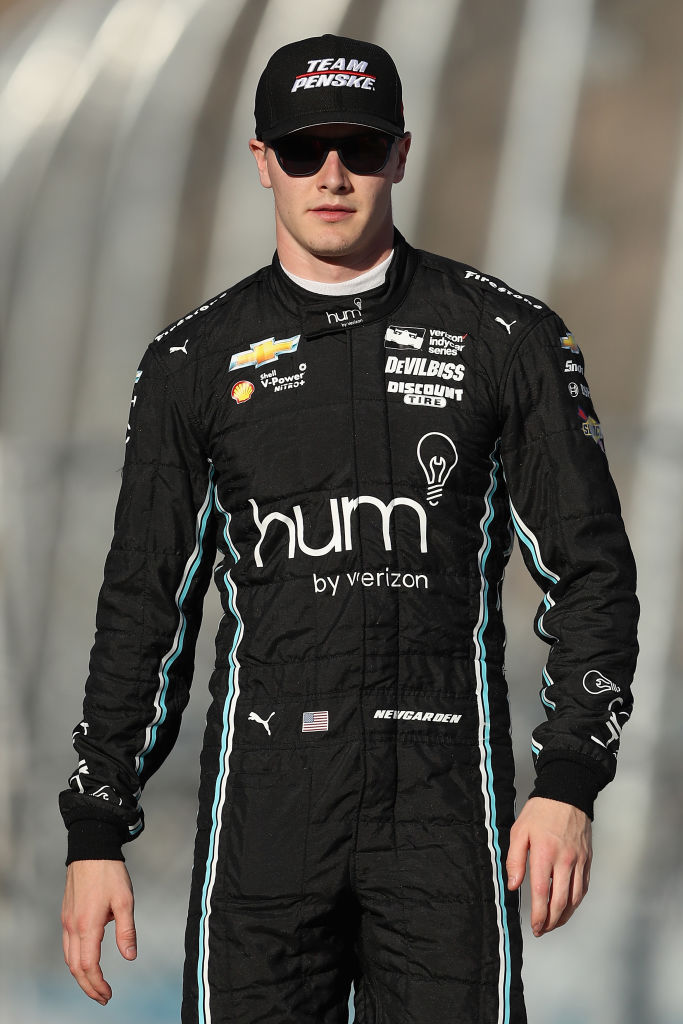 Newgarden's arrival dominated the winter discussion, even as Pagenaud was enjoying the spoils of his first championship, and got to celebrate at home in France. Will Power had a baby over the offseason and has been far more laid back all season, as he keeps wracking up the poles, but has fought inconsistency. Helio Castroneves' future has been a talking point in his 20th season, with his future in a Penske IndyCar for the following year not assured for the first time in a decade.
That's left Pagenaud, who's been most consistent of all of them this year but not quite as fast, almost overlooked.
Pagenaud and Newgarden were utilized in a couple videos together throughout the 2014 season, notably one when they were both lost within the Iowa corn fields. However a funny video emerged Monday looking at how their relationship has changed, set to Simon & Garfunkel's "The Sound of Silence."
Pagenaud had a chance Saturday night to deliver his first real statement he was ready to defend his title, had he held off Newgarden for the win at Gateway.
But the pure optics and undertones of the new Penske driver, driving car No. 2, forcing his way past the defending champion in car No. 1, was too sweet and savory to ignore.