For the Mazda Road to Indy presented by Cooper Tires, going from seven races a month ago at the Mid-Ohio Sports Car Course between all three of its series to just two at Gateway Motorsports Park this past weekend might have been an indication the number of things to chronicle would die down. Not the case.
That in mind, here's some further thoughts on the weekend just completed:
—
Juncos and Franzoni's Pro Mazda Gateway gamble comes good 
Faced with the prospect of another second place finish after practice and qualifying in the Pro Mazda race, Juncos Racing and Victor Franzoni had to decide whether it was worth throwing a Hail Mary pass on downforce level to see if they could overtake the otherwise weekend dominator, Franzoni's season-long sparring partner Anthony Martin of Cape Motorsports.
But just like a green team in football that has executed the Hail Mary to perfection – the Green Bay Packers – Ricardo Juncos' green and white team's gamble paid off.
"It was a gamble. We didn't know what to do. We just knew we had lost 2 mph in qualifying. We had no options. We hoped to finish P2," Juncos told NBC Sports post-race.
"So we trimmed like crazy and tried to compensate with the front wing. We made some adjustments we never had on ovals, for this track is particular."
What was Franzoni's confidence level in the untested, more trimmed out setting that came out before the race?
"Zero!" he laughed post-race.
"Before the race we had no idea what to do. We knew we had a good car, but not a fast one. We finished the car five minutes before going to the grid. We changed a lot of things that we hoped would work, and they did!"
What followed was potentially the defining moment of the season in the battle for the Pro Mazda title and the more than $790,000 that goes with it to advance into Indy Lights in 2018.
Franzoni hung behind Martin in the early stages but closed enough to where he tried a pass on the outside of Martin for the lead into Turns 1 and 2. He pulled it off, which was impressive enough, and even more so considering he was lighter on downforce and the outside lane was dirty.
"The rhythm was fantastic after that change," Juncos explained. "We went 3-4 tenths quicker every lap than we had all weekend."
Franzoni pulled away from there to his fifth and most critical win of the season, to move ahead of Martin by two points heading to the Watkins Glen season finale next week.
"The first lap in Turn 1, I drifted the whole turn, and oh my goodness, I made a big mistake and I tried to catch it!" Franzoni said. "But I learned how to drive behind him. I was trying to find a good line. The only way to go by was outside in Turn 1. Then I tried next lap and it worked. It was so good. It was dirty, so I was cleaning the outside lane! So good, so happy.
"We just threw the dice and went. We had to win to keep at least the points close or go to first. It was like a poker game and it worked! It was a fun race."
Martin obviously wasn't pleased to lose the win, but did tip his cap to Franzoni and the team for making a brave call that came good.
"He was in the tow, and that allows you to hang onto the back. He had a better car than me. So they found something for the race and I was struggling," Martin said. "When it comes down to the wire if your car isn't perfect it's a matter of wining or losing. It's a bit unfortunate, but we came away with points. It'll come down to the wire at the Glen."
Beyond the top two, second Juncos driver Jeff Green was the impressive Pro Mazda surprise of the weekend. The 60-year-old posted the third fastest race lap and finished fifth, following a late-race pass of Team Pelfrey's Nikita Lastochkin.
—
Kaiser's roller-coaster Gateway ride all but seals Indy Lights title outright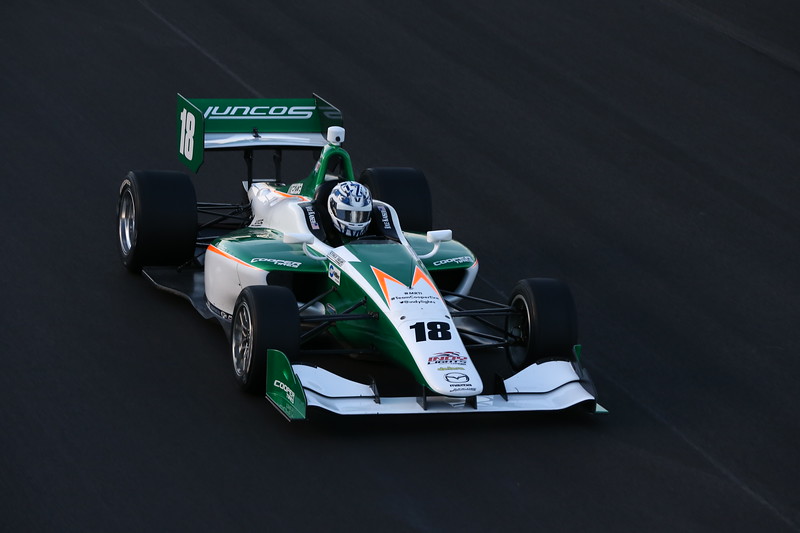 Kyle Kaiser rebounded in nearly the best way possible Saturday night from his miserable weekend in Mid-Ohio as he almost had the Indy Lights title clinched a race in advance, then didn't, then did, then didn't again when the checkered flag fell. But so long as he starts next week's season finale at Watkins Glen International, he'll seal the title and the $1 million Mazda Motorsports Advancement Scholarship into the Verizon IndyCar Series that comes with it.
Kaiser got there with an at-times aggressive, at later-times smart and heads-up drive Saturday night in Gateway. Initially he delivered a statement of intent with an outside pass of Santiago Urrutia for second place, but then fell back as his tires fell off. Despite dropping as low as sixth, then also nearly hitting Nico Jamin, Kaiser then rebounded to fourth.
Kaiser reflected on his night in the immediate aftermath.
"It was very nerve-wracking, but we prevailed," Kaiser told NBC Sports. "I trust all the guys in this series; I talk with them, and think they all race me clean. I had a lot of confidence doing those passes.
"Later when my car fell off a bit, they made good moves on me. I was giving them room.
"We had too much tire pressure. We ran pretty high. Nonstop running on them. We got (the tires) overheated and I was super loose through Turns 3 and 4. The second I got behind someone, no grip.
"But it's a bit surreal how it all turned out. I went to the outside of (Nico) and guys almost all came into me. I thought I was done for a second. But that was the goal; just bring it home. We moved forward two spots. I'm happy."
Juncos hailed his driver's evening under the lights for how smart he drove as a lot of craziness happened around him.
"I think he did a good job. He was always so smart. Mid-Ohio was difficult with such issues. P12 both race was basically two DNFs," Juncos said. "That was our bad result, like everyone else.
"This one is a result of a great job for himself and family, for them trusting us for four years, and my whole team."
—
Juan Piedrahita's breakout MRTI race amidst the Indy Lights title tilt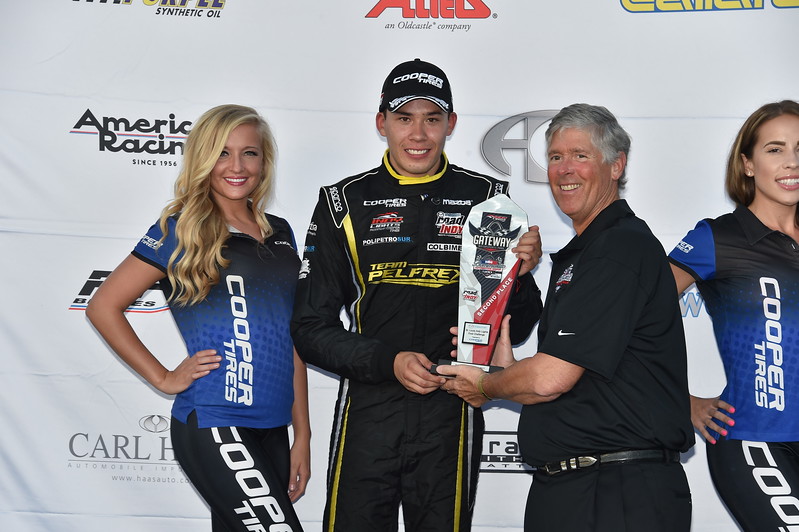 While Urrutia won the race and Kaiser all but clinched the title, the standout performer of the weekend at Gateway in Indy Lights was MRTI journeyman Juan Piedrahita, a veteran of more than 100 career starts over parts of eight seasons in all three rungs of the MRTI.
He nearly delivered his first Indy Lights win Saturday night from his first career pole, in what would have been a popular triumph for the likable 25-year-old Colombian who now lives in Indianapolis and the single-car Team Pelfrey team.
Piedrahita has always been good on ovals, and has scored podiums on them in all three rungs. This was by far his best drive in an Indy Lights car.
Having exchanged the lead with Urrutia multiple times, Piedrahita regained the lead after a late restart, only for Urrutia to get him back in the final few laps.
Second place was a bitter pill to swallow and the result also ensured Urrutia was mathematically alive, if not realistically so, for the Indy Lights title heading to Watkins Glen next week.
"I didn't just learn how to drive in two weeks," Piedrahita told NBC Sports. "It's just, things happen and finally and we're here again and it feels awesome. I wanted to get the win really badly and I'm a little heartbroken, but at the same time, he did a hell of a job. It was so tough.
"At some point, I was like 'Please finish it now,' because mentally it was just – I didn't know what he was going to do, he was all over the place. I thought I had a run on him, then I had a run on him – it was crazy. I gave it all. That's all I have to say. For my guys, for all the Team Pelfrey guys.
"I think there were two perfect cars this weekend, and it was his car and my car. Both cars were perfect. It just happens that my car was perfect in Turns 3 and 4, and his car was perfect in Turns 1 and 2. I could see him, when I was in front of him, he would get a run in 1 and 2, but then in 3 and 4 I would get a gap. And then when he passed me, it was the same. So, it was two perfect cars. We both did a great job. At the end, he got it. It's good, it's good still. We have Watkins Glen and hopefully we can get it done."
Urrutia, for his part, also hailed Piedrahita's efforts.
"Yeah, it was good. The only thing I got to do was win, so that's what I did," he said. "I said, after the restart when I was second, 'Okay, I win this race or I put the car in the wall," because I don't want to be second. I took a lot of risks on that pass and everything, but I got it, so I'm happy to be first, I'm happy to take the win. Now, I'm looking forward to Watkins Glen and get the win there again."
—
Other weekend notes
Colton Herta had what seemed to be seven or eight near misses en route to third place in his Andretti/Steinbrenner Racing entry. The talented teenager has now found a semblance of consistency – he's finished between second and sixth in six of the last seven races – after a previous run of ending 10th or worse in five of the last six races before that.
Nico Dapero drove an excellent race to finish a season-best fifth in the second Juncos car. The team made a front tire change and Dapero rebounded from ninth to fifth inside the final two laps. Like Herta, Dapero would figure to be even better in a second Indy Lights season.
Hat tip to Trackside Online for this, but after a brutal weekend and a tough week Aaron Telitz had his first DNF in MRTI in more than three seasons, after getting collected in a first lap accident.
Telitz, Shelby Blackstock and series debutante Chad Boat all had incidents for Belardi Auto Racing in a tough night, while Carlin also had multiple cars damaged in the same incident with Boat, when Neil Alberico and Garth Rickards got involved. Carlin faces a heavy task to repair Alberico's car, which suffered significant damage and was nearly written off.
Zachary Claman De Melo banked his seventh straight top-six finish, ending best of the Carlin quartet in sixth.
Dalton Kellett turned in a good drive to end seventh after starting 11th for Andretti.
In Pro Mazda, Carlos Cunha scored his third straight third place finish for Team Pelfrey, while teammate TJ Fischer was fourth for the third straight race.
The Mazda Road to Indy presented by Cooper Tires seasons conclude next weekend in Watkins Glen with all three series, the Cooper Tires USF2000 Championship Powered by Mazda also back in action.