Last year's return of the Verizon IndyCar Series to Watkins Glen International showcased ridiculous speed for the Chevrolet and Honda-powered cars. Trying to translate that beyond the cockpit is a tough task.
But consider on the repave of the 3.37-mile permanent road course in upstate New York, in the Finger Lakes region, average lap speeds – again, on a road course – were well north of 140 mph, and the slowest point around the track was just under 100 mph.
Sunday's INDYCAR Grand Prix at The Glen (1 p.m. ET, NBCSN) may only be 60 laps but it's incredibly high on commitment and sheer speed.
"I thought about that leaving the test. How do we translate that to fans?" Ryan Hunter-Reay, driver of the No. 28 DHL Honda for Andretti Autosport, told NBC Sports.
"The workload is insane. The amount of commitment that you do going into a corner, Turn 5, we're pulling over 3.5 G's on a road course – which is freaking huge! You're going in thinking it's not right, and it's still not right when you reach the Bus Stop.
"I won there in '08 and it was an actual Bus Stop, it was a proper chicane. Now you barely break, you can barely see, you hit the curbs, your hair is on fire, and you're swatting flies in the cockpit. By time you react you're into the fifth gear right hander. It's a lot of fun, with absolutely huge commitment. It's probably the most commitment you have on a road course."
Other drivers have extolled the speed and commitment required to this track, as well.
"The Glen to me is the best road course in North America, and I cannot wait to return to its flowing, high-speed and undulating bends this weekend," said Max Chilton, driver of the No. 8 Gallagher Chip Ganassi Racing Honda, who's an unabashed fan of the track.
"I think no one has ever said that Watkins Glen is an un-favorite track," added Takuma Sato, driver of the No. 26 Andretti Autosport Honda. "We all love it! This awesome track has a beautiful series of flowing, high-speed corners with great elevation changes, and overtaking is very possible. It's just a fantastic road course."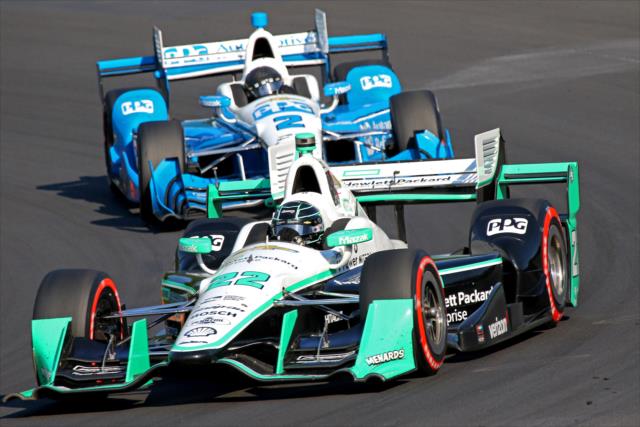 "Watkins Glen is a beautiful track. It has great history in Indy car (racing). It has lots of grip which makes it very interesting and very fast," summarized Simon Pagenaud, driver of the No. 1 Menards Team Penske Chevrolet, the defending series champion.
This year's weekend will see IndyCar run alongside all three rungs of the Mazda Road to Indy presented by Cooper Tires for the final time, with the Pro Mazda and USF2000 making their returns to the track after extended absences. The Battery Tender Global MX-5 Cup presented by BFGoodrich Tires is also present, as is Robby Gordon's Stadium SUPER Trucks series. That'll mean four different types of rubber go down, same as a couple other circuits this year, with Firestone joined by the Cooper, BFGoodrich and Toyo rubber. How cars react following each previous session will be interesting to watch.
Watkins Glen is the fifth of six permanent road course races on the schedule this year, and figures to race similarly to Road America earlier this year. All three MRTI series, plus MX-5 and Pirelli World Challenge all raced there.
Team Penske's quartet dominated the weekend in practice and qualifying but got usurped by Scott Dixon in the race itself. Another such performance by Dixon here, at a track where he's won four times before, would ensure he'll keep the championship fight within a 30-point gap heading to Sonoma in two weeks.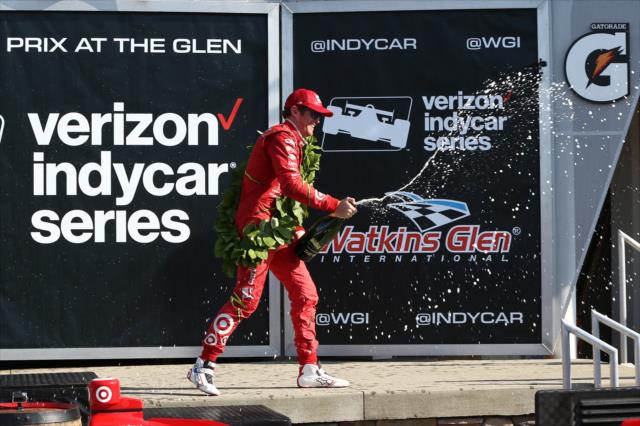 Dixon's Watkins Glen weekend a year ago was something to behold as he led every single practice session before qualifying, won the pole, led morning warmup, and won the race after leading 50 of the 60 laps. The only thing he missed was fastest race lap, pipped by Tony Kanaan.
He reflected on it in the immediate aftermath.
"These are the weekends that you definitely don't forget, just in the sheer fact of we had such a smooth one, which made it hard also going into the race," he said. "We had been fast in practice, fast in qualifying, obviously got the pole. You just think of the problems and maybe strategy not going your way or maybe having a mechanical and taking you out of it.
"It was definitely a very dominant weekend, but I think when you're in those weekends, too, your mind is just running crazy with possibilities and things that could go wrong, especially in the race. Yeah, I don't know. As I said, I think we should race here more."
What will be interesting to see for him this year is if the baseline car setup stays as on point with a Honda package this year as it was with a Chevrolet package last year. Dixon hailed the Chevrolet fuel economy – saying it seemed like a "Chevy Volt" engine was in the car – in addition to his nailing the pace from the off.
"There's places that we know that we have a good baseline setup and a place that we can run strong at, and this is definitely one. We didn't really change the car too much all weekend," he said.
And what did he think of the physicality of the race itself?
"I like to think a lot of the tracks that we go to, the most physical ones are the bumpy ones, just because you're correcting so much," he explained. "The street courses have a lot of grip, but places like Mid-Ohio or Road America have a lot of character to them, so the braking zones are a little bumpy, the apexes, but the speeds and loads are high. Here it's still very smooth and you're not doing a whole lot of correcting.
"We had a 16- or 18-lap final stint while saving fuel, you know, the pace comes down a couple of seconds and the loading comes down a lot.
"Had this been a flat-out race, I think, throughout, which they may change I think the distance of the race next year just so it's not so much of a — kind of a — you're right in the middle of making it on fuel and making it pretty easy to be achievable but not being that slow. So next year they may change it by five or ten laps and see how that plays out."
The race distance has not changed so that might mean a similar amount of fuel saving, but still a similar amount of commitment throughout the weekend.