BROWNSBURG, Indiana – Like father, like son, like grandfather. That's going to be one of the big storylines at this weekend's Chevrolet Performance NHRA U.S. Nationals.
For the first time in NHRA history, three generations of drag racers will compete in the same racing class in a national event. And it comes in the annual biggest race of the season, at Lucas Oil Raceway, just outside Indianapolis.
You might call it three shades of Gray, as veteran racer Johnny Gray will lead a family onslaught in Pro Stock along with son Shane and grandson Tanner.
"I am one proud grandpa and father," Johnny Gray said. "Being a part of the first three generations to race professionally together is neat, but I see it as racing the biggest race of the year with the closest people to you and may one of us get the win."
A veteran Funny Car driver, Johnny Gray, 64, retired after the 2013 season and didn't plan to get back behind the wheel of another race car ever again.
But when the unique opportunity arose for the eldest Gray to race with – and against – his son and grandson in the NHRA's marquee race, the competitive juices started flowing again and he pulled down the his helmet from his closet and threw it into the ring once again.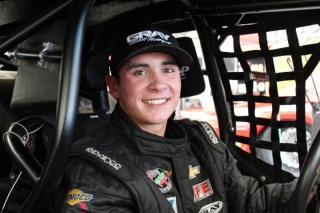 "I'm really looking forward to it and everybody else is, too," Tanner Gray said. "The main thing is for all of us to stay calm and focused on what we have to do.
"I wouldn't be here without my grandpa or my dad."
Shane Gray, 45, decided to take a hiatus from racing after last season, turning over the keys to the family's Pro Stock Chevrolet Camaro in 2017 to son Tanner, who turned 18 in April.
The Gray talent is obviously in Tanner's genes, not to mention he's been around drag racing with his father and grandfather his entire life.
That's why he was Shane's hand-picked replacement.
"Getting the opportunity to race alongside my grandpa and dad at an event like the Chevrolet Performance U.S. Nationals is pretty special," Tanner Gray said. "Having an opportunity to make more history by being the first three generations of one family to compete professionally in the same class makes this rookie season I am having even more awesome."
The youngest racing Gray has been one of the most pleasant surprises in both Pro Stock and overall NHRA racing this season, racking up a series-leading four wins already in the first 23 national events. At 18, he became the youngest winner in an NHRA national event in all pro series.
"If you told me I'd have four wins at this point of the season, I'd have told you you were crazy," Tanner Gray said. "I'm just enjoying myself and having a real fun time – and hopefully, we can keep it up."
Tanner Gray is currently No. 2 in the Pro Stock standings and is locked in to the upcoming six-race Countdown to the Championship playoffs.
"I cannot praise my Gray Motorsports guys enough," Tanner Gray said. "They are the ones who are making me look good and making my job easy.
"My guys really have this car dialed in. Dave (crew chief Dave Connolly) has it figured out. We have some great equipment. I am very blessed to be in this position. I have done a small part and have to give all of the glory to my guys."
All three Grays will drive Chevy Camaros with Valvoline sponsorship and logos from different eras.
Johnny's Camaro SS will carry a Valvoline logo from the 1950s. The company has sponsored Johnny Gray for many years.
Shane will drive a Camaro SS with a Valvoline logo from the 1970s.
When he saw all the fun his son was having, Shane decided to return to the circuit early on this season on a part-time basis, capturing the Gatornationals in Gainesville, Florida.
"Racing alongside my dad and Tanner at Indy with each of us carrying the Valvoline logos from different eras will be a lot of fun and I am looking forward to it."
Tanner will drive a Camaro SS with a Valvoline logo from 2000.
As for his hopes this weekend, Tanner, who won the two weeks ago at Brainerd, Minnesota, wants to win — even if it means potentially beating his father and grandfather in the process.
"Winning at Indy would be awesome," Tanner Gray said. "My dad has won here back in 2014 and I remember how big of a deal it was. Racing with my Dad and Grandpa this weekend would also add to the win.
"If I can do my job as a driver, we should see the final round on Sunday. Hopefully my dad or grandpa is lined up against me on the other side."
All three Grays did some fine tuning on Monday and Tuesday, testing at zMax Dragway in Concord, N.C., — about 20 miles from the team's Denver, N.C. headquarters – before heading out for the 500-mile trek to Indianapolis for this weekend's race.
"I am out here to have a good time racing with my son Tanner," Shane Gray said. "Making consistent runs to collect as much data as we can to elevate our Gray Motorsports program in preparation for the Countdown is our primary focus."
Added Johnny Gray, "I am probably the most excited out of the three of us to race this weekend. The trash talk has begun and after testing this week, Tanner and Shane better not underestimate my ability at the starting line."