The Mazda Road to Indy presented by Cooper Tires concludes its 2017 campaign this weekend at Watkins Glen International with four total races, two for the Pro Mazda Championship Presented by Cooper Tires and one apiece for Indy Lights Presented by Cooper Tires and Cooper Tires USF2000 Championship Powered by Mazda.
While Indy Lights is set to avoid any controversial ending thanks to Kyle Kaiser all but mathematically clinching last time out at Gateway Motorsports Park, it's Pro Mazda and USF2000 where the drama will take center stage, as more than $2 million Mazda Motorsports Advancement Scholarships will be doled out.
PRO MAZDA: The final Franzoni vs. Martin bout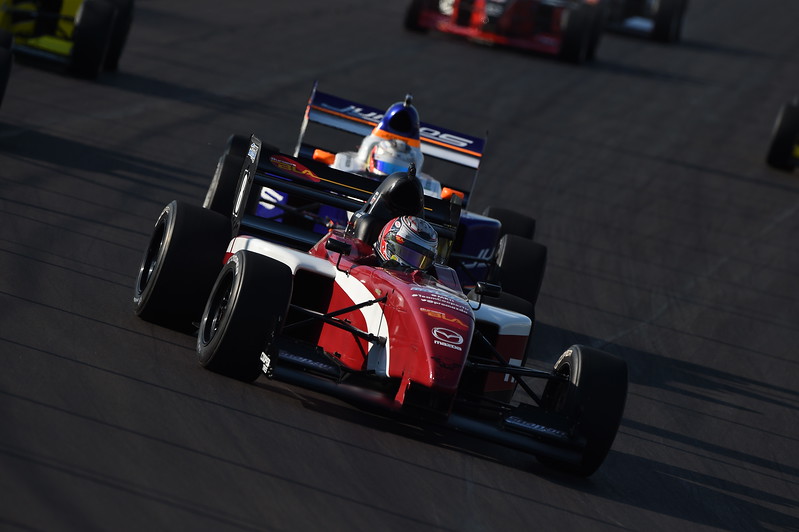 Two is the magic number heading into the final weekend for the Mazda Renesis rotary engine and existing chassis before the new Tatuus PM-18 arrives next year.
With two races and the two title rivals separated by just two points, and with one of the two drivers looking for his second straight MRTI title, there's two chances for glory – and heartbreak – in the pursuit of $790,000 (out of an overall fund of $1.1 million) toward a season in the Indy Lights class in a Soul Red race car.
Victor Franzoni leads the standings by two points over Anthony Martin, Franzoni having seized the momentum following a dramatic pass for the lead – and win – last time out at Gateway.
On permanent road courses this year, Franzoni swept at Indianapolis, and the two split weekends at Road America and Mid-Ohio. Both of the latter two weekends featured drama. Franzoni felt he was blocked at Road America to lose a win there, while Martin felt Franzoni's teammate, Jeff Green, had inadvertently compromised his lead at Mid-Ohio as he spun out trying to get out of the way.
The gloves are off between these two and it's a shame, really, one of them has to lose. Juncos has won past Pro Mazda titles with Spencer Pigot (2014) and Conor Daly (2010) while Cape, surprisingly, never has despite frequently running a car adorned in Soul Red livery for the previous year's USF2000 champion stepping up.
"It's been an incredible battle to watch, not just for side-by-side action, but watching the two elevate each other during the course of the season," said Anders Krohn, who serves as NBCSN's Indy Lights analyst and has been an IndyCar pit reporter several races this year.
"It's actually very similar to Spencer Pigot and Scott Hargrove in 2014, and we all know that final weekend ended up being rather wild. They are both fully deserving of the championship and it'll be tough to see one of them lose it. I firmly believe both of them can get the job done in Indy Lights, so I hope to see both of them there next year, regardless of outcome this weekend. One thing is for sure, I'll be watching both races closely."
For the other drivers entered, it's a chance to make one final statement in a pair of races. Team Pelfrey will look for its first win of the year in a year where Martin and Franzoni have swept the first 10 races between them, winning five times each. Robert Megennis also makes his Pro Mazda debut, while also running in USF2000 for Team Pelfrey.
USF2000: Askew vs. VeeKay to step up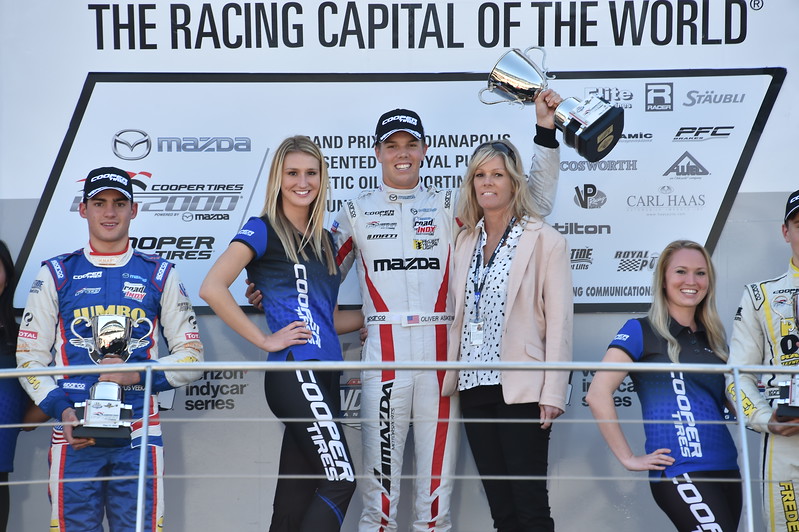 A whirlwind year-plus will come to an end for Oliver Askew, with the Floridian and last year's Team USA Scholarship recipient seeking another Mazda scholarship, valued at nearly $400,000. Rinus VeeKay has been the consistent surprise of the season, the Dutch teenager having finished between first and fourth in all but one of the 13 races thus far.
Askew can deliver Cape Motorsports its seventh straight USF2000 title, following Martin (2016), Nico Jamin (2015), Florian Latorre (2014), Scott Hargrove (2013), Matthew Brabham (2012) and Petri Suvanto (2011). VeeKay will look to secure a title for Augie Pabst and his Pabst Racing team.
The Floridian enters with a 13-point lead and can seal the title with a podium finish in the lone USF2000 race on the schedule. It'd take some trouble for Askew for VeeKay to overcome the deficit, but he'll press on regardless.
"Having heard input from the U.S. karting community, they all knew Askew would be a superstar and boy has he delivered," Krohn said. "Speed in karts don't always translate to open-wheel cars, but in this case, it certainly has. Askew really took advantage of polished performances early in the season when everyone else were finding their feet. Where VeeKay shines, is in progression. He's just got better every single weekend and he seems to be the stronger of the two, mentally, despite being the younger one.
"With Watkins Glen only being a single-header, the odds are in Askew's favor, but he needs to execute a solid weekend without being on the defense. For VeeKay, it's win or nothing, which is almost a better position to be in because he doesn't need to worry about looking in his rear view mirrors."
Parker Thompson has secured third in the championship for Exclusive Autosport and will look to continue with his second half of the year flourish, with nothing but pride to race for this weekend. Kaylen Frederick has secured fourth for Team Pelfrey, with Calvin Ming all but assured fifth for Pabst unless Robert Megennis (Pelfrey) can spring a miracle and book-end his year with wins. Sixth through ninth could change hands with Devin Wojcik, a Buffalo native, looking to impress in his home race for ArmsUp Motorsports.
The rest of the field features some intriguing battles elsewhere and some new or returning drivers. Niall Murray (Newman Wachs Racing) and Zach Holden (BN Racing) make their debuts, with Callan O'Keefe back with Team BENIK for the first time since the Indianapolis road course weekend.
INDY LIGHTS: Kaiser's coronation but plenty to fight for
Unlike last year where the final lap dictated the Indy Lights championship under controversial circumstances – Ed Jones emerging ahead of Santiago Urrutia only after Felix Serralles let Jones through for fourth place – Kyle Kaiser has no such concerns this weekend and will need only to start Sunday's Indy Lights race to win the title and the $1 million Mazda Motorsports Advancement Scholarship that comes with it. He enters with a 31-point lead and the maximum one driver can gain in a race is 27 from first to 14th.
"The history actually goes back further than his first Lights year. I watched Kyle Kaiser in his first Pro Mazda race in 2013 at Circuit of the Americas. He would fly through the esses on one lap, and go about a nautical mile off the racing surface on the next," Krohn reflected.
"And I really think that's been the story for Kyle's development. He's gone from being a driver that could put a lap or a corner together, to now a much more complete product, one that has the ability to push hard when he needs to or take a step back when he's not in position to challenge for a win. On outright pace you could argue there are two or three drivers on the grid that are quicker than Kyle, but his consistency this year has been truly impressive."
Two key battles for other spots are for second and fourth. Santiago Urrutia holds that down by eight points over Colton Herta; if Urrutia does end second, he'd mirror Jack Harvey in coming second, two straight years. Herta has rallied in the final quarter of the year after a tough midseason stretch.
Similarly, eight points separate Matheus Leist, Zachary Claman De Melo and Nico Jamin for fourth place. Leist and Jamin have won in their rookie seasons while Claman De Melo has been quite likely the most improved driver of the season, and could have a year-on-year jump from ninth to fourth in points.
Aaron Telitz and Neil Alberico are more or less assured seventh and eighth in points after the young Americans started strong but have had tough rest of seasons. Finally there's nine points separating the next four drivers, with Shelby Blackstock, Juan Piedrahita, Dalton Kellett and Ryan Norman all fighting over the final two places in the top-10.
NOTES
The Pro Mazda Watkins Glen Grand Prix Presented by Cooper Tires will take the green flag 

Saturday

 at 

11:30 a.m.

 at 

Sunday

 at 

7:55 a.m. EDT

.
The Mazda USF2000 Watkins Glen Grand Prix Presented by Cooper Tires will take the green flag at 

1:15 p.m. ET

 

on Saturday

.
The Mazda Indy Lights Watkins Glen Grand Prix Presented by Cooper Tires will take the green flag 

Sunday

 at 

10:50 a.m. ET

. The NBCSN broadcast is scheduled for 

Wednesday, September 6 at 6:00 p.m. ET

.