The Verizon IndyCar Series' second-to-last race of the 2017 season takes place this weekend at the picturesque Watkins Glen International (Sunday, 1 p.m. ET, NBCSN), with what will be a busy weekend of on-track action as the series wraps a run of three races in as many weekends, on three different types of circuits.
The return to permanent road course action comes after a run on the repaved 1.25-mile Gateway Motorsports Park last Saturday night, and after a 500-miler at Pocono Raceway the previous Sunday.
Some story lines going into the weekend are as follows:
2017 INDYCAR Grand Prix at The Glen – Talking Points:
Newgarden vs. Pagenaud takes center stage
In their first on-track competition since Josef Newgarden's power move on Simon Pagenaud for the win last Saturday night at Gateway, how the Team Penske teammates get on with it will be a huge thing to witness this weekend. One wonders what it would be like to have been a fly on the wall in the post-race team debrief.
As the series heads to two permanent road courses, it's worth looking how these two – along with teammates Will Power and Helio Castroneves – have fared on them this year. Newgarden (Barber and Mid-Ohio) and Power (Indianapolis) have won three of the four road course races this year, with Scott Dixon having toppled the Penske quartet five races ago at Road America despite the Penske drivers locking out the top four positions on the grid. That was the last win for a driver outside Penske.
Pagenaud won at Barber, Indianapolis and Mid-Ohio last year but struggled at Watkins Glen, where he qualified and finished seventh. He's been third at Barber and fourth on the other three road courses this year, and must find a way to get ahead of his teammates if he's to claw back a now 43-point gap with just two races left.
Not quite Dixon's last stand… but it's close
It's not that Dixon can't overcome a 31-point deficit to Newgarden; he overcame a 47-point gap in miraculous fashion two years ago at Sonoma to surpass both Juan Pablo Montoya and Graham Rahal for the title in an unexpected manner. But if he loses more than 10 or so points to Newgarden this weekend – that'd mean he'd finish second or worse if Newgarden was to win – it makes the degree of difficulty harder for Dixon at Sonoma.
Fortunately Watkins Glen is his happy hunting ground. He has four prior wins here, with three different manufacturers (Toyota in 2005, Honda in 2006 and 2007, Chevrolet in 2016). And last year, he dominated every session from the word go. Key here is whether Dixon will be able to maximize the Honda package at his disposal this week, working whatever magic he can to topple the Penske Chevrolets.
The team seems optimistic after a good test and after Dixon did a near perfect job of damage limitation in Gateway, ending second when fifth might have been the best finish had all four Penskes been perfect.
"We certainly weren't expecting P2. We got some help from some others," Dixon's engineer Chris Simmons told NBC Sports at Gateway. "We did what Chip always asks of us. Get the obvious things right and make no mistakes. And of course, Scott drove brilliantly and the guys did great pit stops."
A win isn't required but if he can close the gap by about 10 points or so to Newgarden, he's well within striking distance at Sonoma with double points there – meaning 20 points will cover first and second (100 to 80, before bonus points).
The Andretti domino has fall, officially
The silly season saga that has dominated paddock discussion is Andretti Autosport's engine decision for 2018. Rumors of a switch to Chevrolet persisted; at Mid-Ohio, Honda Perfomance Development Art St. Cyr told us that Honda "expects to continue with its current lineup" of teams, and now the team confirmed its Honda return.
Along the same lines, the follow-up question is what happens to Honda affiliated drivers Takuma Sato and Alexander Rossi. For Sato, a Rahal Letterman Lanigan Racing reunion is likely – Bobby Rahal told us in July he had "warm feelings" for the current Indy 500 champion – so it seems a question of "when" rather than "if." As for Rossi, he told us after Gateway he was thankful to Andretti and refuted a report that said he'd already re-signed with the team, instead gauging his options. He also "liked" a tweet that said "not necessarily" that he would return to the team. He'll undoubtedly get his future sorted.
Bourdais back in his natural environment
After a top-10 finish at Gateway on his return, expect some bigger things from Sebastien Bourdais and the No. 18 UNIFIN Honda for Dale Coyne Racing this weekend. Bourdais qualified third and finished fifth last year, the result coming despite a spin at the start, one aerial trip through the Bus Stop chicane, and making it home top-five on a weekend where his future plans got tipped off.
Bourdais' only Firestone Fast Six appearance this year came at the similarly smooth surface of the Indianapolis road course before an engine failure in the race. He finished eighth at Barber and rookie teammate Ed Jones was seventh at Road America, proving good things are possible for the Coyne squad here this weekend.
A mini-Indy Lights 2015 title rivals reunion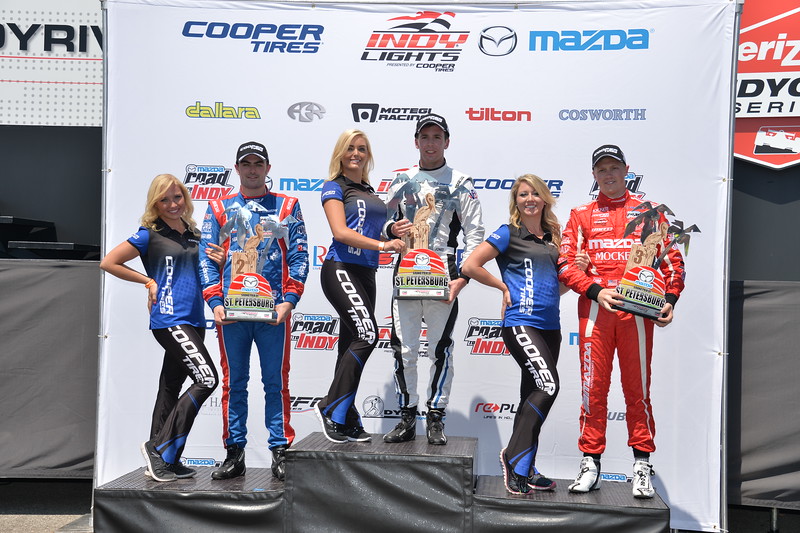 Three young drivers to watch this weekend are three of the four who battled for the 2015 Indy Lights title. That year's champion Spencer Pigot returns to the No. 20 Fuzzy's Vodka Chevrolet after a two-race absence; Jones, as mentioned above, will look to return to the top-10 in his No. 19 Boy Scouts of America Honda for the first time since Road America; Jack Harvey, the Englishman, makes his IndyCar road course debut in the No. 7 Autonation SiriusXM Honda for Schmidt Peterson Motorsports. All that's missing here from that grid is RC Enerson, who dazzled at Watkins Glen last year by qualifying 11th and finishing ninth on a great fuel save run for Coyne that wowed most of the paddock.
Pigot's race pace and race craft has been impressive this year but he's in need of a good qualifying run; he's still never made it out of the first round yet. Jones, with Bourdais back alongside him, will look to recapture his early season form. Expectations are modest for Harvey but if he can get close to advancing out of Q1 and figure into the top-10 or top-12 in the race, he'll have done a respectable job. Each of these three will look to showcase themselves in the final two races.
Other angles to watch
Can Will Power and Helio Castroneves, now close to being out of the title fight, throw one final spanner in the works of their Team Penske teammates before Sonoma?
How do Chip Ganassi Racing's other three drivers respond after back-to-back tough races?
Graham Rahal and RLL Racing haven't had the best of form on road courses this year and struggled here in 2016. Will they have made strides to threaten the leaders?
Will James Hinchcliffe and the Schmidt Peterson Motorsports team atone from late-race heartbreak last year when they ran out of fuel in the final laps when running second? Same for Takuma Sato, now with Andretti Autosport, who spun from a potential podium?
Can A.J. Foyt Enterprises' young duo of Conor Daly and Carlos Munoz carry momentum from the team's best all-around weekend in Gateway?
How do all the different types of rubber impact grip levels throughout the weekend? Beyond Firestone, Cooper (MRTI), BFGoodrich (MX-5) and Toyo (Stadium SUPER Trucks) are also represented on the track.
The final word
From Dixon, the Watkins Glen dominant driver over the last few times here: "We've had some success at Watkins Glen over the years and it's been one of the better tracks for the No. 9 team historically. The goal is to do what we did last year, both starting and finishing strong. We're in striking distance with two races to go in the championship, including the double-points race in the Sonoma finale, so we need to be fast out of the gates this Friday."
Here's the IndyCar weekend schedule: 
At-track schedule (all times local):
Friday, Sept. 1
10:15 – 11 a.m. – Verizon IndyCar Series practice #1, RaceControl.IndyCar.com (Live)
3:05 – 3:50 p.m. – Verizon IndyCar Series practice #2, RaceControl.IndyCar.com (Live)
3:55 – 4:10 p.m. – Verizon IndyCar Series pit stop practice, RaceControl.IndyCar.com(Live)
Saturday, Sept. 2
10:30 – 11:15 a.m. – Verizon IndyCar Series practice #3, RaceControl.IndyCar.com (Live)
3 p.m. – Qualifying for the Verizon P1 Award (three rounds of knockout qualifying), RaceControl.IndyCar.com (Live); TV: NBCSN (Taped, 7 p.m.)
Sunday, Sept. 3
9 –  9:30 a.m. – Verizon IndyCar Series warmup, RaceControl.IndyCar.com (Live)
1:07 p.m. – Driver introductions
1:40 p.m. – Command to start engines
1:47 p.m. – INDYCAR Grand Prix at The Glen (60 laps/202.2 miles), NBCSN (Live)
Here's last year's top 10: 
1. Scott Dixon (pole)
2. Josef Newgarden
3. Helio Castroneves
4. Conor Daly
5. Sebastien Bourdais
6. Charlie Kimball
7. Simon Pagenaud
8. Alexander Rossi
9. RC Enerson
10. Max Chilton
Here's last year's Firestone Fast Six: 
1. Scott Dixon
2. Will Power
3. Sebastien Bourdais
4. Helio Castroneves
5. Tony Kanaan
6. Max Chilton