WATKINS GLEN, N.Y. – All three series in the Mazda Road to Indy Presented by Cooper Tires kicked off their season-ending weekend on Friday at Watkins Glen International, with the Indy Lights Presented by Cooper Tires and the Cooper Tires USF2000 Championship Powered by Mazda completing practice sessions and the Pro Mazda Championship Presented by Cooper Tires completing both practice and qualifying for Race 1 (Saturday, 11:30 a.m. ET).
Pro Mazda and USF2000 will see their championships come down to the final races of their seasons, with Oliver Askew leading Rinus Veekay by 13 points in the USF2000 title chase, and Victor Franzoni leading Anthony Martin by a scant two points in Pro Mazda, with a double-header on tap this weekend as well.
Below is a wrapup of Friday action for all three series.
Pro Mazda
Victor Franzoni led opening practice and then followed that up by snagging pole for Pro Mazda Race 1 (Saturday, 11:30 a.m.). Franzoni's best lap of 1:42.4376 was over eight tenths of a second quicker than Anthony Martin, who qualified second with a best lap of 1:43.2497. Critically, this also gives Franzoni one bonus point, bringing his points lead over Martin to three entering Race 1.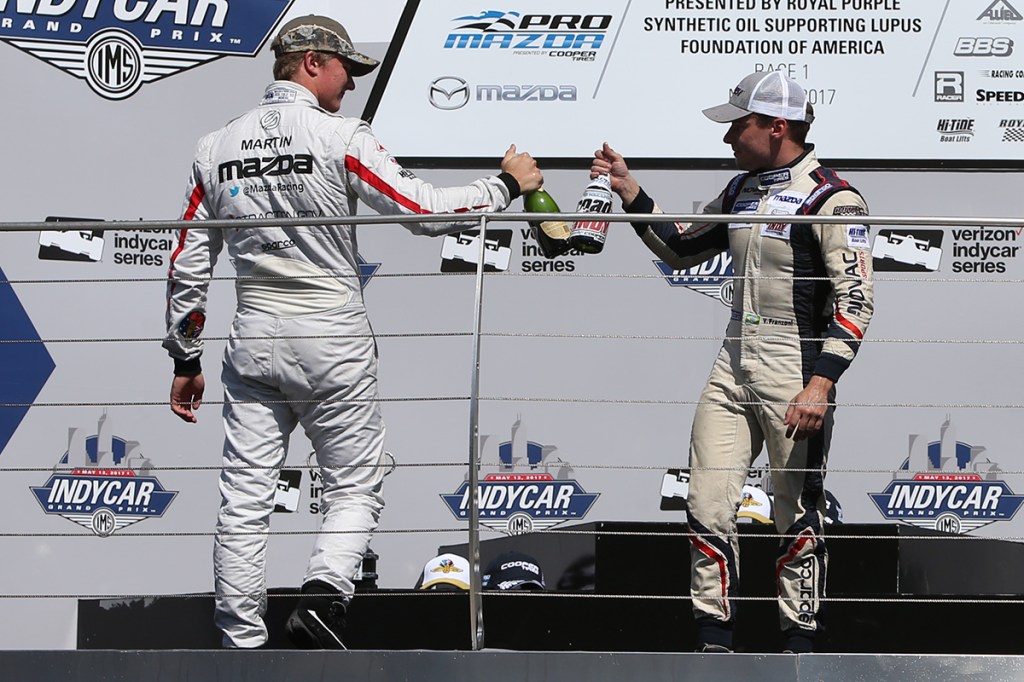 Despite the pressure of battling for a championship and a $790,000 Mazda Motorsports Advancement Scholarship to move up to Indy Lights next year, neither driver appears fazed.
"I don't feel pressure," Franzoni asserted in a press conference prior to qualifying that featured all of the Mazda Road to Indy championship contenders. "I'm not thinking about the championship. I have to win it; if I do that, I can't think about championship. There's two races to do everything perfect, and whatever happens after the checkered, happens."
Martin, too, expressed confidence ahead of the weekend, and described that his experience battling for last year's USF2000 championship, in which he beat Parker Thompson to the title, gives him a foundation to build on.
"Last year I learned about handling the pressure. It's immense fighting for championships and the Mazda scholarships. I learned more from last year and it's made me a lot better today," Martin said of his mindset ahead of qualifying.
Carlos Cunha, TJ Fischer, and Nikita Lastochkin completed the top five.
Qualifying results for Race 1 are below. Of note: Robert Megennis, running both USF2000 and Pro Mazda events this weekend, qualified sixth for Race 1. He was also ninth fastest and 15th fastest in the two USF2000 practices.
USF2000
A pair of practice sessions are in the books for USF2000, with Rinus VeeKay firing the first shot. The 16-year-old Dutchman led the opening practice, with a quick lap of 1:47.0341, which was nearly eight tenths of a second ahead of second-place runner David Malukas. Championship leader Oliver Askew was third in opening practice with a quick lap of 1:48.4421, 1.4 seconds behind VeeKay.
Second practice saw a more jumbled order, with Veekay not turning a flying a lap in order to conserve tires per Trackside Online's open-wheel junior series site, TSO Ladder.
Veekay's teammate Calvin Ming led the way in second practice, ahead of Kory Enders, Oliver Askew, Kaylen Frederick, and David Malukas.
Practices times for each session are below, beginning with Practice 1 and followed by Practice 2. Of note: six drivers (Alex Baron, Devin Wojcik, Callan O'Keeffe, Darren Keane, Niall Murray, and Kaylen Frederick) were listed as not turning laps during Practice 1, owing to transponder issues.
Indy Lights
Unlike the other two Mazda Road to Indy championships, the Indy Lights crown has been all but clinched. Points leader Kyle Kaiser, with a lead of 31 points over second-place Santi Urrutia and a maximum points swing of 27 possible, given the 14-car lineup, Kaiser needs to only start Sunday morning's lone Indy Lights race of the weekend to clinch the 2017 Indy Lights title.
Kaiser revealed that entering the weekend with the championship all but wrapped up has been surreal.
"It's started to sink in over five days," said Kaiser, whose fourth-place finish last week at Gateway Motorsports Park has him in position to the clinch. "I'll wake up and still can't believe it! It doesn't feel real yet. I need a wake up call. Have to treat this weekend the same. Let's put on a show. I'm excited to go out there."
In his third year in Indy Lights, and fifth total on the Mazda Road to Indy (Kaiser contested two seasons in the Pro Mazda ranks), Kaiser described that driver development and growth is critical in a driver's time on the Mazda Road to Indy, and he highlighted his own growth as an example of what other young drivers can follow.
"Learning and developing is what the whole program is about," Kaiser said of the Mazda Road to Indy ladder. "I've taken three years, a year more than most would say; taking your time to compete for the championship, not making rookie mistakes is the way to do it. You can see the progression. Sixth as a rookie with mistakes, then third last year and now in position to win the championship. That's what (young drivers) should strive to be."
Indy Lights did not venture out on to the 3.4-mile road course until late Friday afternoon, their lone practice session rolling off at 4:25 p.m. ET. Shelby Blackstock of Belardi Auto Racing led the way, turning his fastest lap of 1:32.7903 on his final lap of the day. Colton Herta, Matheus Leist, Aaron Telitz, and Neil Alberico completed the top five. Blackstock has extensive experience at the track in sports cars, raced here in Indy Lights last year and made his IndyCar test debut here with Andretti Autosport last year.
Practice 1 results are below. Practice 2 for Indy Lights begins at 8:45 a.m. on Saturday.