WATKINS GLEN, N.Y. – Oliver Askew has clinched the Cooper Tires USF2000 Championship Powered by Mazda title and his third scholarship in the last 12 months, while his closest title rival this year, Rinus VeeKay, ended the season with his third win of the year at Watkins Glen International.
Askew has secured Cape Motorsports its seventh consecutive USF2000 driver's championship, while VeeKay's season-long consistency – today was his 12th podium finish in 14 races this season – along with his two teammates netted Augie Pabst's Pabst Racing the team's first team championship.
With the title, Askew adds the USF2000 title to the $200,000 MRTI Mazda shootout and Team USA Scholarship wins achieved last fall. He won seven races this year and today marked his 11th podium finish of the year. This title nets Askew a nearly $400,000 scholarship to move into the Pro Mazda Championship Presented by Cooper Tires series next year.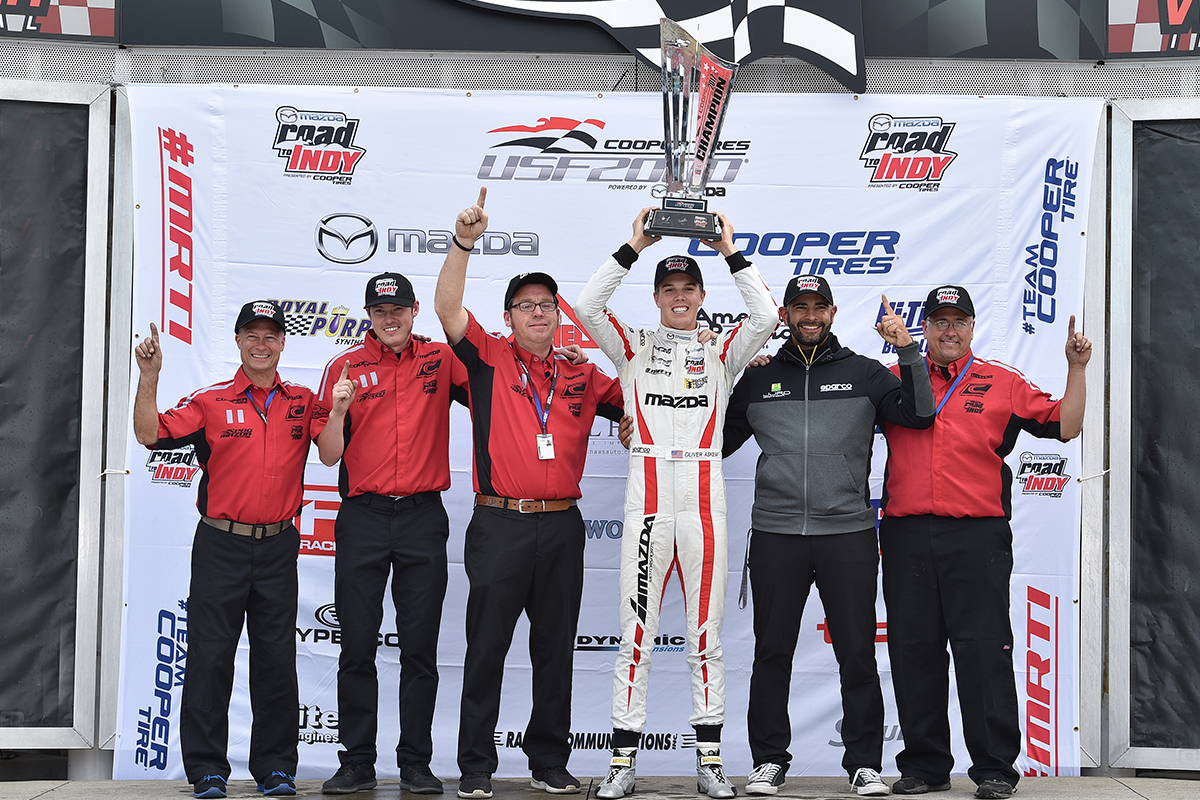 Unofficially it's a seven-point margin with Askew on 351 points, second place plus a bonus point for pole, with VeeKay second on 344 points with two bonus points for leading the most laps and setting the fastest race lap.
"I've dreamed about this moment for so long. It's such a huge weight off my shoulders, to be champion," said Askew. "My learning curve has been really steep this year but I've had so many great people around me who have helped me progress. I learned something every day at the racetrack.
"The priority was to finish on the podium in case Rinus won and got maximum points, and we did that. I just did the best I could to keep Calvin behind me. I can't thank the Cape team enough. We started on the wrong foot this weekend but once again when it counted we got pole and I had a great car. I'm so happy to be able to continue my relationship with Mazda and Cooper Tires, they've helped me so much. Thanks also to Team USA Scholarship for giving me the opportunity, and Rising Star Racing. This is not going to sink in for a while – I can't wait for next year!"
The 20-year-old Floridian scored a crucial pole position this morning, which netted him an additional bonus point after entering the weekend with a 13-point lead over VeeKay.
Needing only a fourth-place finish to wrap the title, Askew finished second behind VeeKay, the Dutchman having completed an outside pass around Askew from Turn 1 through to the end of Turn 2 to get by for the lead.
VeeKay won the race by 9.6053 seconds over Askew with Calvin Ming, one of VeeKay's two teammates at Pabst Racing, shadowing Askew home all race. The 30-minute race ran to its conclusion without a caution flag.
"I'm happy but I could be happier," VeeKay admitted. "I hadn't really planned to pass Oliver at the start but I saw him brake for the inside and I went for the outside and all of the sudden I passed him. We had a good race down the back straight but I didn't want to give the position back. I think he backed off to be sure of the position for the championship, but I put my head down and got away from the field.
"I will take some time in the off-season and figure out what I want to do next year. I definitely want to stay in the Mazda Road to Indy. I don't know where on the ladder but I think we will move up. It was a great season, with 12 podiums out of 14 races with three wins, so I cannot thank the Pabst team enough for giving me a great car and getting better every weekend."
Kaylen Frederick completed a solid first full season with Team Pelfrey in fourth, while David Malukas of BN Racing made a late-race pass on Andres Gutierrez of DE Force Racing for the final top-five position.