WATKINS GLEN, N.Y. – In the final minutes of Firestone Fast Six qualifying for the Verizon IndyCar Series, both Josef Newgarden and Scott Dixon appeared destined to score poles for Sunday's INDYCAR Grand Prix at Watkins Glen.
First off, Newgarden was on his last run and looked set to turn the fastest lap of the session at that time. And while he did momentarily set the fastest lap, he ultimately left time on the table as he went a little wide exiting Turn 9 and dipped his wheels onto the grass, kicking up a big cloud of dust in the process.
He explained in the post-qualifying press conference that it ultimately cost him at least a couple tenths of a second, which would have made the difference in him securing the pole.
"I don't think I've ever really had to say this much, but I think I messed up a pole run, to be honest with you," Newgarden revealed. "I lost two or three tenths in the final corner. I don't remember ever having to say that."
Newgarden added that he overshot Turn 9 as a result of thinking he needed to charge through the corner in order jump over Dixon and the other Honda drivers.
"(The lap) was like projected at an 82.2 (seconds) going into Turn 9. If we want to beat Dixon, I've got to get everything out of (Turn 9) as well. I just deuced it, totally messed it up, lost a couple tenths. Great lap time, good starting position for us. I feel so silly for messing up what could have been a pole position."
Like Newgarden, Scott Dixon felt like he left a pole on the table. Immediately after Newgarden's aforementioned run, Dixon clocked in with a lap of 1:22.5168. In comparison to Newgarden's lap (a 1:22.5169), the difference between the two was one ten-thousandth of a second, the smallest margin possible under IndyCar's scoring system.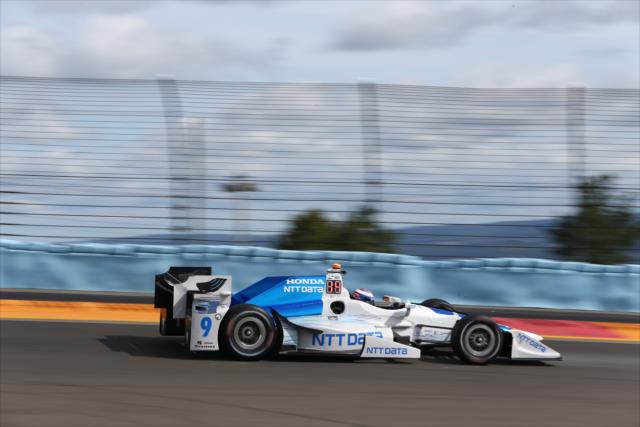 However, on his next lap, Dixon came up on a slowing Helio Castroneves, delaying his run enough to force him to abort. Unable to get his Firestone black tires up to temperature after that, Dixon could not turn a faster lap, and ultimately had to settle for second when Alexander Rossi swooped in to take the pole with the last run of the session.
Although starting on the front row is a solid result on the surface, Dixon couldn't help but be disappointed to miss out on the pole.
"The frustrating part is that we had plenty in hand," Dixon lamented. "The problem is if you cool off (the tires) too much, it's really hard to get back up to speed. We caught Helio so quickly – I don't know what he was doing out there, he was just sort of cruising around. We caught him way too fast with two laps to go."
Dixon added that he believed the car had plenty of speed in it to take the pole had he been able to get a cleaner run, as evidenced during Round 2 of qualifying, when he set a lap record with a lap time of 1:22.4171.
"I think we had probably another three or four tenths in the car. Definitely frustrating to lose it that way. We showed that speed definitely in Q2."
The result ultimately proves critical in the championship chase, in which Newgarden leads Dixon by 31 points entering Sunday's race, as neither driver was able to score a vital championship for the pole.
Newgarden, given that the events of qualifying prevented Dixon from securing that championship point, expressed a small amount of relief in considering that.
"Every point counts, so for sure I think it helps. It's small, small little detail. But it adds up," said Newgarden.
Dixon will flank pole sitter Alexander Rossi on the front row, while Newgarden will start third for Sunday's INDYCAR Grand Prix at The Glen (1:00 p.m. ET, NBCSN).