WATKINS GLEN, N.Y. – Thornville, Ohio's Patrick Gallagher reached the summit in the Battery Tender Global MX-5 Cup presented by BFGoodrich Tires series on Saturday, wrapping up the 2017 title before the series concludes its season at Mazda Raceway Laguna Seca later this month.
He wins a $200,000 prize from Mazda to continue his racing career next season, and admitted post-race how relieved he was to already know he'll be racing again in 2018, although in which series remains to be determined.
Gallagher, 24, is the epitome of a "Mazda racing lifer," and a driver who lives up to the company's oft-used mantra that more Mazdas are road raced on any given weekend versus any other manufacturer.
He started out racing open-wheel cars powered by Mazda and is a past national champion at the SCCA Runoffs in Formula 500 (2010) and Formula Enterprises (2012), both times at Road America. He also raced in the National class of the Cooper Tires USF2000 Championship Powered by Mazda series, in a class that also featured future Verizon IndyCar Series driver RC Enerson.
Transitioning to the sports car path, Gallagher then won a Mazda scholarship in a shootout at Buttonwillow, Calif. at the end of 2012, having beat fellow rising sports car star Kenton Koch and two others to be able to move into the MX-5 Cup series on the scholarship support.
Although he's bounced around a couple teams and series since – primarily MX-5 Cup and additionally the Pirelli World Challenge in its Touring Car ranks – Gallagher, who now lives in the Chicago area, was well overdue to wrap the title and did so this weekend in Watkins Glen.
He won today's first of two races but fell to fifth in race two, as Todd Lamb scored his first win of the year.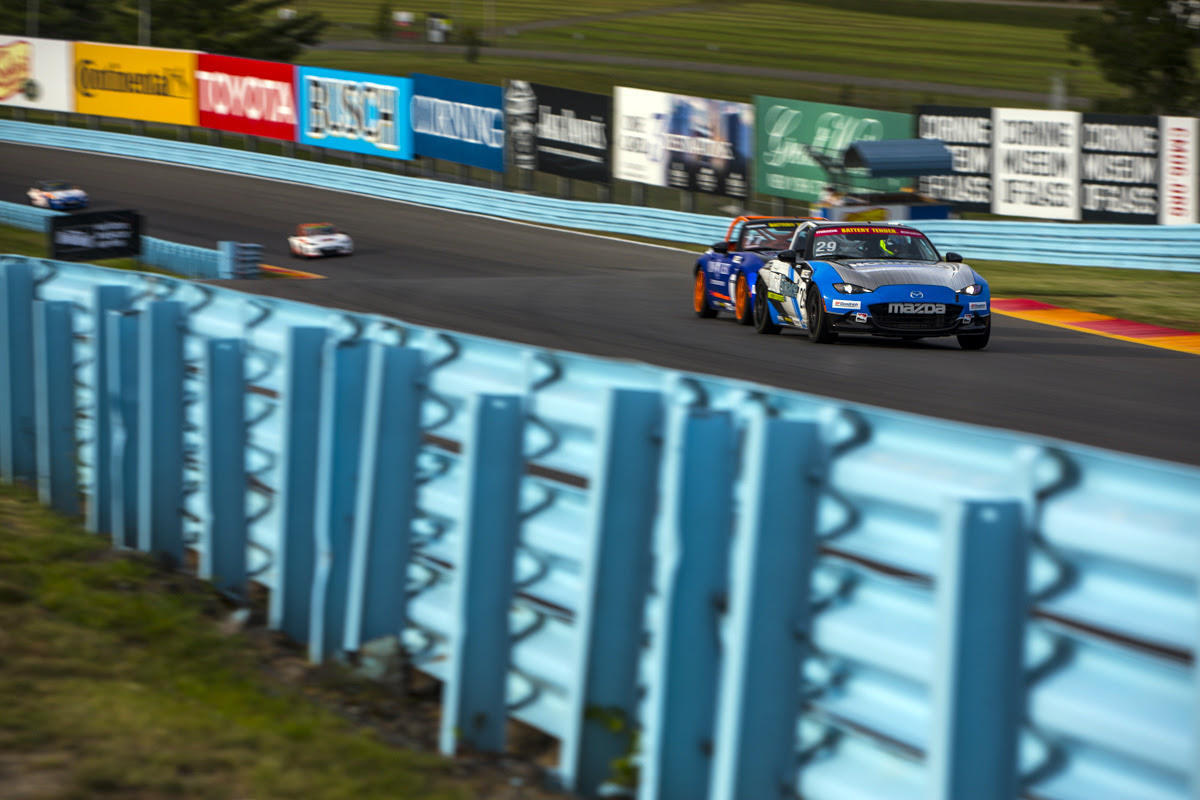 The morning win was his sixth of the season, after sweeping the season-opening Barber Motorsports Park round in April, winning once each at the Indianapolis Motor Speedway road course and Road America, and then winning on the streets of Toronto in mid-July.
The journey to the title this year was achieved with McCumbee McAleer Racing, Gallagher having been good friends and colleagues with New York-based Scot Stevan McAleer and McAleer's longtime co-driver in the Continental Tire SportsCar Challenge, North Carolina native Chad McCumbee.
"Guys like me have to be so thankful to this series and this team to have an opportunity to go out and do something to win some races," Gallagher told NBC Sports.
"I don't know where it'll take me. But I got here thanks to CJ Wilson Racing at the start, Atlanta Motorsports Group where I developed, and now the guys at McCumbee McAleer Racing that have been great, and made me feel like I'm at home. ModSpace has stuck with me the whole time up to current day."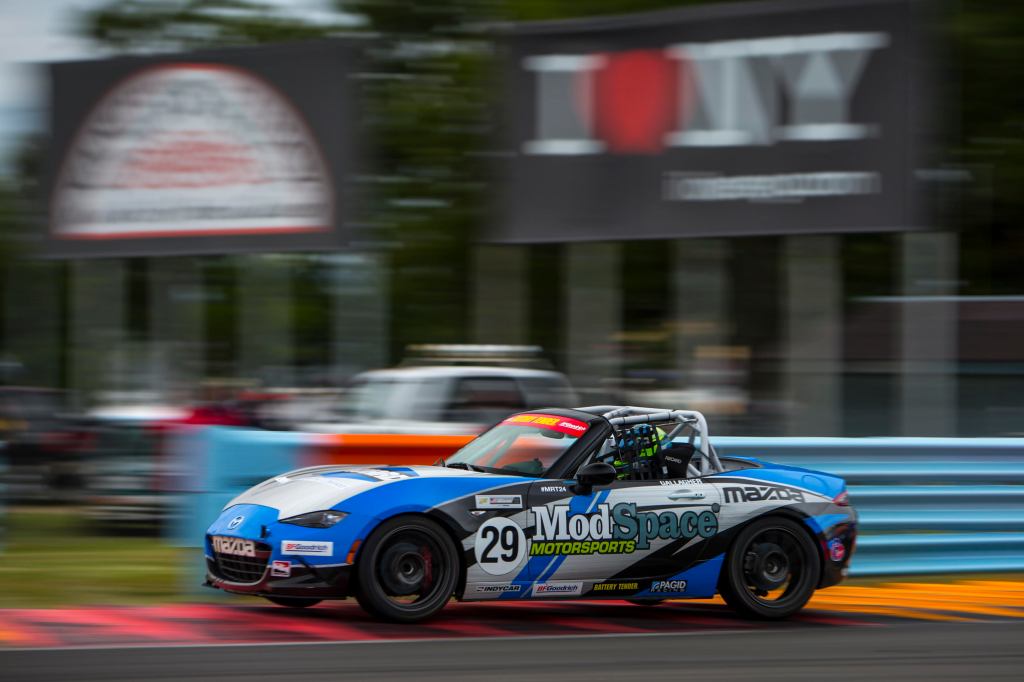 Gallagher's championship win ends a two-year run of titles achieved by the Sick Sideways Racing team. Nathanial "Sparky" Sparks won last year's title with John Dean II the 2015 champion. Koch won in 2014 and Christian Szymczak in 2013 for Alara Racing, with McAleer winning the 2012 title for CJ Wilson Racing. Gallagher's arrival on the sports car scene, as noted, occurred that year.
With today's doubleheader in the books, the MX-5 Cup series races on the IMSA weekend Sept. 22-24 at Mazda Raceway.
This weekend was the fourth and last this year where MX-5 Cup, now under the operations of Andersen Promotions and sanctioning of INDYCAR, raced on a Verizon IndyCar Series weekend, joining Barber, Road America (below) and Toronto. Between Road America and Indianapolis, MX-5 Cup unleashed several incredible photo finish results.