WATKINS GLEN, N.Y. – Today's INDYCAR Grand Prix at The Glen (1 p.m. ET, NBCSN) will see Chevrolet hit the 100-start mark since it returned to the Verizon IndyCar Series ahead of the 2012 season.
The results have been nothing short of spectacular.
Chevrolet enters with 66 wins (11 in 2012, 10 in 2013, 12 in 2014, 10 in 2015, 14 in 2016 and 9 in 2017) and 73 poles (10 in 2012, 11 in 2013, 13 in 2014, 16 in 2015, 13 in 2016 and 10 in 2017) from the 99 previous races, having achieved all five Manufacturer's Championships, and four of five Driver's Championships with four different drivers (Ryan Hunter-Reay in 2012, Will Power in 2014, Scott Dixon in 2015 and Simon Pagenaud in 2016).
Specific highlights also include the two Indianapolis 500 victories delivered by Tony Kanaan in 2013 (below) and Juan Pablo Montoya in 2015.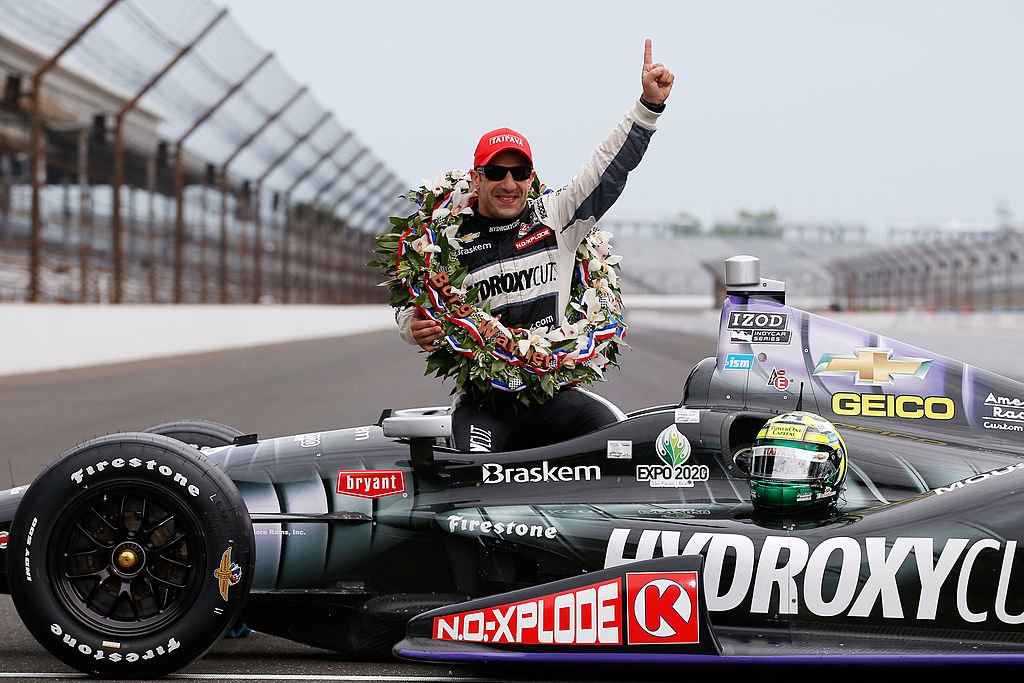 "We were excited to return to IndyCar in 2012, and basically aligned with great teams, drivers and partners," Jim Campbell, vice president, Performance Vehicles and Motorsports, Chevrolet, told NBC Sports. "So we've really put together a strong track record of accomplishments, poles and podiums that are meaningful for us. Partnering with great teams, drivers and technical partners has been key to that success."
A win either today at Watkins Glen or in two weeks time at Sonoma will ensure Chevrolet hits double digit wins in a season for a sixth straight year.
The manufacturer is also poised to capture its sixth straight Manufacturer's Championship, with its early season reliability now paying dividends later in the year.
Through 10 races, Honda had won six of them from all five of its teams, including three that loom large as lost opportunities to Chevrolet. Takuma Sato captured the Indianapolis 500 and Graham Rahal swept the Detroit weekend in GM's backyard.
Chevrolet has countered by sweeping all three races Honda sponsors in Barber, Toronto and Mid-Ohio for the second straight year, courtesy of Josef Newgarden in all three races. And overall, Chevrolet and Team Penske have won the last five straight races, with Helio Castroneves in Iowa, Newgarden in Toronto and Mid-Ohio, Will Power in Pocono and Newgarden again last week in Gateway.
Penske has delivered all nine of Chevrolet's wins this year – Newgarden has four wins, Power three, and Castroneves and Simon Pagenaud one apiece.
"This has obviously been a year where Penske has delivered the wins – 60 percent of the wins with 40 percent of the field, coming from four of our eight cars, and four of the 21 cars overall," Campbell said. "It's been a special year for Team Penske. It's been a tougher year for our other Chevrolet teams. But the passion and 'never give up' attitude has benefited us for the future.
"We have two more races and anything that can happen. It's been a little bit below our average this year, but it's not too far off."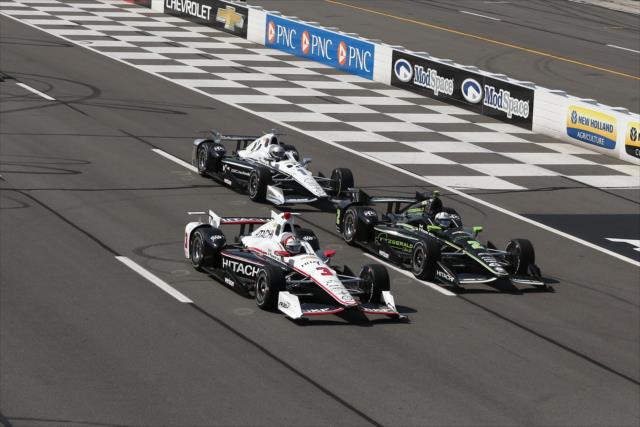 That reliability, durability and productivity has helped move Chevrolet to the head of the Manufacturer's Championship standings, 1309 to 1236 over Honda, with two races remaining.
Per INDYCAR, Honda has seven of its full season cars on its fifth engine or more, which means those cars (Car Nos. 5, 9, 15, 18, 27, 28, 83) are ineligible to score manufacturer points. Chevrolet, by contrast, has only one – Castroneves' No. 3 car – which means all remaining cars except the No. 3 are eligible.
That has swung the battle around. In this five-race stretch since Honda's last win, with Scott Dixon at Road America, Chevrolet has outscored Honda 471-331, which has seen Honda's lead overtaken in the points. Coming out of Road America, Honda led 905-838.
Chevrolet and technical partner Illmor worked to correct some issues that occurred last year, and this year, reliability has been a key component to Chevrolet's success. And as Campbell noted, it's been a big part of why they've won the last five manufacturer titles.
"Over that time frame we've had very good reliability to allow us to score consistent manufacturer points," Campbell said. "That's been one key. Certainly there are moments with development issues. But part of our success has been the reliability overall relative to the competition."
While this year sees the end of the three-year manufacturer aero kit era, a period dominated by Chevrolet, the manufacturer is still thankful for the road car vehicle performance and technology gains made by the IndyCar program.
Chevrolet has also continued its success following the reassignment of former IndyCar program manager Chris Berube to the company's road car side. Berube made a welcome visit to check in with the IndyCar teams at Mid-Ohio, where Newgarden won.
Campbell described the preparation on the Chevrolet aero kit and engine, the actual engine development of its small displacement, boosted direct injected V6 engines, and the teamwork required to win races as three key tenets that provided the greatest benefit from the IndyCar program.
Chevrolet generally announces its plans for the lineup for the following season only when the current season concludes. Campbell did confirm though Chevrolet could up its capacity for 2018 if needed from its current allotment of eight cars in the grid.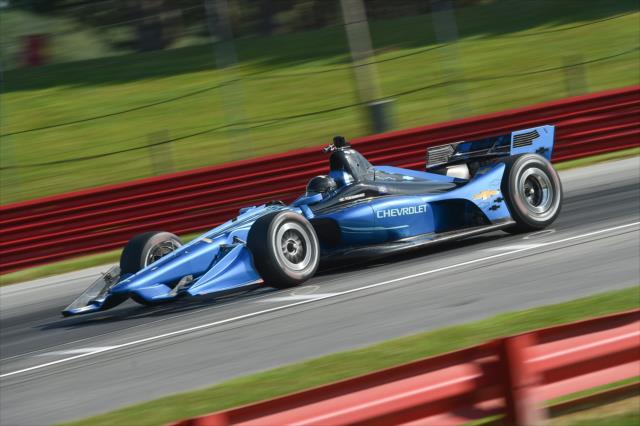 There was also a key long-term, multi-year extension Chevrolet – among other partners – confirmed with INDYCAR at St. Petersburg to kick off the year. Chevrolet also looks ahead to the new 2018 aero kit with optimism at it looks to continue its success past the 100-start mark.
"We had a high level of engagement with INDYCAR about what to do on aero kits," Campbell said. "We did support them going to the new 2018 kit. We think it's an incredible design. There's been a lot of good reaction from the fans. We have elements to keep the enthusiasm high.
"And then we really like the racing. It's edge of your seat. We're seeing an overall positive trend with a lot of different metrics. Fan engagement and customer engagement… and we see activation as another side. We show off our cars and trucks for owners. INDYCAR also features people that don't own Chevrolets, that we can expose the brand to.
"For us it's a great platform and area. For those reasons, we felt like it was time to do an extension. We're really excited about that."
Among teams, both Team Penske and Ed Carpenter Racing have been with Chevrolet each of those 100 starts since its return, and Will Power, Helio Castroneves and Ed Carpenter have been exclusively in the Chevrolet lineup as drivers over that same time period. Each of those three also reflected on the accomplishments Chevrolet has achieved in that time frame.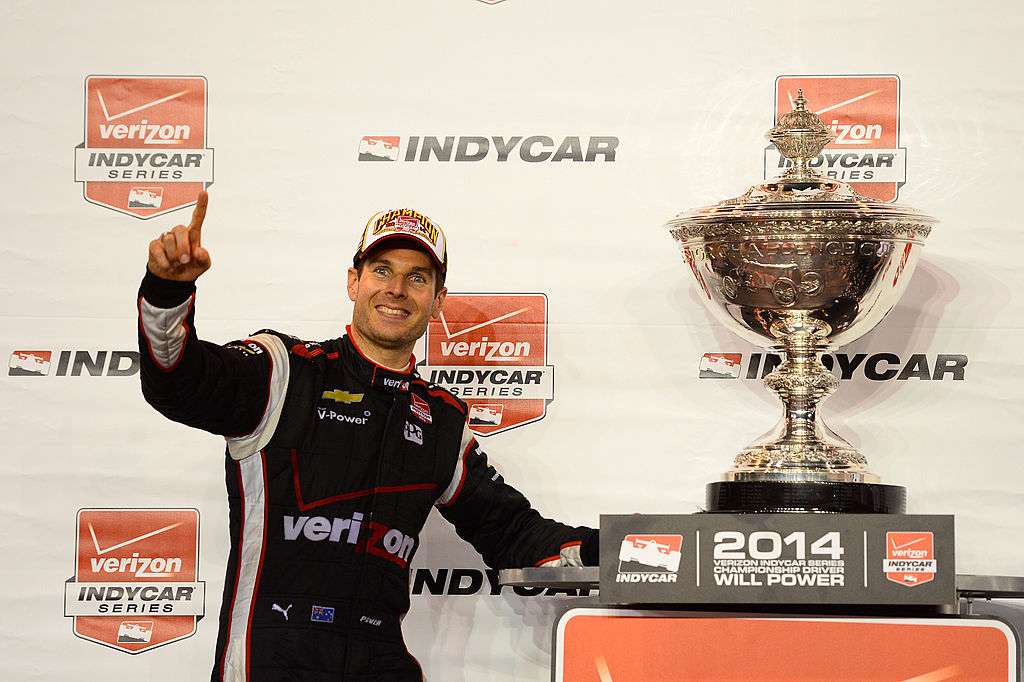 "When I think of Chevrolet, my thoughts immediately turn to horsepower, but it's more than that. It's the whole package of power, reliability, research and technology," said Power, who has 17 wins and 26 poles with Chevrolet. "They put as much pride into winning as any driver or team. There's a 'whatever-it-takes' attitude. There are ebbs and flows to everything, but Chevrolet continually takes their INDYCAR program to the next level. They're never satisfied or willing to rest on their laurels. For that, I thank and congratulate them."
Castroneves added, "They are the epitome of success and professionalism. Their desire to be the best is the required mind-set in motorsports. Everyone has great tools and resources, but what is the work ethic. I think that's one of the things that sets Chevrolet apart. The power and reliability of the INDYCAR program over the years has been incredible."
And Carpenter affirmed, "It is quite an honor to know that we are one of two teams (along with Team Penske) that have been with Team Chevy for all 100 races since they have been back in the Verizon IndyCar Series," he said. "Chevrolet really embraced us when we were a brand-new team in 2012, when others wouldn't even talk to us. It has been such a great partnership up to this point, knowing that all of our accomplishments and milestones as a team have been with the backing of the Bowtie. I can't wait to see what we accomplish together over the next 100 races."