With the top rung of the Mazda Road to Indy presented by Cooper Tires, the Indy Lights Presented by Cooper Tires, wrapping its season in front of Verizon IndyCar Series team owners for the first time since 2014, it was a showcase opportunity for the drivers on track at Watkins Glen.
And with the field of 14 full-time drivers at various stages in their Mazda Road to Indy careers, it's worth examining the likelihood of how many Indy Lights drivers could realistically move up.
CONFIRMED: Kyle Kaiser
Kaiser is, at present, the only driver who will secure his spot in IndyCar next season courtesy of a three-race scholarship valued at $1 million from Mazda Motorsports.
The 21-year-old out of Santa Clara, Calif., who now lives in Indianapolis, is hoping to have more news solidified within the next couple weeks in terms of which team will race for. Kaiser works in tandem with Mazda, Andersen Promotions and INDYCAR to secure his spot.
Spencer Pigot's initial three-race package brought him to Rahal Letterman Lanigan Racing in 2016, before in collaboration with Rising Star Racing he found enough extra to run the remaining road and street races with Detroit with Ed Carpenter Racing. Ed Jones found enough beyond the three-race amount to secure a full season entry in Dale Coyne Racing's second car this year.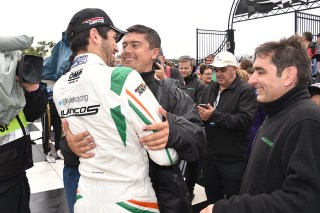 Although it'd be natural to assume Kaiser will move up with Juncos Racing, that's not a guarantee. Still, he's grown by leaps and bounds over his four years with the team – one in Pro Mazda and three in Indy Lights.
Ricardo Juncos explained the challenge of wanting to hold onto Kaiser while also understanding that like with Pigot, the potential exists that Kaiser could leave.
"Obviously we know others want to have Kyle, too. That's the way it is and we need to fight against those things," Juncos told NBC Sports. "This is the beginning of the process. We enjoy the weekend and the championships, and then next week we go to the desk and make it happen."
STRONG POTENTIAL: Santiago Urrutia, Zachary Claman De Melo, Zach Veach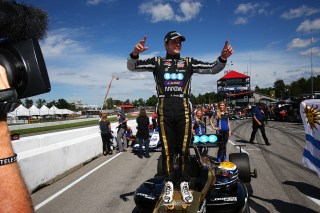 At least two of these three, if not all three of these Indy Lights veterans could be poised to make their full-time IndyCar bows next season.
Urrutia has made the loudest waves in recent weeks. The Uruguayan has progressed from a "70 percent" number in the break in-between the Mid-Ohio Sports Car Course and Gateway Motorsports Park rounds to the "getting closer" mantra at Gateway, following that win, to now close to "100 percent" at Watkins Glen this weekend.
"I'm working on my deal for IndyCar. I want to put it together right before Sonoma or right around there," Urrutia said at Watkins Glen. "I'm closer to 100 percent. I'll decide which team I'm gonna go and sign the contract. It feels good. The time I sign the contract, I want to be competitive and win races."
Urrutia has also spoken openly of his desire to retain engineer Tim Neff, who he's worked with both years in Indy Lights, first at Schmidt Peterson Motorsports in 2016 and then with Belardi Auto Racing last year. SPM has at least one open seat next year and Urrutia is one of several drivers who could make sense there; he tested an IndyCar for the team at Sonoma last season.
Claman De Melo will make his IndyCar race debut with Rahal Letterman Lanigan Racing next weekend at Sonoma and a quote within the release spoke greater volumes than this just being a one-off entry in the team's second car.
"This opportunity marks an incredible moment for my career and for Canadian motorsport fans, as I'm getting that much closer to securing a full-time position with RLLR for next season," he said.
While funding is there for the rapid teenager, the potential of what would be a third RLLR entry – in addition to Graham Rahal and the yet-to-be-confirmed-officially Takuma Sato – comes as a surprise. Again, consider Honda already ran 13 full-time cars this year. Claman De Melo is at nearly an identical place Kaiser was last year – he's weighing his options for IndyCar, but he could win a title if he was to return to Indy Lights for a third year. Stay tuned.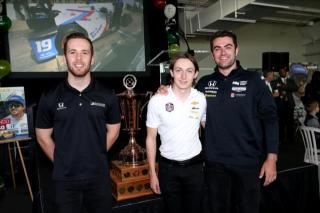 Veach's name has been rumored over the summer for a full-season bow, with news of his confirmation potentially imminent. The Stockdale, Ohio native has made his first two IndyCar starts this year with Ed Carpenter Racing at Barber and A.J. Foyt Enterprises, in the Indy Women in Tech Championship entry, at the Indianapolis 500. He raced the 2013, 2014 and 2016 seasons in Indy Lights, winning races and contending for the title in the 2014 and 2016 seasons.
Veach's fellow '500 rookie, Jack Harvey, is another recent Indy Lights graduate hoping to stick in IndyCar beyond the handful of races he's done this year with the Michael Shank Racing/Andretti Autosport combination and Schmidt Peterson Motorsports.
MID-RANGE POTENTIAL: Matheus Leist, Nico Jamin, Dalton Kellett
At present, Leist isn't exploring a return to Indy Lights. The Brazilian driver talked openly at Watkins Glen of his desire to move into IndyCar, but like several others, whether he has the budget to do so is a question mark. Although Leist had a strong summer run with Carlin, inconsistency limited his title pursuit.
Jamin could make an excellent IndyCar driver. The Frenchman's versatility is on par with countrymen Simon Pagenaud and Sebastien Bourdais; he's won races in Indy Lights, Pirelli World Challenge and IMSA Prototype Challenge this year alone in three wildly different types of machinery. Whether he'll want to put himself through another season of Indy Lights though remains a question mark because of engine issues that hampered his campaign. He's worth keeping on IndyCar team's radars before any potential move to sports cars, and he's regarded more for his talent than budget.
Kellett would like to do a handful of IndyCar races in 2018 and may have the means to do so. One of the smarter drivers in the series, the Queens University engineering graduate expects to return to Indy Lights for a third season. He's not the out-and-out quickest driver in the field, but has shown particularly well on ovals throughout his Indy Lights career.
All three of these drivers – plus Claman De Melo – have at least one IndyCar test under their belts. This quartet tested at Road America this summer and Claman De Melo and Kellett had one run apiece in 2016, as well.
WAIT UNTIL 2019: Colton Herta, Aaron Telitz and others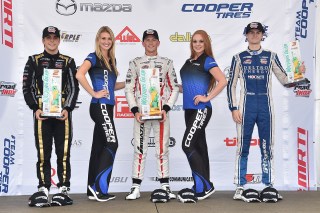 Herta's keen on staying in Indy Lights for another year with Andretti/Steinbrenner Racing. Although NBC Sports confirmed with both sides of the program that nothing is yet completed for a 2018 return to Indy Lights, they still expect it to happen, in preparation for Herta and Steinbrenner's step-up to IndyCar in 2019. And it's something Herta wants too.
"I think we exceeded our expectations," Herta told NBC Sports. "We're third in the championship, so third my last three years! I want to come back next year. That's something I've never had. I've never had a second year in any series besides karting. That will help a ton."
Telitz, Mazda's scholarship driver this year in Indy Lights, endured a roller coaster year of inconsistency but impressed many in the IndyCar and MRTI paddocks with his win in the wet at Watkins Glen. He's another driver who could improve and contend for the title in a second year in Lights.
"In terms of growth, I took a lot more of off-track prep more seriously," Telitz told NBC Sports. "In lower divisions, I relied on being fast and driving. Now you had to take it more seriously with video, data and becoming more physically fit."
Neither has yet tested an IndyCar, although either over the winter or into 2018 should provide them that chance.
Among others in the Indy Lights field:
With at least two years under their belts, Neil Alberico, Juan Piedrahita and Shelby Blackstock have been occasional podium finishers but have lacked the consistency, reliability and pace needed to fulfill their talent completely. It's hard to see them realistically on IndyCar radars. Of the three, only Blackstock (2016 at Watkins Glen) has enjoyed an IndyCar test.
Rookies Ryan Norman and Nico Dapero often overachieved in their first seasons. Norman had 14 top-10 finishes which tied for most in the series with Kaiser and Claman De Melo. Dapero really came on strong towards the end of the year, a run to fifth at Gateway particularly impressive. With returns planned for both drivers, expect Kaiser and/or Claman De Melo-type improvements in a second year.
Rookie Garth Rickards was, frankly, overmatched at this level. A talented enough driver in the lowest rung on the ladder, USF2000, Rickards would need a big leap in performance in a second year of Indy Lights to put himself on any IndyCar radar.