Red Bull Global Rallycross heads to Evergreen Speedway in Seattle this weekend for what is already the penultimate round of the championship, and the final doubleheader weekend of the year.
Rounds 10 and 11 of the 2017 season will air both of Saturday and Sunday at 4:30 p.m. ET on NBC (stream link here for Saturday and Sunday). Leigh Diffey and Townsend Bell will call the races with Will Christien reporting trackside and in the pits.
Scott Speed and Volkswagen Andretti Rallycross are three races away from a three-peat, and enter Seattle with the biggest momentum in the series.
Speed swept last time out in Atlantic City while teammate Tanner Foust had a nightmare weekend with penalties, incidents, and finishes of 10th and ninth in the finals.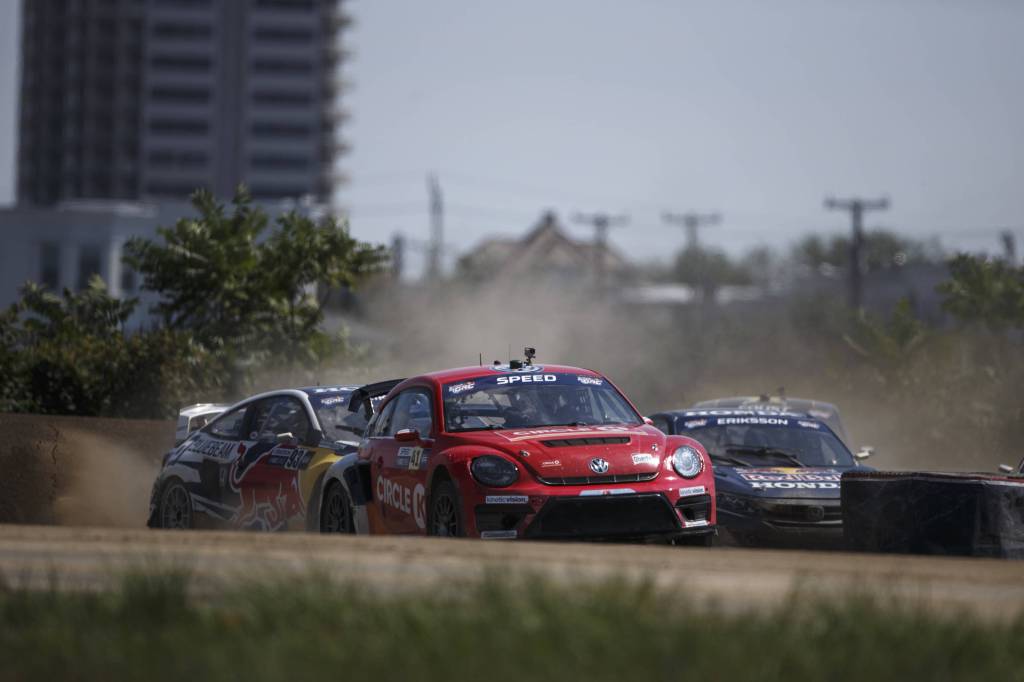 That sees Speed with a comfortable – if not assured – 38-point lead (616-578) over Loenbro Motorsports' Steve Arpin, who's finished third each of the last three finals in his Ford Fiesta ST. Foust sits third in points, three behind Arpin.
Speed has four final round wins to Foust and Arpin's two apiece this year in the opening nine races, with Sebastian Eriksson (Louisville) also on the board in his Honda Red Bull Olsbergs MSE Honda Civic Coupe.
An important doubleheader now lies ahead in Seattle, where Foust won last year over the two Hondas and where Speed finished fourth. Subaru also showed increased competitiveness at this race last year even if their final results didn't show it, and so it leaves Patrik Sandell and Chris Atkinson poised to play spoiler this weekend.
Speed heads to the hometown of sponsor Oberto, so will look to bring home the bacon this weekend.
"We are coming down the stretch! Seattle is a home race for our Oberto team, so we really want to have a good result. For me personally, it's a place I absolutely love but historically has been my worst track. Having a 38-point lead means we have to drive smart, conservative and defensive this weekend," Speed said.
Foust, needing to charge, has nothing to lose.
"We're headed back to some of the best fans GRC sees all year in Seattle, Washington. Evergreen Speedway is a place I've competed in drifting at for eight years, and now going on two more with GRC is a great honor. It'll be great to see so many familiar faces at the event," Foust said.
"For the 34 team, circumstances in Atlantic City made the weekend a disaster on many levels, but most importantly with points. You almost couldn't have scripted a worse weekend, so I'll be looking to pick up the pieces and fight back for every championship point possible."
Meanwhile Arpin's car takes on a special livery this weekend along with its usual ENEOS USA colors, owing to his new role as an official ambassador for KOA Care Camps. Arpin will race in Seattle on Sunday in his car featuring Care Camps colors (see below).
"Care Camps is a great organization full of people with big hearts," Arpin said. "I'm delighted to work more closely with them to help children with cancer benefit from the healing power of the outdoors."
There's one change in the field with Austin Cindric making his Supercars debut. Cindric, fresh off his maiden win in the NASCAR Camping World Truck Series last week at Canadian Tire Motorsport Park, will return to his rallycross roots after racing in GRC Lites competition in the past. Bumping and banging is appreciated in this championship and Cindric, who will substitute for Cabot Bigham in Bryan Herta Rallysport's No. 19 Fitzgerald Glider Kits/PROLINE Ford, is keen on delivering a big result this weekend. Bigham, last year's GRC Lites champion, ended a season-best sixth last time out in Atlantic City.
"For two years, and through many different avenues, the step-up to Supercar is something I've been working very hard to reach." said Cindric. "I've always been very passionate about rallycross racing and eager to get back in the series. Bryan Herta Rallysport has proven to be one of the top teams in the last couple of seasons, so it is a huge opportunity to prove myself in my first Supercar event, and it wouldn't be possible without Bryan, Fitzgerald Gliderkits, and Proline Tailgating. But most important of all, I get to jump a car again!"
The track is a 0.735-mile layout with 64.3 percent pavement and 35.7 percent dirt, primarily going around the Evergreen oval. The Joker lap is after Turn 5 and extends the lap to 0.788 of a mile.