The F4 U.S. Championship is racing at Circuit of The Americas in Austin this weekend, along with the FIA World Endurance Championship – the first of two times the junior open-wheel series will do that this year. Kyle Kirkwood has unofficially sealed this year's championship.
When it does so the second time, in tandem with the FIA Formula 1 World Championship from October 19-22, there will be news of another FIA series getting formally launched – the F3 Americas racing series.
The full release from F4 about F3 is below.
—
Another step toward alignment with a globally recognized racing development structure will become much clearer on October 19th in Austin, TX, when the details of the new F3 Americas racing series will be announced, featuring an all-new F3-FIA* spec race car.
With the phenomenal growth of the Formula 4 United States Championship Powered by Honda that debuted in 2016, F4 series competitors are looking forward to the next level of open-wheel competition that continues affordability, modern technology, and the ability to obtain FIA Super License points. The F4 U.S. series' final two races of 2017 will run during the F1 weekend activities at COTA, and the series champion will be invited to attend the Formula 1 Awards banquet.
This new F3 race car will feature an all-new, state-of-the-art, U.S.-designed and built Ligier Crawford chassis, developed by Onroak, and will be powered by a 270-horsepower Honda Performance Development version of the new Honda Civic® Type-R® turbocharged K20 motor (a non-turbocharged version is used in the F4 U.S. Championship). The new F3 Americas series will continue running on proven Pirelli tires developed for this series.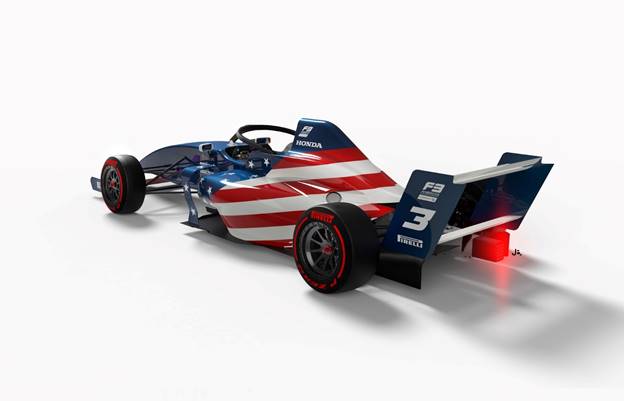 The F3 Americas series aligns with the global FIA development ladder philosophy of using common components to provide a cost-efficient, reliable, and powerful racing structure as drivers ascend through the levels on their way to U.S. or global racing success. The announcement event on October 19th will unveil the F3 car and provide preliminary vehicle specifications, as well as information on vehicle availability and ordering information.
"SCCA Pro Racing's introduction of an FIA F3 race series is a great opportunity for our partners and SCCA Pro Racing to reset the current paradigm of open wheel racing in North America," said Steve Oseth, Vice President/General Manager of SCCA Pro Racing. "Its introduction, combined with the steps above and below the F3 series, will work to greatly lower the running costs of open-wheel race cars."
Art St. Cyr, President, Honda Performance Development, adds: "Our grassroots racing engines have provided the basis for many top-level racers and we're excited to continue offering the affordable and reliable Honda K20 Type-R engine as part of this series. It also helps to showcase the ability of our grassroots racing programs to support racing skills development, as the competitors progress through higher levels of engine power."
Max Crawford, General Manager of Onroak Automotive North America, notes that "The F3 race series will feature the next generation of all-new FIA race cars, the Ligier Crawford JS F3, designed and manufactured in the United States, at Onroak Automotive North America's headquarters in Denver, North Carolina.  The Ligier Crawford JS F3 is the next step up from Onroak Automotive NA's successful F4 car. The ability to design, manufacture and service the cars in the U.S. has always been part of Onroak Automotive NA's commitment to the F3 series. The design team in Denver, NC, has worked comprehensively with the FIA on implementing all the requirements for the new generation of F3 cars, and this has enabled us to produce the new car at a level of performance and safety that leads the world."
Orazio Mastracchio, NAFTA Motorsport Manager for Pirelli NA states: "With more than 100 years of Pirelli motorsport experience and development for the drivers of powerful sports cars, sports coupes and high-performance luxury sedans, we're excited to be a part of this new F3 series, which directly ties into the learning and success we've had at the premier levels of motorsports."
*Fédération Internationale de l'Automobile