Simon Pagenaud was the only driver among the leaders during the GoPro Grand Prix of Sonoma to try something different, going with a four-stop pit strategy as opposed to three stops, which most of the field, especially the front runners, utilized. And while it was enough to put him in Victory Lane for his second win of the season, it wasn't enough for him to claim his second consecutive Verizon IndyCar Series championship.
Pagenaud's strategy became very apparent early on, as he was the first of the leaders to pit on Lap 11. Pitting that early meant there was no chance for him to make it on three stops, so it was obvious that he and the No. 1 DXC Technology Team Penske Chevrolet team were going to complete the race on a four-stop strategy.
From there, Pagenaud and team hoped that the race ran without incident, as a caution would potentially doom their efforts. In the end, the caution-free race allowed their strategy to play out exactly according to plan.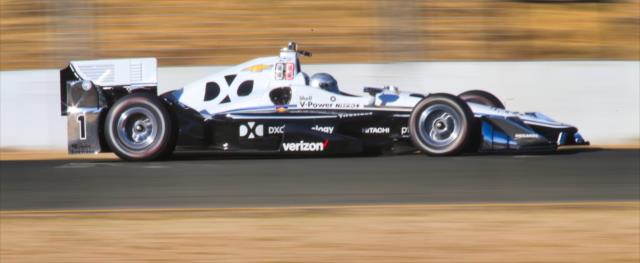 Pagenaud emerged in the lead on Lap 22 after the rest of the field pitted before he made his next stop on Lap 30. He again led on Lap 44 after the rest of field made their stops, with this stint proving critical for his strategy, as he needed to build as big of a gap as possible to not lose much track position on his next stop. He pressed so hard, in fact, that he twice overshot the Turn 9 and 9A chicane and went through the dirt, but somehow didn't lose much time.
Indeed, Pagenaud's pace was good enough that after the third pit stop, on Lap 48, he emerged in third place. Five laps later, on Lap 53, he closed the gap to teammate Will Power and passed him for second, and then set his sights on race leader and championship leader Josef Newgarden.
Pagenaud quickly closed in, but stayed behind him until Newgarden pitted on Lap 62. Pagenaud then reeled off two quick laps to build the gap between the two drivers to just over 31 seconds, right at the pit delta for Sunday's race.
After his final stop, on Lap 64, Pagenaud exited directly in front of Newgarden. Newgarden made a couple of attempts to pass, and had the advantage of hot red alternate tires while Pagenaud was on cold primary blacks (Pagenaud spent his previous stints on the reds and needed to finish on blacks at the end). However, Pagenaud was able to hold him off.
The gap between the two Team Penske drivers was maintained at between one and two seconds from there, but neither third-place finisher Power nor fourth-place finisher Scott Dixon got close enough to challenge for position.
In the end, the strategy call gave Pagenaud the race win, but he didn't get the help he needed to win the championship.
Still, Pagenaud held his head high, and asserted the effort from he and the team was worthy of a championship.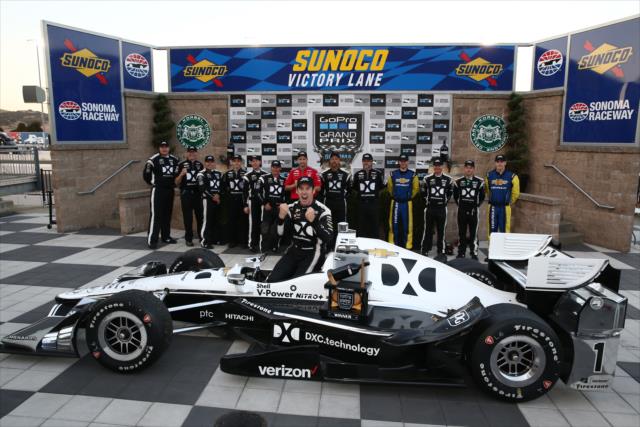 "You know, at the end of the day, I think what is important to me is to perform at your best in those conditions. I think to me, the final champion is someone that can bring his A game or extra A game on a given time. I thought we did just that today as a team, myself as a driver, my engineer, my strategist, my guys, my crew in the pit stops. I think we did just that," Pagenaud explained.
In fact, Pagenaud's pace on four stops even took him by surprise, most notably in the second stint. "I was really surprised on the second stint how strong we were compared to everybody. We were able to pass a lot of cars and made some very aggressive passes, and it was starting to really work," he revealed.
In the end, Pagenaud detailed that he has a lot of things to be proud of this season, most notably that he and the team completed every lap in the 2017 season.
"Mechanically we had zero problems this year, no mechanical issues," Pagenaud detailed. "Chevy has been incredible in terms of reliability. Also my team, we never had an issue during the race, barely any — I don't think we had any problems in the pits at all. I didn't make any stupid mistakes, didn't break a wing, didn't have any contact at any point. So we finished every single lap of the season, which I don't know the stats, but that's insane, I think, and I'm very, very proud of that."
Results of the GoPro Grand Prix of Sonoma are below.