The Pirelli World Challenge capped off its Sprint season this weekend for the GT and GTS classes at Sonoma Raceway, with Patrick Long and Michael Cooper emerging as the biggest winners of the weekend at the 2.385-mile road course.
Additionally in GTS, season-long sparring partners Lawson Aschenbach and Ian James won one race apiece.
Lastly, the series put out most of its 2018 schedule late Sunday in advance of its championship celebration.
GT: Long's titles, Cooper's wins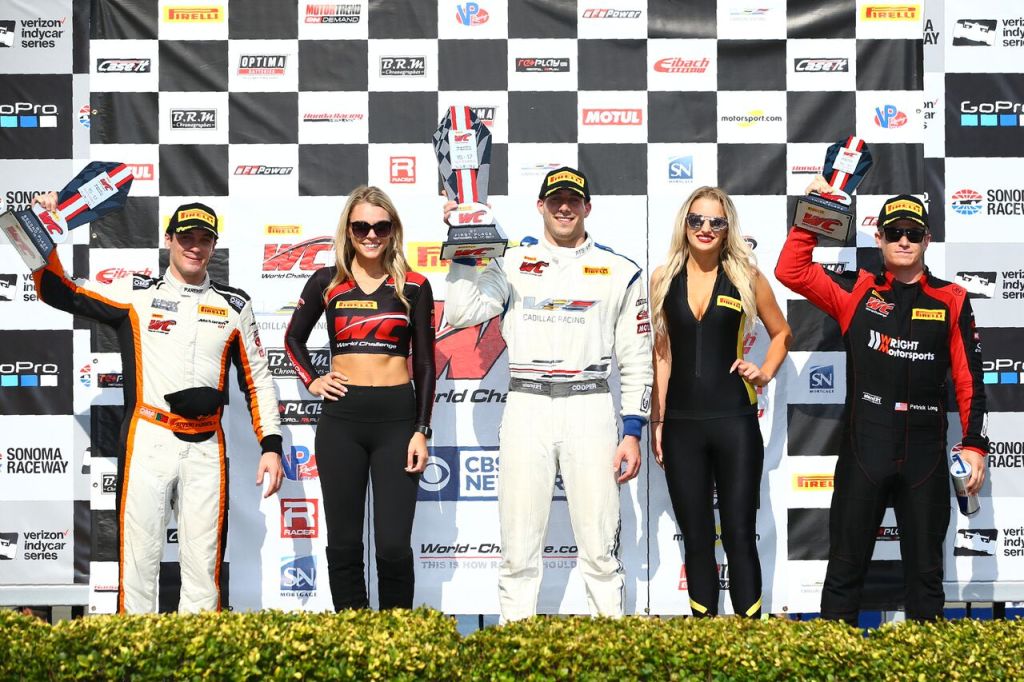 Long secured the overall GT championship – which combines both the Sprint and SprintX portions of the season – with third place in Saturday's first race of the weekend, finishing behind race winner Cooper and second-placed Alvaro Parente.
The Californian and Porsche's lone American factory driver raced in all series events this year in the No. 58 Wright Motorsports Porsche 911 GT3 R, and partnered with longtime co-driver Joerg Bergmeister in all but one of the SprintX race weekends. Marc Lieb filled in for Bergmeister at Lime Rock and the pair won one race there.
Sunday's second race of the weekend saw Long wrap up the Sprint title over Parente, who was trying to defend at least one championship after winning the 2016 title for K-PAX Racing in his No. 9 McLaren 650S GT3.
Despite Parente rocketing up several positions on the start, contact from Daniel Mancinelli in his No. 31 TR3 Racing Ferrari 488 GT3 pitched Parente into a spin and out of control. Once Ryan Eversley, who had nowhere to go in his No. 43 RealTime Racing Acura NSX GT3, hit Parente, it was game over for the Portuguese ace as he retired.
Cooper won the Sunday race as well, Long coming second and Pierre Kaffer third in his No. 4 Magnus Racing Audi R8 LMS.
Parente had four wins in Sprint to Long's two, but Long's consistency of top-five finishes in every race meant he beat Parente for that title.
GTS: Aschenbach, James split victories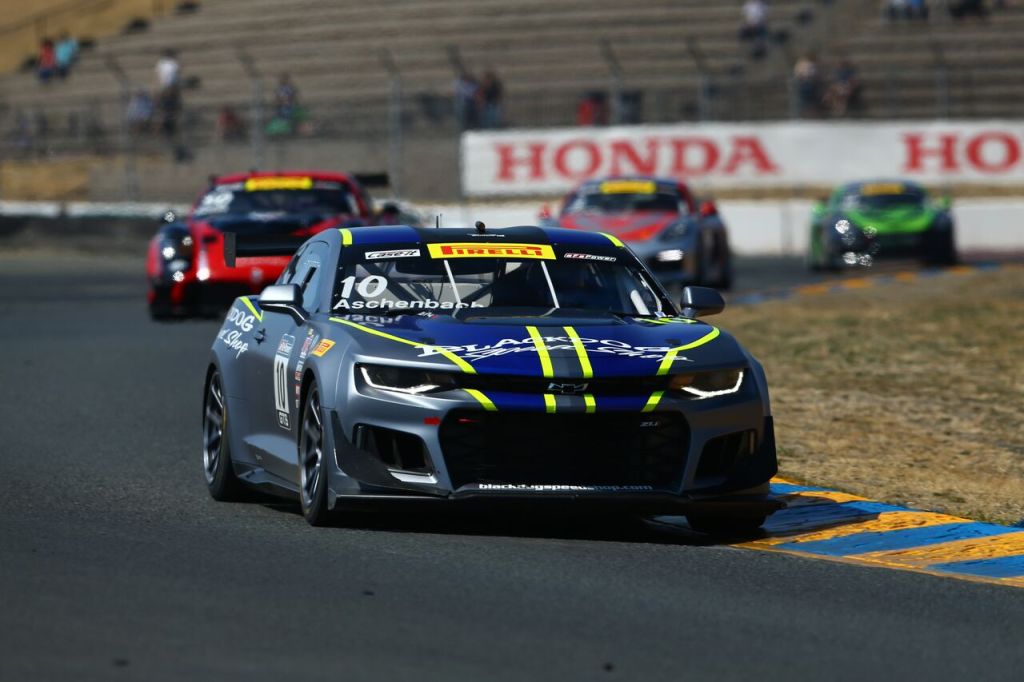 James, driving the No. 50 Panoz Avezzano GT, capped off a brilliant season for both he and Don Panoz's team with their seventh win of the campaign in Saturday's first race of the season.
Aschenbach took the No. 10 Blackdog Speed Shop Chevrolet Camaro GT4.R to his second win of the year in Sunday's second race, following a pass of James after a restart. This win also secured the team championship for Blackdog and manufacturer's championship for Chevrolet in the process.
The latter win saw the race end early after Aschenbach's teammate and Blackdog team principal Tony Gaples get hit by another car and have a heavy looking accident. He was released Sunday evening at Memorial Hospital in Santa Rosa, Calif. with only soreness and bruises, and then actually attended the Pirelli World Challenge season-end awards banquet (after a quick trip to In-N-Out burger). He was awarded the GTSA class win with scoring reverted back to the previous lap.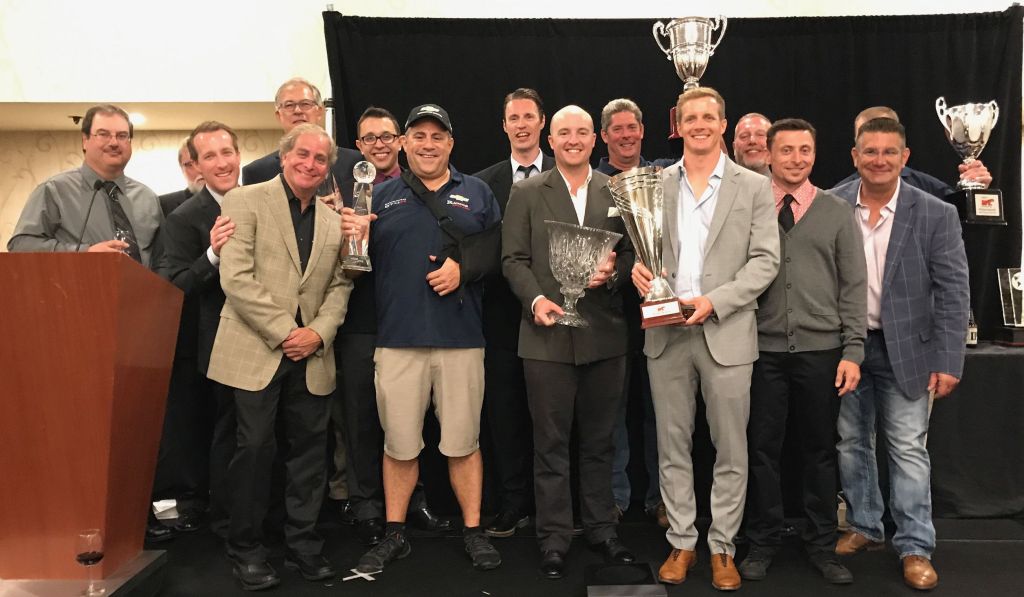 PWC's 2018 schedule released
Nearly all the same races as in 2017 are on Pirelli World Challenge's initial 2018 schedule release. TBAs exist in July and September, traditional weekends for Mid-Ohio Sports Car Course and Sonoma Raceway. Circuit of The Americas moves from September to March.
The complete class participation for each PWC weekend will be announced in the coming weeks as GT single-driver sprint events will continue to run in conjunction with the Verizon IndyCar Series weekends. The IndyCar Series venues are being determined for the Sprint races but currently include St. Petersburg (March 9-11), Long Beach (April 13-15) and Road America (June 22-24).  All except Long Beach will be doubleheader weekends.
In the five PWC headliner races, COTA (March 24-26), VIR (April 27-29), Canadian Tire Motorsports Park (May 18-20), Lime Rock Park (May 25-26) and Utah Motorsports Campus (Aug. 10-12) and feature all seven racing divisions.
The Pirelli World Challenge finale again will take place at legendary Mazda Raceway Laguna Seca with a unique weekend set for racers and fans on Oct. 19-21. Working in conjunction with the popular European-based SRO Blancpain GT Series, the SRO Motorsports Group Intercontinental GT Challenge will include an eight-hour GT endurance contest with GT3 and GT4 machines and the Touring Car final doubleheader weekend.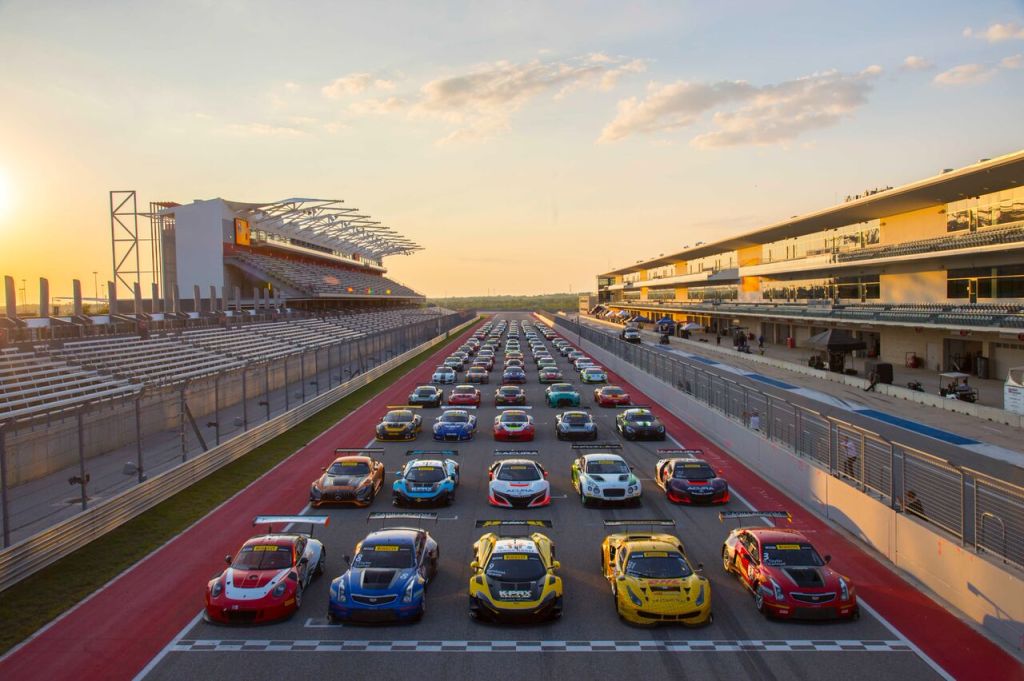 2018 Pirelli World Challenge Schedule
Date, Track, City
March 9-11, Streets of St. Petersburg, St. Petersburg, Fla.
March 24-26, Circuit Of The Americas (COTA), Austin, Tex,
April 13-15, Streets of Long Beach, Long Beach, Calif.
April 28-30, Virginia International Raceway, Alton, Va.
May 18-20, Canadian Tire Motorsport Park, Bowmanville, Ont., CAN
May 25-26, Lime Rock Park, Lakeville, Conn.
June 22-24, Road America, Elkhart Lake, Wis.
July, TBA
August 10-12, Utah Motorsports Campus, Grantsville, Utah
September, TBA
October 19-21, Mazda Raceway Laguna Seca, Salinas, Calif.
(With SRO International GT Challenge)