New Verizon IndyCar Series champion Josef Newgarden, at 26 years old, is the series' youngest champion since Scott Dixon in 2003 at 23. He's also the first under-30 champion since Dixon, then 28, in 2008.
Additionally, Newgarden is the first Mazda Road to Indy champion since the formation of the program in 2010 who has also ascended the ladder all the way to the IndyCar championship.
Newgarden only spent one year in the Mazda Road to Indy in Indy Lights, when the series still had Firestone tires before its program-wide switch to Cooper Tires several years later.
But his one year back in 2011, winning the championship for Sam Schmidt Motorsports, revitalized his career at a time when his European career stalled out after one year in GP3, in 2010. That was his tough European stretch after getting there thanks to winning the Team USA Scholarship in 2008.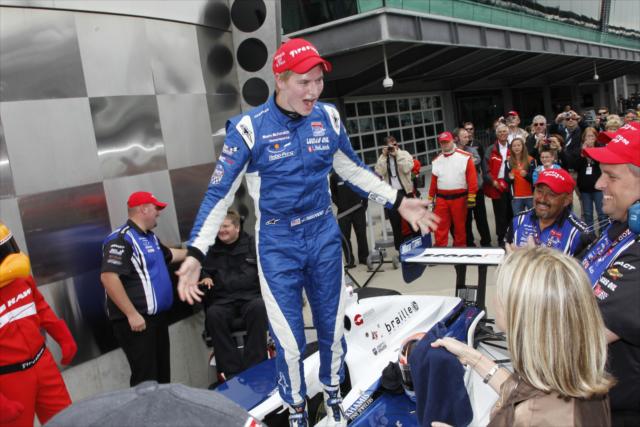 "We don't want a championship filled with just American drivers, but it's important to have the best of America in it," Newgarden said, noting that IndyCar now combines both a solid number of American drivers along with a great variety of international drivers.
"You know, and I think the Mazda Road to Indy has come such a long way, and the farming system seems to be working again."
Newgarden raced with Carlin in that 2010 GP3 season, a teammate to eventual IndyCar driver Mikhail Aleshin. Others in that field who've now moved to IndyCar this year include that year's champion, Esteban Gutierrez, Alexander Rossi, who finished fourth that year on his road to F1 before coming Stateside, and Robert Wickens, who was second that season and had a one-off run with Schmidt Peterson Motorsports in practice at Road America. James Jakes and Stefano Coletti also joined IndyCar after being in that year's GP3 field, but both last raced here in 2015.
At 26, Newgarden has six years and 100 starts in IndyCar under his belt, which is more time than has been afforded to a number of recent MRTI graduates.
Of the next five champions from 2012 to 2016, Tristan Vautier (31 starts), Sage Karam (15), Gabby Chaves (26), Spencer Pigot (22) and Ed Jones (17), have 31 starts or less in IndyCar, and none has driven more than one full-time season although each of the first four have driven in parts of multiple seasons.
The tide may be beginning to shift though with the wave of recent top-five Indy Lights drivers solidifying their more consistent, regular presence in IndyCar.
Pigot was confirmed last week as a full-season driver with Ed Carpenter Racing, his first full-time shot after parts of two years. Chaves and Jones are expected to be back in full-time bows with Harding Racing and Dale Coyne Racing, respectively.
There's also Zach Veach confirmed at Andretti Autosport in a three-year deal, and new Indy Lights champion Kyle Kaiser confirmed for at least three races and working on more.
Rossi never went to the MRTI but at 25 is another of the talented young guns in IndyCar, along with Conor Daly, Carlos Munoz and Max Chilton, who all won in Indy Lights themselves. While Rossi is confirmed in a multi-year deal with Andretti Autosport, these other three are also working to be back.
Additional Indy Lights race winners looking to break through into IndyCar include Jack Harvey, RC Enerson and Matthew Brabham, who've all been up to IndyCar for a cup of coffee with three starts or less in either 2016 or 2017.
Since the formation of the MRTI prior to 2010, in Indy Lights, 21 different drivers in the top five in points have graduated or will graduate to IndyCar for at least one start, with potentially more to come if there's others from 2016 or 2017 who can assemble a program.
And since the introduction of the new Dallara IL-15 Mazda in 2015, the training vehicle for IndyCar should be even better – the car is more closely aligned with the IndyCar itself, and rewards drivers who are good under braking.
2010: James Hinchcliffe (second), Martin Plowman (third), Charlie Kimball (fourth), Pippa Mann (fifth)
2011: Josef Newgarden (first), Stefan Wilson (third)
2012: Tristan Vautier (first), Sebastian Saavedra (fourth), Carlos Munoz (fifth)
2013: Sage Karam (first), Gabby Chaves (second), Munoz (third), Jack Hawksworth (fourth)
2014: Chaves (first), Jack Harvey (second), Zach Veach (third), Matthew Brabham (fourth)
2015: Spencer Pigot (first), Harvey (second), Ed Jones (third), RC Enerson (fourth), Max Chilton (fifth)
2016: Jones (first), Kyle Kaiser (third), Veach (fourth)
2017: Kaiser (first), Zachary Claman DeMelo (fifth)
Newgarden explained the importance of building the next generation of stars, as did his team owner, Roger Penske.
"I feel like team owners and people within IndyCar are looking to the youth in America, which is a great thing. I think there's more guys that are capable that are coming up to help fly the flag in this series," Newgarden said.
"But as I said, the best thing is we have people from all around the world that are the best at what they do, and we've got to continue to have that. We have to have the best from Europe and from anywhere overseas because if it's just Americans running it wouldn't mean anything. But certainly having successful Americans is a big deal, too.
"You know, the youth that is coming up, I do believe you're going to hopefully see for a long time, and I think there's a lot of bright spots within the Mazda Road to Indy and some of the guys that are coming over from overseas that are young. So I think there's a lot of talent in the world that are yet to make their mark in IndyCar Series, and you're going to see that for years to come. Hopefully that includes me, too, but there's no telling what the future holds."
Penske added, "I think if you look at racing today across all of the disciplines, these drivers, these young people are coming up with lots of capabilities. You see it in NASCAR, we see it in our Supercars. There's no question that because they start early, we're going to see younger people come to the top, as Josef has.
"I see these young guys coming in with the respect. He's certainly from a commercial perspective like the other guys have been great for our sponsors, and it was just something we had to say, hey, come on with us, we're ready to go, and he'll be a long-term player with us, hopefully like most of the drivers have."