Rare are the words "American," "young driver," "multi-year" and "IndyCar" assembled within a sentence in modern day Verizon IndyCar Series racing.
But for young American driver Zach Veach, he's got a multi-year IndyCar contract at his disposal thanks to Group One Thousand One at Andretti Autosport, and with it, an opportunity to build, grow and develop over that three-year time period through 2020.
It's hard to believe Veach, the Stockdale, Ohio native, is only 22 considering his history in the Mazda Road to Indy presented by Cooper Tires between 2010 and 2016, competing every year save for one (2015) due to injury and a lack of budget.
But throughout that period he gradually improved year-by-year, first in USF2000, then in Pro Mazda and finally in Indy Lights. Over his three years and with two different cars in Indy Lights, Veach grew into a race winner and bulked up from his already slender frame.
Veach is also the first driver in MRTI history to have been with the same team in all three levels, and graduate into IndyCar. He detoured to Belardi Auto Racing in 2016 but otherwise, was part of Andretti Autosport's lineup from 2010 to 2014, and will now come back "home" for 2018 in IndyCar.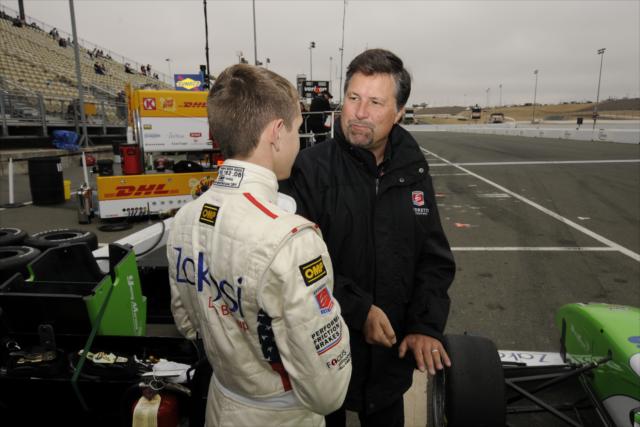 "I think he was 14 or 15 when we met the first time… and he looked like he was 10. Now he's 22, and looks like he's 15!" Michael Andretti laughed.
"But he's always impressed me. OK, he'd come out of the box not bad. But the next race, he got better, and you could see it. It wasn't by mistake. You'd see how he'd work, take the information, study it for hours, and then come back so much more prepared the next day.
"I gotta say, I don't think there's as many drivers I've known outside the car who've worked that hard to make themselves better, and he did that all the way up the ladder system. There's a lot of confidence in big cars, and now he'll have more tools and will use them to his advantage. So he might start here, qualify top-18, then it'll start to go up, up, then qualify top-10 by the end of the year and I believe the next year he'll be more of a contender. That's how I envision it."
Setting reasonable and realistic expectations will be key for Veach, who should look at drivers like Josef Newgarden or Charlie Kimball for inspiration.
Newgarden's first year with Sarah Fisher Hartman Racing was littered with rookie errors, not a single top-10 finish, and ending 23rd in the championship. But knowing he had two more years to build off of, Newgarden was a podium finisher each of the next two years and had leapt 10 spots in the standings. By his fourth year and his second contract in 2015, he was a race winner.
Kimball was the same way with Chip Ganassi Racing. Barely in the top-20 in points his first year with only a couple top-10s, he ascended to podiums in year two as well, and scored his first race win in year three – when he also cracked the top-10 in points.
Given Veach's years of preparing for this moment, he's happy to have gotten to IndyCar now, rather than rushing it years earlier.
"I was one of those kids who thought he would be in IndyCar at 18. That's so dumb! Looking back, I'm so glad that's not how it happened," Veach told NBC Sports.
"It's hard to be patient when you're young. I know I'm saying that at age 22, but at 15 or 16, all you care about is getting to IndyCar.
"Luckily, life forced me to be patient in some things. I would much rather have this deal at age 23 than at 18, because now I feel I can deliver what these people have put on my shoulders."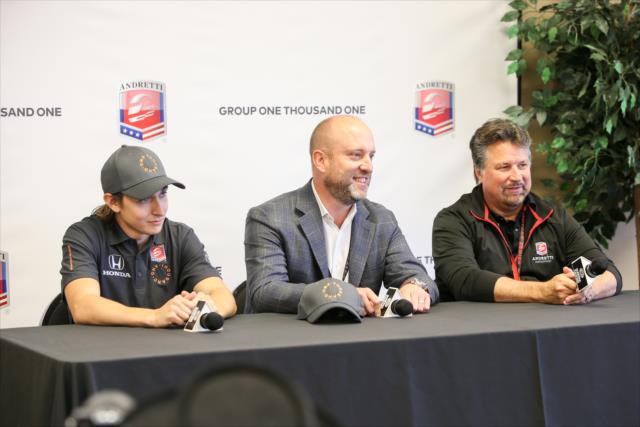 The key person to have come through with the deal is Dan Towriss, CEO, Group One Thousand One. Veach, his pastor and Towriss all connected in the run-up to the Indianapolis 500, with Veach's program for that race announced at Long Beach with A.J. Foyt Enterprises.
Towriss explained first off that Group One Thousand One is a separate insurance company from Guggenheim Life, which was the presenting sponsor of Veach's No. 40 Indy Women in Tech Championship Chevrolet in Indianapolis.
"Group One Thousand One is a group of insurance companies based in Indianapolis, and again, we're growing our business, and we're excited to be associated with Andretti and with Zach in this newest venture of ours," Towriss explained.
"His story is one of perseverance and continuing to work hard. It resonates with us very well; helping people help themselves, and so we will help him continue on that journey. During May, we noted the way he was able to persevere, and work with his engineers when things weren't able to work."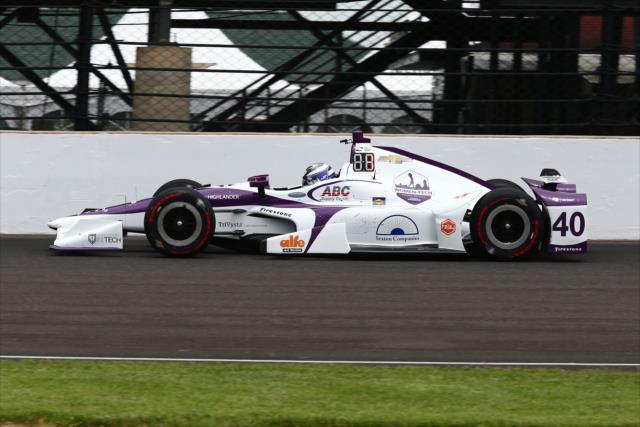 Veach is one of the smallest drivers in the series, at 5 and a half feet and hovering around 130 pounds. But outside the cockpit he's developed a love of mountain climbing, and has been able to scale several cliffs over the last couple years.
His upper body strength is something he's focused on building and he has come a long way from his early years in the MRTI. Manhandling an IndyCar is difficult, particularly as they don't have power steering, but it's something Veach has been working on.
"I think the first couple of tests will be hard, but they'll be hard for everyone after the three-month offseason," he said. "But we're already 10 pounds heavier than we were at the Indy 500 and I'm proud to say there's not a lot of fat!
"We've been busting our butts at St. Vincent's to get stronger. Our numbers to now from where we started are night and day. We'll keep working hard and as we get closer to the season, we'll shift to more cardiovascular work. I'm at 128, 130 pounds now and I'd like to be at 135 when the season starts. I think it's well within reach."
Veach described the challenge of advancing up the ladder despite not winning a single Mazda Motorsports advancement scholarship for winning any of the three rungs on the ladder.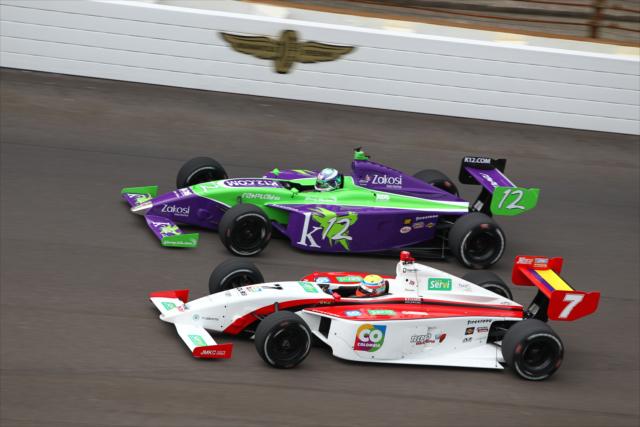 "It's not something I'm proud of. But one thing I am very proud of is that I've been very honest," he said. "I had some success in USF2000, it was hit and miss in Pro Mazda, and in Indy Lights, I really came into my own. I proved to people that I could run up front and win races.
"What got me there was having that work ethic, trying to learn as much as I could from teammates who were quick and put that to use. Working with drivers like Felix Rosenqvist really helped. He showed me just how deep a car can go into the braking zone, with all that Formula 3 experience!
"He's such a good driver and I hope to see him over here. He's one of my closest friends and I don't know anyone who deserves an IndyCar ride more than he does.
"It was a completely different set of skills and I think that's why we didn't hit our stride until the last part of the year. We won Road America, but winning at Watkins Glen and Mazda Raceway Laguna Seca showed me where I wanted to be all year.
"It wasn't until then that the team and I felt comfortable with what we were doing. There was added pressure when I became the team leader but that's when things started turning around because the setups went in the exact direction I wanted them to go. That's when things really started to click."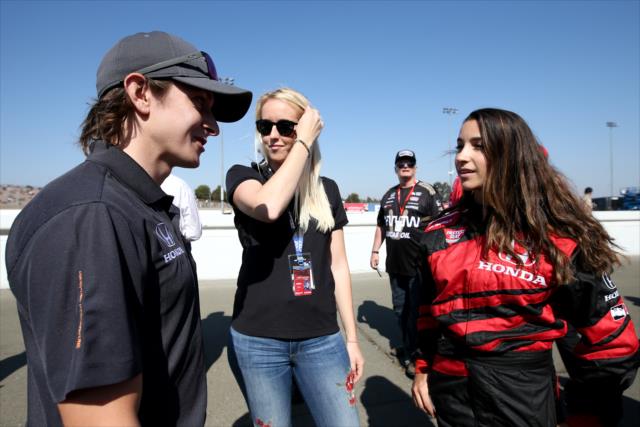 The final element of Veach's perseverance was his continued presence at the races. He found a home as a regular analyst and occasional pit road reporter for the Advance Auto Parts IndyCar Radio Network in 2015, and made regular appearances there in 2016 and 2017 as well. He also drove a two-seater for the Indy Racing Experience in the same time frame.
"I think it was extremely important just from the standpoint of showing people I wasn't going to go away," Veach said.
"I think I got a little criticism from others involved sometimes just saying, 'Well, why are you there if you're not doing anything and not driving?' You have to stay relevant, and that's just what we were trying to do. Luckily enough, IndyCar Radio gave me a great opportunity. It's the first kind of real job I ever had with them.
"I owe them many thanks, and of course the Indy Racing Experience with the two-seater. Even though it's a two-seater I still got to run at places I've never raced at before. So I'm going to a few new tracks next year. It's not the same thing but at least I know which way to go. I think that's going to help us be a little quicker.
"It's just never giving up on the dream. It's learning every day. It's never taking no for an answer."