For the first time since 2014, the winner of the Verizon IndyCar Series season finale was not also the winner of the championship as well – and the upshot of that is that the race winner got overlooked as a result.
It's with that in mind that it's worth looking a bit deeper at Simon Pagenaud's win on Sunday at Sonoma Raceway, with an effort turned in by strategist Kyle Moyer and longtime engineer Ben Bretzman on the No. 1 DXC Technology Team Penske Chevrolet that would have been more widely hailed if it wasn't in the backdrop of the championship celebration delivered by teammate Josef Newgarden.
All of Newgarden's four wins this year, luck-aided in Barber and Toronto and via authoritative moves at Mid-Ohio and Gateway, entered the microscope in a way that shifted the focus to the bigger picture narrative of a championship pursuit in his first year.
Pagenaud's season, by contrast, has been a series of consistently very good, but rarely great results. The Frenchman was the measure of consistency but admitted there were points left on the table when he didn't engage the same level of aggression that served him so well en route to the 2016 title. Only at Phoenix, for Pagenaud's overdue first oval triumph, was there that same 2016 level of beatdown this year.
This makes Pagenaud's Sonoma drive, his second straight win in wine country, all the more noteworthy and impressive to dig into.
THE FOUR-STOP CALL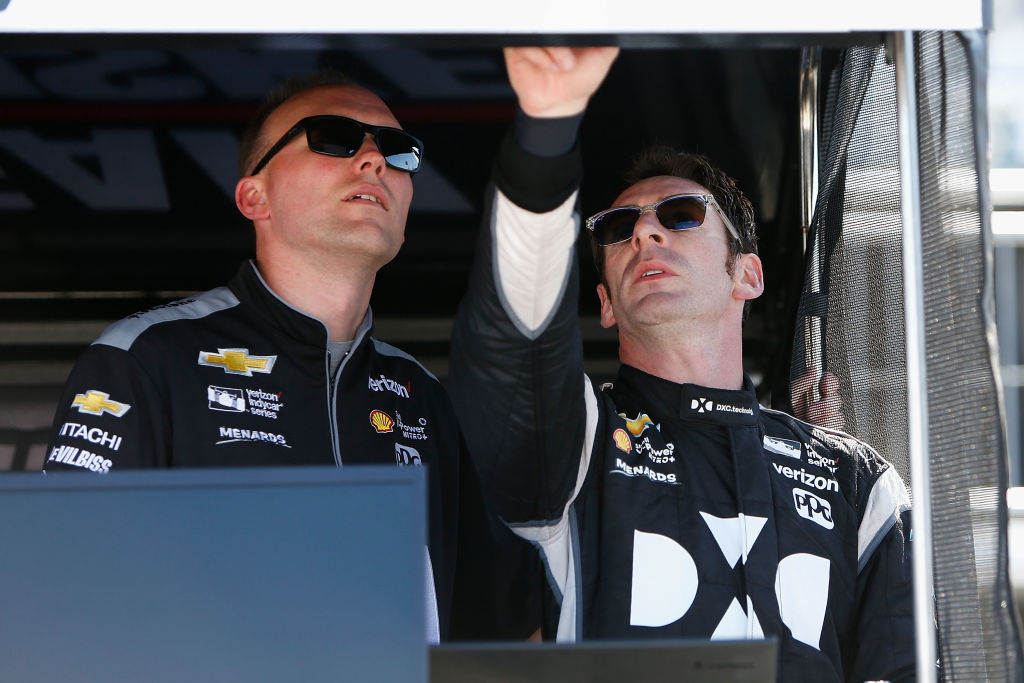 It was obvious when Pagenaud pitted on Lap 11 that he and his team were throwing a strategic gamble into the race, and as it turned out, being the only thing to spice up what would have been an otherwise straightforward and fairly dull race.
Pagenaud's team had three sets of Firestone red alternate tires available at their disposal for the race start, and by starting on the black primary tires, could afford to run the reds in the race, before going back to blacks at the finish. The early pit stop call was the salvo that this would be a pure pace run to try to beat strategist Tim Cindric, Penske Racing president, at his own game.
"I think what you didn't know is that probably two hours before the race, the drivers, we sat down, Tim and I sat down with the drivers and we talked about all the scenarios that could take place," Roger Penske said afterwards in the post-race press conference.
"You've been here before when there's a yellow that comes out that mixes up the field, and Simon put his hand up and said, I'll be the guy, I'll commit to come in on lap 10."
Pagenaud wasn't immediately keen on the call but trusted Bretzman to see if it could work.
"My engineer texted me when I was at the Verizon dinner, and he said, 'We're going to do four stops.' I'm like, 'What? Four stops never worked here; why would we do four stops?' He said, 'Well, if there's a yellow, that's the best way we can win the championship.' I'm like, 'Alright, that makes sense, but it's a long shot.'
COMMITTING TO FOUR, THEN PRODUCING THE FIRST SIGN IT COULD WORK
Pagenaud's early pit stop dropped him from fourth to 15th, but he was back to second and net leader by Lap 18, resuming on point once Conor Daly from the lead pitted on Lap 21.
The nine laps that followed in Pagenaud's second stint of the race were huge. He ran six of those nine laps in the 1:19 bracket to build the gap to second place from 7.2835 seconds to 15.6117 seconds before making his next stop.
With Pagenaud on the scuffed reds while most of his rivals were on blacks in the second stint, Pagenaud parlayed Bretzman and Moyer's strategic advantage to his benefit.
"I was really surprised on the second stint how strong we were compared to everybody. We were able to pass a lot of cars and made some very aggressive passes, and it was starting to really work," he said.
"When I built a gap on Josef, 10 seconds, and then 11 and then 12, I was like, ooh, I think we have a chance. So then I thought, if we keep putting pressure, maybe something would happen. The strategy worked out really, really well."
Pagenaud's pace in the second stint was such that when he pitted for the second time on Lap 30, he only fell to 10th place, and then rebounded to the lead by Lap 40, just shy of halfway once everyone else made their next stops.
THE RACE COMES TO THE NO. 1 CREW
Once Daly pitted again on Lap 42, Pagenaud's lead by Lap 43 was 25.546 seconds – so a net gain of 10 seconds between on-track pace, pit stops and in-and-out laps over that second stint of the race. And again, Pagenaud had the set of reds working for him and the lap times were again faster than the rest. Pagenaud uncorked five of six laps in the 1:19 range as he built the gap back up before stopping for a third time on Lap 48.
And again, because of the gap he'd built, his positions lost on track were minimal. He exited in third place and now could afford to run deeper into the final stint over the final 37 laps, needing one further stop. But they still had to guard against a yellow, because any full-course caution would have negated the progress and the gap built.
It was the IndyCar equivalent of a 0-0 soccer match where one mistake, one yellow card was all it took to have the tension boil over. Sometimes watching timing & scoring is the most thrilling part of an IndyCar race and this was one of those days.
THE FINAL STOPS, AND THAT DEFENSE
Newgarden was first in on Lap 62 and Pagenaud followed on Lap 64, with a lead of 31.1993 seconds. The pit stop delta is roughly 32 seconds and Pagenaud's stop by his No. 1 crew was fast enough to propel him out of the pits just ahead of Newgarden, to set up the race's lone on-track dramatic moment behind the computers. And the tire strategy was flipped too; now Pagenaud was on blacks, Newgarden on reds.
Newgarden made the pass attempt on the inside of Turn 7 but Pagenaud held tough on the outside, which set him up on the ideal line for the corner leaving it.
"It was tough, especially on the black tires. I was thinking about it before the pit stop. I was like, man, I'm going to come out on blacks and he's going on reds. It's going to be close!" Pagenaud said. "The in lap the tires were really starting to get used up and starting to have a lot of oversteer out of 7, was using some Push-to-Pass, and the rear end was really coming around a lot, and I was like, 'Man, I don't know if it's going to be enough.' Then when we did it, I was like, 'Okay, now I've got to really be smart about how I'm going to handle this, 'so I came out of the pit as hard as I could, took all the risks in the world, and tires came up really quick because I was so aggressive.
"After Turn 7, I knew I could keep it, so then — the nice thing is today I could be on the aggressive side and Josef had to be a little bit more on the defensive side, so I also took advantage of that."
Newgarden, who still had the championship in his hands at this stage – he'd have needed to fall off the podium to lose that with Pagenaud leading – was still livid at his missed opportunity to pass Pagenaud anyway.
"Oh, 100 percent. I'm not joking. I was kind of steaming inside the car!" Newgarden laughed post-race.
"When I blocked Turn 7 and I saw him diving, I'm like, dude, be careful," Pagenaud said.
That was the dramatic moment for the race. The strategy play had worked and Pagenaud had his second win of the season, and a fully earned one in his last race for now with the No. 1 adorning his car.
LESSONS LEARNED IN TITLE DEFENSE YEAR
Pagenaud spoke openly at the final two races about how he learned a couple key things this year: sustaining success is harder than achieving it in the first place, and aggression is always needed, particularly when you don't think your teammate will try a move that's risky.
The Frenchman was a great ambassador for the series all year as champion, if slightly off a step on-track on pure pace compared to his incredible 2016. Still, completing all laps in the season was incredibly impressive, and that fire to return to the top will only fuel him into the offseason.
"You know, at the end of the day, I think what is important to me is to perform at your best in those conditions. I think to me, the final champion is someone that can bring his A game or extra A game on a given time. I thought we did just that today as a team, myself as a driver, my engineer, my strategist, my guys, my crew in the pit stops. I think we did just that," he said.
"And to me, when I look at Schumacher, Ayrton Senna, Alain Prost and all these guys that really — obviously those guys are Formula 1 drivers, but think about some IndyCar drivers, Franchitti, these guys, when you think about these guys that have really marked the sport, the sport in general, Motorsports, I think today was one of those days for us.
"If you live in the past, you're not going to improve yourself. Whatever happened there happened. I think Josef obviously won the championship, and that move was critical to his championship. Hat off to him. Next time I've got to be better. That's it.
"Overall, the best man won, and Josef did. On the whole season, he was the strongest. I miss being the strongest, and I will come back next year, and I'm going to try to be the best.