Sure, you can say Ed Jones didn't have a full-season counterpart for IndyCar's Sunoco Rookie of the Year honors in 2017 and so he was always going to win the award.
But in a year when you don't have competition and the other first-year drivers did only selected races, you have to compare yourself to the rest of the field at large and make an impression – and Jones clearly did so for Dale Coyne Racing.
Per Trackside Online, Jones joins this list of drivers in the series' full-time lineup who won top rookie honors in their year of eligibility: Alexander Rossi, Carlos Munoz, Simon Pagenaud, James Hinchcliffe, Ryan Hunter-Reay, Marco Andretti, Will Power, Sebastien Bourdais, Scott Dixon, and Tony Kanaan.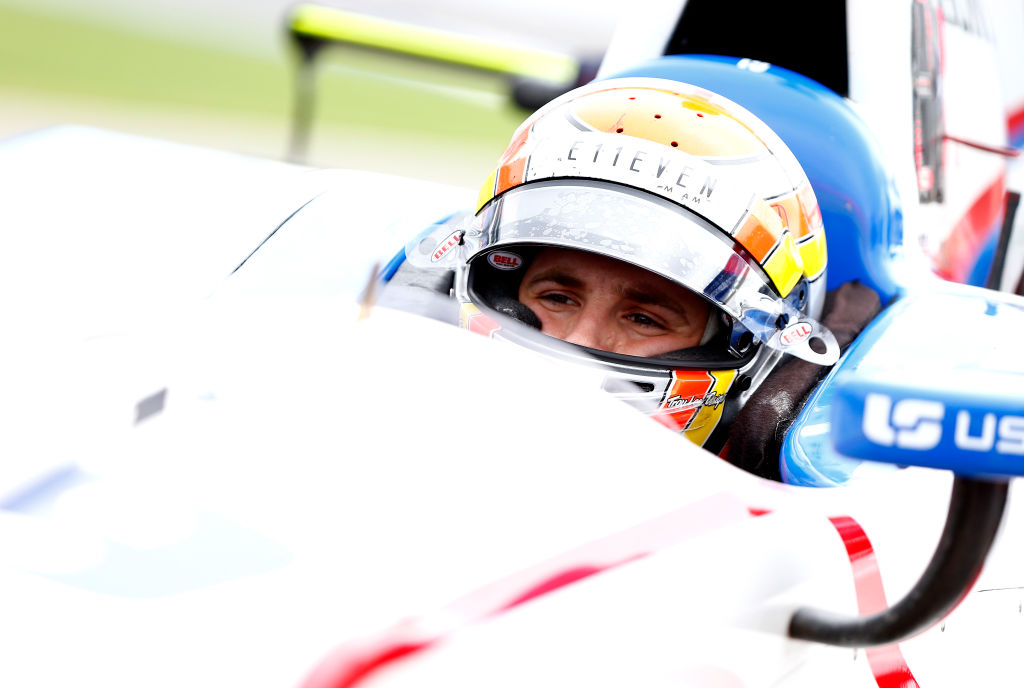 Heading into last year's offseason, Jones was not the favorite to take over the No. 19 Boy Scouts of America Honda; fellow Indy Lights Presented by Cooper Tires veteran RC Enerson was on the heels of three impressive debut races at the tail end of 2016.
However Jones was always going to need a place to land with the $1 million Mazda Motorsports advancement scholarship for at least three races. Between that and with additional budget gathered, Jones found his way into Dale Coyne's second seat alongside Sebastien Bourdais and together the pairing clicked.
Coyne had his eye on him throughout 2016, and watched him win the Indy Lights title at Mazda Raceway Laguna Seca – albeit under somewhat controversial circumstances when Carlin teammate Felix Serralles pulled aside to allow Jones through.
"It was Indy Lights. We went to his last race at Laguna Seca when he won the championship," Coyne said. "We kept an eye on him. We keep an eye on all Indy Lights guys as well. It's close, we can see them, watch them race, see how aggressive they are.
"He was always smooth in the car. I didn't know how good he was going to be, because he was smooth. He doesn't look like Paul Tracy in a car, but he drives better than Paul Tracy, at least in the beginning, at least Paul's first year. He was a pleasant — it was the biggest surprise we've ever had."
Jones, the 22-year-old Dubai-based Brit who makes his U.S. residence in Miami, was an instant hit on results if not on outright pace. But with finishes of sixth, 10th and 11th among his first five starts and other results lost due to circumstances outside his control, he immediately made a positive impact in the paddock.
Where Jones grew up fastest in a year where he matured so much from a more quiet and reserved driver in Indy Lights – much of that thanks to the family atmosphere at Coyne and its ace PR rep, Karina Redmond – was in May. Bourdais went from points leader and potential Indianapolis 500 contender to hospital-bound after his devastating accident in qualifying.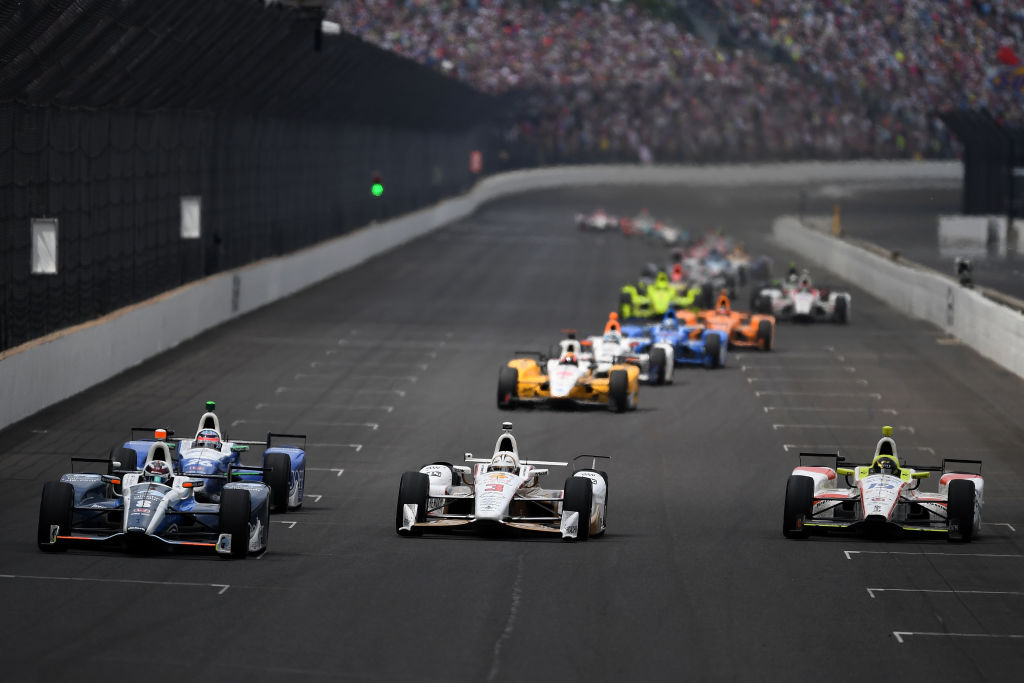 Jones, meanwhile, was suddenly thrust into the unexpected role of team leader, not knowing week-to-week who his teammate might be depending on the issue. Similar to Alexander Rossi last year, Jones carried a quiet swagger during the month of May in Indianapolis, and was aggrieved for getting knocked out of the Fast Nine shootout.
What he did on race day was equally as impressive as Rossi's 2016 win in the '500 if not more so, considering the disparity in equipment and the fact Jones' car was damaged in the nose from debris contacting it earlier in the race.
That third place finish (and the double points that went with it) was enough to earn many votes for this year's Indianapolis 500 top rookie honors (including from this writer) although it wasn't enough to supplant Fernando Alonso for the award, somewhat controversially. Coyne couldn't resist trolling during Jones' season-long top rookie acceptance press conference at Sonoma.
"Obviously Indy, third place there. Did you get Rookie of the Year at Indy or no? Didn't get that, okay," Coyne deadpanned.
Alas, Jones pressed on anyway with a consistent appetite for learning, thanks to Coyne's tutelage, Michael Cannon's sharp mind on the engineering stand and a crew that embraced him.
"It's hard to say. There's a lot of advice that Dale's given me," Jones said. "But, you know, he's always been very supportive of learning everything step by step, learning from Seb. Every time I get to every weekend, even every session, I remember early on it was try to learn as much as you can, take it step by step, there's no need to overdo it early on.
"I seen myself as well as one of the guys, rookies, younger guys that would come in and they try to be right at the front the beginning. In a series that's so competitive like this, it doesn't really happen that often. It's extreme difficult to do it. Sometimes doing that, you can actually take steps backwards because you kind of lose where you're at. It's always better to sort of take it step by step, yeah, get there that way."
After a ninth place at Detroit race one, Jones' results suffered the rest of the way through a myriad of mishaps – be it tough setups, bad caution timing, an occasional spin or pit stop issues. A seventh at Road America was the lone bright spot, and a potential top-10 championship finish went begging. Losing Bourdais hurt primarily from a setup standpoint.
"I wasn't always sure if it was just me or if it was a lot with the car. Yeah, that was the main thing. Seb is really good with setting up the car. Having his feedback to work off from was really helpful," he said.
"If I ever wasn't sure about something, I could use him to back something up. Not having him there, yeah, made it harder. Sometimes I was guessing a bit more. So, yeah, that was the toughest part."
Jones said his driving and development got better as the year went on as, paradoxically, the results got worse.
"It's always difficult not having another full-time rookie to compare to. Then again, I've looked at the rookies over the last few years. I've seen it's extremely tough. I feel pretty happy with how it's gone in comparison to other guys recently," he said.
"I wanted to finish top-10 in the points. Halfway through the season, we were on track to doing that. We had a good opportunity to do it. The last few races, things have maybe not gone to plan.
"But I feel like as a driver, I got stronger. Early on in the season, I had some really great results. I was driving well, but also a lot of things fell my way. I was pretty lucky in that sense. Now I think we've gone better, me as a driver, also binding with the team. We got stronger, but things just haven't gone our way. It's been frustrating."
None of the issues were egregious and as Coyne related later, Jones was one of the cleanest drivers he'd ever had in a year where the crash damage bills added up fast.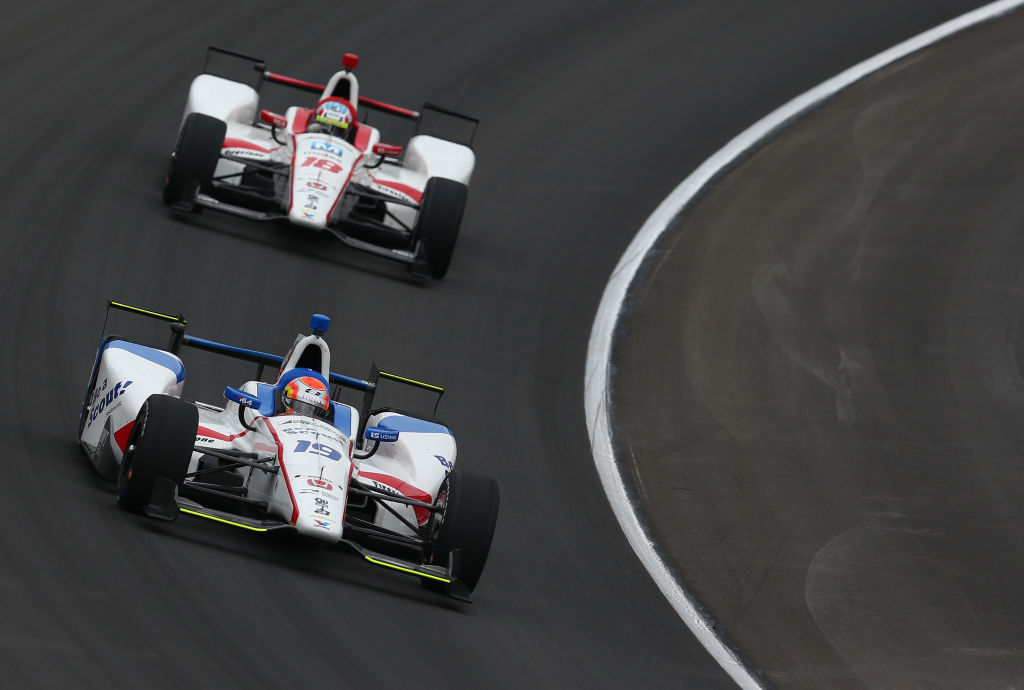 With a rotating driver in the second car, be it James Davison, Esteban Gutierrez or Tristan Vautier before Bourdais' welcome and surprise return at Gateway, Jones was the unexpected but needed rock in the driver lineup.
"I think it's been a whole progression the whole year. We've run a lot of rookies over the years. We run rookies in tests that have never made it to a race, we ran rookies that made it to races," Coyne said.
"He's just a puppy. But he's done a good job, very, very good. I don't think he scratched the car. He actually did hit the wall at Pocono. The smallest amount of damage I've ever seen anybody do hitting a wall at Pocono. Done a very good job all year long, every track."
Jones isn't back yet for 2018, but Coyne said "We're very, very close. I would love to have Ed back next year," and wants to have a deal struck in the next few weeks.
Looking at what he did as a rookie was quite impressive. The five top-10s matched Conor Daly's number last year as the lone full-season driver and while Daly was 18th in points in his first full season, Jones ended 14th.
That 14th place in the standings is a Coyne driver's best finish in the standings since the late Justin Wilson's incredible run to sixth in 2013, and actually a spot ahead of where Wilson was the following year in 2014, in 15th.
Jones' qualifying average of 14.3 was 3.5 spots higher than Daly's last year and Jones out-qualified his teammates nine times this year in 17 races, including Bourdais on three of eight attempts.
What he did for the team this year overall in a tough season will be remembered more than the results itself which again, were impressive given thee circumstances.
"It's been very tough. But the whole team together, everyone within the team works very well together from the beginning of the year. A big shame to lose Seb after quite a few races. Everyone got on well with it. I remember after the accident, actually Dale got everyone together. We pushed forward," he said.
"I think there's been a lot of times that on Dale's team, there's things that have happened, gone up and down. As we've seen, they've always come back stronger."