So, there's been a full week now complete since the Verizon IndyCar Series season ended at Sonoma Raceway. The offseason is now underway.
Almost all the first round of pieces have been written or filmed in the wake of Josef Newgarden's popular first championship, achieved in the GoPro Grand Prix of Sonoma.
Meanwhile official news has been sparse, but figures to intensify in the coming weeks as teams need to fill seats.
And with the new 2018 Dallara universal aero kit now set for its final test in INDYCAR's hands on Tuesday at Sebring International Raceway's short course – the closest thing IndyCar has to a street course simulation – testing the new car will be a major topic over the months ahead.
Here's what's on tap for IndyCar's offseason ahead:
TESTING, TESTING, 1…2…3…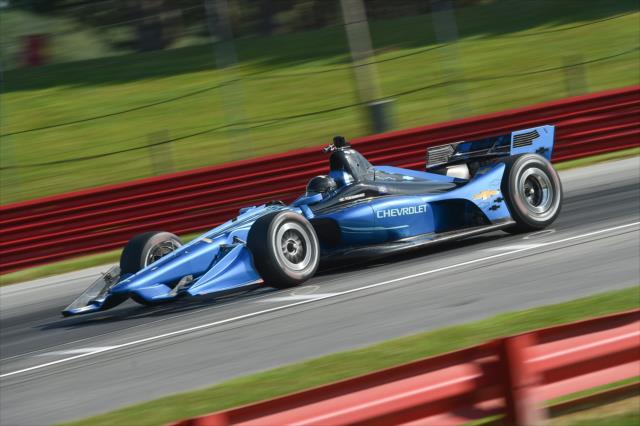 As noted above, tomorrow marks the final day INDYCAR will run the testing program of the new 2018 Dallara universal aero kit at Sebring's short course, before the new kits and cars are delivered to manufacturers Honda and Chevrolet for the next couple months of testing.
Team Penske (Chevrolet, Juan Pablo Montoya) and Schmidt Peterson Motorsports (Honda, Oriol Servia) have operated the cars but with INDYCAR itself dictating the testing program through the first three tests done in July and August on the Indianapolis Motor Speedway (super speedway), Mid-Ohio Sports Car Course (road course) and Iowa Speedway (short oval).
From here, Chevrolet and Honda have six tests each with the car through mid-November, before team testing begins in January, 2018. Teams such as Chip Ganassi Racing (Honda) and Ed Carpenter Racing (Chevrolet) will be those running the cars as part of the manufacturer testing program.
Part of the reason Spencer Pigot was confirmed by ECR as early as he was for 2018 was so that he could be part of this degree of manufacturer testing, and that's good news for him in his development process. Pigot has already excelled driving one new car when it was introduced – the Dallara IL-15 Mazda in its first season in Indy Lights Presented by Cooper Tires – and will now have his first full offseason to do IndyCar testing of its new car. Pigot has also helped to develop sports cars for Mazda in its prototype program the last couple years. Pigot, who turns 24 on Friday, will have a key role to play for Chevrolet's testing in the coming weeks, starting on Tuesday at Sebring.
Ganassi has only formally confirmed Scott Dixon as part of its 2018 lineup so any new driver would be testing later, once confirmed. Ganassi managing director Mike Hull outlined the testing process over the coming months below.
2018 SCHEDULE RELEASE IMMINENT
The good news for Verizon IndyCar Series fans is that most of the 2018 IndyCar calendar is known already, via dates released either from tracks themselves or other series set to compete at said tracks.
The lone hold-up for the full release, which was expected out this week but NBC Sports now understands will be held a bit further, is whether Mexico will be added as an 18th race along with the 17 races set to return next year.
Given that country's situation with its massive 7.1 earthquake on Sept. 19 and its associated aftershocks, it's not a shock that the country has slightly bigger issues to press on with at the moment.
And the good news we've discovered in our talks with INDYCAR officials is that we're heading into a schedule release without a large number of lingering questions. The schedule stability and date equity assembled over the last couple years has been a welcome contrast to the fluidity in years previous.
Along with the 2018 schedule, movement on IndyCar's future TV direction and entitlement sponsorship are likely to be big items behind-the-scenes at the INDYCAR offices. The current TV contract with NBCSN and ABC ends after 2018, as does Verizon's tenure as title sponsor.
OFFICIAL CONFIRMATIONS AT/OF CERTAIN TEAMS
Most of the Verizon IndyCar Series field is set for 2018 (silly season update one, post-Mid-Ohio and two, during Sonoma). There are 13 driver/team combinations made official thus far:
Team Penske (3, Chevrolet): Josef Newgarden, Simon Pagenaud, Will Power
Chip Ganassi Racing (1, Honda): Scott Dixon
Andretti Autosport (4, Honda): Ryan Hunter-Reay, Alexander Rossi, Marco Andretti, Zach Veach
Rahal Letterman Lanigan Racing (2, Honda): Graham Rahal, Takuma Sato
Ed Carpenter Racing (2, Chevrolet): Spencer Pigot, Ed Carpenter
Dale Coyne Racing (1, Honda): Sebastien Bourdais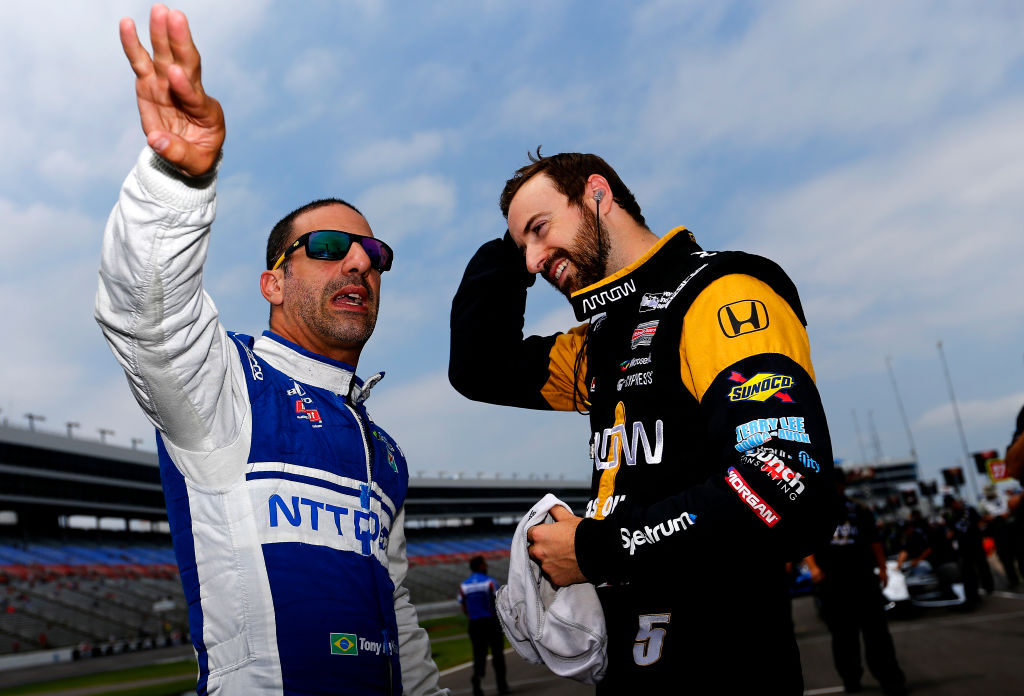 Beyond that, there are a wealth of "all but official" scenarios including:
James Hinchcliffe all but set to stay with Schmidt Peterson Motorsports
Tony Kanaan set to move to Foyt
Ed Jones planning to re-up with Coyne
Max Chilton, Carlin announcing a likely step-up
Gabby Chaves, Harding Racing locking down its program
Brendon Hartley moving from sports cars into Ganassi
Indy Lights champion Kyle Kaiser confirming his team choice
What that means on Sept. 25 is that realistically there's only three or four rides for 2018 yet to be determined if all those "all but official" scenarios become official in the coming weeks. Those would be the second seats at SPM and Foyt, the likely second seat at Carlin and the road/street course seat at Carpenter.
Like Harding and Carlin, Juncos Racing is also poised to run at least some IndyCar races, but whether it's a full-season remains to be seen. And like Carlin and Juncos, there's a wealth of Indy Lights drivers keen to make their way into IndyCar.
As it is, the fact most of the IndyCar grid is known or almost set before October 1 – even if many programs haven't been officially announced – is both rare and awesome to see at the same time. Teams need as much time to test their drivers with the new kits in the offseason, and so there's been a mad rush to get next year locked down ASAP.
It seems hard to believe, but the days of "TBA" appearing on an IndyCar entry list days before St. Petersburg may be at an end.
HELIO'S OFFICIALLY UNOFFICIAL SWAN SONG
What a couple weeks it's been for Helio Castroneves. Despite yet another top-five finish in the championship, Castroneves' Sonoma race felt like a goodbye to full-time competition in IndyCar, especially as he thanked members of the media in the race's aftermath.
Still, reports emerged heading into the weekend a fourth car full-time with Team Penske was still on the table. And partners Hitachi and Pennzoil also tweeted about Castroneves and his excellent season, which Castroneves re-tweeted.
Castroneves has tested Team Penske's new Acura ARX-05 sports car last week (video below) and his departure from full-time driving in IndyCar seems all but inevitable at this point.
Despite Castroneves' best efforts, it appears as though he's had his swan song. He'll be an asset to the Penske Acura program provided he winds up there, but IndyCar would feel his loss on the full-time grid. He's been someone to appreciate for 20 years, the last 18 at Team Penske.
OTHER INDYCAR DRIVERS IN SPORTS CARS
With Motul Petit Le Mans set for October 7, at least three IndyCar drivers – Scott Dixon, Sebastien Bourdais and Ryan Hunter-Reay – will be in action at the IMSA WeatherTech SportsCar Championship season finale at Road Atlanta. Dixon and Bourdais will be third drivers in Ford Chip Ganassi Racing Ford GTs while Hunter-Reay will be third driver in the No. 10 Konica Minolta Cadillac DPi-V.R, with the Taylor brothers.
Petit Le Mans and the Rolex 24 at Daytona always offer up a bevy of IndyCar drivers making guest appearances in sports car land. The latter event, with Team Penske premiering the aforementioned Acura ARX-05 there, figures to have a wealth of IndyCar interest – and quite likely IndyCar drivers – split among its two cars.
WHAT OFFSEASON FUN, ANTICS ARE IN STORE?
Last year, IndyCar had James Hinchcliffe on ABC's "Dancing with the Stars" to carry it through the offseason.
Some of the other items IndyCar has released in recent years included Damien Power's offbeat "Exclusive: Behind the Scenes" interview series with drivers in 2015 and "The Offseason" digital shorts as modeled after NBC's "The Office."
There's usually some degree of entertainment, fun and games that emerges from the IndyCar offices over the offseason and what the creative minds there come up with will be interesting to see.
Or, there's always more Visor Cam, which was utilized in-race this year starting at the Indianapolis 500 through to the Sonoma finale. Thanks to IMS Productions, this was one of racing's coolest innovations in years. Considering how much testing is scheduled, some more Visor Cam would easily satisfy the appetite of the IndyCar fan base heading into the five or six-month period without IndyCar racing.
MRTI'S OFFSEASON PLANS
We'll have more on this separately, but the Mazda Road to Indy presented by Cooper Tires also has a bit to look forward to this offseason. The two key items are the Chris Griffis Memorial Mazda Road to Indy test, the traditional event that takes place at Indianapolis Motor Speedway's road course October 20-22, and the delivery and debut for teams with the new Tatuus PM-18 chassis in the Pro Mazda Championship Presented by Cooper Tires series. Some teams have taken delivery of those now in anticipation of running next month.
Driver movement will also be afoot there as the next generation of IndyCar drivers seek to position themselves for 2019 and beyond.